Access to Dawe Centre pool and community centre affected by expansion project – Details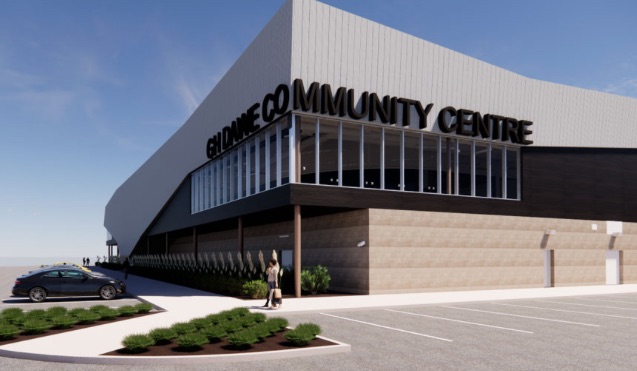 Limited access to G.H. Dawe Community Centre this summer due to construction
Due to construction, access to the G.H. Dawe Community Centre will be limited this summer, with a full closure planned for August.

As announced yesterday, City recreation centres are opening fully to the public as of July 1. With construction underway at the G.H. Dawe Community Centre, only limited services and areas will be available.

Here's what you need to know:
Starting July 2, fitness and gym areas will open from 10 a.m. – 8 p.m., daily. In July, summer day camps that normally operate from the Dawe will operate from other facilities.
The pool will remain closed until September.
To accommodate interior heating and ventilation construction, the facility will fully close from July 26 to August 31. Some registered preschool and summer camp programming may proceed, but no rental or general admission options will be available.
On September 1, we anticipate the pool will be open, but some other amenities, like the gym, may not be available. More information will be provided as construction progresses.
Playing surfaces in the arena will not be available until construction is complete, which is expected to be early 2023.
We are currently offering a discounted monthly Value Pass for $27 for adults ($24.50 for seniors; $21.90 for students; $19.30 for youth; $14.20 for children, and $60.50 for a family. It provides unlimited access to all facilities. As of August the Value Pass will only provide access to the Recreation Centre and Michener Aquatic Centre; however, access to the Dawe will be included in the Value pass until the pool, gym and fitness areas are open.
About the G.H. Dawe Community Centre Project
Work is underway now on the G.H. Dawe Community Centre Project and some exciting changes are in store. We expect to welcome visitors to the transformed space in early 2023. Here's just some of what you can expect:
Two NHL standard playing surfaces
Expanded fitness areas, including a running track
Outdoor spray park with washroom facilities
Improved accessibility
Additional north entrance + site access from 67 Street
Additional parking
During construction, there will be some changes and impacts to existing amenities and programs, and we'll do you best to share this information in advance. Thanks for your patience as we complete this work.
For more information about the project, please visit reddeer.ca/DaweProject.
Residential plowing continues in North Red Deer Monday and Tuesday. Check here for your neighbourhood.
City crews are removing snow from city streets after nine days of near-constant snowfall. At this time, Purple Routes are completed. Red routes and Snow Zone D (Downtown) will be completed, and residential snow clearing began Monday, November 14, 2022.
(Check below to confirm which zone your neighbourhood is identified as.)
| Zone | Subdivisions | Map |
| --- | --- | --- |
| A | Kentwood, Johnstone | Snow Zone A – Residential Routes Map (pdf) |
| B | Glendale, Normandeau, Pines | Snow Zone B – Residential Routes Map (pdf) |
| C | Fairview, Highland Green, Oriole Park, Riverside Meadows | Snow Zone C – Residential Routes Map (pdf) |
| E | Clearview, Garden Heights, Michener Hill, Parkvale, Waskasoo, Woodlea | Snow Zone E – Residential Routes Map (pdf) |
| F | Deer Park (north of 39 St), Rosedale, Timberlands | Snow Zone F – Residential Routes Map (pdf) |
| G | Bower, South Hill, West Park | Snow Zone G – Residential Routes Map (pdf) |
| H | Eastview, Grandview, Morrisroe, Mountview | Snow Zone H – Residential Routes Map (pdf) |
| I | Anders, Sunnybrook (north) | Snow Zone I – Residential Routes Map (pdf) |
| J | Deer Park (south of 39 St), Lancaster | Snow Zone J – Residential Routes Map (pdf) |
| K | Inglewood, Sunnybrook (south)/Southbrook, Vanier | Snow Zone K – Residential Routes Map (pdf) |
| O | Evergreen | Snow Zone O – Residential Routes Map (pdf) |
It is early in the season for residential plowing in Red Deer compared to recent years. The snow fell on warm ground and created a layer of ice beneath it, which exacerbated the situation on our roads. With this in mind, The City moved forward with a residential plow on Monday, November 14.
"Right now, crews are working around the clock to keep roads drivable. With minimal breaks between snowfalls, crews have found themselves circling back to start the process of clearing Purple and Red Routes before being able to move on to other secondary arterials," said Halldorson "In the same way citizens have been circling back to repeatedly shovel their sidewalks and driveways, our crews have been circling back to re-plow bridge decks and priority roadways."
Additionally, crews are sanding intersections, hills, and bridges as much as possible.

The current schedule for residential snow clearing is as follows:
Residents are encouraged to watch for no-parking signs on Green Routes and at the entrance to their neighbourhoods for Grey Routes and to sign up for Snow Zone notices at www.reddeer.ca/notifyreddeer to get text, email or phone call reminders before they need to move their vehicles off the street.
"We ask that citizens move their vehicles to make way for plows and equipment as this enables crews to move through neighbourhoods quickly," said Halldorson.
Parking restrictions are in effect from 7 a.m. to 7 p.m., daily while plowing is scheduled, and vehicles left on the street will be ticketed and towed at the owner's expense.
The City of Red Deer has a priority-based snow and ice control program with specific triggers to indicate when, where and how plowing and sanding should take place across the city. There are many different types of roads, sidewalks and paths throughout the city that serve different purposes. The overall goal is to plow sooner, quicker and more often, within the budget provided.
Residents are encouraged to contact Parks & Public Works at 403-342-8238 to report streets in need of attention.
The rich and sobering history of Red Deer's "Unknown Soldier"
The origins of Red Deer's beautiful Cenotaph date back to the end of WWI. The statue of the Unknown Soldier is a provincial historic site. In this article, historian and author Michael Dawe helps us understand the rich history of this monument and reminds us all of the sacrifices of our forebearers. Enjoy the photo gallery showing the changes to the Cenotaph and its surroundings over the years.
The Cenotaph by Michael Dawe (originally published Nov. 9, 2019)
There are many memorials around the City of Red Deer to honour those who served and those who lost their lives during a time of war. The main community memorial is the Cenotaph, the statue of the Unknown Soldier that stands in the centre of Ross Street in the heart of downtown Red Deer.
The origins of the Cenotaph go back to the end of the First World War. That conflict had been a searing experience for Red Deer. 850 young men and women from the City and surrounding districts had enlisted. Of these, 118 lost their lives. Of those who returned, many had suffered terrible wounds and faced a lifetime of ill health and suffering. Hence, it was extremely important to the community that a fitting and very special memorial be created.
On December 18, 1918, five weeks after the end of the War, the Central Alberta local of the Great War Veterans Association (forerunner of the Royal Canadian Legion) organized a large public meeting to discuss the creation of such a memorial. Three proposals were initially made. The first was to construct a pyramidal monument of river cobblestones in the centre of the City. The second was to construct a community hall and recreation facility next to City Hall. The third was to purchase the old Alexandra (Park) Hotel and turn it into a community centre.
After considerable discussion, a fourth proposal was adopted. It was decided to build a monument rather than a community centre. However, at the suggestion of Lochlan MacLean, it was also decided that this monument be in the form of a statue of a soldier, mounted on a pedestal, rather than a cobblestone pyramid or obelisk.
Major Frank Norbury, an architectural sculptor at the University of Alberta and a veteran of the War, was commissioned to carve the statue. He came up with the concept of carving the Unknown Soldier as he was coming off active duty on the front line. He was to face west, toward home and peace. He was also to be positioned towards the C.P.R. station from which most of the soldiers had left Red Deer for the War.
This latter point was one of the greatest controversies about the Cenotaph. City Council and a few others wanted it in the centre of the City Square (now City Hall Park). However, the majority wanted it facing directly towards the station and in the middle of Ross Street, Red Deer's busiest thoroughfare, so that it would be a constant reminder of the sacrifices of the War.
Meanwhile, fundraising for the project commenced, but proved quite a challenge. Post-war Red Deer faced one of the worst economic depressions in its history. However, despite the general shortage of money, by the following summer more than half of the $6200 needed had been raised. Unfortunately, Red Deer City Council decided that given its financial situation, it could not contribute any money to the project. This decision reinforced the opinion of the Memorial Committee that Council's wish to have the Cenotaph in the middle of the City Square should be ignored.
There were still a lot of hard feelings about that lack of official City participation. Eventually, City Council agreed to build a boulevard in the middle of Ross Street, west of 49 Avenue, as a site for the Cenotaph. A decision was also made to place street lights at either end of that boulevard to provide nighttime illumination of the spot.
There was another debate regarding the proper means of recording the names of those killed in the War. Some wanted tablets placed on the pedestal. However, the Memorial Committee was worried about having a complete and accurate list. Finally, it was agreed to have two scrolls prepared, one with the names of those who had served and one with the names of those who had lost their lives. Both scrolls were put into a copper tube and placed in a cavity in the pedestal.
On September 15, 1922, the Cenotaph was officially unveiled. To the delight of the community, Governor General Lord Byng of Vimy agreed to come and do the honours. Lord Byng was a hero of one of Canada's most significant military victories, the Battle of Vimy Ridge. Vimy was also a victory that had also come with very heavy loss of life, both locally and nationally.
At the time of the official unveiling, it was reported that the Cenotaph was the first sculpture war memorial in Alberta. Once the official dedication was completed, the monument was placed into trust with the City on behalf of those who had contributed to its creation.
The Cenotaph was rededicated in 1949 to include remembrance of those who served and lost their lives in the Second World War. A plaque signifying that designation was added to the pedestal. After the completion of the new City Hall Park and the Memorial Centre in the early 1950's. there was a push to relocate the Cenotaph from its location on Ross Street to either the centre of City Hall Park or a new site in front of the Memorial Centre. However, a plebiscite was held in 1953 in which the citizens of Red Deer voted to keep the Cenotaph were it was.
Another plaque was added in 1988 in memory of those who served and died in the Korean Conflict. At the same time, through the efforts of some dedicated members of the public, special lighting was added to ensure that the Cenotaph was highly visible at night.
There were new proposals in the 1990's to relocate the Cenotaph to City Hall Park. However, Charlie Mac Lean, son of Lochlan MacLean and one of the last surviving people to have actually built the Cenotaph, offered the opinion that he did not think that the monument could be safely relocated.
In 2006, the Cenotaph was extensively cleaned and repaired. City Council then successfully applied to have the Cenotaph designated as a Provincial Historic Site. In 2010-2011, a beautiful Veterans' Park was created around the Cenotaph, to enhance it and to make it more accessible to the public. Moreover, eight interpretive panels were created to let people know the full significance of Red Deer's official war memorial. They give the stories of those who served in the Boer War, First World War, Second World War, Korean Conflict, the Afghanistan War and all the peace-keeping and peace-making missions in which Canadians have been involved.
Lest We Forget.
Michael Dawe
Here are some other local history stories you might enjoy
Armistice Day 11/11/1918 from a Red Deer perspective in pictures and story