A regional comparison of ALERT crime stats for 2019 – Arrests, Charges, Guns, Drugs off the streets
From the Alberta Law Enforcement Response Team
Transition, Triumph for ALERT in 2019
While changes were afoot, including a new CEO, Alberta Law Enforcement Response Teams still managed to achieve one of its most successful years ever in 2019.
Over the calendar year, ALERT teams across the province laid 1,402 criminal charges against 241 suspects; took 92 firearms out of the hands of gang members and drug dealers; seized more than $4 million in proceeds of crime; and removed nearly $13 million worth of cocaine, fentanyl and methamphetamine from the streets of Alberta communities.
"Since being appointed chief executive officer in August 2019, I've been very impressed with ALERT's operations and the results the organization is able to achieve," said ALERT CEO Supt. Dwayne Lakusta. "It's a fast-paced, ever-changing landscape, but our front-line investigators and support staff behind the scenes do exceptional work to keep up and deliver the results Albertans expect."
ALERT is mandated to address organized and serious crime across Alberta, with regional offices located in Calgary, Edmonton, Fort McMurray, Grande Prairie, Lethbridge, Medicine Hat, and Red Deer. A breakdown of statistics by region for the 2019 calendar year is available on ALERT's website and YouTube channel.
The biggest highlight of the year for ALERT was Project Coyote, a joint investigation with the U.S. Drug Enforcement Administration that resulted in record amounts of cocaine and fentanyl pills seized. All told, over the course of two years, Project Coyote resulted in the seizure of $15 million worth of drugs, including 81.5 kilograms of cocaine in Houston, Texas, and 250,000 fentanyl pills in a Calgary apartment.
"Project Coyote was a lengthy, complex investigation, and I applaud our team in Calgary for their ongoing commitment to the investigation," Lakusta said. "It's a significant bust, and a great example of the efforts taken by our teams to fight organized crime."
Some of ALERT's other successes in 2019 include: outlaw bikers arrested for drug trafficking in Red Deer; a firearms straw purchaser foiled in Grande Prairie; a B.C.-Edmonton drug pipeline cut off; a record meth seizure in Medicine Hat; an arrest made in Lethbridge in a series of vehicle thefts; and two children being rescued as result of a child exploitation investigation.
A compilation of highlights from 2019 is available on ALERT's website.
With new funding foreshadowed in the recent provincial budget and ALERT's successes from 2019 to build upon, Lakusta is looking forward to expanding on the organization's important work in 2020.
"We are excited to enhance opportunities to make communities across Alberta safer," Lakusta said. "By working closely with other law enforcement agencies and community partners, we will continue to work toward our goals of disrupting and dismantling organized crime."
Members of the public who suspect drug or gang activity in their community can call local police, or contact Crime Stoppers at 1-800-222-TIPS (8477). Crime Stoppers is always anonymous.
ALERT was established and is funded by the Alberta Government and is a compilation of the province's most sophisticated law enforcement resources committed to tackling serious and organized crime.
UCP asks Albertans to consider an Alberta Pension Plan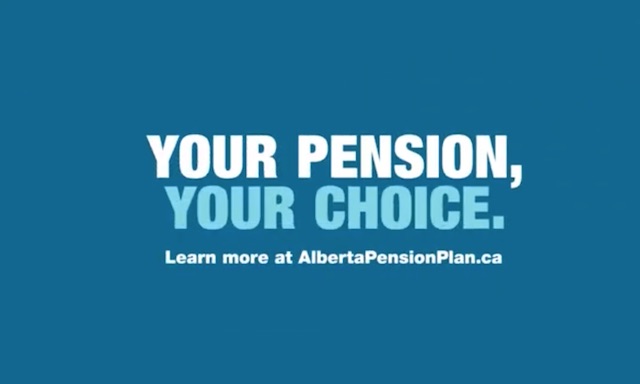 News release from the United Conservative party
The Government of Alberta is starting a public engagement to discuss the possibility of creating an Alberta Pension Plan.
You might be wondering, what's in it for you? Learn more by watching the short video below:
The government is eager to hear your views. To find more information, and participate in a survey, tap the button below.
Albertans deserve a pension plan that reflects their hard work and earnings, and it is up to Albertans to decide which pension plan that is.
-Your UCP Team
Police arrest two more people following killing of eight-year-old girl in Alberta
An Edmonton Police Service logo is shown at a press conference in Edmonton, Oct. 2, 2017. Police in Edmonton have charged two more people following the killing of an eight-year-old girl whose remains were found on a First Nation south of the provincial capital in April. THE CANADIAN PRESS/Jason Franson
Edmonton
Police in Edmonton have charged two more people following the killing of an eight-year-old girl whose remains were found on a First Nation south of the provincial capital.
Officers responded on April 24 to a welfare call about the girl at an Edmonton home but were unable to locate her.
Her remains were discovered five days later on the Samson Cree Nation in Maskwacis.
Shayden Lightning, who is 21, and Raighne Stoney, who is 36, have been charged with being an accessory to murder and causing an indignity to a body.
Three others were initially charged in the case.
Police are not releasing the names of two of the accused in order to protect the identities of other children related to the victim, whose identity is under a publication ban.
A 27-year-old woman faces a charge of first-degree murder and a 25-year-old man faces charges of being an accessory to murder and causing an indignity to a body.
Edward Nievera, 67, was charged with being an accessory to murder and causing an indignity to a body.
Edmonton police Staff Sgt. Colin Leathem said in a release Friday that the recent arrests will be the last in the case and that the investigation has concluded.
"We want to thank the RCMP in Maskwacis and Wetaskiwin for their assistance with this investigation," he said. "Needless to say, this was an exceptionally distressing investigation to work on, and they went above and beyond in helping to facilitate these final arrests and bring this file to conclusion.
"While nothing can change the horror of what occurred, we hope (the arrests) can provide some measure of justice to those who knew and loved this little girl."
This report by The Canadian Press was first published Sept. 22, 2023.