A permanent quest to find a better sounding, better playing guitar – meet Jason McGillivray, player and luthier
At Todayville, some of us have a guitar addiction.  And so, when we can profile an Alberta guitar maker, we're very happy to do so.  Oh, we also like video and filmmaking, so this video by ilia Photo and Cinema of Calgary's Jason McGillivray building a beautiful McGillivray "Parlour Guitar" is an added bonus.  Learn about Jason's journey from player and enthusiast to luthier.
"…Having played guitar since the early 80's, I was on a permanent quest, as most musicians are, to find a better sounding, better playing, instrument than the one I had…"
By Jason McGillivray:
I am often asked "how did you get into guitar building?" For me, the appeal lies in the way lutherie combines art and science, drawing upon and exercising the left and right sides of the brain. Satisfaction is gained as the process unfolds and I combine and work down natural materials such as spruce or rosewood. The culmination is an heirloom-quality instrument that enhances the human experience of both player and listener and, as the instrument is passed on, for future generations.
Having played guitar since the early 80's, I was on a permanent quest, as most musicians are, to find a better sounding, better playing, instrument than the one I had. Frequenting guitar shops whenever I could, I discovered factory offerings could only attain a certain level, and still maintain desired prices and production targets. I began to research guitar building, thinking in the future it would be something I'd like to pursue.
I spent ten years studying the craft, collecting tone wood, and acquiring tools, before actually building my first guitar. I learned that factory guitars and handmade guitars have fundamental differences. In the factory setting, guitar parts are mass produced in batches with speed and efficiency driving construction methods and design decisions. As the guitar moves down the line, the next piece is pulled from the bin and added to the assembly. All the components in the pile are of uniform dimensions; however wood is not a uniform material, even from the same tree. Each piece of wood needs to be evaluated and then worked to its optimum dimensions, based on its stiffness and density.
In the factory, randomly selecting components from the bin occasionally results in a combination of excellent parts, producing an exceptional guitar. This is why you can play ten factory guitars of the same model, made at the same time, and a few will excel, a few will underperform, and the rest will be average. A good hand builder, in a one-person shop, takes the mystery out of how the final product will perform. He or she has invested years collecting superb tone woods, studying the properties of wood and adhesives, and incorporating the successes, and knowledge gained from failures, of luthiers, past and present. Only the best wood is selected, and then worked to its fullest potential as it is combined with other woods, bone, and steel, to work synergistically as a unit.
While I was doing my research and collecting tone wood, I ordered an expensive, handmade guitar with an inheritance from my grandfather. This, I reasoned, would give me a benchmark to study and compare my own building progress against in the future, plus I would get that handmade tone and playability I'd been searching for. The guitar arrived six months later, and although it was nice, it just didn't have the tone that my ear was searching for. This was the nudge I needed to kick-start my building career. Perhaps it would take many tries, but redirecting my energy from searching for my perfect guitar, to creating it, sat well with me, and so it began.
I learned from a tutor who is an experienced builder, and by self-study and experimentation.  While completing my BSc in Forest Science I had the opportunity to gain in-depth knowledge on the structural properties of wood, at a cellular level; this has served me well in understanding how to select and optimize tone wood.  Twenty years in the sawmilling and forest products industry, as a professional forester, further tempered my understanding of wood, the growing conditions required for premium tone wood, and how to break down a tree for the highest quality yield.  Attending the American School of Lutherie, in Portland Oregon, and studying the methods and approach of Charles Fox, gave me a strong foundation and I have continued to refine my sound and style.
Initially based in British Columbia, McGillivray Guitars now operates out of Calgary, Alberta, producing several commissioned instruments per year, with occasional speculative builds, the progress of which can be viewed on the website, in "On the Bench".
Commissioned instruments are fully customizable in all aspects, including model, size, shape, scale length, string spacing, neck profile, body depth, and wood selection. If desired, an individual's playing style, hand size, and physical conditions will be evaluated to select and guide the player to their optimum personalized instrument design.
Click to learn more about McGillivray Guitars including a full price list.
Alberta production Pipe Nation seeking to tap musical talent for soundtrack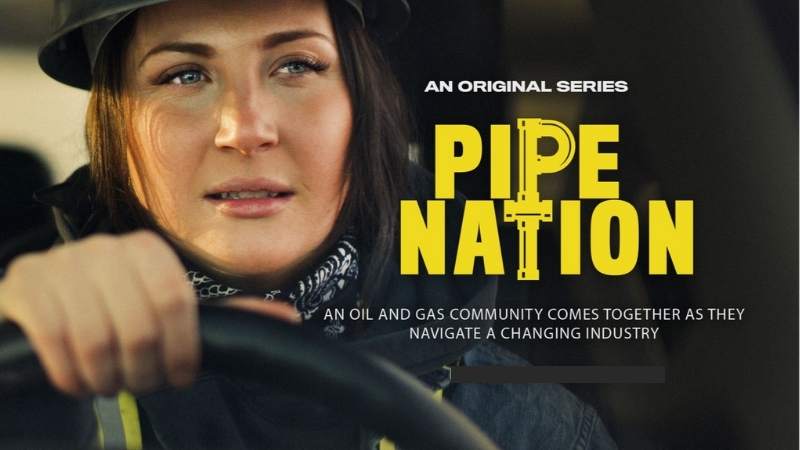 Here are the details.
January 13, 2021
Edmonton-AB, CANADA-​One of the largest independently funded tv-series in Canada, Pipe Nation, is seeking talented musicians to round out its soundtrack as the pilot episode nears completion.
The director, Raoul Bhatt, and executive producer, Dan Svedberg, are seeking submissions from Canadian and American artists to collaborate on the show's soundtrack.
The dramatic series is told through the experiences of a single mother working in the male-dominated, oil and energy industry. The pilot was filmed in August and September of 2020 in the picturesque mountains of Canada and the Edmonton area. 18 scenes and 180 takes were captured in Sundre, Alberta, which was transformed into the fictitious town of Hardwell. A great deal of effort has been put into this pilot including a $300,000 built for the show pipeline, a medical helicopter, and a long list of heavy equipment worth $180 million.
The scenes are now in editing, where the crucial process of pairing beautiful scenes with dramatic music is underway. Several genres of music including, rock, blues, country, electronic dance music, and classical will be used in the series. The show's soundtrack will be released on Apple Music, Amazon, Spotify and Google Play Music in the coming months. Director, Raoul Bhatt and his team have been in post-production for the last three months​. ​The pilot tv-series is expected to be complete by February 2021.
Musicians, labels, bands looking to collaborate or submit their work, please contact Executive Producer & Sound Designer, Daniel Svedberg, and Director, [email protected]
Read more on Todayville.
The Gift You Don't Even Know You Didn't Need…
A Jesse Roads & Friends Merry Christmas
– the gift you don't even know you didn't need…
"Probably not the worst Christmas special…"
– Jesse Roads
Well friends I am beyond excited to share with you the gift you don't even know you didn't need… I had the idea to do some sort of a Christmas special for quite some time now. I felt like it was more important than ever this year. With such a lack of joy and camaraderie among the masses (especially within the arts community due to cancellation after cancellation wreaking havoc on all of our mental health) it was clear that I could, at the very least hit my Rolodex and reach out to some of my buds.
Unlike many of my peers and fellow performers, I have been blessed with a production team and the ability to create some amazing content throughout this crazy wild global pandemic, from songs to streams and the start of a movie, so much has come from this. I feel a sense of responsibility to not let that go to waste and to do everything I can to grow as an artist while contributing to society's wellbeing somehow. Well it's Christmas! Why not get at it and spread a little festive cheer for the season. I love Christmas, always have.
Turns out some of my buds love it too! I am so very thankful to the performers that were able to jump on board with this project. All of which did so out of the kindness of their own hearts. I even managed to somehow get Clayton Bellamy of the Road Hammers to say yes! From the likes of Randi Boulton to Curtis Labelle and Devin Cooper the special is stacked!
The show is free of charge to watch and enjoy. All we ask is that you spread a little kindness wherever and however you can. Thats it. Be kind with purpose, on purpose. Click below for the show, don't forget to like and subscribe!
Jack Semple BB King Tribute concert showcases one of Canada's finest guitarists