This former soldier chooses patriotism 'and' independence
I consider myself a patriot, I served in our military, I love my country and only wish the best for everyone. I was raised in a time when we were taught to always treat people with respect, and that they would reciprocate. I believe that this thinking is sort of timeless, so I suspect most Albertans would say they think the same way.
Unfortunately when it comes to government, and Alberta's place in confederation, this hasn't been the case. Albertans have given so much to our federal government in the way of the blood of our soldiers, the fruits of our labours, and all of this with only the expectation to be treated with respect in return.
As soldiers I like to think we held onto the highest ideals of what being a Canadian was. Canadian soldiers throughout our history have established a reputation for all of us to benefit from. A reputation of selfless individuals who stand on principle, honour, and willing to risk their lives in defence of those ideals.
I saw as my brothers came back from military actions overseas, who were and are still, treated in a manner that is so disrespectful that it makes me ashamed of what my country has become. I have mixed feelings, of sorrow in realizing the dream of what Canada was supposed to be has been abandoned by our political leaders, and at the same time disgust for those people, especially our Prime Minister. A man who has demonstrated time and again that he has no honour and although he holds the office of PM, I have nothing but contempt for the man.
This combined with the disregard I see him treat all Albertans with, is far too much to accept, and when faced with a moral dilemma, I always do my best to choose the side of right. This is how I was raised, this is how the Army helped to fashion me as a young man, and these aspects of my character will never change.
I don't believe that we can continue with a system of government that is immoral, and think that we can make something good come out of it. Corrupt systems encourage corrupt people and practices. Vast sums of money have been used to secure votes in past federal elections, all for the sake of securing power.
Obviously ex soldiers are not a huge voting block, nor do they have a powerful lobby. They are however deserving of our respect as individuals, and shouldn't have to take the government to court to receive benefits that were promised.
This is just another example of how our government seeks to please specific demographics. Those groups who can motivate or secure large blocks of votes, or garner massive amounts of media coverage in support of specific policies, or in support of the ruling party; they all get the personal attention of Trudeau.
I resent it when it's mentioned that to suggest independence for Alberta is unpatriotic. My loyalty to the crown, or the flag, or my brothers in arms is strong, and is based upon my core loyalty to my family, friends and community. I can't just sit idly by and watch as lives and families are destroyed all around me by bad government policy, and say nothing.
I know it is my duty that I must speak out against the injustice's all Albertans are suffering through, and lend my voice to the many others that feel the same. When a government has become so corrupted that neglects it's core responsibilities to disabled vets, or it discriminates against any region or group of people, then it is the duty of every citizen to work to replace that government.
To me the good of the people of Alberta is more important than our traditions, our national symbols, our laws, our government and especially our leaders. If they will not stand up for our families, our livelihoods, our future; then they are worse than lost, they are despicable.
The old uniform that still hangs in my closet brings back many memories and fills me with pride. Not that I did anything special, but pride in that I was blessed to be able to stand shoulder to shoulder among men of strong conviction. Men who understood the meaning of duty, honour, and sacrifice. Men who share a bond of brotherhood that most people never experience.
If Mr. Trudeau thinks that we Albertans will simply accept our lot in life, that we are no threat to his hold on power, and are for all intents and purposes irrelevant except for how he desires to use us; then I think it's time that we show the world what Albertans are really made of.
We can and should chose self determination, stand up for ourselves, and become a free and independent nation. A nation that can become the envy of the free world. A nation that will help our neighbours break free from fear and embrace their own independence and chart their own destiny. A nation that does the right thing, and takes care of it's own.
It's time for us to stand up and do the right thing. It's time to truly make Alberta Strong and Free.
Edmonton Police charge 19 year old with trafficking gun used to kill Constables Jordan and Ryan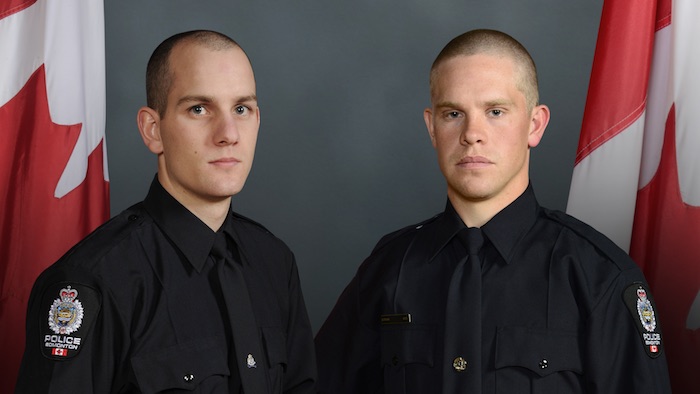 From the Edmonton Police Service
Charges laid in line of duty deaths
The EPS Firearms Investigations Unit (FIU) has completed their investigation into the origins of the firearm used in the Mar. 16, 2023, officer deaths.
Following the shooting deaths of Const. Brett Ryan and Const. Travis Jordan, FIU launched an investigation into the origins of the gun used by the 16-year-old male shooter.
Early in the investigation, detectives determined a bullet cartridge casing recovered from the scene of a Mar. 12, 2023, shooting at a nearby restaurant (133 Street and 114 Avenue) was forensically matched to the firearm that was recovered at the 132 Street and 114 Avenue apartment where both officers were tragically murdered. Investigators have since confirmed that the suspect in both shootings was the same.
Following several months of extensive investigation, FIU determined that Dennis Okeymow, 19, trafficked the firearm used in both shootings directly to the 16-year-old male shooter prior to Mar. 12.
On. Thursday, Nov. 23, 2023, police conducted search warrants on Okeymow's residence, vehicles and cell phone. Okeymow was arrested without incident from the residence and police seized a stolen loaded handgun, ammunition, illegal drugs, $10,000 in cash and other items indicative of drug trafficking.
Okeymow is charged with:
manslaughter (x3) and criminal negligence causing death (x3) in relation to the deaths of Const. Ryan, Const. Jordan and the 16-year-old male shooter
criminal negligence causing bodily harm (x2) in relation to the man injured in the restaurant shooting on Mar. 12 and the youth's mother, who was injured during the Mar. 16 shooting
firearms trafficking
unauthorized possession of a firearm
possession of a restricted firearm with ammunition
·other drug trafficking related charges
"In my 20 years in this career, this is the most complex and tragic file I have worked on," says Staff Sergeant Eric Stewart with the EPS Guns and Gangs Section. "It's heartbreaking that the trafficking of a firearm has led to multiple deaths and life-altering injuries."
"The trauma suffered by the impacted families as a result of this one simple transaction is unthinkable."
FIU would like to thank the RCMP, the Calgary Police Service (CPS) and the Alberta Law Enforcement Response Team (ALERT) and the many dedicated members of the EPS who assisted with this investigation.
Background information
On Sunday, Mar. 12, 2023, at approximately 12:25 a.m., a lone male suspect entered a pizza restaurant in the area of 133 Street and 114 Avenue carrying a firearm. The suspect shot a male employee and then fled the location. EMS attended and transported the injured 55-year-old male to hospital with serious life-threatening injuries.
At approximately 12:47 a.m. on Thursday, Mar. 16, 2023, Const. Travis Jordan and Const. Brett Ryan responded to a family dispute call in an apartment complex near 114 Avenue and 132 Street.
When the two officers arrived, they were met by a 55-year-old female complainant outside of the complex. The two officers then responded to the suite where she resided with her 73-year-old male partner and their 16-year-old son.
Immediately upon arriving at the suite, both constables were shot multiple times by the youth and were immediately incapacitated. The youth then reportedly shot his mother before turning the firearm on himself, taking his own life. The father was not physically injured during the shootings. Neither officer discharged their firearm.
Following 911 calls by multiple reporters, additional police and EMS arrived. One of the injured officers was transported in a police vehicle to hospital, while the other injured officer was taken by ambulance. The female complainant was taken by ambulance to hospital. Soon after arriving at the hospital, both officers were declared deceased.
On Saturday, Mar. 18, 2023, the Office of the Chief Medical Examiner in Edmonton conducted autopsies on both officers. In both cases the cause of death was confirmed to be gunshot wounds with the manner of death being homicide.
On Mar. 22, 2023, the Edmonton Medical Examiner confirmed that the 16-year-old male shooter's cause of death was a single gunshot wound to the head consistent with being self-inflicted.
The 55-year-old man shot in the restaurant on Mar. 12 survived, but suffered life-altering injuries. The youth's mother continues to recover from her injuries.
$6.5 billion boost for Alberta! World's first 'net-zero' ethyelene plant announced for Fort Saskatchewan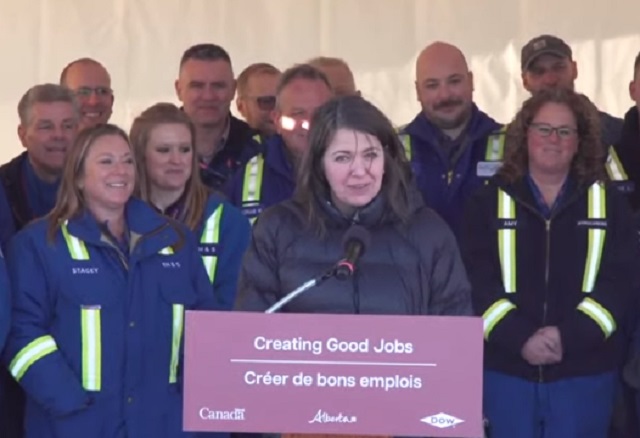 Dow Path2Zero investment in Alberta: Joint statement
Premier Danielle Smith, Minister of Energy and Minerals Brian Jean and Minister of Jobs, Economy and Trade Matt Jones issued the following statement on the Dow Path2Zero Fort Saskatchewan project:
"We are thrilled that Dow has chosen Alberta for the world's first net-zero Scope 1 and 2 greenhouse gas emissions integrated ethylene cracker and derivatives site.
"Fort Saskatchewan Path2Zero, located in Alberta's Industrial Heartland, will play an important role in expanding Alberta's natural gas industry, creating thousands of jobs, diversifying our economy and positioning our province as a global hub for petrochemicals.
"At nearly $9 billion, this project is one of the largest private sector investments in Alberta's history. At peak, this world-class petrochemical facility will create about 6,000 jobs during construction and 400 to 500 full-time jobs when operational. Path2Zero will produce and supply approximately three million metric tonnes of certified low- to zero-carbon emissions polyethylene and ethylene derivatives for customers around the globe while further establishing Alberta as a world leader in emissions-reducing technology like carbon capture, utilization and storage.
"This announcement by Dow is indicative of Alberta's commitment to attracting investment and creating good jobs while growing and diversifying our economy. Programs like Energy and Minerals' Alberta Petrochemicals Incentive Program (APIP) and the cross-ministry concierge investment support led by Jobs, Economy and Trade have been integral in Dow's decision to choose Alberta for this innovative facility. Through APIP, we are issuing a 12 per cent grant, which is approximately $1.8 billion, to help move this investment and technology forward. In addition, we are pleased that Alberta's skilled workforce, low corporate tax rates, stable industrial carbon pricing system and commitment to support innovation made Alberta the most attractive choice.
"Dow's final investment decision is proof of the Alberta Advantage, and it will be a major stepping-stone toward meeting our goal of being a global top 10 petrochemical producer. This decision proves what we have been saying for years: Alberta is the best place to invest and do business. We have the workforce, know-how and natural gas feedstock to be a world leader in carbon-neutral petrochemicals.
"This is a huge win for Alberta's petrochemical sector and clearly demonstrates our business-friendly policies are attracting job-creating investment across the province. We look forward to the beginning of construction in 2024 and are proud to be partnering with Dow to transition away from emissions while decarbonizing petrochemical products and growing our energy industry."