A Great Save And The Formula To Save Best-on-Best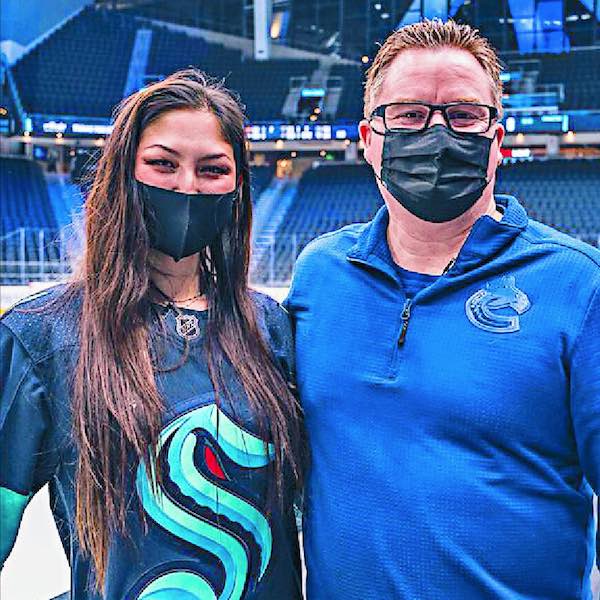 What a great story to start the New Year. A Seattle Kraken fan watching Vancouver from behind the Canucks' bench on Nov. 23 noticed something on the neck of the team's equipment manager. Pre-med student Nadia Popovici was concerned with a mole on Brian "Red" Hamilton's neck.
"It had irregular borders, and it was discoloured and fairly large," Popovici, 22, told Postmedia Saturday. She caught his attention, but Hamilton at first dismissed the idea. After showing the mole to his wife Hamilton had a biopsy done. Which revealed a dangerous malignant melanoma—one removed by doctors.
On Saturday Hamilton and Popovici were re-united as the Canucks trainer announced he's arranged for a $10,000 scholarship to the woman who might have saved his life. Popovici was shown on the big screen and the Hockey Night in Canada cameras focused on her.
A cynic might say watching the back of a trainer's neck instead of the game is symbolic of a hockey season tortured by the insanity of Covid constrictions. On a nightly basis we see half a roster playing three-quarters of a roster. In many cases the players not allowed to play are asymptomatic and no threat to others. But, whatever.
The other hockey casualties of Covid craziness are the Olympics and the recently cancelled mens WJC and women WC. As we wrote earlier the uncertainty of Covid quarantines in China is welded to the possibilities of athletes, journalists and officials being scooped and incarcerated by the CPP. Do the names The Two Michaels ring a bell?
So the NHL said, sensibly, it wasn't going to go to Beijing for the men's hockey tournament without guarantees that Connor McDavid might not be quarantined for five weeks or some club official tossed in jail for saying that maybe Hong Kong needs better treatment. Those assurances weren't forthcoming in any sincere manner.
Certainly NHL owners won't weep if their players aren't exposed to sickness and Beijing's bad air in February. The current plan for filling Olympic mens hockey is rosters of Who Dat'? and Is He Still Alive? The women's hockey tournament is said to be unchanged, but as long as the U.S. and Canada get there who cares?
Which allows us to re-visit a solution to the Olympic mens hockey riddle. To wit, how does the NHL play a tournament each fourth February that fits its schedule, doesn't exhaust its players and gives the Olympics the chance to hand out medals? Because the current formula is only working for the IOC. They can choose to hold a Games in an autocratic communist dictatorship looking for a PR triumph, and everyone is supposed to adapt to their caprice.
But with the NHL backing out on them for Beijing— after avoiding the 2018 Games in South Korea— even the IOC is probably thinking this system is broke. Everyone wants these best-on-best showcases, so how to make it work?
The IDLM formula— which we've endorsed for over a decade— is to have the NHL schedule a mid-February tournament every four years in either North America or Europe— where, coincidentally, all the players and fans are. It can run concurrent with the Winter Games that year. The IOC can hand out their medals to the winners.
The TV audience— the real prize— doesn't have to watch the best live hockey showcased at 3 A.M. The advertisers get a captive live audience. The tournament can be staged in Toronto, NYC, L.A. or Frankfort. The NHL players aren't obliged to fly 14 hours to Asia in the middle of the season and then return two weeks later. As a cherry on top, stage a World Cup same time, same locations in the intervening two years.
Best on best guaranteed. Imagine.
If all that common sense is just too much for the suits of the IOC then tell them that the mens Olympic hockey tournament will be the WJC for that season. Send the best U20 players— who'd otherwise be playing the annual tournament in December/ January— in February to the locale the IOC has been bribed… er, has chosen to stage the Winter Olympics.
There is precedent. Mens Olympic soccer faced a similar dilemma of getting the best to the Games. Now they stage a U23 tournament as the Olympic event. Great young athletes, word class skill, a riveting TV spectacle. And bragging rights. If it isn't ideal it's workable. And who the hell says anyone has to please the IOC?
Bruce Dowbiggin @dowbboy is the editor of Not The Public Broadcaster (http://www.notthepublicbroadcaster.com). The best-selling author was nominated for the BBN Business Book award of 2020 for Personal Account with Tony Comper. A two-time winner of the Gemini Award as Canada's top television sports broadcaster, he's also a regular contributor to Sirius XM Canada Talks Ch. 167. His new book with his son Evan Inexact Science: The Six Most Compelling Draft Years In NHL History is now available on http://brucedowbigginbooks.ca/book-personalaccount.aspx
Irish Saying: Is This A Private Fight Or Can Anyone Join?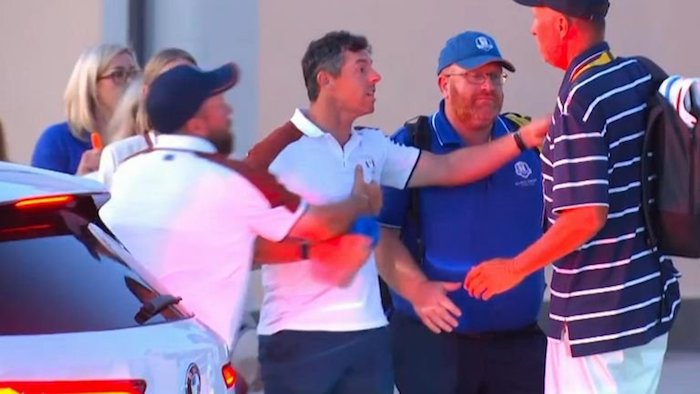 There's no crying in baseball. And there's no fighting in golf. Unless LIV is involved.
Don't tell the participants in the Ryder Cup this past weekend. Under the sunny skies of Rome, the Americans and Europeans produced storm clouds over… brace for it… a golf hat. Or the lack of a golf hat. Let us explain.
American player Patrick Cantlay chose to go hatless, eschewing the U.S. team wardrobe that everyone else agreed to wear. Needless to say the hat had patriotic themes and Cantlay's decision was seen to be controversial. It was not like quarterback Colin Kaepernick kneeling for the national anthem, but to those loyal to Old Glory its seemed disrespectful.
It wasn't helped when media reported that Cantlay had declined the chapeau because, as opposed to teammate, LIV member Brooks Koepka, he wasn't receiving a bonus for wearing the hat. And that, as a result, the embattled U.S. team was split over the controversy. (After first saying that he couldn't find a hat that fit, Cantlay later changed his story to say that the bonus/ dissension story was false.)
That was all the partisan European fans needed to hear. They began mocking Cantlay by doffing their hats and jeering him as Team USA stumbled on Friday and Saturday. Rather than fold, however, Cantlay went on a blazing run in Saturday's final match against Rory McIlroy and Matthew Fitzpatrick. Posting three straight birdies, his last forced the emotional Irishman into a difficult putt on 18 to get a tie.
After Cantlay's dramatic putt dropped, his caddie Joe LaCava (formerly Tiger Woods' caddie) mocked the crowd by doffing his hat in McIlroy's vision. As he did he came close to McIlroy who was preparing for his ultimately unsuccessful putt. The two exchanged words. They were not, "Have a good day." European team member Shayne Lowry then yelled at LaCava who returned fire.
When the sniping ended, the bare-headed Cantlay sunk a dramatic putt to give America hope on Sunday. But that didn't end the unpleasantness. In the parking lot, McIlroy got into it with Justin Thomas' caddy Jim "Bones" McKay. Lowry had to physically shove his fellow Irishman into a car to end the confrontation.
Golf's chattering classes went mad with excitement. What would happen on Sunday as Europe attempted to win the four points that would return them the Cup? Would America be inspired? Was Europe distracted by McIlroy's intemperate blasts?
Sunday, LaCava told media he'd met with McIlroy that morning to smooth things over. No hard feelings. In the end, etc. The most visible sign of Saturday's ruckus was Cantlay buddies Justin Thomas, Colin Morikawa and Xander Schauffele also going hatless in solidarity. It didn't help as Europe— led by McIlroy spanking Sam Burns 3&1— won the Cup 16.5-11.5. And McIlroy called LaCava a liar about talking to him.
But there was no mistaking the witches' brew cooked up on the weekend in Italy. The well-rested Americans were handed their hats (badda-bing) early by a Euro squad seeking revenge for their loss at Whistling Straits in 2021. The coach's selections on the U.S. side— Thomas, Koepka, Burns and Rickie Fowler— stunk out the joint. Calling them coach's selections exaggerates. Zach Johnson was told by his core players whom to invite.
The Euro coach's selections might not have been brilliant, but they didn't hinder the win. Nor were the Euros hurt by the partisan crowd that hooted, chanted and sang its dislike for the Yanks. But that is the Ryder Cup, and when the sides meet again at NYC's Bethpage Black in 2025 the rabble will reciprocate.
Some players called for calm. Rahm asked everyone to cool down after his half on Sunday. Cantlay smiled benignly through all the hullabaloo, saying the chaos is what makes the Ryder Cup great. But they were drowned out by the international press that pronounced critically on American vanity and the Euros swagger.
The Ryder Cup is traditionally— if not actually— considered the end of the golf season, the culmination of the majors and the FedEx Cup season. So it seemed only appropriate that the first full year of the Saudi-backed LIV Golf end with a sour taste for many. McIlroy, for one, has had a miserable time mixing the old (he won 2 times and earned $13,921,008 but with no majors) and the new (as defiant spokesman for the PGA Tour versus LIV he was hung out to dry by the Tour and many fellow players who allowed him to fight their fight). His outburst Saturday/ Sunday showed the strain he's carried.
As the only LIV member playing at Marco Simone Koepka did little to put a happy face on his chosen Tour. Dour, sullen and churlish, he refused the ceremonial doffing of his hat when he'd schooled young Lucas Aberg 3&2. Not that the European and PGA Tour officials connected to the Ryder Cup extended a hand or made pleasant noises about the proposed merger with LIV.
Indeed, the ghosts of LIV members haunted the event. Ryder Cup legends Ian Poulter, Lee Westwood, Henrik Stenson, Graham McDowell, Paul Casey, Dustin Johnson and Phil Mickelson were not only excluded from playing but told there was no place in the coaching room of their teams. It all felt somewhat hollow at times.
Thanks goodness #HatGate resurrected a bit of the old-fashioned bile that makes Ryder Cups so anticipated. For all the polite chumminess of today's PGA Tour, a silly pissing match is a nice diversion. After all, as Conn Smythe once said after a brawl-filled hockey game, "Much more of this and we will have to print extra tickets for the next game."
Sign up today for Not The Public Broadcaster newsletters. Hot takes/ cool slants on sports and current affairs. Have the latest columns delivered to your mail box. Tell your friends to join, too. Always provocative, always independent. https://share.hsforms.com/16edbhhC3TTKg6jAaRyP7rActsj5
Bruce Dowbiggin @dowbboy is the editor of Not The Public Broadcaster A two-time winner of the Gemini Award as Canada's top television sports broadcaster, he's a regular contributor to Sirius XM Canada Talks Ch. 167. Inexact Science: The Six Most Compelling Draft Years In NHL History, his new book with his son Evan, was voted the seventh-best professional hockey book of all time by bookauthority.org . His 2004 book Money Players was voted sixth best on the same list, and is available via http://brucedowbigginbooks.ca/book-personalaccount.aspx
"I Promised Mess I Wouldn't Do This"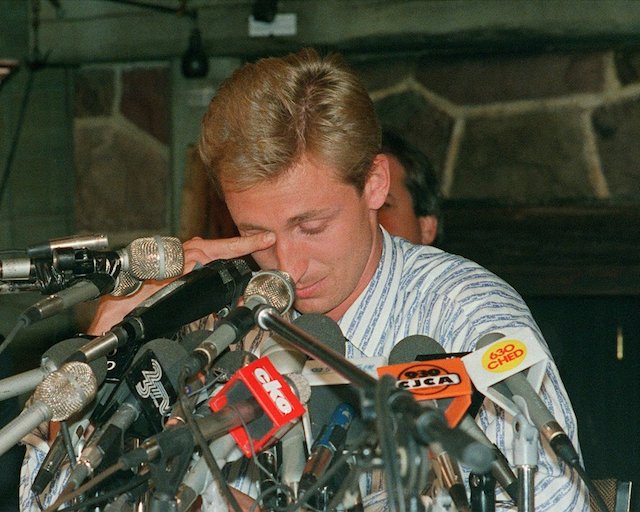 There's an abiding idiom in hockey trades. It says whoever got the best player in a deal wins the trade. If you get Wayne Gretzky you win every trade. After that, received wisdom of trades is more honoured in the breach than in the observance. Everyone has a theory. But all agree there's no denying the impact of trades toward NHL success.
From their evolution as simple player-for-player swaps to the current version of trading players for draft picks, cash, future considerations, salary-cap space or actual humans, the art of swapping in the NHL has become a science, an art and an accounting exercise. Where once it was a pair of hockey-lifer GMs making deals, today's moves require capologists, accountants, lawyers, agents and, often, the player's family being onside before a deal can be approved by the NHL.
A whole new culture has grown up within the sport so that deals can be swung. As trades have become more complicated, they have concurrently become less of a burden on the moving parts involved. We've come off an offseason with a surprisingly modest number of intriguing deals.
With preseason games starting, to whet the ref's whistle, here's a list Rating The Top 25 Trades in NHL history from our next book Deal With It: The Most Impactful Trades In NHL history and How They Changed The Game (due later in 2023). (from ***** to ***)
1) August 9, 1988: Wayne Gretzky, Marty McSorley, and Mike Krushelnyski from Edmonton to Los Angeles for Jimmy Carson, Martin Gélinas, the Kings' first rounders in 1989 (traded to New Jersey) , 1991 (Martin Rucinsky), 1993 (Nick Stadujar), and $15 million. *****
2) May 15, 1967: Phil Esposito, Fred Stanfield and Ken Hodge from Chicago to Boston for Gilles Marotte, Pit Martin and Jack Norris. ****1/2
3) October 4, 1991: Mark Messier and future considerations (Jeff Beukeboom) from Edmonton to the New York Rangers for Bernie Nicholls, Steven Rice, Louie DeBrusk and future considerations (David Shaw) ****1/
4) December 6, 1995: Patrick Roy and Mike Keane from Montreal to Colorado for Jocelyn Thibault, Martin Rucinsky and Andrei Kovalenko ****1/2
5) June 30, 1992 Eric Lindros from Quebec City to Philadelphia for Steve Duchesne, Peter Forsberg, Ron Hextall, Kerry Huffman, Mike Ricci, Chris Simon, a 1993 1st round pick (#10-Jocelyn Thibault), a 1994 1st-Round pick, (#10-Nolan Baumgartner)) and $15 million in cash *****
6) March 3, 1968: Norm Ullman, Floyd Smith, Paul Henderson and Doug Barrie to Toronto for Garry Unger, Peter Stemkowski, Frank Mahovlich and Carl Brewer ****1/2
6A). January 13, 1971: Frank Mahovlich from Detroit to the Montreal for Guy Charron, Bill Collins and Mickey Redmond ****
7) March 10, 1980 Butch Goring from L.A. to New York Islanders for Dave Lewis and Bill Harris ****
8. November 1947 : Max Bentley from Chicago to Toronto for Gus Bodnar, Gaye Stewart, Bud Poile, Bob Goldham and Ernie Dickens ****
9) January 2, 1992: Gary Leeman, Alex Godynyuk, Jeff Reese, Craig Berube and Michel Petit from Toronto to Calgary for Jamie Macoun, Ric Nattress, Rick Wamsley, Kent Manderville and Doug Gilmour ****1/2
10) August 17, 1992 Dominik Hasek from Chicago to Buffalo for Stephane Beauregard and a fourth-round draft pick (Eric Daze) ****
11) July 23, 1957 Ted Lindsay and Glenn Hall From Detroit To Chicago for Johnny Wilson, Forbes Kennedy, Hank Bassen, Eric Preston ***1/2
12) June 28, 1994: Garth Butcher, Mats Sundin, Todd Warriner and 1994 first-round pick (#10-Nolan Baumgartner) from Quebec City to Toronto for Wendel Clark, Sylvain Lefebvre, Landon Wilson and 1994 1st round pick (#22-Jeff Kealty) ***1/2
13) May 22, 1970 : 1971 1st-round pick (#1-Guy Lafleur) and Francois Lacombe from Oakland to Montreal for Ernie Hicke and 1970 1st-round pick (#10-Chris Oddleifson) *****
14) Nov. 7, 1975: Phil Esposito, Carol Vadnais from Boston to New York Rangers For Brad Park, Jean Ratelle ****
15) October 1989: Tom Kurvers from New Jersey to Toronto for first-round pick (#3 Scott Niedermayer) ****
16) Nov. 30 2005: Joe Thornton from Boston to San Jose for Brad Stuart, Wayne Primeau and Marco Sturm ***1/2
17) December 20, 1995: Joe Nieuwendyk from Calgary to Dallas for Jarome Iginla ***1/2
18) Feb. 22, 1964: Andy Bathgate and Don McKenney from New York Rangers to Toronto for Dick Duff, Bob Nevin, Rod Seiling, Arnie Brown and Bill Collins. ***
19) March 7, 1988: Brett Hull from Calgary to to St. Louis for Rick Wamsley and Rob Ramage ***
20) June 29, 1990: Denis Savard from Chicago to Montreal for Chris Chelios ***
21) June 24, 1963: Dave Balon, Leon Rochefort, Len Ronson and Lorne "Gump" Worsley from New York Rangers to Montreal for Donny Marshall, Phil Goyette and Jacques Plante. ***
22) June 24, 2000: Mark Parrish and Oleg Kvasha from Florida to the New York Islanders for Roberto Luongo and Olli Jokinen ***
23) February 10, 1960: Red Kelly from Detroit to Toronto for Marc Rheaume ***1/2
24) October 10, 1930: King Clancy from Ottawa to Toronto for Eric Petting, Art Smith, cash ***
25) June 28, 1964: Ken Dryden and Alex Campbell from Boston to Montreal for Paul Reid and Guy Allen ****
Sign up today for Not The Public Broadcaster newsletters. Hot takes/ cool slants on sports and current affairs. Have the latest columns delivered to your mail box. Tell your friends to join, too. Always provocative, always independent. https://share.hsforms.com/16edbhhC3TTKg6jAaRyP7rActsj5
Bruce Dowbiggin @dowbboy is the editor of Not The Public Broadcaster A two-time winner of the Gemini Award as Canada's top television sports broadcaster, he's a regular contributor to Sirius XM Canada Talks Ch. 167. Inexact Science: The Six Most Compelling Draft Years In NHL History, his new book with his son Evan, was voted the seventh-best professional hockey book of all time by bookauthority.org . His 2004 book Money Players was voted sixth best on the same list, and is available via http://brucedowbigginbooks.ca/book-personalaccount.aspx