A-A-Ron: Sacked For Defying The Needle Gang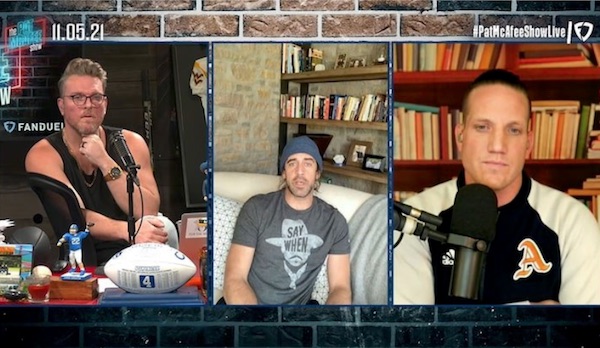 "I realize I'm in the crosshairs of the woke mob right now. So, before my final nail gets put in my cancel-culture casket, I think I would like to set the record straight on so many of the blatant lies that are out there about myself." —Aaron Rodgers
There are two popular media takes about Aaron Rodgers not taking Joe Biden's favourite vaccines for Covid-19. The first— and easiest to find agreement— is that Rodgers was less than candid about his unique approach to combatting Covid-19 under the NFL protocols made up last year— and still unreasonably clinging to the game.
Rodgers says the Packers knew his vaccination status. "I have followed every single protocol to a T… My daily routine is the routine of an unvaccinated person." But to those who've seen NBA stars like Kyrie Irving and Andrew Wiggins publicly declare their opposition to getting jabbed, Rodgers kept his unique position on the down-low.
It seems that, after watching the NBA dudes getting slammed by FauciLand, he preferred to soft-pedal his opinions. Plus there were all his sponsors. Not good optics.
He clearly has opinions to voice. "They're purely trying to out and shame people," he told former teammates Pat McAfee and A.J. Hawk. "Like needing to wear a mask at a podium when every person in the room is vaccinated and wearing a mask – makes no sense to me.
"If you got vaccinated to protect yourself from a virus I don't have as an unvaccinated individual then why are you worried about anything I could give you?" Nice try. In a game governed by rules, the liberal media mob feels Rodgers tried to add a fifth down or a ten-point TD. Rodgers should have done like Irving et al. and let these sincere objections rip rather than get exposed later.
The second take on Rodgers (engaged to actress Shailene Woodley, who prides herself on making her own medicines) is that he consulted popular podcast host Joe Rogan about alternative therapies when he learned he had an allergy to something in the mRNA vaccines. (Rodgers conversion to alternative lifestyles by his significant other is reminiscent of Colin Kaepernick— another Bay Area resident—going full BLM after being indoctrinated into Woke World by the new woman in his life.)
The Rogan consult is the take getting him most of the grief and caused his healthcare sponsor to drop him as a spokesman. As Matt Walsh tweeted, "The sports media are far, far angrier at Aaron Rodgers for not getting vaccinated than Deshaun Watson for sexually assaulting dozens of women, or Henry Ruggs for driving 156 mph while drunk and killing someone."
For the Media Party, who demand obeisance to Woke narratives about masks, lockdowns, single-, double-, triple-xaxxing and crushing scientific inquiry, consulting a standup comedian and former MMA figure is off-script. They will countenance late-night (formerly) comedy show hosts talking Covid. But dissent? Science, to them, is carved in stone. Rogan is a poison.
Rogan, however, is curious about the science around a virus that has stumped the clever folks in white coats. He asks questions. His podcasts go into depth (often two-hours plus) with people who have credentials or are simply quoting public research. He doesn't pretend to be an expert. He simply—no better way to say it— speaks his truth and reads the material.
This unconventionality represents a mortal threat to people who brought you Covid: The Musical! It would be no exaggeration that the millions in Rogan's audience for his podcasts— and a string of alternative guests— has thrown shade on the litany of false narratives generated by the WHO, CDC, Health Canada and their slappies in the press. Who react with anger when their mistakes are pointed out.
But Rogan is no Q-Anon phantom. Along with Russell Brand, Ricky Gervais and, increasingly, Bill Maher these alt-voices are relentless in debunking PCR tests, mask mandates, etc. A public exhausted by official propaganda about magic vaccines— and the media's willing acceptance of corrupt science— is turning to non-Hollywood personalities for guidance.
While Joe Biden's message pushed out by these sources is summed as "Comply!", the alt-hosts are more like Maher. "I know some people seem to not want to give up on the wonderful pandemic, but you know what? It's over… You shouldn't have to wear masks…vaxx, mask, pick one! You can't make me mask if I've had the vaxx… the red states are a joy and the blue states are a pain in the ass."
The results of the censorship have seen progressive cable-news media's ratings collapse by up to 68 percent (CNN) in primetime. And the thrashing in last week's off-year elections. But what does that say about Wolf Blitzer's feelings? Or Rachel Maddow's deeply felt conspiracy blockbusters on MSNBC?
Funny you should ask about Rachel and credibility. Last week the DOJ charged a Russian with lying about his role in the RussiaGate investigation of Donald Trump. That would be the same RussiaGate investigation Maddow sold— and still sells— nightly as fact to her viewers for four years.
The criminal charge against Igor Danchenko makes clear that the entire Russia/ Trump investigation (which paralyzed his presidency) was generated by the Hillary Clinton 2016 presidential campaign as a dirty tricks op. Primary sources were invented, laundered to a former spy, disseminated by compliant media such as Maddow and used by the FBI to launch the failed Mueller Investigation into Trump's activities.
Despite the evidence generated by the DOJ Maddow refused to admit she pushed a loser, citing more dark conspiracies on the right. Leading independent journalist Matt Taibbi— who called the story "a "sizable boil on the face of American journalism"— to excoriate the MSNBC darling. "Whatever the category below 'disgraced journalist' is, she entered it with gusto with last night's performance," Taibbi wrote. "Every reporter who touched that allegation should be ashamed, and Rachel is at the front of that huge crowd."
So if you're looking for why Aaron Rodgers might have looked elsewhere for information on Covid-19 check out the carcass of disgraced establishment healthcare and the willing wind therapists who peddled it. And who now want to bury Rodgers for going off script.
Bruce Dowbiggin @dowbboy is the editor of Not The Public Broadcaster (http://www.notthepublicbroadcaster.com). The best-selling author of Cap In Hand has been nominated for the BBN Business Book award of 2020 for Personal Account with Tony Comper. A two-time winner of the Gemini Award as Canada's top television sports broadcaster, he's also a regular contributor to Sirius XM Canada Talks Ch. 167. His new book with his son Evan is called InExact Science: The Six Most Compelling Draft Years In NHL History is now available on http://brucedowbigginbooks.ca/book-personalaccount.aspx
Your Trash, My Treasure: Playing The GM Shuffle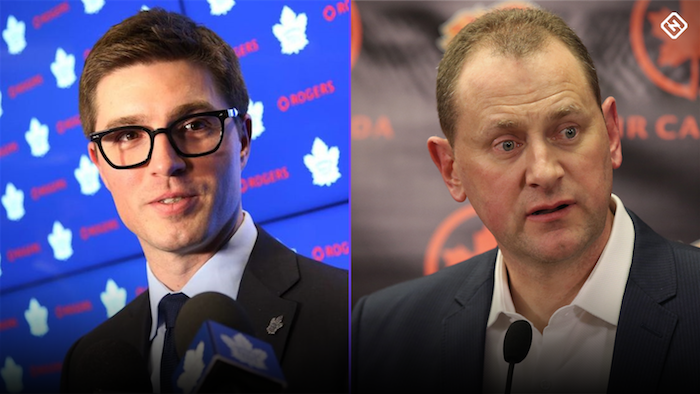 "One man's treasure is another man's trash/ One man's landing is another man's crash"—Guy Clark
At the end of a season that saw his Calgary Flames fall from Pacific Division champions in 2022 to out of the playoffs in 2023, general manager Brad Treliving went to ownership of the club. Tired of seeing each Darryl Sutter ignore the products of Calgary's development system in favour of aging veterans, Treliving wanted a fundamental change of direction for 2023-24. Get younger.
The problem for Treliving is that he had no contract past 2023 while Sutter had two years left at $4M per year on the extension Flames ownership had given him for the 2021-22 performance fuelled by Matthew Tkachuk and Johnny Gaudreau. For the parsimonious Flames the answer was obvious about the coach who'd once led the teams to the Stanley Cup Final in 2004. Sutter and his contract won out.
While the choice of retaining Sutter might have satisfied ownership, it was a non-starter for Treliving, a number of core players on the roster and the fan base— who were bitterly watching Tkachuk lead Florida to the 2023 Final. Treliving was gone from the team he'd run for nine seasons and five playoff appearances. With the implicit defection of some key players, ownership then had president Don Maloney fire Sutter.
Was Treliving the best GM in the league? Maybe not, but his work in turning the departure of Tkachuk into real assets (ones Sutter seemed to waste) was indicative of skill. In the end the Flames had made a choice that cost them both their options. Now they're left with former hero Craig Conroy making his maiden appearance as an NHL GM. And possibly their AHL coach being promoted. Did we say the Flames are cheap?
Meanwhile in Toronto, wunderkind GM Kyle Dubas had gone from youngest genius in the NHL to shopworn object of scorn to Toronto's roiling fan base. After seeing his heralded teams win just one playoff series (2023) since 2017, Dubas became the scapegoat for frustrations that go back to 1967. Loaded with costly, flashy stars such as Auston Matthews, William Nylander and Mitch Marner, Toronto seemed to have peaked.
So after some aborted contract talks, Maple Leafs ownership and president Brendan Shanahan said buh-bye Dubas. A hiring committee went in search of a new GM to handle the thorny contract issues Toronto faces under the current CBA. (Namely, would Matthews sign an extension this summer or would he do a Gaudreau and bet on himself in a contract year.)
Meanwhile, the 40-year-old Dubas said he was going to take some time off to consider his options. As holidays go it was a short one. No sooner had the Leafs decided that Calgary's trash was their treasure, inking Treliving as their new GM, Dubas' rumination ended with his being named as GM in Pittsburgh on a seven-year deal. What? Next thing you're going to tell us is that Mike Babcock is coming back after his paid holiday from the Leafs (where Dubas and Shanahan had fired him).
You guessed it. The two-time Stanley Cup winning coach— the winningest coach in Red Wings history— once thought too mean by all the young dudes in the T-Dot was named head coach in Columbus, where he'll try to motivate Gaudreau— who once found Sutter too abrasive. Go figure.
Fans hoping that new GMs and coaches making bold moves will bring sunny days in 2023-24 will be sorely disappointed as the crunch from Gary Bettman's vaunted Escrow System will mean a meagre $1M bump in the salary cap for next season. Because of money lost by owners during the Covid Bubble seasons, players are working off an estimated $1.1B debt they owe owners under the terms of the glorious salary-cap capitulation by shutting down the 2004-05 season.
Of course, part of that loss in revenues can be attributed to Bettman's Folly, aka the Arizona Coyotes, who've been a drag on the NHL's revenue streams even as other clubs make out like bandits. (See: small-market Ottawa Senators estimated to be going for a billion dollars.) In addition there is probably as much as $70M in "dead" money from ill-fated contracts stuck in the works. BTW, not one player in the socialist republic of Bettman made a max salary in 2022-23 under this scheme accepted by players who cratered in 2004 and fired Bob Goodenow.
With an estimated $6M bump in the cap on July 1, 2024, there will be a lot of kicking the can down the road this summer should Treliving and the Leafs pony up the max salary to keep Matthews. They might also be able to tread water on a few other costly contracts if they trade Matthews south to a U.S. destination.
As we've written lately , trying to keep American stars in cold Canadian cities where they're in a fish bowl 24/7 is becoming an issue. Many will look at Tkachuk appearing as a guest on the NBA Playoffs broadcast as indicative of what can happen if they move to a tax-free state like Texas, Tennessee, Nevada, Florida and yes, Arizona.
So the GM faces may be new in Calgary, Toronto and Pittsburgh, but the problems are same old/ same old in Gary Bettman Land. Cap gymnastics, TV cord-cutting, market disparities and the collapse off international play, among many. Expect a replay of the GM shuffle this time next year.
Sign up today for Not The Public Broadcaster newsletters. Hot takes/ cool slants on sports and current affairs. Have the latest columns delivered to your mail box. Tell your friends to join, too. Always provocative, always independent. https://share.hsforms.com/16edbhhC3TTKg6jAaRyP7rActsj5
Bruce Dowbiggin @dowbboy is the editor of Not The Public Broadcaster A two-time winner of the Gemini Award as Canada's top television sports broadcaster, he's a regular contributor to Sirius XM Canada Talks Ch. 167. Inexact Science: The Six Most Compelling Draft Years In NHL History, his new book with his son Evan, was voted the seventh-best professional hockey book of all time by bookauthority.org . His 2004 book Money Players was voted sixth best on the same list, and is available via http://brucedowbigginbooks.ca/book-personalaccount.aspx
Should Poilievre Go Around The Legacy Media With His Message?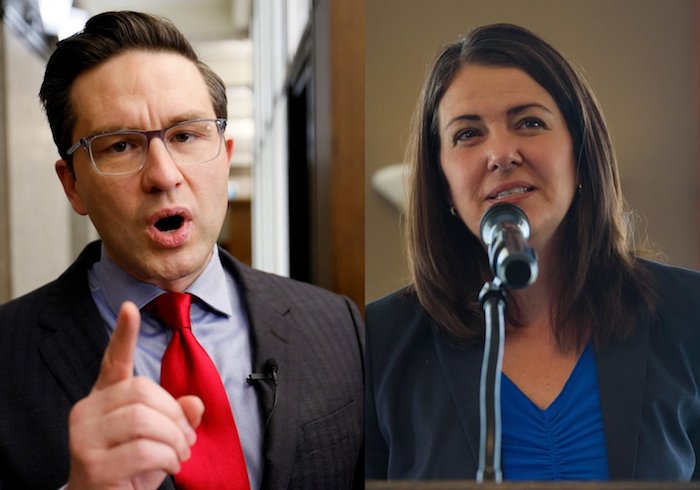 "It's amazing that we have an entire industry dedicated to making sure voters don't know what the government is up to. It's called Legacy Media."— Scott Adams
Is Pierre Poilievre's lesson from the 2023 Alberta election campaign that he simply go around the Media Party when he finally faces off against Justin Trudeau and/or the Liberals? To pass on their debates and town halls, sticking to his own carefully scripted events? The Alberta vote says maybe.
Despite 18 months of intense, bitter strafing from the chattering class, premier Danielle Smith emerged with a majority government on Monday. With 52.4 percent of the vote, she has an eleven-seat buffer in which to operate. (Although in Alberta politics that's still a narrow gangplank.)
Certainly it would be hard to get worse press than Smith got from the provincial and national media. Like Hansel and Gretel, the arbiters of #samethink laid a trail for the voters to follow. Using every flip and flop in Smith's tumultuous political journey they sought to create a narrative path. As happened when they conflated the Trucker Convoy into Three Weeks That Shook The World, the Media Party expected dutiful adherence to the taste makers with pleas like this.
"Dr. Lynora Saxinger MD FRCPC Infectious Diseases @AntibioticDoc May 27 I'm in a social media group with 1000s of AB doctors discussing exit plans if there's a Smith UCP win…"
Of course, none of them are going anywhere, because, contrary to media, every province in Canada (and many U.S. states) are afflicted the same way. Even when Smith staved off NDP lifer Notley in the televised debate the believers stayed fixed on this trail. One of their most beloved notions is that every group disparity can be explained by some form of bigotry. So Smith's backers had to be far-right, gun-toting, God-obsessed goobers that you wouldn't want at your Scotch nosing.
Bolstered by some polls that showed a dead heat, those ridings that want tunas with good taste, not tunas that taste good, knocked off Calgary-based UPC cabinet members and others without tattoos and nose rings.
Yet, with everything going for them— a photogenic NDP leader in Notley an unpredictable UPC leader, the Covid hangover— the media couldn't get their woman over the finish line. The (spare me) "donut ridings", smaller communities and the farming country checked out months before when the NDP started hinting at a 38 percent rise in corporate taxes ("still lowest run the nation") and adopting Justin Trudeau's Transition Program for gas and oil.
They weren't buying the absurd notion of the NDP and its unionized pals as the voice of the common person the in the province. They passed on people who believe men can have babies, who believe government controls the weather, who believe politicians create jobs? All this passed without comment from media slappies. Not so for the people who don't spend 18 hours a day on Twitter and Tik Tok.
You wouldn't have seen this demographic by watching CBC, CTV, Global and the predictable media snobs. Earnestly trying to play the results down the middle (sure) on Monday they served up disaffected UPC ex-cabinet whingers, "unbiased" professors wearing NDP buttons and reporters 10 minutes out of J School to craft the narrative.
Sample a) Hapless @CBCNews talking head announced a UPC candidate winning his riding by over 5,000 votes. "Clearly a big win by NDP there," she bubbled. (Some habits die hard at the Corp). Sample b): After the vote CBC's The National seemed to boast that Notley had finished a close second while Smith had finished second from the bottom.
The over/under on the word "unions" being mentioned by "independent" panelists in a sentence with NDP was about 1. And the under cashed. Odd, seeing as how so many producing the broadcasts and writing for legacy papers are union members. The best news for @Alberta_UCP was lifer socialist Notley vowing to defend the rights of Alberta's unions for another four years. Andrea Horvath, here she comes!
So how should Poilievre handle the lurking beast that awaits his campaign with open notebooks and closed minds? Put a different way, what would he and the Conservatives have to lose by doing what Governor Glenn Youngkin did in the state of Virginia when he upset the Democratic machine in 2021?
Faced with the overwhelming Democratic financial pump next door in DC and the Trump Noise Machine on his other flank, Youngkin decided it was better to use social media to find his voters and craft his message. Wielding a family-based conservative message on education he knew he'd be wasting his time doing the dog-and-pony farce of legacy media with its union shills and their gotcha' questions.
So the Virginia state GOP avoided the Media Party as much as possible, submitting only to limited exposure. "Experts" predicted doom by going the social-media route. Youngkin was accused of banning books. But on election night the multi millionaire scored a massive win over "those who must be obeyed". The triumph carried from the governor's chair down to the school-board level. (Youngkin is now being mentioned as a GOP presidential candidate.)
Poilievre îs going to change zero minds in sit-downs with the Toronto Star editorial board. Worse, they'll contort his message, further convincing the Wine Moms of Toronto that PP is a Trump disciple (the ultimate Family Compact sneer). CBC and CTV panels will furrow their brows about right-wing extremism. The Toronto media community will dig up fundamentalist Christians— as if they're more extreme than full-term abortion supporters.
It's a loser's game to always play in then other team's end of the field. Maybe Poilievre and his comms team can come up with something that changes the game. Like going directly to the electorate with their message. And leaving the bought-and-paid-for national media outside the door.
Sign up today for Not The Public Broadcaster newsletters. Hot takes/ cool slants on sports and current affairs. Have the latest columns delivered to your mail box. Tell your friends to join, too. Always provocative, always independent. https://share.hsforms.com/16edbhhC3TTKg6jAaRyP7rActsj5
Bruce Dowbiggin @dowbboy is the editor of Not The Public Broadcaster A two-time winner of the Gemini Award as Canada's top television sports broadcaster, he's a regular contributor to Sirius XM Canada Talks Ch. 167. Inexact Science: The Six Most Compelling Draft Years In NHL History, his new book with his son Evan, was voted the seventh-best professional hockey book of all time by bookauthority.org . His 2004 book Money Players was voted sixth best on the same list, and is available via http://brucedowbigginbooks.ca/book-personalaccount.aspx