72 year old Red Deer man killed in cycling accident – RCMP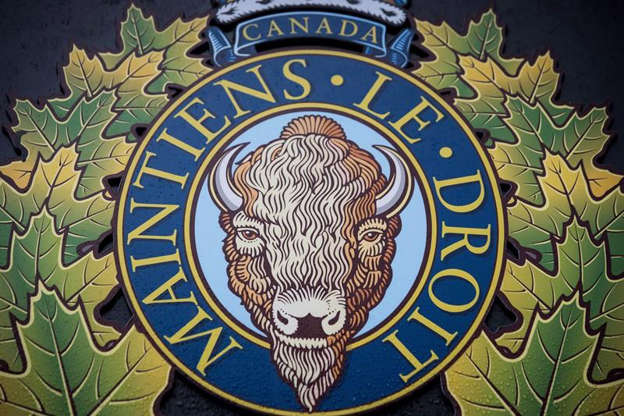 From Red Deer RCMP
Red Deer RCMP- Unfolding event-cyclist collision-
At approximately 10:30 A.M. on Sept. 6, 2023, Red Deer RCMP Traffic Services Unit responded to a motor vehicle collision between a pick-up truck and cyclist. The collision occurred at the intersection of 40 Ave., and 22 St..
The 72-year-old male cyclist, a resident of Red Deer, was transported to hospital by EMS where he succumbed to his injuries. The name of the deceased will not be released.
The 62-year-old male driver and lone occupant of the pick-up truck, a resident of Red Deer, was uninjured in the collision.
Red Deer RCMP's preliminary investigation indicates the pick-up truck was travelling northbound on 40 Ave., through a green light. The cyclist was riding eastbound on 22 St., and rode into the crosswalk against a 'don't walk' signal. The pick-up truck made contact and struck the cyclist in the crosswalk.
Red Deer Traffic Services are investigating the cause of the fatality along with the assistance of the RCMP Collision Reconstructionist.
Red Deer RCMP would like to thank witnesses for their assistance in calling 9-1-1, and providing medical attention and support to the cyclist prior to EMS arrival.
Condolences to the family and friends of the deceased
Red Deer RCMP looking for help from public in arson investigation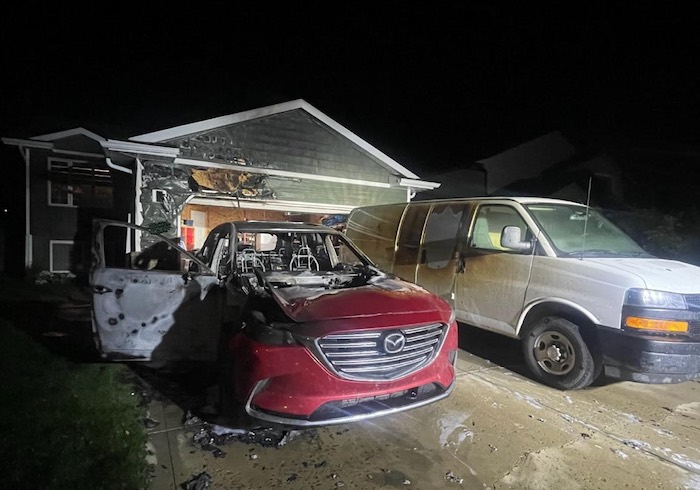 News release from Red Deer RCMP
Red Deer RCMP investigate arson
On Sept. 13, 2023 at 1:26 a.m., Red Deer RCMP were called to a residential structure and vehicle fire on Lancaster Dr.. Red Deer Fire and EMS responded as well. Upon arrival, a vehicle was fully engulfed in flames and the fire was spreading quickly to a second vehicle and the residence.
The owners of the residence were home at the time of the fire. The owners and several neighbours heard a loud bang before the owner exited his home and discovered his vehicle on fire. City of Red Deer Fire department extinguished the flames.
All residents of the house are safe and no injuries were reported.
One vehicle was completely destroyed by the fire. A second vehicle has heat and paint damage. The exterior of the garage has extensive surface damage.
Fire investigators attended the scene and located the source of the fire. The fire is deemed to be suspicious and RCMP are investigating the incident as an arson.
The initial RCMP investigation is on-going and more information will be released once available.
Red Deer RCMP are asking the public's assistance for any information or video surveillance in relation to this incident are asked to contact the Red Deer RCMP at 403-406-2200 or your local police. If you wish to remain anonymous, you can contact Crime Stoppers at 1-800-222-8477 (TIPS), online at www.P3Tips.com or using the "P3 TIPS" app available through the Apple App or Google Play Store.
To report crime online, or for access to RCMP news and information, download the Alberta RCMP app through Apple or Google Play.
Police and Crisis Teams (PACT) see RCMP and mental health nurses providing critical mental health services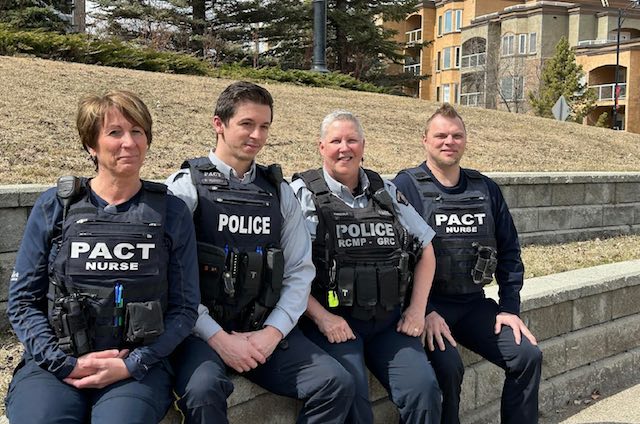 News release from Red Deer RCMP
Red Deer RCMP bring attention to suicide and mental health
As Sept. 10th approaches, Red Deer RCMP would like to take time to recognize the importance of World Suicide Prevention Day.
Suicide and mental health are difficult topics to discuss and often carry stigma and shame. Far too often these 2 things act as barriers and prevent people from getting the help they need and deserve.
Many individuals struggle with mental health on a daily basis. Asking for help or listening to a friend or family member can be difficult when we don't know what to say or where to turn.
Red Deer RCMP would like to reach out to our community and fellow citizens to let them know they are not alone. As police officers we acknowledge suicide exists. Members receive training which prepares officers responding to calls for service when dealing with suicide ideations and suicidality.
In Red Deer we are fortunate to have two Police and Crisis Teams (PACT) that are specially trained in suicide and mental health. PACT is a collaborative partnership between Red Deer Primary Care Network (PCN) and Red Deer RCMP. Our PACT teams consist of a police officer paired with a registered psychiatric nurse (RPN).
For the last 12 years, PACT has been responding to mental health crisis calls providing initial intervention in Red Deer. Our PACT teams are well versed in dealing with suicide and mental health, and are often called upon for their experience alongside other police officers.
Our PACT team is an integral part of an innovative police response in our community.
We are proud to have RPN Michelle, Constable Floroiu, Constable Kokkola, and RPN John providing mental health response in our community.
If you, or someone you know is struggling with mental health or suicide, contact the Alberta Mental Health Help line, 24-hour service, 1-877-303-2642.