5 winners already in Red Deer Hospital Lottery – Previous Supporters Draw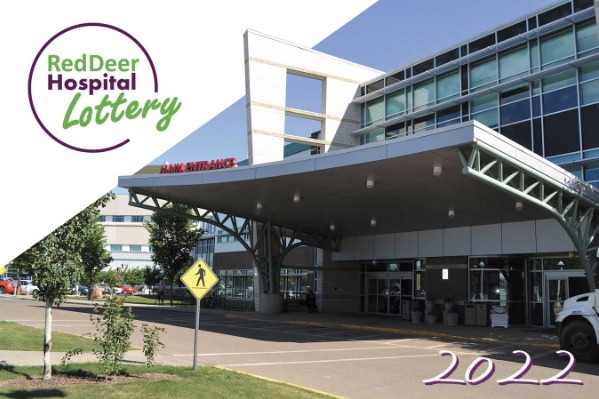 Five lucky people are already glad they purchased a Red Deer Hospital Lottery ticket – and the winning has just begun!
Thank you to Cecile A of Red Deer, Lynda H of Lacombe, Dan & Wendy K of Sylvan Lake, Bobbi & John W of Millet, and Jack W of Stettler who supported our hospital. They each won $1,000 in our Previous Supporter draws.
There are still 115 prizes totaling over $1.1 million to be won!
Our Grand Prize Dream Home package is valued $940,332.00 including furnishings from Urban Barn and $10,000 Dream Home CASH!
Maybe you'll win a 2022 GMC Yukon SLT worth over $81,000.00! Tickets are only $25 each.
There's still more. Buy before May 25th and you could win our EARLY BIRD CASH PRIZE OF $25,000
CHECK OUT OUR GREAT TICKET PACKAGES
$25 EACH | 5 FOR $75 | 10 FOR $125 | 25 FOR $250
Win half of an increasing jackpot of up to $1,000,000.
The jackpot grows with every ticket sold!
1 for $10 • 10 for $25
25 for $50 • 50 for $75
Win half of the current jackpot of:
17 of 83 pieces of equipment have already been funded!
Every ticket purchased will support the Red Deer Regional Hospital Centre with proceeds used to purchase eighty-three pieces of medical equipment for several units.
Since opening a few weeks ago, we've already secured funding for 17 stretchers benefiting 8 different units at our hospital!
CALL RED DEER & AREA OR TOLL FREE
403.340.1878 1.877.808.9005
Red Deer Hospital Lottery
PO Box 1098
Red Deer AB T4N 6S5Lottery Licence 590314 | Mega Bucks 50 Licence 590315
© RED DEER HOSPITAL LOTTERY 2022
Take the Family Friendly Challenge to help your kids grow up great!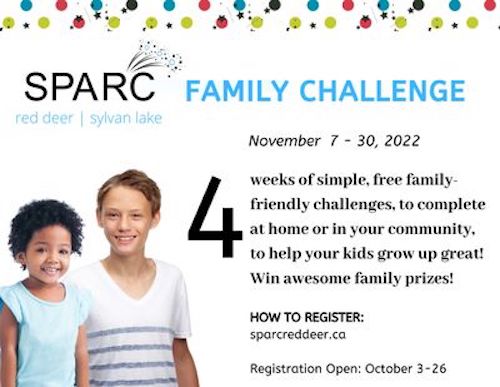 Submitted by Alberta Health Services
SPARC Red Deer & Sylvan Lake Family Challenge
SPARC Red Deer and SPARC Sylvan Lake, are pleased to announce a free, fun family challenge to run in the month of November.
The SPARC Family Challenge offers 4 weeks of simple, free, family-friendly challenges, to complete at home or in your community, to help your kids grow up great! By participating in the SPARC Family Challenge, you can create strong positive connections with your kids and within your family. The purpose is to educate families about the 40 Developmental Assets, which are research-proven life experiences or building blocks which all children need to grow up healthy, caring, and responsible.
Research shows that the higher number of these assets a young person has, the more likely they are to thrive and to engage in positive behaviours, and avoid risky behaviours. Through every day, achievable activities, we can build assets in our kids and help them thrive.
Families will have a choice between two options each week that meet their own family interests and capabilities. Families can win awesome prizes at the end of the 4 weeks by completing the post survey.
For more information, and to register, visit sparcreddeer.ca and follow us on Facebook, Instagram and Twitter.
Registration deadline is October 26th.
Community Better Celebration October 15th, 2022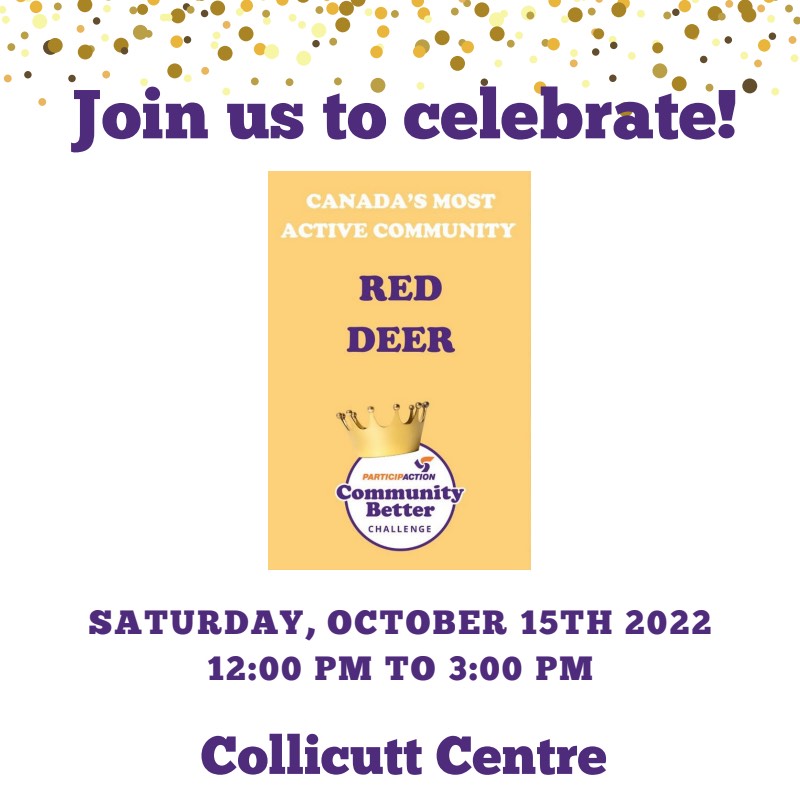 The City of Red Deer was crowned the "most active community in Canada" in the Community Better ParticipACTION Challenge June 2022. Now we get to celebrate together!
We want to thank all citizens for helping us win by celebrating and getting active on October 15th, 2022 at the Collicutt Centre from 12:00-3:00pm.
The event will kick off with a warm welcome by Mayor Johnston, followed by fun activities. There will be free swimming, skating and field house activities. There will also be local organizations showcasing how you can stay active year round in our wonderful City.
Please note: Free skating is from 12:30-2:00pm and you must provide your own skates. Access to activities will be based on facility capacity limits and on a first come basis. Hope to see you there!