$200,000.00 up for grabs in Child Advocacy Centre 50/50 Cash Lottery
Central Alberta Child Advocacy Centre 50/50 Cash Lottery
The CACAC is excited to announce their newest community initiative: the Central Alberta Child Advocacy Centre 50/50 Cash Lottery!
One lucky winner will walk away with up to $200,000 all while supporting the efforts of the Centre.
Tickets start at just $10 – or increase your chances to win with 10 for $25, 25 for $50, and 50 for $75. Minimum guaranteed prize of $80,000!
"Our 50/50 Cash Lottery is not only going to change the life of the winner, it is also going to change the lives of the many children and families that we support here in Central Alberta.
In just two years' time we have supported more than 830 children and youth impacted by child abuse from 74 communities across the province.
It takes courage for a child to share their story of abuse, it also takes courage from the community to listen, believe and seek justice.
With the help of our courageous community – with your help, we can and will continue to support every vulnerable child that needs us.
Each ticket sold in our lottery helps give the chance of a brighter and healthier future." Mark Jones, CACAC CEO
Tickets are available online at www.cacac5050.caand will be emailed to the purchaser. You can also call the Centre directly to purchase tickets at 587-272-2233. Lottery license number: 547979
The CACAC 50/50 Cash Lottery deadline is March 8th, 2020 at 11:00pm and the draw will take place on March 17, 2020 at 11:00am.
Guns and drugs seized by ALERT at Lacombe home associated with drug activity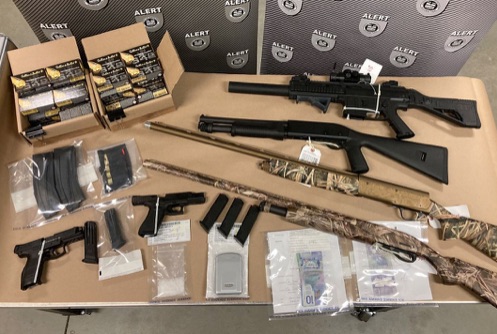 News Release from the Alberta Law Enforcement Response Team (ALERT)
Guns and drugs seized in Lacombe
 Three people have been arrested on drugs and firearms offences following a joint investigation between ALERT and Lacombe Police Service.
The arrests took place on May 5, 2021 after a Lacombe house and vehicle were searched by investigators.
ALERT alleges the home was associated to drug activity and investigators seized quantities of methamphetamine, miscellaneous pills, two handguns, and three rifles.
"Organized crime impacts every community, and this investigation is strong example of police agencies working together to take drugs and guns off the street," said Insp. Sean Boser, ALERT Regional teams.
"This collaborative investigation demonstrates the benefits of agencies working together towards the common goal of reducing crime and creating safer communities in Alberta," said Sgt. Bryan Zens, Lacombe Police Service.
Charges are pending and the suspects are not being named at this time.
Members of the public who suspect drug or gang activity in their community can call local police, or contact Crime Stoppers at 1-800-222-TIPS (8477). Crime Stoppers is always anonymous.
ALERT was established and is funded by the Alberta Government and is a compilation of the province's most sophisticated law enforcement resources committed to tackling serious and organized crime.
Ann's story: having someone to talk to and guide me to be healthier really helped!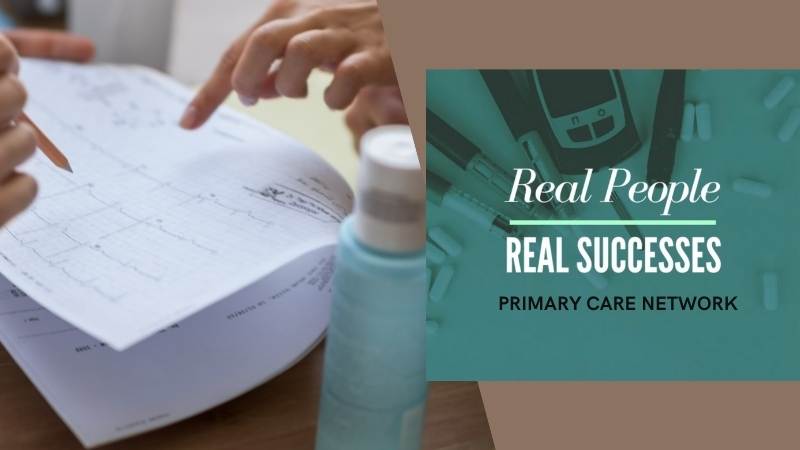 Ann shared her story of working with the PCN nurse towards better health. "I was diagnosed in November 2019 with diabetes and our doctor suggested that if I could lose about 10-15 lbs then I probably would not need to go on medication. He suggested a time frame around end of February and that he would contact a nurse for me to consult with. This was a bit of a shock and I wasn't sure I would be able to lose so much in such a short time.
We had recently moved from BC to Alberta to be closer to our grandchildren after we both retired. Within 4 months of arriving and lucky enough to get registered with a new doctor my husband found out that he had prostate cancer and a blood cancer called Polycythemia Vera. This just blew us both away. He had no symptoms of any of these diseases. So, for almost all of 2019 we were constantly in at the Cancer Clinic at Red Deer or the Imaging Clinic. This took a huge toll on both of us. I developed high blood pressure, my anxiety level was through the roof, wasn't sleeping, had ocular migraines and I was also trying to get my weight loss going. I felt I was falling apart.  I didn't realise at the time that all this was contributing to my being overweight.
I have been a weight watcher member for around 25 years. Had some success then every few years I would go back again but in 2014 after I retired, I decided to try again and along with a friend I lost 22lbs and got down to 130lbs for (5ft) person, I felt good. I kept this off until late 2018. Right now, I am back at 150lbs.
Just being able to talk to the PCN nurse was such a good help for me mentally as I felt I had no one to talk to who understood what I was going through. She helped me understand a lot about diabetes and every month that we met my blood level was decreasing and I was losing a few pounds. However, when my husband was told that his potassium was a bit high, I had to restructure our meals. So, everything he had to avoid was what I was supposed to eat.  The nurse connected me with a dietitian who immediately told me to stop "dieting" as this was stressing me out even more than before. Just to make sure that I still ate sensibly, did some exercise and to put the scale away and only weigh myself once a month. This has really helped, and I am starting to sleep better, I don't feel nearly as anxious and I have a more positive outlook. I realise that I will eventually lose a few pounds, I might not get back to my 130lbs, but it will take time and I'm fine with that.
I think if I had been back in BC, I would have been able to talk to my friends about what I was going through and I might have got some help quicker. Sharing your feelings is not easy but it sure helps. I appreciated the PCN nurse listening and helping me make a plan to improve my mental as well as my physical health." 
To learn more about the RDPCN programs, visit www.reddeerpcn.com