20/20 Hindsight from Red Deer South MLA Jason Stephan
From Red Deer South MLA Jason Stephan
2020 YEAR END REPORT ON LOCAL PRIORITIES
Dear Friends,
I am grateful for the opportunity to serve, and try to do so in accountable ways. Notwithstanding COVID, there is some encouraging, good news to report on pressing, local priorities for our community in 2020.
During the last election, two prominent needs consistently shared by members of our community were firstly, a lack of funding for the Red Deer Regional Hospital and secondly, harms to families and businesses relating to crime and homelessness, particularly with a hollowing out of our downtown. I am pleased to report significant progress on both of those needs.
Red Deer Regional Hospital
In Budget 2020, the Government announced a $100 million investment in our Hospital. The Premier said this was Phase I. This has been a long-standing need in our community and it is exciting to see our government lead and provide real and substantial commitment to our Hospital.
So, what is the current status? Currently, the Business Plan for this investment is being developed. Working in partnership with frontline professionals in our Hospital and other key stakeholders, the Plan is prioritizing needs and seeking innovative, cost effective solutions with a focus in maximizing positive health outcomes for Central Albertans. Minister LaGrange and I, along with our municipal leaders, meet monthly with AHS Zone leadership to receive accountability update reports.
A focus of the Plan is on developing additional capacities outside of our Hospital for less complex health care needs so there is growing capacities in our Hospital for more complex needs. As that capacity is developed, there is an opportunity to add services to our Hospital in order of our most pressing needs.
While COVID did cause a delay, the Plan will be completed in the new year and construction commenced.
Supports for Addictions and Homelessness
This Government is focused on supporting individuals seeking to improve their lives, including freedom from addictions, while respecting families and businesses in our community.
This year a new "Recovery Community", where individuals will receive treatment and support to become free from addictions was announced for Central Alberta. In addition, drug court services were also announced allowing individuals committing drug related property crimes an alternate path of restitution, community service and addiction treatment. These services will begin in the new year.
Budget 2020 also announced an integrated homeless shelter for Red Deer. We are in on-going meetings with service providers and community stakeholders as this service is in development. This new shelter service must facilitate a course correction and culture change – supporting individuals working to become free of addictions and destructive lifestyles to themselves and to our community as a whole.
This shelter should be a place of hope where individuals receive support and opportunities to work towards moving out of shelter and towards self-reliance. This shelter needs to be an accountable service, not only to the individuals it serves, but also as a good neighbor to families and businesses in our community.
Looking Ahead into 2021
COVID and its destructive tide of lockdowns, orders and restrictions will recede in the New Year. 2021 will see the work on these local priorities progress which will bless our community in the years to come.
Ending on a personal note, as the father of two young adult sons and a teenage daughter, I have a great desire to see improved opportunities for the rising generation.
An intentional education, whether formal or informal, on the job or in the class, allows our children to move towards self-reliance.
A strong economy allows our children to apply their effort and unique talent, augmented by their own intentional education, to provide goods and services for the public benefit, while blessing themselves and their own families with increased opportunities to seek happiness as they individually see fit.
As social gathering restrictions abate in the New Year, I look forward to meeting and to serving together, including with our children and young adults where I once was, in our local primary schools and at Red Deer College.
Province delays almost all Step 2 cautionary measures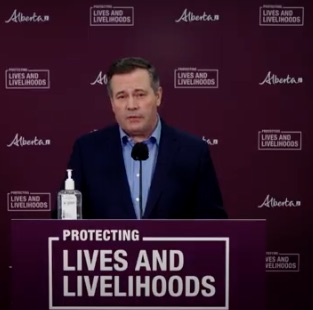 From the Province of Alberta
As a cautionary measure, changes to current restrictions for retail, children's sports, and hotels, banquets, community halls and conference centres have been delayed until Step 3.
Step 2: Hospitalization benchmark – 450 and declining
Libraries
These facilities can now open but must limit capacity to 15 per cent of fire code occupancy, not including staff.
Indoor fitness (no change to outdoor fitness):
Unsupervised low intensity individual and group exercises are now allowed by appointment only.
Mandatory physical distance of three metres is required between participants, including coaches and trainers, at all times, and masks must be worn at all times by trainers and those participating in low-intensity activities.
All indoor fitness must be pre-registered – no drop-ins allowed.
Low-intensity exercises include weightlifting, low-intensity dance classes, yoga, barre and indoor climbing, as well as the low-intensity use of treadmills, ellipticals and related equipment.
High-intensity activities, including running, spin and high-intensity interval training, continue to be allowed only on a one-on-one with a trainer basis, or training with a household and one trainer.
Additional details on the current restrictions is outlined on alberta.ca.
A decision on Step 3 will be made after at least three weeks of evaluation to assess the spread of COVID-19. Metrics based on cases and growth, including variant cases, are being monitored and will also be used to guide any decisions around the need to pause further steps or potentially increase restrictions.
Alberta's government is responding to the COVID-19 pandemic by protecting lives and livelihoods with precise measures to bend the curve, sustain small businesses and protect Alberta's health-care system.
Pandemic spending, no tax increases: Some highlights from the Alberta budget
EDMONTON — Alberta's United Conservative government tabled its budget Thursday. Here are some of the highlights:
— No new taxes or tax increases.
— Deficit of $18.2 billion on estimated revenues of $43.7 billion.
— Spending of $57.3 billion before expenditures on COVID-19 and cancelled crude-by-rail      contracts.
— Spending on COVID-19 to be $1.1 billion. An extra $1.8 billion as needed.
— Taxpayer-supported debt of almost $116 billion by March 2022. Annual debt interest      charges almost $3 billion.
— Capital spending to be $20.7 billion over three years.
— Heritage Savings Trust Fund pegged to reach $16.7 billion.
— Personal income tax to generate an estimated $11.6 billion.
— Corporate income tax estimated to be $1.9 billion.
— Cannabis tax to come in at $105 million.
— Public sector compensation, excluding physicians, set at $21.5 billion. To fall to $20.8 billion by 2024. 
— Compensation for doctors to remain steady from $5.2 billion now to $5.3 billion by 2024. 
— $3.1 billion to diversify economy and expand aviation, tech, pharmaceutical and tourism sectors. 
This report by The Canadian Press was first published Feb. 25, 2021. 
The Canadian Press