"Bring in the Auditors" Shadow Finance Minister says billions are unaccounted fo
From Conservative Party of Canada
Trudeau's accountability equation:
Double the spending + half the audits = a quarter of the accountability.
Bring in the Auditors
Conservative Shadow Minister for Finance, Pierre Poilievre, and Conservative Shadow Minister for the Treasury Board, Tim Uppal, held a press conference to call on the Trudeau Liberals to provide the Auditor General's Office with the necessary funding to audit the government's unprecedented spending.
As Canada's top spending watchdog, the Auditor General is a cornerstone of our parliamentary democracy. Shamefully, the Liberal government has flagrantly disregarded this fact over the past five years. Ten years ago, the Auditor General's Office was conducting 27 performance audits a year. At its current funding levels, the Auditor General can only complete 14 performance audits a year.
In order to underscore the necessity of funding the Auditor General, Conservative MP Pierre Poilievre will move the following motion at the Standing Committee of Finance:
That the Standing Committee on Finance call on the Auditor General of Canada to audit all federal programs associated with Canada's COVID-19 response and to complete all previously-scheduled audits and all audits requested by the House; and call on the government to provide the Office of the Auditor General all the funding it needs to carry out these audits and any other work it deems appropriate.
"Over the last ten years the size of government has doubled, and the number of audits has gone down by half. Massive Liberal spending programs lack basic accountability and transparency, such as their $180 billion infrastructure program. The government has spent billions on projects to date, yet they cannot produce a full list of projects that have received money. In fact, there are roughly 20,000 projects that are not accounted for. This complete disregard of taxpayer money is troubling. It's time to bring in the auditors," said MP Pierre Poilievre.
"The Liberals have announced hundreds of billions of dollars in new spending during the pandemic but are refusing to provide an economic update or to be transparent with Canadians," said MP Tim Uppal. "In a crisis, oversight is more important than ever. But the Auditor General doesn't have enough funding to conduct audits of government programs. Taxpayers deserve to know how the government is spending their money."
Central Alberta COVID cases fall below 1,000 – Mike York Update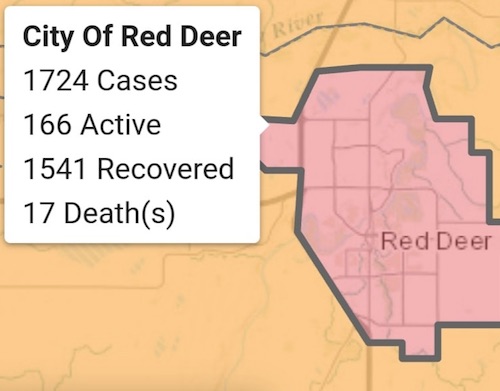 The AHS Covid-19 report for Wednesday January 20, 2021 is as follows.
Firstly, Alberta had a slight increase in new cases reported today with 669. There were also 996 recoveries so it's good to see the recoveries still surpassing the new cases!
In the Central Zone, 48 new cases and 148 recoveries reported today.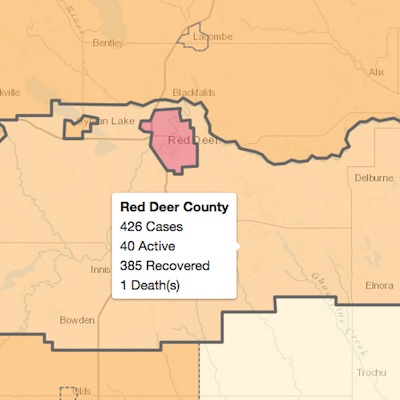 There was one more death recorded as well.
The number of active cases has now declined to under 1000.(949)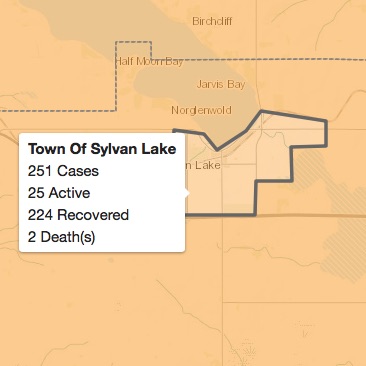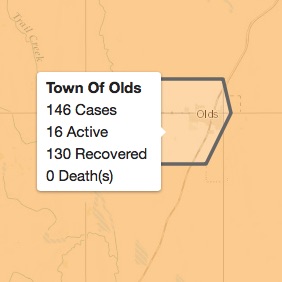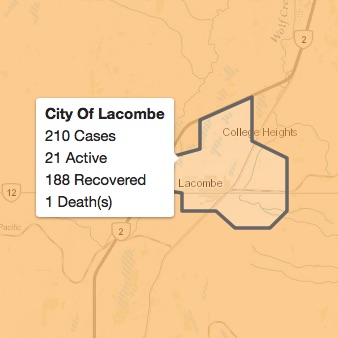 There are now 59 people in hospital of which 10 are in ICU.
In the city of Red Deer, just 9 new cases reported today along with 14 recoveries.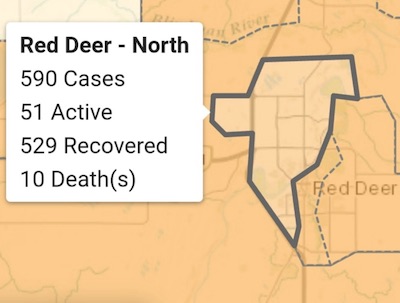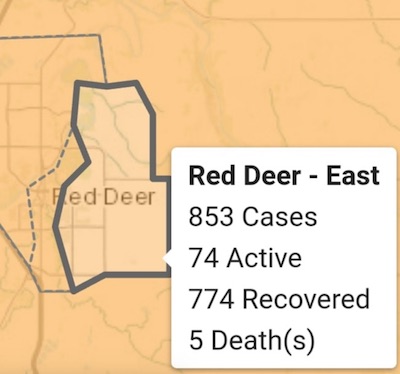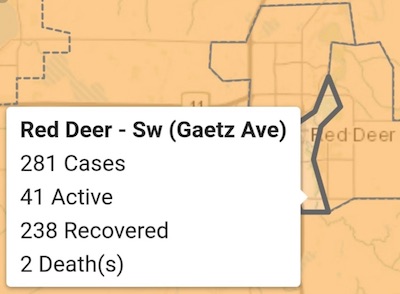 The cities current active cases have now dropped to 166.
We have currently 14 people in RDRH with the virus, 10 in the ICU.
Cheers to you all.
Active COVID cases continue to fall – Mike York update for January 17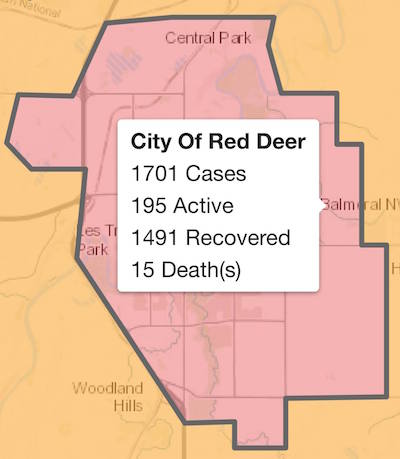 January 17 COVID update – noticeable drop of 15 active reported cases in Red Deer to 195 after 10 new cases but 23 recoveries. Unfortunately, there were also 2 new deaths bringing the total to 15.
Active cases are down from 1,209 to 1,182, with 8,209 cases to date. Hospitalizations sit at 65, down four, and ICU admissions are up one to 12. All ICU admissions in Central Zone are at Red Deer Regional Hospital.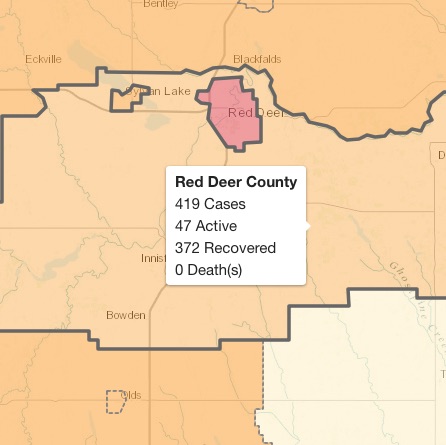 Red Deer County has 47 active cases, up one, the town of Sylvan Lake has 35, even with Saturday, and Olds has 27.
Lacombe County has 28 active cases, down one, and the city of Lacombe has 21, down six.
Ponoka County has 381, an increase of 15, though most cases there are in Maskwacis.
Clearwater County, which includes Rocky Mountain House, has 86 active cases, up two, and Brazeau County, which includes Drayton Valley, has 33, up two.
Mountain View County has 24, up two, Kneehill County has seven, down two, and County of Stettler has six, the same as yesterday.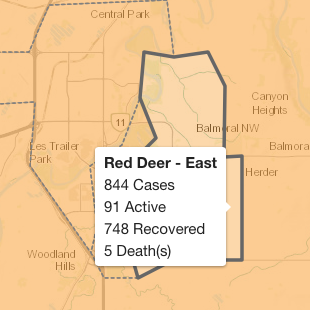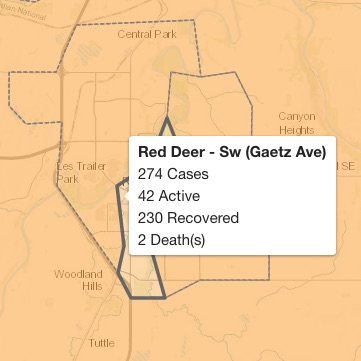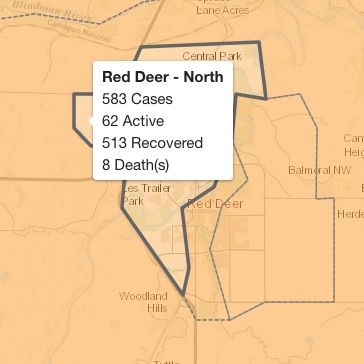 Meanwhile in Red Deer, the eastern section of town has dipped below 100 active cases for the first time in many weeks.  Cases are falling in Red Deer North (62) and in the South West as well (42).