City offering first come-first served plant and mulch rebate for local gardeners
From The City of Red Deer: Plant and Mulch Rebate Programs
Using native and drought-tolerant plants and permeable mulch in your home landscaping can save you time and money as your yard will require less watering and fertilizer.
New for 2019, The City of Red Deer is offering a Plant Rebate Program where residents who purchase plants that are native and/or drought-tolerant and plant them in their home landscaping can apply for a rebate of up to $50.
Application forms will be available:
New for 2019, The City of Red Deer is offering a Mulch Rebate Program where residents who purchase and install permeable mulch in their home landscaping can apply for a rebate of up to $50.
Who qualifies for a rebate?
You qualify if you:
Are a city of Red Deer resident
Have a City of Red Deer utility (water bill) account
Purchase a plant from the 2019 Qualifying Plants List (pdf) in the 2019 calendar year
Plant the approved plant on your own property located in the city of Red Deer
Include an original or copy of the receipt of your plant purchase. The receipt must clearly indicate the name of the store, product name, price and date of purchase. Your name must be clearly written on the receipt.
Include before and after photos of the landscaped area
Include photos of the plant, ensuring the photo includes a plant identifier tag or label
The program will run from June 10 to October 25, 2019. A limited number of rebates are available on a first-come, first-served basis. A rebate of 50 per cent of the cost of approved plants, up to $50, is applied to your utility account. Please allow eight to twelve weeks for the credit to be applied to your account.
Maximum one plant rebate per utility account. Plants in pots or planters do not qualify.
How to select the right plants for my yard
Rebates are only provided for the purchase of plants that are identified on the City of Red Deer qualifying plants list. This list includes plants that adapt well to Red Deer's local conditions and that are low maintenance.
When selecting plants and designing your yard consider the following:
Location: does the location get full sun, partial shade, or lots of shade?
Spacing: some plants grow high or spread out wide, plan the planting area for plant full maturity size.
Soil texture: Red Deer's soil can range from black loam to heavy clay. Consider adding mulch, compost, or conditioners (like manure, sand and perlite) to improve drainage and growing conditions.
Soil pH and nutrient levels: some plants have specific pH and nutrient requirements. Select plants that can grow well in your soil's current conditions. You may also work to adjust the pH and nutrient levels by using amendments like lime, compost, and slow-release organic fertilizers.
Climate: how hot and dry does your yard get during the growing season?
How to care for my plants
Applying mulch around your plants has multiple benefits, including conserving water, preventing weed growth, preventing soil erosion, and improving soil quality. Apply a layer of 2 to 4 inches of mulch, approximately 3 inches from the base of the plant. Apply for a mulch rebate today (see below).
Native and drought-tolerant plants require more water during their first year, to ensure that the root system is strongly established. Water 1-2 times per week spring and fall months, and 2-3 times per week during the summer months of July and August. Use rainwater to water your plants. Apply for a rain barrel rebate today.
Frequently Asked Questions:
Why do before and after photos have to be taken?
Mulch that qualifies for a rebate must be used for the purpose of:
Conserving water in a landscaped area
Reducing erosion and stormwater pollution
Before and after photos demonstrate that the mulch was applied as landscaping or groundcover, rather than for cosmetic purposes.
Native/drought-tolerant plants that qualify for rebates must be used for the purpose of conserving water in a landscaped area. Before and after photos demonstrate that the plants were planted directly in the yard, rather than in pots or planters.
Why is there a qualifying plants list?
The qualifying plants list was developed to ensure that only non-invasive plants are purchased and planted. The list includes native and drought-tolerant plants that The City has determined grow well under local conditions and support the water conservation and water quality protection goals of the program.
Why can't I receive a rebate for mulch or plants that were purchased prior to 2019?
There is a limited annual budget. Each year has its own budget and we want to ensure that as many residents have the opportunity to participate as possible.
How many rebates can I get?
Maximum one (1) Plant Rebate and one (1) Mulch Rebate per utility account is permitted.
How many rebates are available?
Funding is available for approximately 100 rebates in 2019. Rebates are issued on a first-come, first-served basis.
How long will it take for my rebate to be processed?
A credit will be applied to your utility account within 8-12 weeks.
For more information, please contact [email protected] or call 403-342-8750.
Red Deer Playgrounds opening with these guidelines
From the City of Red Deer
Phased reopening of playgrounds starts today
The City of Red Deer has begun a to reopen playgrounds with a phased approach between now and May 29, 2020."We know the closure of playgrounds has been difficult for some families with young children. We are re-opening playgrounds and fitness parks while continuing to align with recommendations from the Chief Medical Officer of Health, but caution the public that these structures are high touch and high contact surfaces," said Karen Mann, Emergency Operations Centre Director.A phased approach is necessary to ensure maintenance and inspections are completed in advance of reopening any playground or outdoor fitness structures. New signage and removal of caution tape will signal citizens as to when respective playgrounds are officially open. Crews will work in the north and south simultaneously to open playgrounds as quickly as possible across the entire city.Citizens are asked to refrain from using playground or outdoor fitness structures until crews remove the closed signs and caution tape.

Although playground reopenings are happening in alignment with all public health orders and restrictions, citizens are still encouraged to exercise caution and do what is necessary to continue to help prevent spread of COVID-19.

Equipment will be inspected prior to opening. The City is not washing or sanitizing structures and families are encouraged to bring their own hand sanitizer to the park with them, limit contact with others, and visit playgrounds within their own neighbourhoods.

Users are reminded of and must follow public health guidelines including:
Maintaining 2 metre physical distance;
Gathering in groups of 50 or fewer;
Only sharing common equipment with members of the same family or cohort;
Staying home if you feel sick;
Washing and sanitizing your hands before and after using these areas.
"Due to the diligence and commitment of our residents throughout this pandemic to complying with all orders and recommendations from health officials, we are now in a position to begin re-opening a number of our amenities in a phased manner," says Mann, "While we are as pleased as you are to see playgrounds and fitness parks starting to re-open, we know it will take the continued support of all residents to keep each other safe and healthy through this relaunch."
Residents can call the City's call centre at 403-342-8111 if they have questions regarding the playground reopening or any City services. More information on the City's response to COVID-19 can be found at www.reddeer.ca/COVID.
Alberta opens more shops in Calgary, Brooks amid COVID-19 recovery relaunch
#RedDeerStrong – Former refugee expressing gratefulness to Canada through donation to front line health care workers

From We Are Red Deer at RedDeer.ca
Esmat Bayat knows his way around a sewing machine.

"I have lots of experience," he chuckles. "Maybe 26, 28 years. A long time."
Bayat grew up in Afghanistan, working as a tailor and shoemaker since the age of 12. He opened his own business in Kabul making custom suits and dresses. In the years following 9/11, Bayat's homeland became war-torn and dangerous, so he packed up his family and fled to Iran.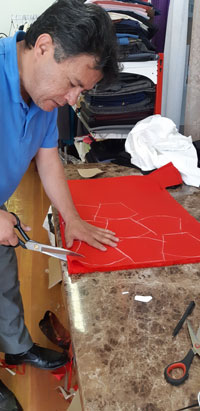 "We were refugees in Iran. The government of Iran is not good with refugees and immigrants. And Afghanistan was war. We had to move."
After brief stops in Pakistan and Turkey, Bayat's dream finally came true three years ago. On April 26, 2017, his family was granted refugee status in Canada. Bayat, his wife, and their four kids headed for a little city on the prairies they knew nothing about, named Red Deer.
Today, the Bayat family has settled into their new Canadian life and Esmat runs a tailor shop downtown. All was well… until COVID-19 hit.
"Right now I don't have any customers," he says. "Our community needs medical masks and protective suits. I am able to make them."
Instead of closing up shop and waiting for the pandemic to pass, Bayat is using his skills to help the country that welcomed his family warmly. He ordered special waterproof fabric and is sewing five-hundred medical masks and one-hundred protective suits. He plans to donate them to Red Deer's front-line health care workers.
"I like to help Canada because Canada helped me. The Canada(ian) government helped bring me to Canada and now I and my family are safe," he says. "I wanted to help the government, help the Canadians. This is how I can do that."
When COVID has passed, Bayat plans to start sewing clothes again and maybe one day open a small garment factory in Red Deer. In the meantime, he's focused on giving a helping hand to those who are working hard to keep Canadians safe and healthy.
"Everything is not money, not dollars. Sometimes people just need to help each other.