$1,200.00 boost for "Alberta's critical workers"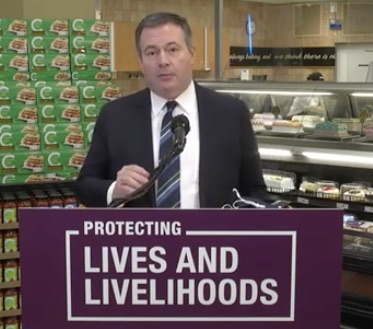 From the Province of Alberta
$465 million for Alberta's critical workers
Hundreds of thousands of workers who continue to provide critical services to Albertans during the COVID-19 pandemic will receive a one-time payment in recognition of their hard work and sacrifice.
The Critical Worker Benefit is a joint federal-provincial program that will see $465 million go to approximately 380,000 Alberta public and private sector workers as $1,200 cash payments.
"These workers have placed themselves at the front line of this pandemic in order to serve their fellow citizens during a crisis. Alberta's government is recognizing their good work. We trust this support will help these workers continue to protect lives and livelihoods as we keep fighting this pandemic together."
The Critical Worker Benefit will be available to workers in the health-care, social services, education and private sectors who deliver critical services to Albertans or support food and medical supply chains.
"I want to thank all the hard-working staff who have gone above and beyond their regular call of duty to support their fellow Albertans throughout this pandemic. This Critical Worker Benefit will go right into the pockets of hard-working Albertans on the front line who have made sacrifices in their own lives for the greater good and well-being of others."
To be eligible for the benefit, employees must have worked a minimum of 300 hours during the period of Oct. 12, 2020 to Jan. 31, 2021.
"Since the start of this pandemic, we have been deemed an essential service and our store, pharmacy and distribution centre teammates have stepped up to support Albertans and all Canadians. We know that our teammates will be thankful for this recognition and additional support from the Government of Alberta."
Under the health-care sector, approximately 161,000 eligible employees will receive the Critical Worker Benefit. These eligible occupations include orderlies and patient service associates, respiratory therapists and technologists, nurses (RNs, RPNs, LPNs), food services, housekeeping and maintenance workers and unit clerks.
"I'm proud to see this acknowledgment of our front-line health-care workers. Their continued dedication over the past 11 months caring for patients with COVID-19, but also continuing to provide other important health-care services, has shown tremendous resilience. Their dedication is the strength of our health system and this is just one small way that we can recognize it."
In the social services sector, approximately 45,000 workers will receive the benefit. Some of the eligible occupations include community disability service workers and practitioners, personal care aides, child development workers, family and youth counsellors, crisis intervention and shelter workers, home support workers, seniors lodge staff, cleaners, food preparation and maintenance workers.
"It has been due to the tremendous efforts of the front-line staff in seniors housing, that our most vulnerable are safe. The precautionary measures workers have taken within their homes and workplaces, where others' wellness was prioritized over earning potential and personal enjoyments, is why this acknowledgment is so important. This shows appreciation for those our province has had to depend on to keep seniors healthy, happy and safe in licensed supportive living, including lodges, since the onset of the pandemic."
"Every day, thousands of workers across Alberta support vulnerable people with disabilities and those relying on services provided by shelters. These workers are committed to ensuring people are safe and included in our communities. This benefit acknowledges their extraordinary efforts during the pandemic to provide compassionate and essential care for vulnerable Albertans."
"Community group care workers and support staff, as well as early childhood educators, have played a critical role in keeping children and youth safe and healthy throughout this pandemic – including staying open or reopening early on to support families. I want to share my sincere gratitude for all their hard work and dedication during these challenging times."
"Alberta's seniors lodge workers and unique home operator staff have gone above and beyond to maintain a safe environment for their residents. I am extremely appreciative for the hard work, dedication, and effort of the front-line workers who support seniors and ensure they remain safe during the pandemic."
Up to 36,000 workers in the education sector will also be eligible to receive the benefit. This includes teacher assistants, bus drivers, custodians and cleaning staff, and administration support.
"Despite the unique challenges that come with learning during a pandemic, students in Alberta continue to receive a world-class education. This is possible thanks to the hard work of thousands of dedicated education workers. This benefit recognizes their determination to go above and beyond for Alberta's students."
"Bus drivers across the province have worked tremendously hard to keep students safe while going to and from school. This benefit helps recognize tremendous work done by these essential workers."
In addition, eligible private sector workers making $25 or less will qualify for the benefit. These workers include: critical retail workers in grocery stores, pharmacies and gas stations; private health provider workers, such as dental assistants, massage therapists and medical administration assistants; food manufacturing and processing workers; truck transportation workers, such as truck drivers and delivery and courier services drivers; and warehouse and storage workers, such as shippers and receivers.
Eligible public sector employees do not need to apply to receive the benefit. Employers will automatically receive the payment through the Government of Alberta to distribute to their eligible employees.
Private sector employers can apply on behalf of eligible employees at alberta.ca/criticalworkerbenefitas of Feb. 17. Employers have until March 19 to apply.
Employers will be responsible for distributing the $1,200 Critical Worker Benefit to their eligible employees.
For detailed information on eligibility and how to apply, please visit alberta.ca/criticalworkerbenefit.
Alberta's government is responding to the COVID-19 pandemic by protecting lives and livelihoods with precise measures to bend the curve, sustain small businesses and protect Alberta's health-care system.
Quick facts
Alberta's government contributed $118 million toward the $465-million program.
The breakdown of benefit recipient is:

Up to $195 million in the health-care sector supporting more than 161,000 workers.
Up to $55 million toward the social services sector supporting more than 45,000 workers.
Up to $45 million toward the education sector supporting more than 36,000 workers.
Up to $170 million toward the private sector supporting more than 140,000 workers.

Previously allocated:

$12 million for health-care aides
$14.4 million for adult congregate care workers
$3.62 million for children's congregate care workers
Saskatchewan ranchers call for investigation into retail meat pricing
REGINA — A group of Canadian ranchers is calling for an investigation into meat pricing.
The Saskatchewan Stock Growers Association says it's asking the provincial and federal governments to look into what it calls an "imbalance" between the price ranchers receive for the cattle and the price consumers pay at the meat counter.
The group says many ranchers and feedlots are operating at a loss this year. Grass is still scarce on the Prairies due to last summer's drought, and the cost of feed grain and fuel has skyrocketed since last year.
But packers and retailers are reporting strong profits this year. The Stock Growers say they believe slaughterhouses may be intentionally running fewer shifts to in order to keep wholesale beef prices high and allow fed cattle supplies to build up in the countryside.
In the U.S., the Biden administration has already expressed concerns about rising meat prices and vowed to implement policies aimed at increasing competition in the meat-packing sector.
According to Statistics Canada, the retail price of beef is up 11.2 per cent year-over-year.
This report by The Canadian Press was first published July 5, 2022.
The Canadian Press
First test production of plastic a milestone for Heartland Petrochemical Complex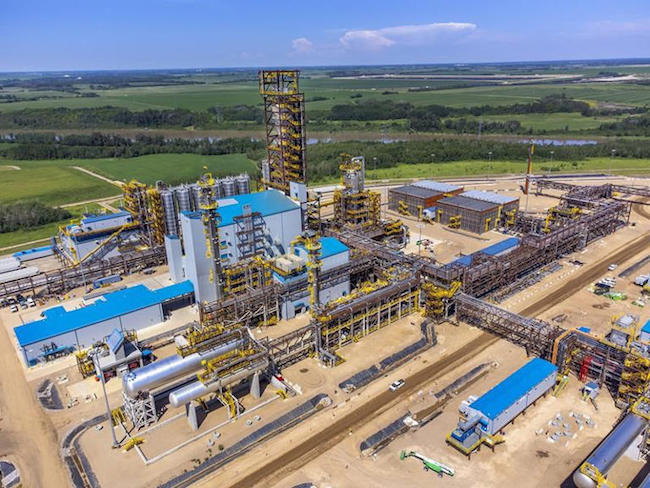 CALGARY — The $4.3-billion Heartland Petrochemical Complex, which has been under construction northeast of Edmonton since 2018, has produced its first plastic pellets.
Owner and operator Inter Pipeline Ltd. said Tuesday the newly commissioned facility has been producing test pellets steadily since late June, an important milestone en route to the expected start of full commercial operation sometime this fall.
The Heartland Petrochemical Complex will convert Alberta propane into 525,000 tonnes per year of polypropylene beads, an easily transported form of plastic that is used in the manufacturing of a wide range of finished products.
Steven Noble, spokesman for Calgary-based Inter Pipeline, said the facility will be the first integrated propane dehydrogenation and polypropylene production facility in North America. He said approximately 70 per cent of Heartland's total production capacity has been already contracted out to long-term customers.
"Through the duration of the project's construction, we've seen demand for polypropylene increase significantly … including at one point hitting an all-time record (market price)," Noble said in an interview. "The demand that we initially forecast certainly hasn't gone away."
The Heartland facility is being built with the support of a $408-million grant from Alberta's provincial government. The cash grant, part of an incentive program aimed at growing the province's petrochemicals sector, is to be paid to Inter Pipeline in equal instalments over three years once the complex is operational.
Noble said by creating a new market for propane, the Heartland facility is an example of how natural resource development in Alberta is diversifying.
"The fact that we're now looking at our raw resources in a different way, and figuring out different ways to get value out of them and create other refined products right here at home … is really the part of the story that everyone here is excited about," he said.
The Heartland Petrochemical Complex is expected to employ 300 people once fully operational.
The polypropylene produced at the facility will be branded as Heartland Polymers.
This report by The Canadian Press was first published July 5, 2022.
Amanda Stephenson, The Canadian Press