$1,200.00 boost for "Alberta's critical workers"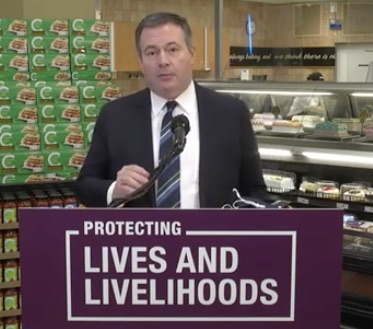 From the Province of Alberta
$465 million for Alberta's critical workers
Hundreds of thousands of workers who continue to provide critical services to Albertans during the COVID-19 pandemic will receive a one-time payment in recognition of their hard work and sacrifice.
The Critical Worker Benefit is a joint federal-provincial program that will see $465 million go to approximately 380,000 Alberta public and private sector workers as $1,200 cash payments.
"These workers have placed themselves at the front line of this pandemic in order to serve their fellow citizens during a crisis. Alberta's government is recognizing their good work. We trust this support will help these workers continue to protect lives and livelihoods as we keep fighting this pandemic together."
The Critical Worker Benefit will be available to workers in the health-care, social services, education and private sectors who deliver critical services to Albertans or support food and medical supply chains.
"I want to thank all the hard-working staff who have gone above and beyond their regular call of duty to support their fellow Albertans throughout this pandemic. This Critical Worker Benefit will go right into the pockets of hard-working Albertans on the front line who have made sacrifices in their own lives for the greater good and well-being of others."
To be eligible for the benefit, employees must have worked a minimum of 300 hours during the period of Oct. 12, 2020 to Jan. 31, 2021.
"Since the start of this pandemic, we have been deemed an essential service and our store, pharmacy and distribution centre teammates have stepped up to support Albertans and all Canadians. We know that our teammates will be thankful for this recognition and additional support from the Government of Alberta."
Under the health-care sector, approximately 161,000 eligible employees will receive the Critical Worker Benefit. These eligible occupations include orderlies and patient service associates, respiratory therapists and technologists, nurses (RNs, RPNs, LPNs), food services, housekeeping and maintenance workers and unit clerks.
"I'm proud to see this acknowledgment of our front-line health-care workers. Their continued dedication over the past 11 months caring for patients with COVID-19, but also continuing to provide other important health-care services, has shown tremendous resilience. Their dedication is the strength of our health system and this is just one small way that we can recognize it."
In the social services sector, approximately 45,000 workers will receive the benefit. Some of the eligible occupations include community disability service workers and practitioners, personal care aides, child development workers, family and youth counsellors, crisis intervention and shelter workers, home support workers, seniors lodge staff, cleaners, food preparation and maintenance workers.
"It has been due to the tremendous efforts of the front-line staff in seniors housing, that our most vulnerable are safe. The precautionary measures workers have taken within their homes and workplaces, where others' wellness was prioritized over earning potential and personal enjoyments, is why this acknowledgment is so important. This shows appreciation for those our province has had to depend on to keep seniors healthy, happy and safe in licensed supportive living, including lodges, since the onset of the pandemic."
"Every day, thousands of workers across Alberta support vulnerable people with disabilities and those relying on services provided by shelters. These workers are committed to ensuring people are safe and included in our communities. This benefit acknowledges their extraordinary efforts during the pandemic to provide compassionate and essential care for vulnerable Albertans."
"Community group care workers and support staff, as well as early childhood educators, have played a critical role in keeping children and youth safe and healthy throughout this pandemic – including staying open or reopening early on to support families. I want to share my sincere gratitude for all their hard work and dedication during these challenging times."
"Alberta's seniors lodge workers and unique home operator staff have gone above and beyond to maintain a safe environment for their residents. I am extremely appreciative for the hard work, dedication, and effort of the front-line workers who support seniors and ensure they remain safe during the pandemic."
Up to 36,000 workers in the education sector will also be eligible to receive the benefit. This includes teacher assistants, bus drivers, custodians and cleaning staff, and administration support.
"Despite the unique challenges that come with learning during a pandemic, students in Alberta continue to receive a world-class education. This is possible thanks to the hard work of thousands of dedicated education workers. This benefit recognizes their determination to go above and beyond for Alberta's students."
"Bus drivers across the province have worked tremendously hard to keep students safe while going to and from school. This benefit helps recognize tremendous work done by these essential workers."
In addition, eligible private sector workers making $25 or less will qualify for the benefit. These workers include: critical retail workers in grocery stores, pharmacies and gas stations; private health provider workers, such as dental assistants, massage therapists and medical administration assistants; food manufacturing and processing workers; truck transportation workers, such as truck drivers and delivery and courier services drivers; and warehouse and storage workers, such as shippers and receivers.
Eligible public sector employees do not need to apply to receive the benefit. Employers will automatically receive the payment through the Government of Alberta to distribute to their eligible employees.
Private sector employers can apply on behalf of eligible employees at alberta.ca/criticalworkerbenefitas of Feb. 17. Employers have until March 19 to apply.
Employers will be responsible for distributing the $1,200 Critical Worker Benefit to their eligible employees.
For detailed information on eligibility and how to apply, please visit alberta.ca/criticalworkerbenefit.
Alberta's government is responding to the COVID-19 pandemic by protecting lives and livelihoods with precise measures to bend the curve, sustain small businesses and protect Alberta's health-care system.
Quick facts
Alberta's government contributed $118 million toward the $465-million program.
The breakdown of benefit recipient is:

Up to $195 million in the health-care sector supporting more than 161,000 workers.
Up to $55 million toward the social services sector supporting more than 45,000 workers.
Up to $45 million toward the education sector supporting more than 36,000 workers.
Up to $170 million toward the private sector supporting more than 140,000 workers.

Previously allocated:

$12 million for health-care aides
$14.4 million for adult congregate care workers
$3.62 million for children's congregate care workers
A for Quebec, F for Alberta: Study rates Canadian governments on conservation
A new report grades Canadian governments in how they responded to the country's international promise to conserve at least 17 per cent of its land mass and 10 per cent of its oceans by 2020. 
The report, released today by the Canadian Parks and Wilderness Society, says Quebec and the federal government are the only jurisdictions to come close to meeting the 17 per cent conservation target.
The society says Alberta performed the worst, cancelling previously planned protections, delisting parks and attempting to open the Rocky Mountains for open-pit coal mining. 
"A lot of it has to do with political will," said society spokeswoman Alison Woodley.
The group chose to examine how close different Canadian jurisdictions came to meeting its Aichi targets, an international agreement signed by Canada in 2010. The idea, said Woodley, was to learn how to better meet the next set of conservation goals — 30 per cent of land and oceans by 2030.
The report used internationally recognized standards of what constitutes protection and federal data on the amount of land covered. 
Nationally, Canada met and exceeded its 2020 ocean goals, but fell short by more than three percentage points on land. That was good enough for a B-plus and an A-minus respectively, the report says.
The report credits funding — the 2021 federal budget included $2.3 billion for conservation — as well as a willingness to work with Indigenous groups for Ottawa's progress.
Quebec nearly met its land conservation goals, conserving 16.7 per cent of its territory.
"The province worked with communities and First Nations to identify and deliver on new protected areas," said Woodley.
Alberta, not so much. Although the province has more than 15 per cent of its land mass protected, the report points out Alberta has attempted to delist parks, open its Rocky Mountains to coal mining and walked away from plans that would have created some of the biggest new protected areas in the country. 
"It's not just about areas of protections," said report author Anna Pidgorna. "Alberta's going backwards in many ways."
Alberta Environment did not immediately respond to a request to outline conservation measures taken by the United Conservative government. 
Ontario and Newfoundland share Alberta's F grade. Ontario has protected less than one per cent of its lands over the last decade, with a similar story in Newfoundland and Labrador, where the percentage of protected land is among the lowest in Canada. 
The rest of the country is a mix, said Woodley. 
Saskatchewan is criticized for having protected less than 10 per cent of its land and weakening protections on native grasslands, but praised for working with Indigenous groups and granting interim protection to one new area. Manitoba made early progress, the report says, but has lately discussed selling off park land.  
British Columbia has almost 20 per cent of its land under protection. But the province is criticized for no recent progress and underfunding the parks it does have. 
The Northwest Territories get a B-plus for creating large new protected areas and working with Indigenous groups to define and manage them. 
Woodley said the study shows that funding makes a big difference to creating protected areas. So does time and patience.
"Conservation takes time," she said. 
"A major barrier to delivering on the 17-per-cent target was a lack of time. If we're going to meet the 30-per-cent target, we need to start now."  
Woodley said conserving land is the best way to address the loss of species and shrinking biodiversity around the world.
"Habitat loss is the primary driver of nature's decline. Protecting habitat has to be a core part of the solution."
 This report by The Canadian Press was first published June 22, 2021. 
— Follow Bob Weber on Twitter at @row1960
Bob Weber, The Canadian Press
Details released on fatal hunt for suspect in Alberta where police dog also died
HIGH PRAIRIE, Alta. — Alberta's police oversight agency has released new details about last week's death of a man whose pursuit, arrest and death near a provincial park also resulted in the death of a police service dog.
The Alberta Serious Incident Response Team says in a news release the 29-year-old suspect was involved in a shootout with RCMP on Thursday after officers had tracked him for several kilometres through thick bush around High Prairie, Alta.
During the gunfire exchange, ASIRT says a police service dog was shot and killed, and the officers were told to disengage and were airlifted out in a helicopter.
ASIRT says backup was brought in and officers fired their guns when they encountered the suspect again, and this time they believed they'd hit him, but attempts to find him failed.
The agency says officers later made contact with the suspect two more times but it appeared he hadn't been injured after all.
The release says on Friday morning, two officers who were assigned to contain the area spotted the suspect in a ditch, a confrontation occurred, and both officers opened fire. The suspect was later pronounced dead.
"The man fell to the ground in the tall grass, and additional police officers and … medical officers responded to the area. Medical officers attempted to treat the man, but ultimately he died at the scene," the ASIRT release said of the final confrontation.
"A loaded semi-automatic .22-calibre rifle, as well as a range finder, were recovered from the incident scene and have been seized as exhibits."
RCMP identified the suspect last week as Lionel Ernest Grey of the Gift Lake Metis Settlement. Police had said that he'd died from injuries following his arrest, but they hadn't say what injuries he'd had or how he died.
They said a police service dog named Jago was shot during the pursuit.
ASIRT said its investigation will examine the actions of police, while the RCMP will maintain responsibility for the investigation of the suspect and his actions.
The agency said that since investigation is underway, it won't be releasing any further information.
ASIRT is investigating another shooting in northern Alberta on Sunday night that also ended with a suspect dead and a police dog injured.
Mounties said they were looking for a suspect who fled on foot after a dispute in a vehicle near the community of Ardmore, southwest of Cold Lake. They said officers and a police dog found the suspect, there was a confrontation and an officer fired a gun.
The man died at the scene and the dog was taken to a veterinarian and treated for a non life-threatening injury.
This report by The Canadian Press was first published June 21, 2021.
The Canadian Press