$1,200.00 boost for "Alberta's critical workers"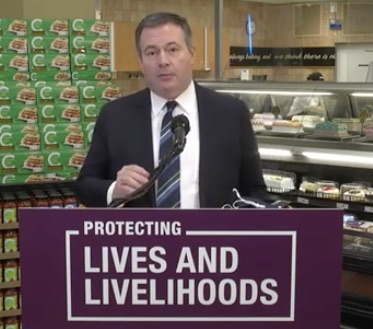 From the Province of Alberta
$465 million for Alberta's critical workers
Hundreds of thousands of workers who continue to provide critical services to Albertans during the COVID-19 pandemic will receive a one-time payment in recognition of their hard work and sacrifice.
The Critical Worker Benefit is a joint federal-provincial program that will see $465 million go to approximately 380,000 Alberta public and private sector workers as $1,200 cash payments.
"These workers have placed themselves at the front line of this pandemic in order to serve their fellow citizens during a crisis. Alberta's government is recognizing their good work. We trust this support will help these workers continue to protect lives and livelihoods as we keep fighting this pandemic together."
The Critical Worker Benefit will be available to workers in the health-care, social services, education and private sectors who deliver critical services to Albertans or support food and medical supply chains.
"I want to thank all the hard-working staff who have gone above and beyond their regular call of duty to support their fellow Albertans throughout this pandemic. This Critical Worker Benefit will go right into the pockets of hard-working Albertans on the front line who have made sacrifices in their own lives for the greater good and well-being of others."
To be eligible for the benefit, employees must have worked a minimum of 300 hours during the period of Oct. 12, 2020 to Jan. 31, 2021.
"Since the start of this pandemic, we have been deemed an essential service and our store, pharmacy and distribution centre teammates have stepped up to support Albertans and all Canadians. We know that our teammates will be thankful for this recognition and additional support from the Government of Alberta."
Under the health-care sector, approximately 161,000 eligible employees will receive the Critical Worker Benefit. These eligible occupations include orderlies and patient service associates, respiratory therapists and technologists, nurses (RNs, RPNs, LPNs), food services, housekeeping and maintenance workers and unit clerks.
"I'm proud to see this acknowledgment of our front-line health-care workers. Their continued dedication over the past 11 months caring for patients with COVID-19, but also continuing to provide other important health-care services, has shown tremendous resilience. Their dedication is the strength of our health system and this is just one small way that we can recognize it."
In the social services sector, approximately 45,000 workers will receive the benefit. Some of the eligible occupations include community disability service workers and practitioners, personal care aides, child development workers, family and youth counsellors, crisis intervention and shelter workers, home support workers, seniors lodge staff, cleaners, food preparation and maintenance workers.
"It has been due to the tremendous efforts of the front-line staff in seniors housing, that our most vulnerable are safe. The precautionary measures workers have taken within their homes and workplaces, where others' wellness was prioritized over earning potential and personal enjoyments, is why this acknowledgment is so important. This shows appreciation for those our province has had to depend on to keep seniors healthy, happy and safe in licensed supportive living, including lodges, since the onset of the pandemic."
"Every day, thousands of workers across Alberta support vulnerable people with disabilities and those relying on services provided by shelters. These workers are committed to ensuring people are safe and included in our communities. This benefit acknowledges their extraordinary efforts during the pandemic to provide compassionate and essential care for vulnerable Albertans."
"Community group care workers and support staff, as well as early childhood educators, have played a critical role in keeping children and youth safe and healthy throughout this pandemic – including staying open or reopening early on to support families. I want to share my sincere gratitude for all their hard work and dedication during these challenging times."
"Alberta's seniors lodge workers and unique home operator staff have gone above and beyond to maintain a safe environment for their residents. I am extremely appreciative for the hard work, dedication, and effort of the front-line workers who support seniors and ensure they remain safe during the pandemic."
Up to 36,000 workers in the education sector will also be eligible to receive the benefit. This includes teacher assistants, bus drivers, custodians and cleaning staff, and administration support.
"Despite the unique challenges that come with learning during a pandemic, students in Alberta continue to receive a world-class education. This is possible thanks to the hard work of thousands of dedicated education workers. This benefit recognizes their determination to go above and beyond for Alberta's students."
"Bus drivers across the province have worked tremendously hard to keep students safe while going to and from school. This benefit helps recognize tremendous work done by these essential workers."
In addition, eligible private sector workers making $25 or less will qualify for the benefit. These workers include: critical retail workers in grocery stores, pharmacies and gas stations; private health provider workers, such as dental assistants, massage therapists and medical administration assistants; food manufacturing and processing workers; truck transportation workers, such as truck drivers and delivery and courier services drivers; and warehouse and storage workers, such as shippers and receivers.
Eligible public sector employees do not need to apply to receive the benefit. Employers will automatically receive the payment through the Government of Alberta to distribute to their eligible employees.
Private sector employers can apply on behalf of eligible employees at alberta.ca/criticalworkerbenefitas of Feb. 17. Employers have until March 19 to apply.
Employers will be responsible for distributing the $1,200 Critical Worker Benefit to their eligible employees.
For detailed information on eligibility and how to apply, please visit alberta.ca/criticalworkerbenefit.
Alberta's government is responding to the COVID-19 pandemic by protecting lives and livelihoods with precise measures to bend the curve, sustain small businesses and protect Alberta's health-care system.
Quick facts
Alberta's government contributed $118 million toward the $465-million program.
The breakdown of benefit recipient is:

Up to $195 million in the health-care sector supporting more than 161,000 workers.
Up to $55 million toward the social services sector supporting more than 45,000 workers.
Up to $45 million toward the education sector supporting more than 36,000 workers.
Up to $170 million toward the private sector supporting more than 140,000 workers.

Previously allocated:

$12 million for health-care aides
$14.4 million for adult congregate care workers
$3.62 million for children's congregate care workers
Alberta's Walker into Hearts semifinal with 9-8 win over Manitoba's Jones
CALGARY — Alberta's Laura Walker advanced to the semifinal of the Canadian women's curling championship with a 9-8 win over Manitoba's Jennifer Jones in Sunday's tiebreaker game.
Walker faces defending champion Kerri Einarson in an afternoon semifinal with the winner taking on Ontario's Rachel Homan for the championship at night.
Jones missed an attempted double takeout in the 10th end, which left Walker an open draw to score three for the win in the tiebreaker.
Manitoba and Alberta were tied for third at 9-3 after the championship round, which required a tiebreaker game to solve.
Jones, a six-time champion at the Scotties Tournament of Hearts, was chasing a record seventh title.
This report by The Canadian Press was first published Feb. 28, 2021.
The Canadian Press
Let 'er buck: Study suggests horses learn from rodeo experience, grow calmer
CALGARY — Rodeo fans love the thrill of a bronc exploding into the ring, cowboy temporarily aboard. How the horse feels about it hasn't been so clear.
Newly published research out of the University of Calgary looks at three years of roughstock events from that city's Stampede in an attempt to peer inside the mind of an animal about to let 'er buck.
"I try to understand the animal's perspective," said Ed Pajor, a professor of veterinary medicine. "We asked the question whether or not horses find participating in the rodeo to be an adversive experience or not."
Pajor and his co-authors — Christy Goldhawk from the University of Calgary and well-known animal behaviourist Temple Grandin — studied 116 horses in bareback, novice bareback, saddle bronc and novice saddle bronc events. They looked at animals about to be loaded into a trailer and taken to the ring. They also observed how the horses behaved while in the chute waiting to be unleashed.
Horses have all kinds of ways of showing they're unhappy, Pajor said. They might move back and forth, chew their lips, swish their tail, defecate, roll their eyes, paw the ground, toss their head, or rear up in protest.
The researchers found that the more people were around them, the more likely the horses were to show unease. That's probably because they spend most of their time in fields and pastures and aren't used to the bustle, Pajor said.
The other factor that affected behaviour was experience. If it wasn't their first rodeo, the horses were much less likely to act up.
"We didn't see a lot of attempts to escape. We didn't see a lot of fear-related behaviours at all," Pajor said. "The animals were pretty calm.
"The animals that had little experience were much more reactive than the animals that had lots of experience."
There could be different reasons for that, he suggested.
"We don't know if that's because they're used to the situation or whether that's because of learned helplessness — they realize there's nothing they can do and just give up."
Pajor suspects the former.
"When the cowboys came near the horses, they would certainly react and you wouldn't really see that if it was learned helplessness."
The researchers also noted that the horses' bucking performance, as revealed in the score from the rodeo judges, didn't seem to be reduced by repeated appearances as it might be if the animals had become apathetic.
That doesn't necessarily mean the horses are having a good time, said Pajor, who's also on the Stampede's animal welfare advisory board. There are a couple of ways of interpreting active behaviour in the chute, he said.
"An animal might be getting excited to perform. Or an animal might be having a fear response."
"Understanding if animals like to do something is a tricky thing to do."
Pajor knows there are different camps when it comes to rodeos and animals.
"People have very strong opinions on the use of animals for all kinds of reasons. I think no matter what we're going to use animals for, we really need to make sure that we treat them humanely.
"My job is to do the research to understand the animals' perspective."
This report by The Canadian Press was first published Feb. 28, 2021.
— By Bob Weber in Edmonton. Follow @row1960 on Twitter
The Canadian Press