12 COVID19 patients in hospital across Central Alberta (none in ICU) – Update from Mike York
Unfortunately, another loss to the virus was reported. A gentleman in his 80's from the city of Wetskiwin has lost his battle with Covid-19. This is the 12th loss of life in the Central Zone overall and the 3rd in the month of November.
The zone has had reported another 94 positive cases in the last 24 hours. There were also 37 recoveries (389 in November), which brings the total active cases in the zone up to 564. (386 new active cases in November) There are 12 people in hospital in our zone, none of which are in ICU.
In the City of Red Deer, 15 new active cases, (72 new active cases in November) and 7 recoveries, (103 in the month of November) has our city now at 118 active cases.
Please continue to encourage others in your social circles to follow AHS guidelines to limit the spread of this virus. We continue to see rising cases on a daily basis.
Thank you, stay strong people!
The Critical (and widely suppressed) Importance and Efficacy of Early Treatment in Covid-19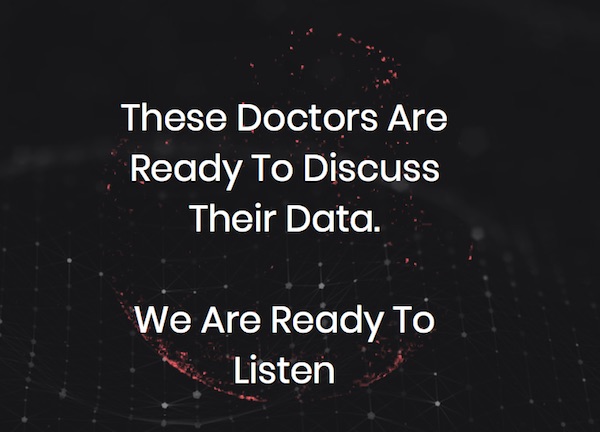 Day after day, we lose more people to covid-19. Seemingly the majority of Canadians are under the impression there's not much we can do when we catch covid other than hope we don't get incredibly ill. Most do not realize some doctors are treating covid patients and having astounding success. There is a shocking and criminal lack of knowledge about medical treatments for covid. Doctors are confused and intimidated by directives insisting they NOT EVEN TRY to use repurposed drugs the way they've always done. Unfortunately that's been enough to stop treatment for millions.
Even more shocking is that many of the richest and most well informed nations remain unaware of the incredible success of medical treatments on covid in countries like India and Japan. India and Japan were in the middle of desperate surges in cases when their governments decided to allow doctors to do whatever they could to save lives. The doctors went to work and have completely turned their situations around.
You may not realize it but there are a few brave doctors in every region of Canada using treatments. They don't dare do this publicly as they'd be quickly punished as was shown by the AHS punishment of visiting doctor Dr Daniel Nagase after he successfully treated three desperate patients with Ivermectin, and Hydroxychloroquine. The news stories somehow left out the most important information of all in that situation. Of the three patients treated, the two patients in their 70's as well as one in her 90's all recovered.
In early November, hundreds of doctors who are treating covid gathered in Ocala, Florida for weekend conference called The Global Covid Summit. There a number of their sessions were recorded and can be found online. In his session Dr. Pierre Kory outlined up the nearly twenty medical treatments which are being used as well as the studies showing their efficacy. Here's that amazing address.
Restrictions continue to take a toll on our economy, our mental health, and our way of life. Countries with among the highest vaccination rates are continually battered by wave after wave of covid. It's clear that treatment combined with available vaccines are the answer. The question is, when will our public health officials and our politicians act on this LIFE SAVING information.
The book that could spell the end of Anthony Fauci and the incredible push for vaccine mandates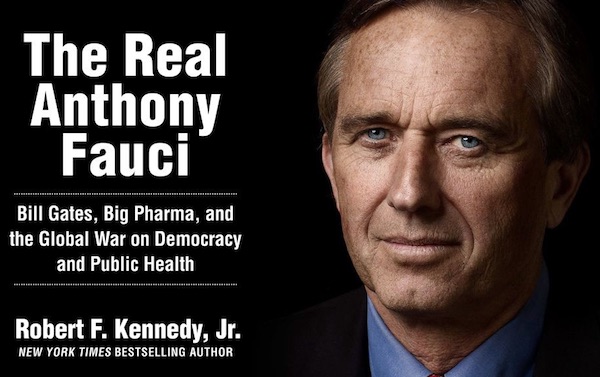 In the end, it all comes down to well meaning but twisted ambition, with a nice big helping of good old fashioned and really evil, greed.
At the beginning of this time we'll forever simply call 'covid', we dutifully lined up in front of our neighbourhood Costco while the owners of small independently owned stores were forced to lock their doors and watch helplessly as the businesses they built over a lifetime of blood, sweat, and tears drifted away from them. Over time, we've become accustomed to measures like masks and distancing rules, and regulations that allow 18,000 people to watch a hockey game (mostly without masks), or 100,000 people to watch a football game (entirely without masks), while the parents of grade 12 athletes can not come into a gym to watch their own children compete for a long prepared for championship title.
Today we wait to see which vaccine mandate will rock someone's world next. It's become clear over the last several months of mandates that a good percentage of people (somewhere around 25%) feel they're being forced into a vaccination they aren't so sure about taking (they're still not approved) and a further percentage of people (8 to 10%) will simply not agree to take an emergency ordered vaccine. I'm not saying any of this is right or wrong. I'm just saying it clearly makes no sense. I'm just saying..
Everyone I've talked to since covid has begun, and I mean EVERYONE has admitted in private conversation if not very publicly, that this restriction makes no sense, or that restriction is contradictory to another one. EVERYONE admits the various restrictions, rules, and regulations our governments have used to respond to covid just don't add up. And for the few people who can't bring themselves to admit it, even to a close friend.. just ask yourself how the "two weeks to flatten the curve" is going at the two year mark.
For me, the biggest mystery in an ocean of mysteries has been the complete lockdown on access to and information about medical therapies. Anyone who puts in the effort to look behind the curtain of attack articles, can see there are preventative treatments, early treatments, and now "long covid" treatments which are showing tremendous success. As you can see at ivmmeta.com and ivmstatus.com, 0ver 25% of the world's population has access to at least ONE of the effective treatments. While millions of Canadians chuckle at unintelligent, simple people who take Ivermectin (horse paste they call it), those poor simple people in nations such as India and Japan have nearly eliminated covid. Here, all we hear is that vaccines are the ONLY answer. Usually they say it's "the best way" to fight covid. They leave out the part where they've banned every other way of fighting covid. You can argue if you want about how widespread Ivermectin use is in India and Japan, but you can't really argue with data. Take a look at these graphs from worldometers.com and you'll have to conclude something different is going on in countries where early treatment options aren't always the butt of the latest woke-joke.
Sorry for the long lead-in. If you stayed with it, here's the reward. There's a new book out by best selling author and life long US Democrat Robert F. Kennedy Jr. Yes, this is the son of THE Bobby Kennedy, and the nephew of President John F Kennedy. If you're one of the millions of 'simple' people like me who just can't understand why we're not even allowed to talk about actually treating covid, this book will set out an argument that makes it all finally come together. That's what The Real Anthony Fauci is all about. Either this book is shedding a WORLD of lies, or it will put AN ENTIRELY NEW LIGHT on what is driving the forces behind covid-19 vaccine mandates. If you have a bit of time, check out the video interview below with RFK Jr. The allegations go well beyond disturbing and right to shocking. It's going to be interesting to see if this book will make a difference. For me. I don't really care what happens to Dr. Fauci. I just want politicians to show courage and stand up for the most vulnerable people. It's time to save lives by allowing Albertans, and Canadians to use some of the two dozen or so medical treatments which have emerged to fight covid in the last two years.
Here's the description of this book by Amazon
Pharma-funded mainstream media has convinced millions of Americans that Dr. Anthony Fauci is a hero. He is anything but.
As director of the National Institute of Allergy and Infectious Diseases (NIAID), Dr. Anthony Fauci dispenses $6.1 billion in annual taxpayer-provided funding for scientific research, allowing him to dictate the subject, content, and outcome of scientific health research across the globe. Fauci uses the financial clout at his disposal to wield extraordinary influence over hospitals, universities, journals, and thousands of influential doctors and scientists—whose careers and institutions he has the power to ruin, advance, or reward.
During more than a year of painstaking and meticulous research, Robert F. Kennedy Jr. unearthed a shocking story that obliterates media spin on Dr. Fauci . . . and that will alarm every American—Democrat or Republican—who cares about democracy, our Constitution, and the future of our children's health.
The Real Anthony Fauci reveals how "America's Doctor" launched his career during the early AIDS crisis by partnering with pharmaceutical companies to sabotage safe and effective off-patent therapeutic treatments for AIDS. Fauci orchestrated fraudulent studies, and then pressured US Food and Drug Administration (FDA) regulators into approving a deadly chemotherapy treatment he had good reason to know was worthless against AIDS. Fauci repeatedly violated federal laws to allow his Pharma partners to use impoverished and dark-skinned children as lab rats in deadly experiments with toxic AIDS and cancer chemotherapies.
In early 2000, Fauci shook hands with Bill Gates in the library of Gates' $147 million Seattle mansion, cementing a partnership that would aim to control an increasingly profitable $60 billion global vaccine enterprise with unlimited growth potential. Through funding leverage and carefully cultivated personal relationships with heads of state and leading media and social media institutions, the Pharma-Fauci-Gates alliance exercises dominion over global health policy.
The Real Anthony Fauci details how Fauci, Gates, and their cohorts use their control of media outlets, scientific journals, key government and quasi-governmental agencies, global intelligence agencies, and influential scientists and physicians to flood the public with fearful propaganda about COVID-19 virulence and pathogenesis, and to muzzle debate and ruthlessly censor dissent.