$100,000 to the winning community – Come on Red Deer – we can do this!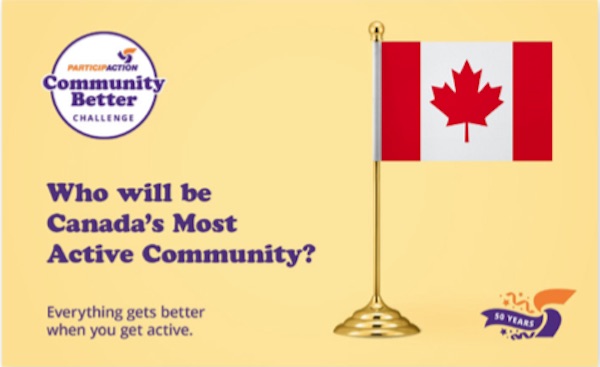 The Red Deer Wellness Network is excited to announce that Red Deer will be participating in the ParticipACTION Community Better Challenge from June 1st – June 30th, as we strive to be named Canada's Most Active Community.
The ParticipACTION Community Better Challenge is helping strengthen communities through physical activity and sport because everything gets better when you get active. ParticipACTION is awarding $100,000 to the community who rallies the most participants and accumulates the most active minutes during the challenge. There is also a new this year, Provincial Prize. Participants can also win individual prizes through the ParticipACTION app when activity minutes are logged.
We are encouraging all residents aged 17 and older to download the app and track their activity to support our Community Better challenge! You can also track it on the website.
It's as easy as 1, 2, 3!
1. Download the new ParticipACTION app
2. Track and contribute to total active minutes from June 1st to June 30th.
3. Invite your friends to do the same! You can also create a team on the app to encourage one another along the way and win team prizes.
Schools, Sport Organizations, Workplaces and Gyms are encouraged to track their activities as a group on the ParticipACTION website. Families can track for their whole family on the website and groups can track for large group participation.
Steps to log as a group:
Step 1: Go to www.participaction.com/challenge
or scan this QR Code.
Step 2: Sign up as a group organization or as a family with a name and e-mail
Step 3: Start tracking activity minutes from June 1-June 30th. You may enter daily or all at once. Example: School Name, 500 students, 60 minutes of activity/day, 10 days
Step 4: Deadline to enter all minutes is July 1st at midnight
The Red Deer Wellness Network is an umbrella organization for a variety of non profit groups in the city that have a focus on wellness, active living and healthy nutrition.
Central Alberta Mountie charged with theft after seized items taken from detachment
The RCMP logo is seen on the shoulder of a superintendent during a news conference, Saturday, June 24, 2023 in St. John's, Newfoundland. Mounties in central Alberta say one of their officers has been charged with theft. THE CANADIAN PRESS/Adrian Wyld
Blackfalds
Mounties in central Alberta say one of their officers has been charged with theft.
RCMP say they were made aware of allegations in May 2022 that an officer had items seized from the Blackfalds Detachment.
They say several items allegedly stolen from the exhibit room at the Blackfalds Detachment were found in the officer's home in Red Deer last month.
Mounties did not say what was found during the search.
Cpl. Brandon Smith, who is 44, has been charged with two counts each of theft under $5,000 and possession of property obtained by crime under $5000.
His next court date set for Wednesday at the Alberta Court of Justice in Red Deer.
RCMP say Smith was an active-duty officer at the Red Deer Detachment at the time of the charge.
He has been suspended with pay.
Blackfalds Community Plaza To Be Named Border Paving Plaza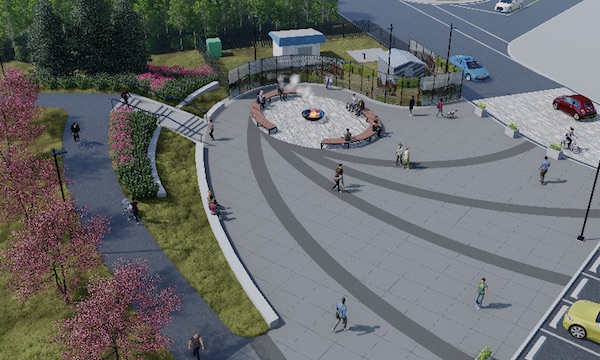 News Release from the Town of Blackfalds
The Town of Blackfalds is proud to announce that the community plaza set to open in the fall of 2022 will be officially named the Border Paving Plaza! Council formally approved the naming sponsorship at the March 22 Regular Council meeting.
The Border Paving Plaza will be a four-season gathering place that will provide residents and visitors with an aesthetically pleasing open area in which they can participate in markets, festivals, performances, and other community events. The Plaza will be east of the Eagle Builders Centre and south of the existing parking lot.
"Over the past number of years, outdoor gatherings and events have been steadily growing in participation and popularity in Blackfalds, so it's very exciting that we are moving forward with the Border Paving Plaza project that will serve to be a focal point for many of these exciting events," shared Mayor Jamie Hoover. "Along with completing the Eagle Builder Centre and the road realignment, this outdoor plaza will quickly become a central point of pride in our always improving community."
The 24,000 square foot space will feature a decorative stained concrete deck, stairs and ramps, landscape features, and a natural gas fire pit.
Border Paving Plaza's budget is $668,000, of which 75 per cent was approved through the Canada Community Revitalization Fund. The remaining funds will be alleviated from sponsorships, including Border Paving Ltd, DB Bobcat Services, STEP Energy, Stantec, and ATCO gas.
Amanda Stasiuk, Border Paving's Community Outreach Coordinator, said that the company is looking forward to the development and the continued partnership with the Town.
"Once again, we are very excited to be a part of Blackfalds' commitment to public gatherings and community-minded development. Donations like this are part of our long-standing commitment to the communities we are part of."
Construction of the Border Paving Plaza will begin this spring, in conjunction with the Gregg Street Realignment project.