Young Red Deer Woman awarded the QEII Golden Jubilee Citizenship Medal
Lt.-Gov. Lois Mitchell honoured young advocates, scientists, artists and volunteers at the Queen's Jubilee awards ceremony. Red Deer's Sydney Hucal is on the far right
From the Province of Alberta
The lieutenant-governor and Jackie Armstrong-Homeniuk, MLA for Fort Saskatchewan-Vegreville, presented recipients with the 2018 Queen's Golden Jubilee Citizenship medals and Queen's Golden Jubilee Arts medal at Government House.
The Citizenship Medal recognizes students for their outstanding citizenship, leadership, community service and volunteerism. The Scholarship for Performing Arts honours a student who demonstrates talent and potential in the arts.
Along with a medal, each recipient receives a $5,000 scholarship to further their personal development, as they become Alberta's future leaders.
"This year's medal recipients share a sense of compassion and dedication to community service, combined with a tireless spirit of adventure and innovation. They have made great use of these gifts to date and I trust that they will continue to give back as they build their careers."
"These young people are committed to excellence in everything they do, from scientific research and artistic practice to humanitarian work and charity. I am proud to support them as they pursue their goals and strive to make their communities a better place for all Albertans."
QEII Golden Jubilee Citizenship Medal recipients
Kassidy Gerhardi from Cochrane
Garrett Gerrard from St. Albert
Sydney Hucal from Red Deer
Arzina Jaffer from Okotoks
Fajar Khan from Fort McMurray*
Andrew Li from Edmonton
Hope Roberts from Turner Valley
Tim Zekai Wu from Calgary*
Sydney Hucal (Notre Dame High School, Red Deer) – Sydney has been passionately engaged in many aspects of her school and community. As president of the school council, Sydney led her team in the delivery of numerous school events enhancing the school spirit and building an inclusive environment for all students. Sydney began a kindness campaign called Kind and Kinder based on her belief that the best way to create change was with one small act of kindness at a time. Realizing that little things could make a positive impact on others, she made thank you gifts to students who have made a difference at Notre Dame High School. A key member of the school's graduation committee, Sydney helped organize the school's annual service project, raising more than $43,000 for the Aspire Special Needs Resource Centre. Sydney also volunteered as a coach for the Red Deer Special Olympics Swim Team, and was a key member of the Go Girls Youth Empowerment event.
Sydney has just completed her first year in a Bachelor of Commerce degree at the University of Victoria. She hopes to own and run her own small business in the future and apply the skills that her community involvement and education have taught her.
Saskatchewan ranchers call for investigation into retail meat pricing
REGINA — A group of Canadian ranchers is calling for an investigation into meat pricing.
The Saskatchewan Stock Growers Association says it's asking the provincial and federal governments to look into what it calls an "imbalance" between the price ranchers receive for the cattle and the price consumers pay at the meat counter.
The group says many ranchers and feedlots are operating at a loss this year. Grass is still scarce on the Prairies due to last summer's drought, and the cost of feed grain and fuel has skyrocketed since last year.
But packers and retailers are reporting strong profits this year. The Stock Growers say they believe slaughterhouses may be intentionally running fewer shifts to in order to keep wholesale beef prices high and allow fed cattle supplies to build up in the countryside.
In the U.S., the Biden administration has already expressed concerns about rising meat prices and vowed to implement policies aimed at increasing competition in the meat-packing sector.
According to Statistics Canada, the retail price of beef is up 11.2 per cent year-over-year.
This report by The Canadian Press was first published July 5, 2022.
The Canadian Press
First test production of plastic a milestone for Heartland Petrochemical Complex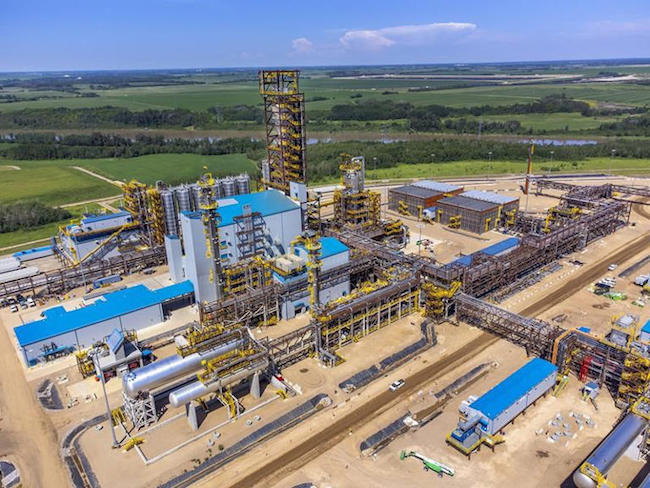 CALGARY — The $4.3-billion Heartland Petrochemical Complex, which has been under construction northeast of Edmonton since 2018, has produced its first plastic pellets.
Owner and operator Inter Pipeline Ltd. said Tuesday the newly commissioned facility has been producing test pellets steadily since late June, an important milestone en route to the expected start of full commercial operation sometime this fall.
The Heartland Petrochemical Complex will convert Alberta propane into 525,000 tonnes per year of polypropylene beads, an easily transported form of plastic that is used in the manufacturing of a wide range of finished products.
Steven Noble, spokesman for Calgary-based Inter Pipeline, said the facility will be the first integrated propane dehydrogenation and polypropylene production facility in North America. He said approximately 70 per cent of Heartland's total production capacity has been already contracted out to long-term customers.
"Through the duration of the project's construction, we've seen demand for polypropylene increase significantly … including at one point hitting an all-time record (market price)," Noble said in an interview. "The demand that we initially forecast certainly hasn't gone away."
The Heartland facility is being built with the support of a $408-million grant from Alberta's provincial government. The cash grant, part of an incentive program aimed at growing the province's petrochemicals sector, is to be paid to Inter Pipeline in equal instalments over three years once the complex is operational.
Noble said by creating a new market for propane, the Heartland facility is an example of how natural resource development in Alberta is diversifying.
"The fact that we're now looking at our raw resources in a different way, and figuring out different ways to get value out of them and create other refined products right here at home … is really the part of the story that everyone here is excited about," he said.
The Heartland Petrochemical Complex is expected to employ 300 people once fully operational.
The polypropylene produced at the facility will be branded as Heartland Polymers.
This report by The Canadian Press was first published July 5, 2022.
Amanda Stephenson, The Canadian Press