Whistle Stop Cafe Owner arrested and taken into custody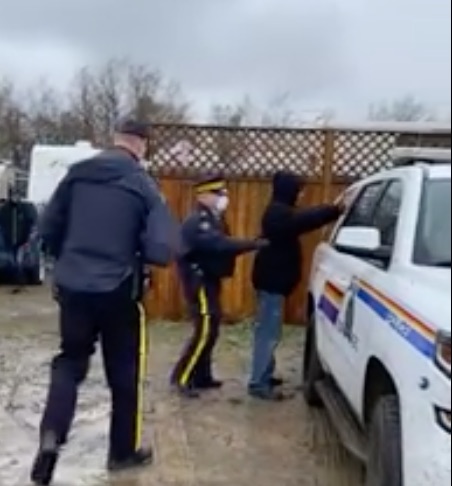 This was posted to the Facebook page of The Whistle Stop Cafe at about 5:30 Saturday, May 8.
It's been a cool rainy day at the Whistle Stop Cafe at Mirror, Alberta. Supporters of the anti-lockdown message are gathered partially just because they want to gather.. but also to hear anti-lockdown speakers while showing support for the embattled cafe owner. Chris Scott has emerged at the forefront of business owners who've been forced to shut down due to covid restrictions. Like the two Alberta Pastors who've now been arrested for refusing to abide by covid restrictions, Scott predicts his own arrest will take place within days. He was right.
Minutes before his arrest, Chis Scott posted a video wrapping up his thoughts as the afternoon was coming to an end. This video is essential viewing. Not so much for supporters of Chris Scott and The Whistle Stop Cafe. Those supporters have likely heard this message already over the last number of weeks as Scott has posted many videos to his Facebook page. This video should be seen by those who do not know much about Chris Scott and the Whistle Stop Cafe. In this address Scott does a fantastic job of summing up his feelings during this incredible time in history.
Edmonton Elks sign Canadian receivers Smith, Jones to extensions
EDMONTON — The Edmonton Elks signed Canadian receiver Tevaun Smith and Mike Jones to one-year extensions Thursday.
The two were scheduled to become free agents Feb. 8.
Smith, of Toronto, had 27 catches for 324 yards last season, starting 10-of-13 games with Edmonton.
Jones, also of Toronto, registered 29 catches for 394 yards and two touchdowns in 11 games with Edmonton in 2021.
Jones spent his first four CFL seasons with Hamilton and has accumulated 130 receptions for 1,866 yards and six TDs in 69 regular-season contests.
This report by The Canadian Press was first published Jan. 20, 2022.
The Canadian Press
Alberta Premier Jason Kenney, top health officials, to give COVID-19 update
Premier Jason Kenney and top health officials are to provide an update on COVID-19 this afternoon as Alberta faces surging hospitalizations.
Chief medical officer of health, Dr. Deena Hinshaw, Alberta Health Services CEO Dr. Verna Yiu, and Health Minister Jason Copping are expected to join Kenney.
A surging number of COVID-19 infections, driven by the Omicron variant, is putting increasing strain on the province's already overwhelmed health-care system.
There were more than 1,100 people hospitalized for the virus in Alberta Wednesday, with expectations that admissions will soon exceed record highs seen during the previous wave.
Dr. Shazma Mithani, an emergency room physician in Edmonton, says wait times are longer than she has seen in at least five years.
Mithani says she is worried, as this wave continues to surge, that people needing treatment for COVID-19 and other medical emergencies could have worse outcomes because of stretched wait times.
This report by The Canadian Press was first published Jan. 20, 2022.
The Canadian Press