When Russians Were Cool: How Detroit Brought Down The Wall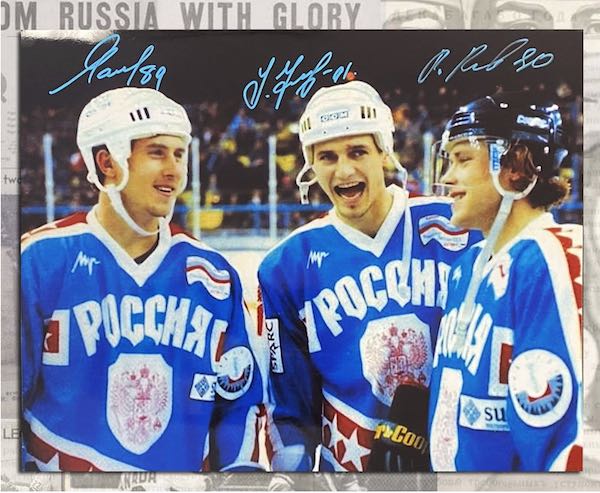 The Ukraine invasion has caused repercussions everywhere— even in hockey. The NHL, IIHF and the CHL have all responded in different ways to punish the aggression shown by Vladimir Putin. The CHL, in particular, has banned the drafting of Russians and Belorussians teenagers in this year's bantam draft.
This overreach is all the rage with officials offended by Putin (the Metropolitan Opera fired one of its star soloists, Russian Anna Netrebko, for not condemning Putin enough). Not since the 1980s, when the dying USSR forbade the drifting on players into the NHL, has there been such distrust of Russians for political reasons.
In our new book Inexact Science, my son Evan and I recalled how the Detroit Red Wings, under chief scout Neil Smith, cracked the bias against Soviet (Russian) players in the historic 1989 draft as they poached a Hall of Fame defence man from Sweden and two Russian stars— Sergei Fedorov and Vladimir Konstantinov, in the middle rounds of that draft. And how it could have been much greater with a third Russian who got away.
"In 1986, Smith had been sent on a mission to find a full-time European scout for Detroit. Visiting Sweden, he encountered Christer Rockstrom. Smith was already somewhat acquainted with this scouting whiz, because Christer had been the cab driver who would take him to and from games he was scouting. Realizing he was dealing with a hardcore but perceptive fan who knew the players inside and out, Smith persuaded the Wings to give the Swede some scouting employment on a part-time basis, and then promoted him to the full-time European scout role a couple years after. It was a partnership that paid huge dividends.
The results of the organization's new dedication to searching deeply into Europe was never more evident than with their third-rounder in the 1989 draft. That pick (number 53) may just be the best mid-round steal in NHL draft history. Rockstrom had put in tremendous diligence to find him, alerting his higher-ups to this thin, wiry kid playing for VIK Västerås HK of the Swedish Elitserien. A teenaged defenceman who had drawn into only 20 games in 1988–89 with just two assists to show for it, this player didn't get much ice time when he actually did find his way into the lineup. Nonetheless, he happened to catch Rockstrom's eye. That D-man was none other than Nicklas Lidstrom.
Fearing Lidstrom would be lost to them in the 1990 draft, when he'd be considered a first-round-worthy prospect, Detroit pounced a year in advance. Rockstrom convinced the Wings brass to use their last possible chance to grab Lidstrom—a potential gem who he believed would turn into a top pairing defender. Wary that someone could spill the beans to other teams, only four members of the organization—Devellano, Smith, Holland and Rockstrom—knew the secret until the day of his selection.
It worked like a charm. Lidstrom was still available come round three and was taken by the Wings—to the confusion of many in attendance. Even the NHL's Central Scouting Bureau had very little info on what was considered quite an off-the-board choice (or "project," as it's often dubbed today).
As the league scrambled to figure out the Lidstrom pick on the draft floor in Minnesota, the Wings were thinking even further to the east for other delightful discoveries. Once the spring of 1989 rolled around, Soviet authorities had finally begun actively marketing some of their established stars to interested buyers in North America… it was still believed that the Soviets would want to hang on to their elite younger talent for several years to come. This mindset warded off many teams from wanting to "waste" a pick on such an arduous scenario. The Wings were not so easily scared in 1989. Having already passed on grabbing Sergei Fedorov when they had the chance in 1988, they used their fourth-round pick, number 74 overall, to select him the following year.
Devellano certainly wasn't planning to miss out on Fedorov on this particular occasion. As he told NHL.com in 2015, "My thinking was, 'Let's call a spade a spade; how many fourth-round picks who are North American make it big?' Very few… So what I said to myself was, 'This is the best 19-year-old in the world, and I'm going to pass on him (again) to probably take a minor-league player?' Forget about that, he's coming on the Red Wings' list, and we'll worry about it in the future." A star centre with Moscow CSKA, Fedorov internationally and domestically was featured as the playmaking, defensively responsible force on a line with fellow teenaged phenoms Alexander Mogilny and Pavel Bure—a ridiculously potent grouping that was the equivalent of a 2004 Russian squad icing a line with Evgeni Malkin between Alex Ovechkin and Ilya Kovalchuk.
Mogilny himself had been secured by the Sabres with the 89th overall pick a year earlier, but scouts were salivating that perhaps Bure or Fedorov could be available the next year as well. Fedorov had even been offered the chance to jump ship with Mogilny earlier. Before becoming the first Soviet player to successfully defect, Mogilny revealed his intentions to close friend Fedorov in a Stockholm hotel room they shared. Fedorov rejected the offer to join him, however, figuring it was a lark, prank or some sort of joke that was never supposed to be acted upon. But within 48 hours of the chat, Mogilny bolted the premises in an elaborate escape where he gained contact with the Sabres and the parties enacted a covert flight plan into the USA. While Fedorov stayed put for the meantime, the Wings were undeterred in taking him, even if it made the Soviet authorities keep even stricter surveillance on their prized pupils.
At his team's drafting table that day (in 1989), Devellano reportedly promised Smith that they could go after at least one more Russian before the day was over. That next one ended up being Fedorov, who many whispered might just have been the best on that line because of his uncanny ability to handle the duties of a two-way centre while the explosive Mogilny and Bure were freed up to earn the glory of scoring most of the goals. Devellano would make his reasoning clear down the road by stating, "As was the case with Petr Klima, my strategy was simple. We would draft the best players, and if they happened to be behind the Iron Curtain, we would use our ownership resources to find a way to get them out." Such boldness confirms the theory that quality ownership is perhaps the most important element in forging a perennially successful sports club.
Indeed, the Ilitches—who also own the Detroit Tigers—were the polar opposite of what Wings ownership had been under Bruce Norris. Their willingness to use their big dollars, trust their personnel and treat their employees with a degree of loyalty and compassion certainly gave the franchise some incredible mileage in their eventual reign as the model NHL organization from the mid-1990s to the early 2010s. The drafting wizardry of 1989 didn't necessarily begin and end with the Wings, though. And it could've been even richer. While Wings personnel in later years claimed they were ready to grab Fedorov's linemate Bure with their sixth-round pick and deal with any questions of his eligibility later, they never got the chance to add him. Another team's plans got in the way.
Detroit's management group had apparently mused about grabbing Bure in the fifth round after already having secured Fedorov. As Holland told the Toronto Star's Bob McKenzie in 1995:
We (were) at the draft table and Christer tells Neil "Now we should take Bure"… Neil said he didn't think Bure had played enough games to be eligible. So Neil goes and checks with (NHL vice-president) Gil Stein, and Stein tells Neil that Bure has only played seven games and it has to be eleven (sanctioned games) to be an eligible pick. Neil comes back and tells us that, and Christer says "No, that's not right. He played eleven. I know he played eleven." Neil goes back to Stein and tells him our European scout said Bure should be eligible.
Stein still said no. The NHL's records showed just five games played in 1987–88—figures Rockstrom believed were erroneous. So Neil comes back to the table and it's coming to our turn. We didn't think Bure was eligible, so we took someone else (Shawn McCosh)… Finally, Neil said we were going to take Bure with our next pick no matter what and let the league settle the eligibility thing later. We were just about to pick him when the Canucks announced his name.
It was Canucks GM Pat Quinn who swooped in on Bure during that sixth round (overruling his second-in-command, Brian Burke, who at the time thought Bure was too small for the big leagues of North America). Thankfully for the Canucks, their head scout, Mike Penny, agreed with Rockstrom's assertion that Bure had made the required number of appearances and convinced his boss to turn in the card with Bure's name on it. With whispers that the Oilers were looking to nab him too, the Canucks stepped up to make "The Russian Rocket" their own at number 113, and did so only three spots ahead of where the Wings ultimately took Dallas Drake—perhaps Detroit's most successful North American pick that year, but a far cry from a future Hall of Famer like Bure.
As consolation the Red Wing later nabbed Vladimir Konstantinov in the seventh round. To put the finishing touches on their 1997-98 Stanley Cups they added USSR stars Igor Larionov, Sacha Fetisov and Slava Kozlov. The NHL— and Don Cherry— was never the same after the triumph of the Russian Five
Bruce Dowbiggin @dowbboy is the editor of Not The Public Broadcaster (http://www.notthepublicbroadcaster.com). The best-selling author was nominated for the BBN Business Book award of 2020 for Personal Account with Tony Comper. A two-time winner of the Gemini Award as Canada's top television sports broadcaster, he's also a regular contributor to Sirius XM Canada Talks Ch. 167. His new book with his son Evan Inexact Science: The Six Most Compelling Draft Years In NHL History is now available on http://brucedowbigginbooks.ca/book-personalaccount.aspx
Could AI Make Yesterday Into Today For Culture, Sports & Politics?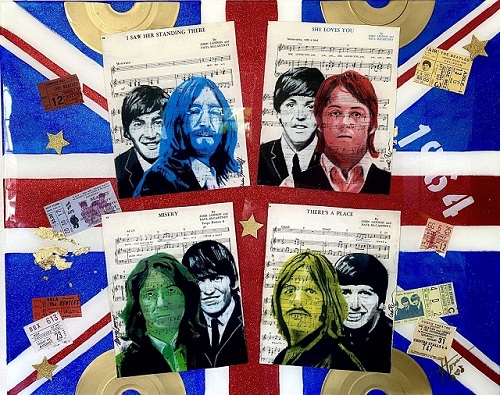 On a recent trip to the Fredericton Playhouse to see PEI's splendid The East Pointers we couldn't help but notice amongst the coming attractions an appearance by the Glenn Miller Orchestra. As far as we know, Miller disappeared over the British Channel in 1944 on his way to play a concert for the troops post D-Day.
Since then a succession of people have carried his musical heritage under the Miller name. Most of them have joined Miller in the great bandstand in the sky. It is safe to say that the number of people who heard anything by Miller himself live are virtually nil. Still, someone is still buying tickets to hear A String of Pearls, Pennsylvania 6-500, Chattanooga Choo-Choo and In The Mood.
Perhaps it was serendipity but seeing that Miller was still a thing came shortly after the arrival of a final Beatles song "Now and Then". It's not as long ago as the final Glenn Miller original cut, but "Now and Then" is the first original Beatles music since the 1970s. Which is when this lacklustre John Lennon composition was born from a demo cut by Lennon.
Its provenance has been talked about by Beatles obsessives ever since. Frankly they'd be excited to hear Lennon/ McCartney read the Liverpool phone book. (Which won't be any less underwhelming than this song.) Now And Then stayed out of the public realm, probably because George Harrison (d. 2001) hated it, and the recording was scratchy at best.
But thanks to the officious Paul McCartney cleaning it up in the studio and AI producing a catchy video to accompany the song "Now and Then" is on the Billboard chart with a bullet. Where it will probably stay for a while. No doubt this artful dodge will put the idea of reviving other dead musical icons into the heads of their colleagues and supporters.
The AI variations already extend past music. "@ilumine_ai This has been my first test of an experiment I'm doing, which is why it might feel a bit rough. It might not seem like it, but this video shows a single, uncut take at normal speed, where I move through a 3D stage that I am generating at will and in real time."
Can some clever soul use AI to create a new Humphrey Bogart movie using previous material? What about reviving Katherine Hepburn from her many films? Could Glenn Miller suddenly emerge from the mists to lead his band in Fredericton? We already know about The Beatles.
There ramifications, says cartoonist/commentator Scott Adams.. "If you let ChatGPT answer without constraints, it gives you the "approved narrative," also known as bullshit. In other words, you can use AI to give you any answer you want on political questions by manipulating the allowed "experts."
No wonder the Screen Actors Guild went on strike this year to protect the properties of stars dead and alive. What security will they have if AI makes them redundant? AI is, in the words of Hunter S. Thompson, "a cruel and shallow money trench, a long plastic hallway where thieves and pimps run free, and good men die like dogs. There's also a negative side."
To say nothing of the AI implications for sports. Can AI replicate the greatest of the past? Already there's a slightly cheesy commercial running in which present-day Wayne Gretzky counsels 18-year-old Wayne Gretzky on the future. But could AI create a better NHL mixing Gretz, Gordie Howe, Bobby Orr and Bobby Hull with the best of today? A league with no injuries, no travel fatigue, no bad coaching? Ditto for the other leagues. An NFL with Joe Montana, an NBA with Michael Jordan, an MLB with Barry Bonds?
In Canadian politics AI could revive Pierre Elliot Trudeau to assist his dimwitted son ("Interest rates are at historic lows," PMJT, 2020). Bill Davis could bring back the days of Blue Ontario. Ralph Klein could recreate the Alberta Advantage. If someone younger and more charismatic pops up you can use them in the present. With an AI figure waiting in the wings for when the real politicians eventually screw up.
In the US-AI, the leading candidates for U.S. president in 2024 are creakingly old. Democrats are in a lather over Joe Biden's decrepit state as he hit 81 this week (he'd be 87 when a possible second term ended). Polls show Americans are not fooled by the grinning Amphetamine Joe staggering up the stairs of Air Force One.
Republicans are alternatively exhilarated and exhausted by the prospect of loopy 78-year-old Donald Trump carrying their banner next November. With Trump it's less age than instability. Were he remotely stable he'd be leading Biden by 15 points in the polls.
In the Senate and House of Representatives octogenarian and nonagenarian members are literally dying at their desks for want of term limits. Across the political spectrum voters and media are asking, "Is this the best we can do?" Some recall the movie Dave where Kevin Kline plays a doppelgänger for a comatose U.S. president. Maybe that might work?
Or what if AI could revive JFK or Ronald Reagan in their primes? Or John McCain and Ruth Bader Ginsberg? "Now and Then" would be an appropriate slogan for re-inserting these tried & true political figures into the present, using their former selves to re-craft today's arguments. (We've seen how it might work since most believe that Biden is simply the conduit for a third Obama term.)
Anything has to be better than two old guys who could've heard "I've Got A Gal In Kalamazoo" when it was originally released by Glenn Miller in 1942.
Sign up today for Not The Public Broadcaster newsletters. Hot takes/ cool slants on sports and current affairs. Have the latest columns delivered to your mail box. Tell your friends to join, too. Always provocative, always independent. https://share.hsforms.com/16edbhhC3TTKg6jAaRyP7rActsj5
Bruce Dowbiggin @dowbboy is the editor of Not The Public Broadcaster A two-time winner of the Gemini Award as Canada's top television sports broadcaster, he's a regular contributor to Sirius XM Canada Talks Ch. 167. Inexact Science: The Six Most Compelling Draft Years In NHL History, his new book with his son Evan, was voted the seventh-best professional hockey book of all time by bookauthority.org . His 2004 book Money Players was voted sixth best on the same list, and is available via http://brucedowbigginbooks.ca/book-personalaccount.aspx
Door Mats To Mats' Darlings: Has Toronto Became The NHL's Defining Brand?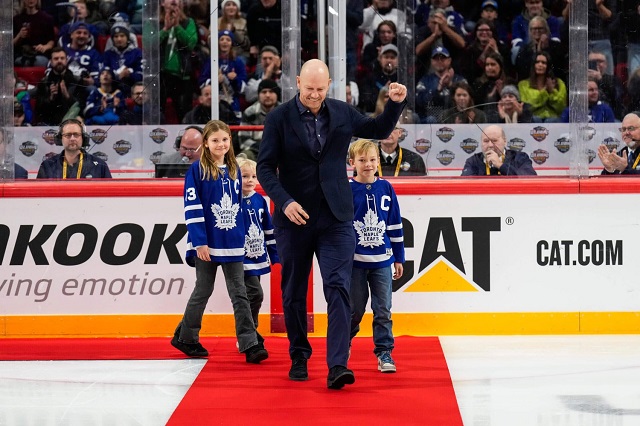 Imagine the Chicago Bears being the NFL's most valuable property? Or the L.A. Angels being MLB's prime franchise. Or the Brooklyn Nets being the NBA's strongest brand?
That's the best analogy for the Toronto Maple Leafs (estimated value US $2 billion-plus) being the NHL's most valuable franchise. Former Leafs hero Mats Sundin told Swedish television this past weekend that, from his perch in Sweden, the Leafs are the strongest brand in the NHL. The former captain of the Buds compared them to soccer giants FC Barcelona or Man United as a sports property. The GOATs of team sports.
And no one laughed. This despite the fact that the Leafs are the Picassos of pain since their last Stanley Cup in 1967, never reaching even the Finals in all those years. After decades of misery, their fanatical fan base couldn't cheer home Usain Bolt in a three-legged race. By Sundin's standards, however, they're the equivalent of the Catalans and the Red Devils.
It should boggle the mind. In addition to their sizeable markets Barca and Man U have long histories of championships in their leagues and in European competition. Their histories are studded with great names like Messi, Ronaldinho, Cristiano Rinaldo and Wayne Rooney (among many). Their value is immeasurable.
But because of their market size (southern Ontario is now about 12 million) the Leafs can claim a captive audience addicted to their losing. And a never-ending cash box that defies description. It was therefore poetic that the Stockholm Syndrome franchise spent this past week in Sweden, being lauded by the fans of Tre Kronor. Toronto's Swedish star William Nylander was greeted as a rock star. It was ramped up even further when the insouciant sniper— he rides the subways in Toronto— scored the winner in OT against Minnesota.
Toronto's claim on the NHL's first pew might have been laughable till recently. The undisputed soul of hockey has always been Montreal, home of the 24-time Cup Canadiens. The Habs were class. The Leafs were crass. Montreal was Jean Beliveau. Toronto was Tiger Williams. Wearing the tricoleurs bestowed a heritage on the wearer. Wearing the maple leaf was, as we wrote this past April, a testament to futility.
And yet, without winning a single honour, the Leafs have claimed undisputed possession of the brand as NHL's model team. The decline of the Habs as a constant contender probably has much to do with it. Their 24th— and last— Cup was in 1993. Since trading Patrick Roy in 1998, they've lost their glitter.
Current Montreal GM Kent Hughes sums up the new reality when asked if the Habs can win without a superstar. "Everyone would like McDavid or Draisaitl," he told Slovak journalist Martin Toth-Vaňo. "We'd like them, too… Do we need a star? Edmonton is at the bottom of the table with two of the biggest stars in the league."
Sure, Kent. The Habs' talent gap has allowed the Leafs to horn in on the belt as the NHL heavyweight. For the corporate set, at least, Toronto is the home of the English language communications industry. The people who decide the lineups for highlight shows and who to use in advertising live in the bosom of Leaf Nation, and the product reflects as much.
For some time eager investors have sought to convince the NHL that, like L.A. and New York's tristate area, Toronto's market should be shared amongst at least two teams. So far, commissioner Gary Bettman has been unable to create an indemnification plan for a competing squad that would satisfy the contented MLSE partners who own the Leafs. Suffice to say it would be a billion dollars-plus should common sense prevail.
So buckle up. Toronto has one of the top teams again this year. A Stanley Cup would not defy reason. Except… don't you always satisfy your customers in business? It would appear that Leafs fans love losing. Why mess with a good thing?
Sign up today for Not The Public Broadcaster newsletters. Hot takes/ cool slants on sports and current affairs. Have the latest columns delivered to your mail box. Tell your friends to join, too. Always provocative, always independent. https://share.hsforms.com/16edbhhC3TTKg6jAaRyP7rActsj5
Bruce Dowbiggin @dowbboy is the editor of Not The Public Broadcaster A two-time winner of the Gemini Award as Canada's top television sports broadcaster, he's a regular contributor to Sirius XM Canada Talks Ch. 167. Inexact Science: The Six Most Compelling Draft Years In NHL History, his new book with his son Evan, was voted the seventh-best professional hockey book of all time by bookauthority.org . His 2004 book Money Players was voted sixth best on the same list, and is available via http://brucedowbigginbooks.ca/book-personalaccount.aspx