What the World Needs Now is More Pro Bono
July 14, 2020
What the World Needs Now is More Pro Bono
Lawyers and the legal community use their performance skills to bring awareness and raise funds to support access to justice for our vulnerable population during the Covid-19 pandemic.
The Alberta Civil Trial Lawyers Association (ACTLA) is staging a virtual Public Awareness Campaign partnered with United Way. Major supporters include the Canadian Bar Association – Alberta Branch and the Legal Archives Society of Alberta. The show is called Laywers Vs Talent: A2J – Virtual Edition. Here's a link to the lineup. You can watch by simply making a donation. The United Way is helping out so it's a very secure and safe procedure. Click here to get your exclusive link. (You will receive an email with the link prior to showtime.)
COVID-19 caused cancellation of fundraising events (e.g. Battle of the Bar Bands-Calgary) within the profession where proceeds went to Pro Bono legal advice clinics. The Alberta Bar decided to innovate and create the virtual event for this Thursday, July 16th, from 6:00 PM to 8 PM (MDT) to raise a "behind the scenes" Awareness. Due to the Pandemic, Pro Bono clinics require technology for remote meetings or remote court attendance or require supplies for their clients such as masks and shields to attend meetings or attend court if people are forced by subpoena or otherwise need to attend.
Donna Purcell, member of the ACTLA COVID-19 Emergency Response Team said "We were going to call our event 'lawyers got talent' but one lawyer objected saying Simon Cowell would complain. Well what about 'lawyers got no talent'? No, he might still complain, maybe try Lawyers vs Talent" and the seed was sown to invite professional talent, with entertainers from the United States, Mexico, Europe, Asia and South America under the Global A2J Alliance banner. The campaign is meant to highlight the need for everyone to protect the Rule of Law for vulnerable populations.
Forecasts for Alberta include 25% unemployment. The profession is concerned about providing Pro Bono services given the anticipated domestic situations, personal bankruptcies, foreclosures and evictions flooding antiquated justice systems.
"The legal profession and our judiciary have decided to lead the way in ensuring innovative access to justice for our growing vulnerable populations and all Albertans", notes Purcell, "And we can't only work for free, that is called being unemployed. And no lawyer jokes please, we might not get them. Grab a Shaq-a-roni, set up a Zoom after party, and come enjoy the entertainment, including some pros who know what they are doing and learn from our feature presenters and feature reporting."
The show has many serious moments as well. You will hear from Rumana Monzur, Counsel at Department of Justice, Canada. In June 2011, she was brutally attacked and blinded by her husband at the time, Hasan Sayeed Sumon, while visiting in her home country of Bangladesh. As well, you will meet Maria Mitousis, Principal, Mitousis, Lemieux, Howard Law Corporation. Maria became national news when in the summer of 2015, she dropped into her office and opened a package that was on her desk. In the package was a bomb, and in the ensuing explosion, Maria lost a hand. Hers is a tragic but inspiring story.
A committee will decide where funds that are raised will have the most impact and includes consulting the United Way's The Social Impact Lab, a platform to research, create, and test new services and business models. The goal is toensure the impact on organizations who support vulnerable populations through the legal sector is maximized. It is also hoped that public awareness of the out-of-date state of the justice system will encourage a provincial and national discussion.
A minimum $50 donation to United Way receives the Premiere Access link; donate any amount for an after the event link.
For more information and to donate, sponsor or to purchase tickets to the event, visit www.lawyersvstalent.com.
Disclosure: Todayville is a proud partner in the production of this innovative program.
Read more on Todayville.com.
Aurora Cannabis to raise $33.8M in share offering, plans to repay convertible debt
EDMONTON — Shares of Aurora Cannabis Inc. were down more than 10 per cent after the cannabis company announced plans to raise $33.8 million in a share offering.
The company says Canaccord Genuity has agreed to buy, on a bought deal basis, 46,250,000 shares of the company at a price of 73 cents per share.
It has also granted Canaccord Genuity an over-allotment option for up to an additional 6,937,500 shares on the same terms. If the over-allotment option is exercised in full, the offering will total $38.8 million.
Aurora says it plans to use the money raised to repay the remainder of its outstanding convertible senior notes at or prior to maturity.
The company says the remainder, if any, will be used for strategic purposes, including potential acquisitions.
Aurora's stock price was down 13 per cent at 79 cents per share in early trading on the Toronto Stock Exchange.
This report by The Canadian Press was first published Sept. 28, 2023.
Companies in this story: (TSX:ACB)
The Canadian Press
Running Reins Ranch in Red Deer County picks up $250,000 grant from province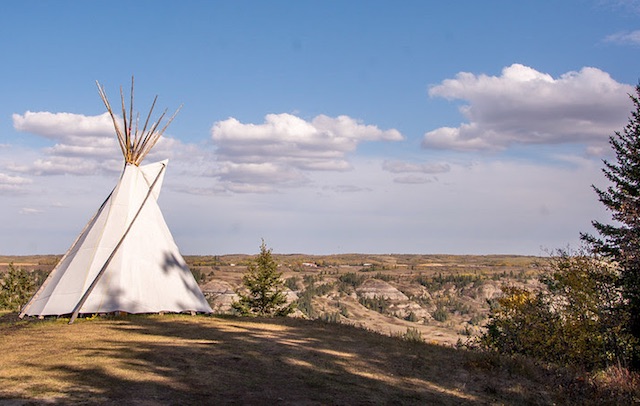 Running Reins Ranch partners with members of the local Indigenous community to set-up teepee accommodations and host regular cultural programming for guests.
Tourism investment fuels growth in rural Alberta
Alberta's government continues to support regional tourism opportunities across the province, generating jobs and new tourism destinations for locals and visitors alike.
Ahead of World Tourism Day 2023, Minister of Tourism and Sport Joseph Schow visited Running Reins Ranch to see first-hand how tourism investment grants are making a difference in the lives of Albertans.
"Alberta's government is proud to invest in growing visitor destinations like Running Reins Ranch that celebrate the richness and diversity of Alberta's rural destinations and provide a sustainable tourism experience for visitors to enjoy."
As part of the Tourism Investment Program, Running Reins Ranch received a $250,000 grant from Travel Alberta.
"Our investment will support the building of additional unique accommodations at the ranch that will triple their capacity, emphasize their year-round offerings and create five new full-time jobs. This investment in Running Reins Ranch is a perfect example of how Travel Alberta is driving tourism growth in rural communities across the province."
Running Reins is located east of Innisfail, offering cabin and teepee accommodations and a wide range of outdoor activities for visitors looking to combine the beauty of the Prairies with farm experiences for a one-of-a-kind getaway.
Right to Left: Minister of Tourism and Sport Joseph Schow, Owners of Running Reins Ranch Terry and Janice Scott, and team member Grace Finlan.
"This funding is a game-changer for us and our business. We are excited to bring our vision to life and provide visitors with unforgettable experiences while supporting the economic growth of the surrounding community."
Tourism is Alberta's No. 1 service export sector. In 2019, Alberta welcomed 34.6 million visitors, generating $10.1 billion in expenditures and supporting more than 80,000 full-time jobs. The Tourism Investment Program is Travel Alberta's commitment to investing $15 million annually with communities and operators to develop the province's tourism sector. Developing Alberta's rural and agri-tourism sector is an essential component of the government's efforts to grow Alberta's tourism economy to more than $20 billion by 2035.
Quick facts
In 2022-23, Travel Alberta funded 166 projects across 73 communities – about 75 per cent of the projects and 70 per cent of the funding were in smaller urban and rural areas of the province.
In December 2022, Alberta's government released its Economic Development in Rural Alberta Plan, with supporting initiatives that demonstrate the government's commitment to building healthy and prosperous communities across rural Alberta and Indigenous communities.