We've got THOUSANDS of reasons to SMILE!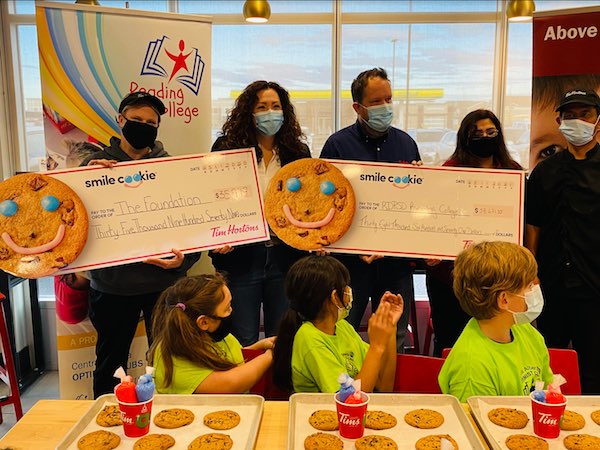 It took us a while to count ALL the money raised from the Tim Hortons Smile Cookie Campaign…and it's very impressive!
Today, we celebrated the presentation of two cheques – one from the 2020 Smile Cookie campaign, and one from this year's campaign. Due to the COVID-19 pandemic, we were unable to hold last year's cheque presentation.
Over the last two years, Red Deerians ate 74,650 cookies, which means $35,979 was raised in 2020 and $38,671 was raised in 2021 to help struggling readers become readers of potential through Reading College, a project of the Foundation for Red Deer Public Schools.
Reading College, held in the month of July, provides students who already have reading gaps, an amazing summer experience that will not only develop their reading skills but more importantly, their interest and motivation in reading. Students leave the program with increased reading and writing abilities, and a solid foundation for future success in school and life.
"The Smile Cookie Campaign is a great opportunity to raise awareness on the importance of literacy, it really does create life chances for students. Reading College is made possible through great support from our community and Tim Hortons – we could not operate it without this support," said Kristine Plastow, Foundation Board Chair. "We are so grateful to the community for buying Smile Cookies and supporting this fantastic program."
From September 13 – 19, Tim Hortons restaurant owners in Red Deer generously donated all proceeds from sales of a special smiling chocolate chunk cookie to support the Reading College program through The Foundation for Red Deer Public Schools. The $1 treat helps community programs across Canada in the cities where they are sold.
"On behalf of all restaurant owners and team members in Red Deer, I would like to thank our loyal guests for their generosity and support of the Smile Cookie campaign," said Tanya Doucette, Tim Hortons Restaurant Owner in Red Deer. "Tim Hortons is thrilled to support The Foundation for Red Deer Public Schools and Reading College with the funds raised and bring smiles to so many people's faces."
Today is the day! Someone supporting the Child Advocacy Centre is going to win a huge jackpot!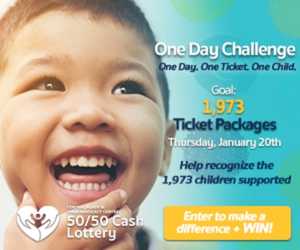 Or Call 587-272-2233
Phone lines will be open from 9:00AM – 7:30PM MTN
#CACACOneDayChallenge UPDATE
We are currently at
603
ticket packages
Goal: 1,973
We're almost half way there! Will you help us reach our goal!? Let's make a big push this afternoon to meet the challenge for these kiddos!
Thank you to those who took the Challenge and have already purchased!
Phone lines have been busy, so feel free to leave a voicemail with your details and we'll get back to you as soon as we can!
Visit our lottery website for more information, an updated list of winning numbers, and the full list of lottery rules! Or call 587-272-2233.
*Please Note: Phone lines are operated by CAC Staff. Open from 9AM – 4PM Monday – Friday. Please leave a voicemail with a detailed message & we will return your call as soon as possible.
Lottery License #578482
Skills that maintain healthy relationships
Learn ways to improve your relationship skills using the acronym DEARMAN and GIVE, from the DBT therapy perspective, presented by a PCN Mental Health Counselor, Lana.
Interpersonal Effectiveness Skills
Learning to get along with others while also asserting your own needs is essential to healthy relationships. It can be difficult to balance your own needs and the needs of others. How can you get what you need without being aggressive or neglecting of the needs of others? There are three sets of skills you will learn to help achieve this goal: objective effectiveness, relationship effectiveness, and self-respect effectiveness.