Unlimited bus rides and access to all city rec facilities all summer long!
From The City of Red Deer: Rip 'N Rec Summer Pass returns for youth in Red Deer
The City of Red Deer is offering youth unlimited rides on Red Deer Transit and unlimited access to all City recreation facilities all summer with the Rip 'N Rec Summer Pass.
This is the third year the City has offered the promotion which brings together two of our most popular services, Recreation and Transit. For only $50 youth age six to 17 can purchase a Rip 'N Rec Summer Pass that provides them unlimited access to drop-in activities from swimming, to fitness classes and gymnasium sports and the means to get there.
"The Rip 'n Rec Summer Pass is intended to provide youth with some healthy ways to spend their time this summer and the ride to get there," said Barb McKee, Recreation Superintendent. "It allows youth access to all four City recreation centres including the outdoor pool all summer long. This promotion keeps our facilities hopping during the typically slower summer months and also provides a great incentive for Red Deer youth to get out, get active and have fun."
"We are really happy to continue to work with the Recreation section to make this pass a reality. We know that introducing youth to using public transit at an early age encourages lifelong ridership," said Trever Sparrow, Red Deer Transit Superintendent of Conventional Services. "With this pass teens are able to hop on transit to get to their favourite places, like the splash park, swimming pool or even the mall. The Rip 'N Rec pass provides parents with an affordable way for teens to travel around town during the summer."
The Rip 'N Rec Pass can be purchased at any City recreation facility:
The Pass is valid until September 2, 2019.
To learn more visit www.reddeer.ca/summerpass
Red Deer Playgrounds opening with these guidelines
From the City of Red Deer
Phased reopening of playgrounds starts today
The City of Red Deer has begun a to reopen playgrounds with a phased approach between now and May 29, 2020."We know the closure of playgrounds has been difficult for some families with young children. We are re-opening playgrounds and fitness parks while continuing to align with recommendations from the Chief Medical Officer of Health, but caution the public that these structures are high touch and high contact surfaces," said Karen Mann, Emergency Operations Centre Director.A phased approach is necessary to ensure maintenance and inspections are completed in advance of reopening any playground or outdoor fitness structures. New signage and removal of caution tape will signal citizens as to when respective playgrounds are officially open. Crews will work in the north and south simultaneously to open playgrounds as quickly as possible across the entire city.Citizens are asked to refrain from using playground or outdoor fitness structures until crews remove the closed signs and caution tape.

Although playground reopenings are happening in alignment with all public health orders and restrictions, citizens are still encouraged to exercise caution and do what is necessary to continue to help prevent spread of COVID-19.

Equipment will be inspected prior to opening. The City is not washing or sanitizing structures and families are encouraged to bring their own hand sanitizer to the park with them, limit contact with others, and visit playgrounds within their own neighbourhoods.

Users are reminded of and must follow public health guidelines including:
Maintaining 2 metre physical distance;
Gathering in groups of 50 or fewer;
Only sharing common equipment with members of the same family or cohort;
Staying home if you feel sick;
Washing and sanitizing your hands before and after using these areas.
"Due to the diligence and commitment of our residents throughout this pandemic to complying with all orders and recommendations from health officials, we are now in a position to begin re-opening a number of our amenities in a phased manner," says Mann, "While we are as pleased as you are to see playgrounds and fitness parks starting to re-open, we know it will take the continued support of all residents to keep each other safe and healthy through this relaunch."
Residents can call the City's call centre at 403-342-8111 if they have questions regarding the playground reopening or any City services. More information on the City's response to COVID-19 can be found at www.reddeer.ca/COVID.
Alberta opens more shops in Calgary, Brooks amid COVID-19 recovery relaunch
#RedDeerStrong – Former refugee expressing gratefulness to Canada through donation to front line health care workers

From We Are Red Deer at RedDeer.ca
Esmat Bayat knows his way around a sewing machine.

"I have lots of experience," he chuckles. "Maybe 26, 28 years. A long time."
Bayat grew up in Afghanistan, working as a tailor and shoemaker since the age of 12. He opened his own business in Kabul making custom suits and dresses. In the years following 9/11, Bayat's homeland became war-torn and dangerous, so he packed up his family and fled to Iran.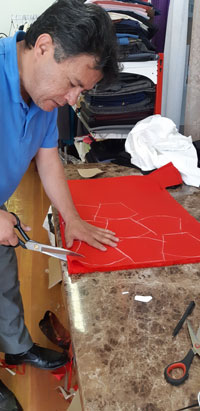 "We were refugees in Iran. The government of Iran is not good with refugees and immigrants. And Afghanistan was war. We had to move."
After brief stops in Pakistan and Turkey, Bayat's dream finally came true three years ago. On April 26, 2017, his family was granted refugee status in Canada. Bayat, his wife, and their four kids headed for a little city on the prairies they knew nothing about, named Red Deer.
Today, the Bayat family has settled into their new Canadian life and Esmat runs a tailor shop downtown. All was well… until COVID-19 hit.
"Right now I don't have any customers," he says. "Our community needs medical masks and protective suits. I am able to make them."
Instead of closing up shop and waiting for the pandemic to pass, Bayat is using his skills to help the country that welcomed his family warmly. He ordered special waterproof fabric and is sewing five-hundred medical masks and one-hundred protective suits. He plans to donate them to Red Deer's front-line health care workers.
"I like to help Canada because Canada helped me. The Canada(ian) government helped bring me to Canada and now I and my family are safe," he says. "I wanted to help the government, help the Canadians. This is how I can do that."
When COVID has passed, Bayat plans to start sewing clothes again and maybe one day open a small garment factory in Red Deer. In the meantime, he's focused on giving a helping hand to those who are working hard to keep Canadians safe and healthy.
"Everything is not money, not dollars. Sometimes people just need to help each other.