UCP MLA calls for public inquiry into his own government's handling of covid crisis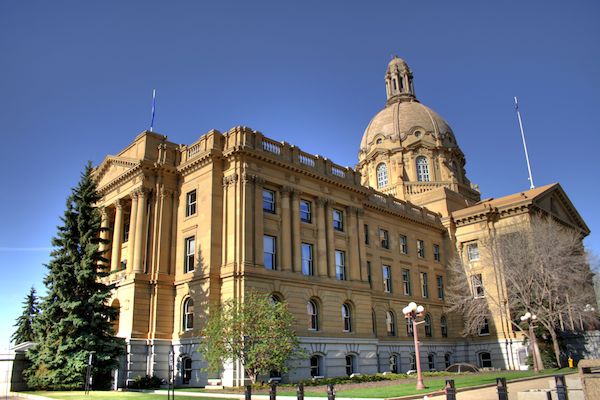 Red Deer South UCP MLA Jason Stephan has asked for a "public inquiry: a comprehensive, full cost analysis of COVID restrictions on Albertans."  In a news release MLA Stephan sent out Tuesday, he blasted widespread restrictions saying "Government control and coercion; prescription and restriction; produce fear and contention. Principled approaches, trusting adults to govern themselves and their families in respectful ways, produce individual hope and societal peace."
Throughout much of the last year, a number of UCP MLA's have been vocal in their opposition to widespread covid lockdowns.  Many have called for an entirely different approach called "Focussed Protection" best described by former Alberta Emergency Management Expert David Redman.
This request by a member of their own party emphasizes widespread support for a different approach if variants or other factors lead to a new wave later this year.  In a video discussion Jason Stephan emphasizes he's "not seeking to condemn anyone" but considering the widespread financial and social devastation caused by lockdown restrictions "It's really important for government to learn from this and be better".
Stephan believes the inquiry should consider all aspects of the covid response including the evolving understanding of effective medial treatment for those who test positive and show symptoms.   
Province loosens rules for participants and team volunteers in Rinks and Rec Centres
Further clarity for youth participants in the Provincial Restrictions Exemption Program
As of Monday, September 20, 2021, The City of Red Deer has adopted the Provincial Restrictions Exemption Program. The program applies at all City owned and operated recreation and culture facilities.As a part of the Restrictions Exemption Program, The City had previously announced that all vaccine-eligible visitors 12 years and older to City facilities would need to show proof of vaccination, a valid medical exemption, or a negative rapid COVID-19 test within 72 hours of entry. Over the weekend, the Government of Alberta released further details about the Restrictions Exemption Program which clarify the requirements for youth sport, fitness and performance activities.
As a result of continued consultation with provincial government representatives, the following updates have been applied for all City of Red Deer recreation and culture facilities, effective September 21, 2021:
Volunteers for organized sport groups can enter to perform their activity-related responsibilities without proof of vaccination, exemption, or negative COVID-19 test

Youth sport, fitness and performance participants can take part in their activities without proof of vaccination, exemption or negative COVID-19 test

Youth aged 12-17 must show proof of vaccination, medical exemption or a negative test result to enter any facility while not participating in activity. This includes spectators, or using the concourse and common areas.

Anyone ages 18 or older will be required to show proof of vaccination, medical exemption or a negative rapid test result within 72 hours of a visit to facilities.

From September 20 to October 25, proof of a single dose is considered acceptable as long as the dose was given more than two weeks before visiting a facility. After October 25, proof of double vaccination is required.
All other vaccine-eligible visitors will be required to follow the guidelines set out for the Provincial Restrictions Exemption Program which can be seen here: https://www.alberta.ca/covid-19-public-health-actions.aspx.
Effective September 20, anyone unable to wear a mask will be required to provide a medical exemption letter from an authorized health professional. More information about mask exemptions is available at alberta.ca/masks
Please visit www.reddeer.ca/RecUpdate for more information about the Restrictions Exemption Program at our facilities.
Canadian women's hockey team to play B.C. Junior A men as part of Olympic prep
CALGARY — Canada's women's hockey team will play a pair of games against male Junior A teams in B.C. next month.
The national women's team, currently centralized in Calgary to prepare for the 2022 Winter Olympics, will travel to face the Trail Smoke Eaters on Oct. 4 and the Cranbrook Bucks on Oct. 5.
Canada is coming off winning a women's world championship Aug. 31 in Calgary, where the host country edged the United States in overtime for gold.
Twenty-six skaters are trying out for 20 spots on the Olympic roster.
Three goaltenders have already been named to the Beijing-bound side: Ann-Renée Desbiens, Emerance Maschmeyer and Kristen Campbell.
The women are accustomed to a regular slate of games against male midget triple-A clubs as part of their Olympic prep, but games against Junior A teams are more rare.
Goaltender Shannon Szabados made 52 saves in Canada's 3-2 win over the AJHL's Calgary Canucks on Dec. 5, 2009.
Canada split a pair of Maritime Junior Hockey League games in September of 2019, when the women lost 4-2 to the Valley Wildcats and downed the Pictou County Crushers 4-1.
"We are grateful to both Trail and Cranbrook for their willingness to be part of our training as we start our season," said Gina Kingsbury, Hockey Canada director of operations for the national women's teams, in a statement Monday.
"The level of competition we expect to face is crucial in our journey and we look forward to showcasing our athletes to hockey fans in both communities."
Fans can buy tickets and attend both games subject to meeting B.C.'s COVID-19 requirements.
This report by The Canadian Press was first published Sept. 20, 2021.
The Canadian Press