Two thirds of our city has declined in City Council's last mandate. Is the at-large system really working?
No it is not just the north side of the river which is seeing a decline in population, but there are also about 18 declining neighbourhoods south of the river, too. During their 4 year mandate this council did see growth in a few select neighbourhoods.
Garden Heights……………………….2016=381.……..2013=36
Timberlands/College Heights…….…2016=2215.……..2013=864
Clearview Ridge………………………2016=1706.……..2013=1177
Vanier………………………………….2016=3630.……..2013=2019
Sunnybrook…………………………2016=1119.……….2013=856
Lancaster…………………………….2016=6356.………2013=5738
Mountview……………………………2016=1550.………2013=1538
Michener Hill…………………………2016=1511.………2013=1454
Eastview Terrace……………………..2016=1664.………2013=1654
Eastview Estates………………………2016=2455.….….2013=2455
Deerpark Village………………………2016=3720.……..2013=3715
Riverside Meadows……………..……2016=3686..……2013=3665
Johnstone Park………………………2016=3865.………2013=3760
Total…………………2016=33,858.….3013=28,931…increase of 4,927
The city's total population only increased by2,723.
So besides north of the river, where did we lose residents? Let us continue to look at the census material on reddeer.ca.
So while 13 neighbourhoods' population showed no decline or showed increases 25 neighbourhoods decreased.
Waskasoo—————————2016=474—-2013=486
Woodlea—————————–2016=553—-2013=606
Downtown————————–2016=3,197–2013=3283
Parkvale—————————–2016=795—-2013=813
Westpark—————————-2016=5430—2013=5514
South Hill West——————–2016=1582—2013=1712
South Hill East———————2016=1302—2013=1410
Bower——————————–2016=1953—2013=1991
Sunnybrook————————-2016=1411—2013=1430
Grandview————————–2016=950—-2013=1023
Clearview—————————2016=2547—2013=2754
Rosedale—————————–2016=3386—2013=3482
Morrisroe—————————2016=1274—-2013=1279
Morrisroe Ext.———————2016=1643—2013=1782
Anders Park————————2016=2967—2013=3101
Anders South, Aspen Ridge—–2016=3884—2013=3911
Deerpark—————————-2016=3986—-2013=4072
Inglewood—————————2016=4334—2013=4481
So basically the city grew in only 34% of the neighbourhoods, some by a bare margins others with whole new subdivisions.
Will your neighbourhood be the next one to be forgotten? Will it be abandoned for next new neighbourhood? It might.
Standing Ovation for a Nazi – Federal government creates international outrage by honouring WWII Nazi SS soldier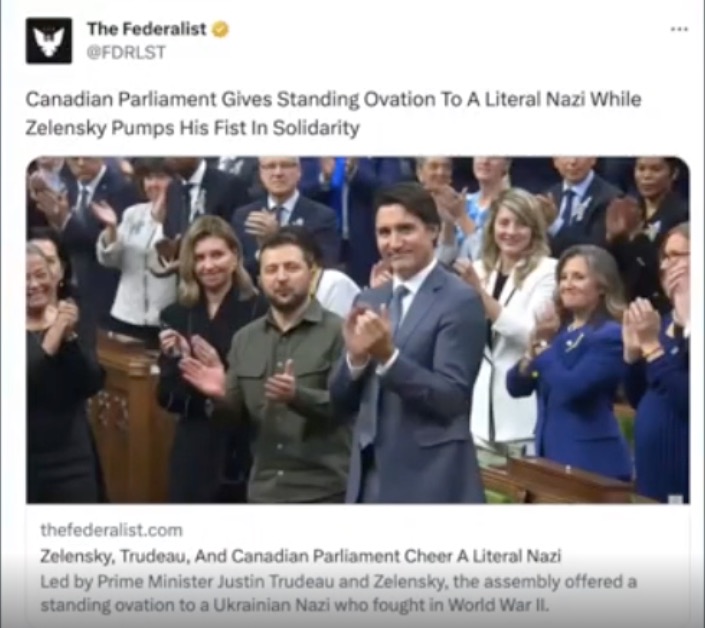 The Speaker of the House of Commons has already resigned. General apologies have been made. Canada's Liberal government is hoping to move on from this monumental gaff as soon as possible. But it might not be that easy.
It could be some time before we realize the implications of what might be this government's biggest international mishap, ever. For a quick description of what exactly happened in the House of Commons and to show how other countries are seeing this brutal mistake, we share this video from The Telegraph.
From The Telegraph
The speaker of Canada's House of Commons has apologised to Jewish communities after honouring a veteran who fought for a military unit under Nazi command during World War Two. Anthony Rota had invited his fellow MPs to give a standing ovation to Yaroslav Hunka, 98, following Ukrainian President Volodymyr Zelensky's address to Parliament on Friday. Mr Rota introduced Mr Hunka as a war hero who fought for "Ukrainian independence against the Russians". Read the full story here: https://www.telegraph.co.uk/world-new…
The average Canadian (maybe not out west) has gone from at least mildly admiring the youthful vigour of Prime Minister Justin Trudeau, to cringing every time he boards an airplane. Somehow Trudeau always seems to find a way to make himself look silly on the road, and now at home too. With each passing month the rest of the world takes Canada a little less seriously. This may have reached an inflection point.
Sure, Speaker Anthony Rota jumped on his sword but the buck definitely does not stop at the Speaker's chair. With Ukrainian President Volodymyr Zelensky present, the PMO would be fully aware the eyes of the world would ever so briefly be pointed towards Ottawa. Either they had every moment planned, or they should have.
The PMO can't win here. If they knew about Mr Hunka's invitation, my oh my this is definitely beyond an 'egg in the face' situation. After years of equating political opponents and truckers with Nazi's, they actually invite a real Nazi into the House of Commons and give him a standing ovation, WITH THE ENTIRE WORLD WATCHING! On the other hand, IF and that's a capital I and a capital F, the PMO truly was actually surprised by the Speaker's choice for honoured guest, they have only themselves to blame for not vetting absolutely everyone and everything that happened during President Zelensky's short visit. Either way… WOW this is bad.
It will be interesting to see how the regular 'legacy' media follows up with coverage over the next few days and perhaps even weeks. The independent media coverage is absolutely scathing. Those who wish to dismiss independent media are ignoring a large and growing segment of the population who don't necessarily agree with Canada's ongoing and very expensive support of Ukraine's military effort.
In this video a discussion about what happened in Ottawa and what the response might be around the world.
"I Promised Mess I Wouldn't Do This"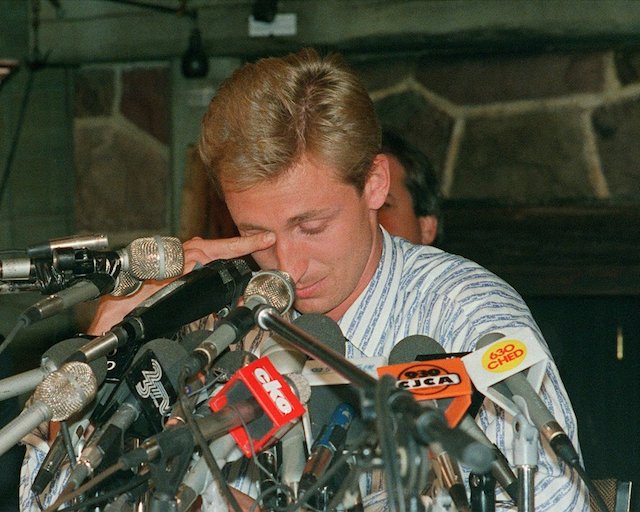 There's an abiding idiom in hockey trades. It says whoever got the best player in a deal wins the trade. If you get Wayne Gretzky you win every trade. After that, received wisdom of trades is more honoured in the breach than in the observance. Everyone has a theory. But all agree there's no denying the impact of trades toward NHL success.
From their evolution as simple player-for-player swaps to the current version of trading players for draft picks, cash, future considerations, salary-cap space or actual humans, the art of swapping in the NHL has become a science, an art and an accounting exercise. Where once it was a pair of hockey-lifer GMs making deals, today's moves require capologists, accountants, lawyers, agents and, often, the player's family being onside before a deal can be approved by the NHL.
A whole new culture has grown up within the sport so that deals can be swung. As trades have become more complicated, they have concurrently become less of a burden on the moving parts involved. We've come off an offseason with a surprisingly modest number of intriguing deals.
With preseason games starting, to whet the ref's whistle, here's a list Rating The Top 25 Trades in NHL history from our next book Deal With It: The Most Impactful Trades In NHL history and How They Changed The Game (due later in 2023). (from ***** to ***)
1) August 9, 1988: Wayne Gretzky, Marty McSorley, and Mike Krushelnyski from Edmonton to Los Angeles for Jimmy Carson, Martin Gélinas, the Kings' first rounders in 1989 (traded to New Jersey) , 1991 (Martin Rucinsky), 1993 (Nick Stadujar), and $15 million. *****
2) May 15, 1967: Phil Esposito, Fred Stanfield and Ken Hodge from Chicago to Boston for Gilles Marotte, Pit Martin and Jack Norris. ****1/2
3) October 4, 1991: Mark Messier and future considerations (Jeff Beukeboom) from Edmonton to the New York Rangers for Bernie Nicholls, Steven Rice, Louie DeBrusk and future considerations (David Shaw) ****1/
4) December 6, 1995: Patrick Roy and Mike Keane from Montreal to Colorado for Jocelyn Thibault, Martin Rucinsky and Andrei Kovalenko ****1/2
5) June 30, 1992 Eric Lindros from Quebec City to Philadelphia for Steve Duchesne, Peter Forsberg, Ron Hextall, Kerry Huffman, Mike Ricci, Chris Simon, a 1993 1st round pick (#10-Jocelyn Thibault), a 1994 1st-Round pick, (#10-Nolan Baumgartner)) and $15 million in cash *****
6) March 3, 1968: Norm Ullman, Floyd Smith, Paul Henderson and Doug Barrie to Toronto for Garry Unger, Peter Stemkowski, Frank Mahovlich and Carl Brewer ****1/2
6A). January 13, 1971: Frank Mahovlich from Detroit to the Montreal for Guy Charron, Bill Collins and Mickey Redmond ****
7) March 10, 1980 Butch Goring from L.A. to New York Islanders for Dave Lewis and Bill Harris ****
8. November 1947 : Max Bentley from Chicago to Toronto for Gus Bodnar, Gaye Stewart, Bud Poile, Bob Goldham and Ernie Dickens ****
9) January 2, 1992: Gary Leeman, Alex Godynyuk, Jeff Reese, Craig Berube and Michel Petit from Toronto to Calgary for Jamie Macoun, Ric Nattress, Rick Wamsley, Kent Manderville and Doug Gilmour ****1/2
10) August 17, 1992 Dominik Hasek from Chicago to Buffalo for Stephane Beauregard and a fourth-round draft pick (Eric Daze) ****
11) July 23, 1957 Ted Lindsay and Glenn Hall From Detroit To Chicago for Johnny Wilson, Forbes Kennedy, Hank Bassen, Eric Preston ***1/2
12) June 28, 1994: Garth Butcher, Mats Sundin, Todd Warriner and 1994 first-round pick (#10-Nolan Baumgartner) from Quebec City to Toronto for Wendel Clark, Sylvain Lefebvre, Landon Wilson and 1994 1st round pick (#22-Jeff Kealty) ***1/2
13) May 22, 1970 : 1971 1st-round pick (#1-Guy Lafleur) and Francois Lacombe from Oakland to Montreal for Ernie Hicke and 1970 1st-round pick (#10-Chris Oddleifson) *****
14) Nov. 7, 1975: Phil Esposito, Carol Vadnais from Boston to New York Rangers For Brad Park, Jean Ratelle ****
15) October 1989: Tom Kurvers from New Jersey to Toronto for first-round pick (#3 Scott Niedermayer) ****
16) Nov. 30 2005: Joe Thornton from Boston to San Jose for Brad Stuart, Wayne Primeau and Marco Sturm ***1/2
17) December 20, 1995: Joe Nieuwendyk from Calgary to Dallas for Jarome Iginla ***1/2
18) Feb. 22, 1964: Andy Bathgate and Don McKenney from New York Rangers to Toronto for Dick Duff, Bob Nevin, Rod Seiling, Arnie Brown and Bill Collins. ***
19) March 7, 1988: Brett Hull from Calgary to to St. Louis for Rick Wamsley and Rob Ramage ***
20) June 29, 1990: Denis Savard from Chicago to Montreal for Chris Chelios ***
21) June 24, 1963: Dave Balon, Leon Rochefort, Len Ronson and Lorne "Gump" Worsley from New York Rangers to Montreal for Donny Marshall, Phil Goyette and Jacques Plante. ***
22) June 24, 2000: Mark Parrish and Oleg Kvasha from Florida to the New York Islanders for Roberto Luongo and Olli Jokinen ***
23) February 10, 1960: Red Kelly from Detroit to Toronto for Marc Rheaume ***1/2
24) October 10, 1930: King Clancy from Ottawa to Toronto for Eric Petting, Art Smith, cash ***
25) June 28, 1964: Ken Dryden and Alex Campbell from Boston to Montreal for Paul Reid and Guy Allen ****
Sign up today for Not The Public Broadcaster newsletters. Hot takes/ cool slants on sports and current affairs. Have the latest columns delivered to your mail box. Tell your friends to join, too. Always provocative, always independent. https://share.hsforms.com/16edbhhC3TTKg6jAaRyP7rActsj5
Bruce Dowbiggin @dowbboy is the editor of Not The Public Broadcaster A two-time winner of the Gemini Award as Canada's top television sports broadcaster, he's a regular contributor to Sirius XM Canada Talks Ch. 167. Inexact Science: The Six Most Compelling Draft Years In NHL History, his new book with his son Evan, was voted the seventh-best professional hockey book of all time by bookauthority.org . His 2004 book Money Players was voted sixth best on the same list, and is available via http://brucedowbigginbooks.ca/book-personalaccount.aspx