Two Million Dollar Drug Bust in Edmonton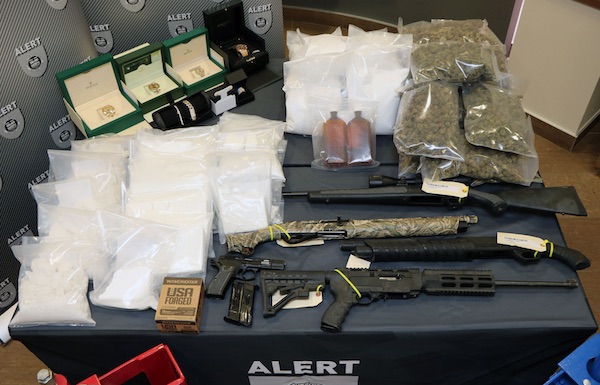 News Release from ALERT (Alberta Law Enforcement Response Team)
Project Elk concludes with eight arrests, millions in drugs and assets seized
A two-year cross-Canada drug trafficking investigation has concluded with eight Edmonton suspects facing charges. ALERT seized roughly $2 million in drugs, cash, and proceeds of crime.
Project Elk was a lengthy investigation into an Edmonton-based drug trafficking network that was involved in drug importation. Eight suspects were arrested and charged in October 2021 with offences ranging from drug and firearms related, to conspiracy to commit an indictable offence, to commission of an offence for a criminal organization.
The suspects are scheduled to make their initial court appearances on November 25, 2021.
"Project Elk will prove to be significant disruption to drug markets in Edmonton and other communities in northern Alberta. The negative impacts of drug trafficking are multi-faceted and connect back to societal harms such as gang-related violence, theft, property crimes, and healthcare implications," said Inspector Kevin Berge, ALERT Edmonton.
ALERT Edmonton's organized crime team spearheaded the investigation in November 2019, and Project Elk also involved the assistance of the Edmonton Police Service, and specialized RCMP units from Alberta, Saskatchewan, and Ontario.
In August 2020, ALERT intercepted a six-kilogram cocaine shipment that originated in Toronto. The seizure precipitated a series of search warrant executions in which six homes in the Edmonton were searched and one home in Strathcona County.
Project Elk resulted in the seizure of:
Five firearms;
10 kilograms of cocaine;
17 kilograms of a cocaine buffing agent;
4.7 kilograms of meth;
2.9 kilograms of cannabis; and
$135,000 cash.
In addition, ALERT seized roughly $200,000 in offence related property, including three vehicles, jewelry, diamond rings, and Rolex watches.
"The drug trade doesn't pay in the end. If you're not shot, you're ending up in jail, and you're only hurting the people around you. It's not the glamourous lifestyle that is fictionalized for the sake of TV and movies," said Berge.
A total of 35 criminal charges have been laid against:
Tyshawn Walters, 29-year-old man from Edmonton;
Kashane Walters, 34-year-old man from Edmonton;
Kariyawasam Kariyawasam, 39-year-old man from Edmonton;
Tyree Malcolm, 28-year-old man from Edmonton;
Levi Collinge, a 39-year-old man from Edmonton;
Boris Derpich, 43-year-old man from Edmonton;
Stacey Sharpe, 35-year-old woman from Edmonton; and
Trevor Bellows, 31-year-old man from Edmonton.
Members of the public who suspect drug or gang activity in their community can call local police, or contact Crime Stoppers at 1-800-222-TIPS (8477). Crime Stoppers is always anonymous.
ALERT was established and is funded by the Alberta Government and is a compilation of the province's most sophisticated law enforcement resources committed to tackling serious and organized crime.
THE HALFTIME REPORT News from the Alberta Sports Hall of Fame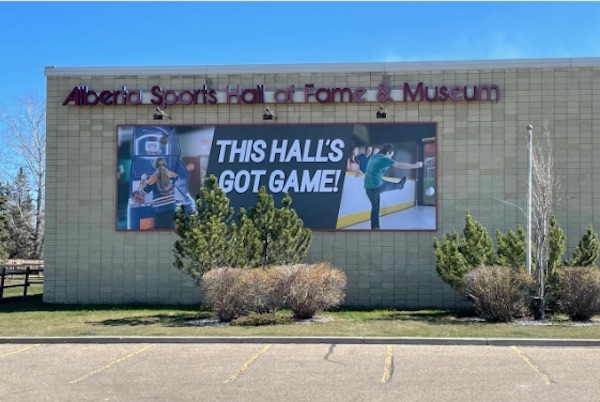 ASHFM Staff Supporting Their Favourite Alberta Teams
The Battle of Alberta was fantastic. Let's do this again soon! This is the first time the Edmonton Oilers and the Calgary Flames have met during the NHL Playoffs since 1991. The Alberta Sports Hall of Fame had a ton of fun creating a number of different ways for Albertans to learn about and participate in the rivalry.
We created a poll where visitors to the museum placed a sticker on our board to indicate which Albertan NHL team they cheer for. Those unable to stop in were encouraged to comment on our social media posts, telling us their team, so we could place the sticker for them. Both teams had over 200 votes, with the total climbing higher each day.
We also highlighted some of our honoured members who have played for, or been associated with either of these teams, such as Wayne Gretzky, Michael Vernon, Glen Sather, and Peter Maher.
Other initiatives include Jersey Day, where visitors who come in on a Battle of Alberta game day wearing a Flames or Oilers jersey get 50% off of their admission into the museum, highlighting iconic BoA moments through Youtube, and more!
This newsletter is sponsored by the RBC Foundation.
Honoured Member in Focus: Wayne Bowes and Bob Daku
Wayne Bowes and Bob Daku began playing racquetball together in 1969, after meeting at the Lethbridge YMCA. They dominated the Canadian Open Men's Doubles in racquetball from 1974 to 1982. Together, they won nine consecutive national titles.
Besides their national titles, this team won numerous Alberta crowns and competed at the 1974 World Amateur Racquetball Championships. They won two more titles, in 1984 and 1985, and then retired from competitive racquetball with eleven of thirteen national titles.
For more information about this team, please see their Honoured Member Profile, linked below.
Provincial Sport Organization: Alberta Racquetball Association
The Alberta Racquetball Association's vision is to make racquetball accessible to all Albertans and to be a national leader in programming, athlete development, and good governance.Its mission is to facilitate the participation and enjoyment of racquetball through the delivery of programs, access to resources, the development of coaches and officials, and support to clubs and affiliates.
They strive to build a strong future and legacy for racquetball by supporting competitive athletes, fostering lifelong participants and aim to increase involvement and accessibility at all levels through promotion, advocacy, and funding.
Artifact in Focus!

The artifact that we are highlighting is a racquetball racquet. The cover is made of faux, brown, leather.
Next time you're driving down the QEII you will notice the new billboard on our building! Our new billboard reads "This Hall's Got Game," and is visible from Highway 2.
Honoured Member Theo Fleury Visits ASHFM
Honoured Member Theo Fleury stopped by the Alberta Sports Hall of Fame recently to film a promotional video.
To learn more about Theo Fleury, please click on the link to his profile below.
Leave a legacy​
The Alberta Sports Hall of Fame needs your support to continue the ongoing preservation of Alberta's sports history and the development of museum exhibits. We are grateful and appreciative of the generosity of our supporters and friends. We would be happy to assist you in choosing how your personal legacy will be fulfilled and the many options available. Here is some information on donating shares to ASHFM and the benefits to you as a donor.
Copyright © 2021 The Alberta Sports Hall of Fame, All rights reserved.
Our mailing address is:
Alberta Sports Hall of Fame
#102 – 4200 Highway 2
Red Deer, AB T4N 1E3
(403) 341- 8614
[email protected]
Aurora Cannabis shares fall 40% after share sale amendment
EDMONTON — Aurora Cannabis Inc.'s share price fell by about 40 per cent, after the company announced it sold US$150 million worth of shares.
The Edmonton marijuana company's share price was $3.47 when trading ended Thursday, but by mid-morning Friday, had fallen to $2.07 and closed at $2.14.
The sale of shares was part of an amendment Aurora made to a previously announced bought deal financing.
The amendment made it possible for a syndicate of underwriters led by Canaccord Genuity and BMO Capital Markets to purchase 61.2 million Aurora units for US$2.45 each.
Each unit is comprised of one common share in Aurora and one common share purchase warrant, which can be used to acquire one common share for US$3.20 each in the next 36 months.
Aurora has yet to record a profit and in recent years has been trying to drive revenues by better aligning supply with demand, laying off staff and closing facilities.
This report by The Canadian Press was first published May 27, 2022.
The Canadian Press