Tweets from the Westerner Days Parade
Here's a collection of tweets from this morning's Westerner Days parade.
Westerner Days Parade. Wildrose With Don MacIntyre, great weather, crowds gathering, the place to be. pic.twitter.com/VdzFf55lwV

— Ron Orr (@RonOrrMLA) July 19, 2017
Westerner Days parade now underway in Red Deer https://t.co/UX20Y7luTl pic.twitter.com/4ozhB316KM

— Red Deer Advocate (@RedDeerAdvocate) July 19, 2017
Sparky and Chipper Charlie ready for the Westerner parade pic.twitter.com/kFtxSpD2aR

— Red Deer County (@RedDeerCounty) July 19, 2017
Give us a wave if you see us, we're in the Westerner Parade today! #WesternerDays #thisisourmoment pic.twitter.com/rnE4lUB4p2

— 2019 Canada Games (@2019CanadaGames) July 19, 2017
Our #reddeer team at the Westerner Days Parade today. #yqf #Westernerdays pic.twitter.com/Y4lMYmY3PF

— The Mustard Seed YYC (@mustardseedyyc) July 19, 2017
Here we go! The 2017?? Westerner Days Parade!! ?????????

— Michael Tomalty (@BsharpRebelFan) July 19, 2017
Here we go! The 2017?? Westerner Days Parade!! ?????????

— Michael Tomalty (@BsharpRebelFan) July 19, 2017
Log rolling, chainsaw carving – it doesn't get much cooler than the #Lumberjills in Ampitheatre at 1:30, 3:30, 6:30 Sponsor @1067TheDrive

— Westerner Days (@WesternerDays) July 19, 2017
Our Board of Directors looking awesome at the @WesternerDays parade! pic.twitter.com/kZpEjQJ1U9

— Red Deer Chamber (@RedDeerChamber) July 19, 2017
Red deer parade! Yay! 😀 pic.twitter.com/UjoJ9zfJ8q

— DM Prisma Lin ?? (@Prisma_Lin) July 19, 2017
What a wonderful morning at #Sunlife here in Red Deer! #pancake #breakfast! Thank you #yqf! Enjoy the parade! pic.twitter.com/oF12HKZpCP

— Youth HQ Red Deer (@YouthHQRD) July 19, 2017
Jamie Woodfin prepping for Westerner Days show https://t.co/RQ5jWtJJ5W

— Ponoka News (@PonokaNews) July 19, 2017
1st time in @WesternerDays #reddeer parade w/my son! @DShepYEG @sandersonNDP @BrianMalkinson @grahamsucha @Cam4NDP pic.twitter.com/UFYaCyiexy

— Stephen Merredew (@smerredew) July 19, 2017
If you were speaking with one of our Tech Agents this morning, you may picked up on the commotion outside! #Westernerdays #reddeer #parade pic.twitter.com/f5g3mGz1i5

— Visual-Eyes (@visualeyesca) July 19, 2017
Gateway Christian students experience life changing trip to Dominican
Students from Gateway Christian School recently returned from a life changing trip to the Dominican Republic as part of their Intercultural Studies program.
Gateway's 2023 Co-Impact Team, which included 13 students, two staff and an additional chaperone, spent 10 days on the ground over Spring Break connecting with other students and families to help to build a basketball court and physical education area at the Pena de Horeb school via Edudeo Ministries. Pena de Horeb is primarily a Haitian school, serving the students and families amidst a very poor Haitian neighbourhood. In the months leading up to the trip, Gateway students raised funds to help assist with the build. Gateway also spent a significant amount of time building relationships with and learning from students and staff at their partner school, El Colegio Cristiano Reformado Los Guandules.
"Service is an important part of the culture at Gateway, and this experience was the culmination of that. The Co-Impact Team fundraised not only for their trip, but also for funds to go towards the school we worked on in the Dominican Republic," said Geannette Lehman, Principal at Gateway Christian School. "The trip was part of their Intercultural Students class, which they receive credit for. We met weekly at 7:15 a.m. to complete aspects of the Intercultural Studies course, bond as a team, and prepare craft lessons and activities to teach students at the school in the Dominican. It was not only a great experience in the Dominican, but in preparing for the trip as a team as well."Alexa Huska, Gabe Gillies, and Kate Stober were three students who were part of the Co-Impact Team.
"It was really neat to connect with my fellow Grade 12 students," said Alexa. "We've gone to school together since we were kids, so to have an experience like this together was really special. We were able to connect on a deeper level."
Gabe added it was humbling to see how grateful those in the Dominican Republic were, even for the smallest things. "They have little compared to us, and they are just so happy," he said. "They are grateful for the things they have and they don't stress about the small stuff."
Kate agreed. "They have so much joy, and nothing mattered other than just being with one another," she said.
Ultimately, it was a great experience for all involved.
"The kids were greatly impacted by seeing the world through another lens. Our lens is so different from those around the world," said Geannette, adding she is proud of her students. "They gave up their Spring Break, immersed themselves in another culture, and represented Gateway and Red Deer Public so well."
To read Gateway's Co-Impact Team's blog of their experiences, click here.
Run/Hike for Red Deer Hospice Takes Place This Sunday at Bower Ponds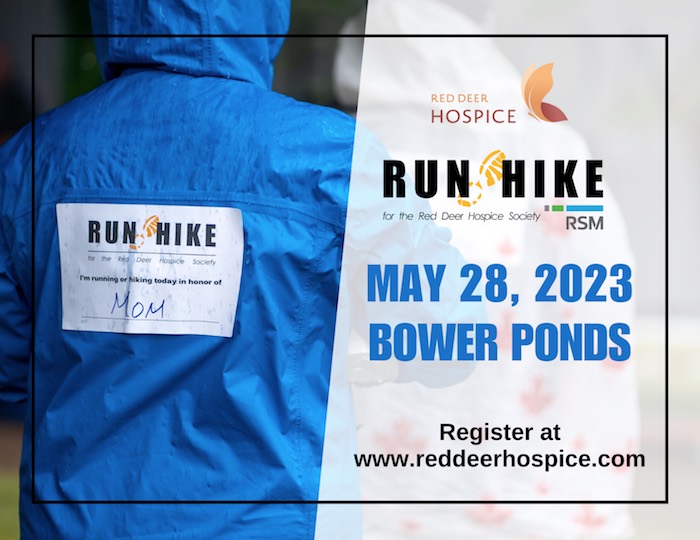 News release from Red Deer Hospice
Red Deer Hospice's 16th Annual Run/Hike event, presented by RSM Red Deer, will take place at Bower Ponds this Sunday.
Registration will open at 9:00am and those wishing to run, walk or stroll the 1km, 3kms or 5 kms will start at 10:00am. A light breakfast and hot, post-race lunch, provided by Mr. Mikes, will be available to participants and live entertainment will be provided by the band Fun House in the amphitheater.
"This will be a day to remember and reflect, while taking in the natural beauty of the trails in and around Bower Ponds," said Jerri Taylor, Executive Director of Red Deer Hospice. "As our main fundraiser for the year, our goal is to raise $38,000." Proceeds and donations will go towards Red Deer Hospice's mission of supporting a peaceful and compassionate end-of-life journey.
Online registration on the Red Deer Hospice website will close at 3:00pm on Friday, May 26, 2023. Those interested in participating in this year's Run/Hike event who have not registered can do so in person on Sunday morning at Bower Ponds.
For more information, visit www.reddeerhospice.com.