Trudeau's environment minister proclaims himself 'proud socialist' before House of Commons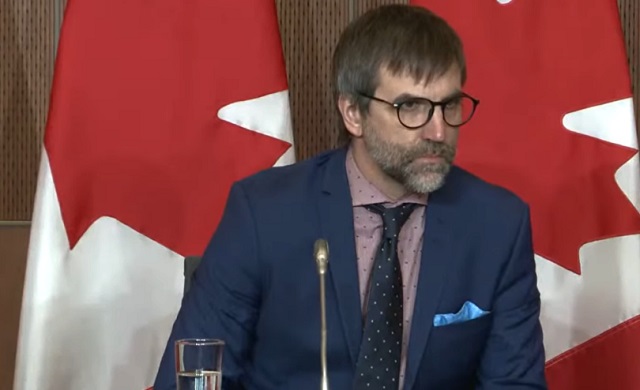 Steven Guilbeault made the declaration during a debate about the impact of carbon tax policies on soaring energy bills
Minister of Environment Steven Guilbeault proudly proclaimed before the House of Commons on Tuesday that he is a "proud socialist" during a debate over a carbon tax the federal government has imposed on Canadians that has contributed to sky-high energy bills.
"I'm a Liberal and a proud socialist," Guilbeault said after being asked a question by Conservative Party of Canada (CPC) MP Ted Falk concerning the carbon tax.
Guilbeault then blamed former conservative Prime Minister Stephen Harper for not "believing" in "climate change" as a reason the current conservatives do not support a carbon tax.
"This reminds me of a certain quote from Prime Minister Harper who talked about the fight against climate change as a socialist plot," he said.
"Here it is, you have it again, Mr. Speaker. They do not believe that climate change is an issue. They do not believe we should do anything about it."
Where did he say this? I would love to share the clip.

— Nicholas Grillo🍎🍎 (@nicholas_grillo) November 7, 2023
Falk had said to Guilbeault before his "socialist" response that Prime Minister Justin Trudeau has created a "carbon tax" coalition with other socialist and separatist entities in Canada to cause financial pain for Canadians.
"After eight years, we now have the socialists, the separatists, and this prime minister who's just not worth the cost," Falk said.
"They're all part of this costly carbon tax coalition that is leaving Canadians out in the cold."
Trudeau has many times before blamed Harper for his government's ills, it should be noted.
Reaction to Guilbeault's comments came swiftly from many Canadian political pundits and others.
"Steven Guilbeault isn't just a 'proud socialist,' he's a total nutbar, climate extremist and incompetent minister," wrote Paul Mitchell, a former People's Party of Canada candidate and political commentator on X (formerly Twitter).
"Every provincial premier should demand that Guilbeault be sacked. Dealing with him is intolerable."
Jim Murphy, a retired Toronto police officer, wrote on X, "I'm a bit confused, shouldn't @s_guilbeaultbe a member of the NDP and not the @liberal_party? Serious question."
The carbon tax has been a hot topic in the House of Commons, notably after Trudeau announced about two weeks ago he was pausing the collection of the carbon tax on home heating oil for three years but only for Atlantic Canadian provinces. The current cost of the carbon tax on home heating fuel is 17 cents per liter. Most Canadians, however, heat their homes with clean-burning natural gas, which will not be exempted from the carbon tax.
Trudeau's carbon tax pause for Atlantic Canada announcement came amid dismal polling numbers showing his government is likely to be defeated in a landslide by the Conservative Party in the next election.
As a result, the CPC under leader Pierre Poilievre introduced a motion calling for the carbon tax to be paused for all Canadians. This motion was voted down on Monday by the Liberals with support from the Bloc Quebecois.
The New Democratic Party (NDP) voted in support of the CPC motion, despite the fact they have an informal coalition with the party that began last year, agreeing to support and keep the Liberals in power until the next election is mandated by law in 2025.
As for Guilbeault, he is perhaps Trudeau's most radical minister in terms of his extreme environmental views. He recently said the Liberal government was going to push ahead with net-zero emission regulations despite the fact Canada's Supreme Court recently ruled against the federal government's "no more pipelines" legislation.
Earlier this year, the CPC slammed Trudeau for having Guilbeault accept an invite from China for climate talks.
Alberta Premier Danielle Smith has been a staunch opponent of Trudeau's net-zero regulations and praised the court decision as returning power to the provinces.
Guilbeault has a history of environmental activism. In 2001, he was arrested after scaling the CN Tower in Toronto as part of a stunt for Greenpeace.
The CPC has previously called out extreme views emanating from the Liberal Party.
In September, Poilievre called Trudeau and his father Pierre Elliot Trudeau "Marxists" when asked by an Ontario resident what could be done to help prevent Canada from going "down" due to Liberal policies.
LifeSiteNews reported last month how Trudeau's carbon tax is costing Canadians hundreds of dollars annually, as the rebates given out by the federal government are not enough to compensate for the increased fuel costs.
The Trudeau government's current environmental goals – in lockstep with the United Nations' "2030 Agenda for Sustainable Development" – include phasing out coal-fired power plants, reducing fertilizer usage, and curbing natural gas use over the coming decades.
The reduction and eventual elimination of the use of so-called "fossil fuels" and a transition to unreliable "green" energy has also been pushed by the World Economic Forum (WEF) – the globalist group behind the socialist "Great Reset" agenda – an organization in which Trudeau and some of his cabinet are involved.
Canadian gov't lawyers try to claim Freedom Convoy leaders were overseeing an 'occupation'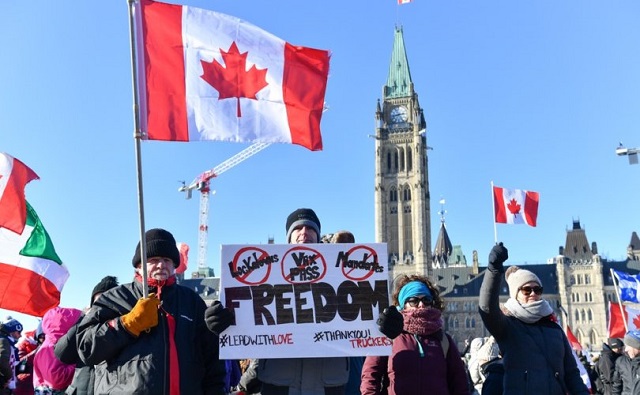 The Crown has attempted to make a case that Tamara Lich and Chris Barber were co-conspirators responsible for the uprising in Ottawa in 2022
On Day 31 of the trial against Freedom Convoy leaders Tamara Lich and Chris Barber, government lawyers attempted to paint the two as heading a kind of "occupation" in Ottawa that was an assertion the leaders' lawyers swiftly rejected.
According to a Day 31 update from The Democracy Fund (TDF), which is crowdfunding Lich's legal costs, the Crown spent a "significant part" of its presentation last Thursday focused on "characterizing Lich and Barber as leaders of an "occupation."
In court, the Crown was able to give this response to the defense, which for the past week has been submitting its case in court defending Lich and Barber, who were the main heads of the 2022 Freedom Convoy that headed to Ottawa to demand an end to all COVID mandates.
The TDF noted how the Crown directed the court's attention to "videos depicting the blocking of roads in downtown Ottawa, including one featuring Barber expressing approval."
The Crown also showed the court press conferences with Lich and Barber held in early 2022, along with "Facebook posts, and videos portraying them as key figures in the movement," as noted by the TDF.
"The Crown argued that their actions and statements, including a text exchange discussing 'misleading' tactics, demonstrated a shared purpose in opposing mandates through unlawful means," the TDF observed.
The Crown also highlighted to the court how Barber had called for more protestors to join the movement, including showing a TikTok video of him telling people to come to Ottawa. The Crown claimed that this video, and other evidence show Barber was trying to flood the city with protesters in some kind of "occupation."
Lawrence Greenspon, defense counsel for Lich, objected to the Crown's "changing positions on the furtherance submissions," as noted by the TDF, and asked for an "opportunity to respond," which was granted by Judge Heather Perkins-McVey.
Crown has given weak case in trying to prove that Lich and Barber influenced the protesters' actions through their words as part of a co-conspiracy
The Crown has been trying to prove that Lich and Barber had somehow influenced the protesters' actions through their words as part of a co-conspiracy. This claim has been rejected by the defense as weak.
On Day 30 of the trial, the defense detailed to the court how text message exchanges from one of the leaders showed he was trying to ensure protestors were as respectful as possible and wanted to work with police.
Last week, on Day 29, Lich's legal counsel argued that her use of the rallying cry "hold the line" during the 2022 protests did not imply she was calling for people to engage in illegal activity.
In court last week, however, Perkins-McVey reminded the Crown that not everyone involved in the Freedom Convoy was working together. The Crown agreed this was the case.
The Crown has also been trying to justify its so-called "Carter application" before the court.
On Day 28 of the trial last week, the defense argued that a Crown request to make it so that criminal charges against one leader should apply to the other leader as well, and vice versa, should not be allowed to take place, as there is no evidence the pair worked in a conspiratorial manner.
The defense teams for Lich and Barber told the court they intended to bring forth two applications, the first being a call to dismiss the Crown's "Carter application."
The Crown's so-called "Carter Application" asks that the judge consider "Barber's statements and actions to establish the guilt of Lich, and vice versa," TDF stated.
TDF noted that this type of application is very "complicated" and requires that the Crown prove "beyond a reasonable doubt" that there was a "conspiracy or plan in place and that Lich was a party to it based on direct evidence."
Last Thursday in court, the Crown claimed, when speaking about its Carter application, the emphasis was not "to prove every element of a conspiracy for the purpose of responding to the application brought by defence," as noted by the TDF.
The Crown has claimed that non-violent protests could still be "disruptive and result in criminal charges," as noted by TDF, adding that the court should consider limitations to Charter rights when looking at charges made against the leaders.
Lich and Barber are facing multiple charges from the 2022 protests, including mischief, counseling mischief, counseling intimidation and obstructing police for taking part in and organizing the anti-mandate Freedom Convoy. As reported by LifeSiteNews at the time, despite the non-violent nature of the protest and the charges, Lich was jailed for weeks before she was granted bail.
In early 2022, the Freedom Convoy saw thousands of Canadians from coast to coast come to Ottawa to demand an end to COVID mandates in all forms. Despite the peaceful nature of the protest, Prime Minister Justin Trudeau's government enacted the Emergencies Act on February 14.
During the clear-out of protesters after the EA was put in place, one protester, an elderly lady, was trampled by a police horse, and one conservative female reporter was beaten by police and shot with a tear gas canister.
Lich and Barber's trial has thus far taken more time than originally planned. LifeSiteNews has been covering the trial extensively.
Pastor challenges Dr. Bonnie Henry over illegal discrimination between faith groups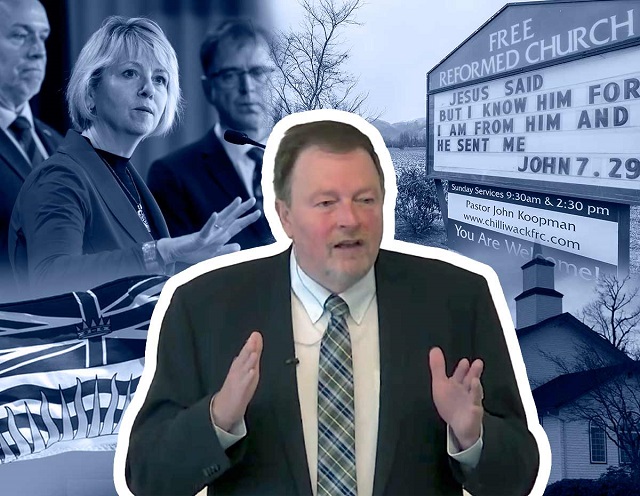 From the Justice Centre for Constitutional Freedoms
BC pastor seeks Court order for the BC Attorney General and Provincial Health Officer to disclose records of exemptions provided after some records show that Dr. Bonnie Henry unfairly favoured some faith groups
ABBOTSFORD, BC: The Justice Centre announces that Pastor John Koopman is challenging the prosecution against him after discovering that BC's Provincial Health Officer, Dr. Bonnie Henry, granted preferential treatment to some faith groups over others. Pastor Koopman was charged with violating Covid gathering restrictions for hosting in-person worship services even while Dr. Henry allowed some Orthodox synagogues to gather for outdoor and even indoor services.
In a hearing running December 4-7, 2023, at the Abbotsford Law Courts, Pastor Koopman will be seeking records of the accommodation requests the Provincial Health Officer received and how she handled them, and records of communications she received from BC politicians about prohibiting in-person worship services.
The hearing will begin at 9:30 a.m. in courtroom 402 at Abbotsford Law Courts, 32203 South Fraser Way.
John Koopman is the Pastor of the Free Reformed Church in Chilliwack, British Columbia. In November 2020, Dr. Bonnie Henry prohibited in-person worship services while allowing bars, restaurants, gyms, and salons to remain open for in-person service.
Based on its religious convictions to gather for worship in-person, the Free Reformed Church re-opened its doors in 2020 and 2021 while simultaneously complying with health orders regarding face masks, hand washing, social distancing, etc. In January 2021, the Free Reformed Church, along with two other churches, filed a constitutional challenge to the prohibition on in-person worship services. After filing the challenge, Pastor Koopman and others submitted an accommodation request to gather for in-person worship services, but their request received no response for several weeks. At the same time, Dr. Henry had been responding promptly (within one or two days) to accommodation requests from Orthodox synagogues, granting them permission to meet in-person.
Two business days before the Court was to hear the constitutional challenge, Dr. Henry finally granted the Free Reformed Church and the two other churches limited permission to gather outdoors, while refusing permission to gather indoors, claiming this to be too risky. However, earlier that same week, Dr. Henry had granted all Orthodox synagogues in the province permission to gather indoors.
On March 18, 2021, BC Supreme Court Chief Justice Christopher Hinkson dismissed the Free Reformed Church's challenge, in part because Dr. Henry had granted permission to meet outdoors. The BC Court of Appeal upheld Chief Justice Hinkson's decision, and the Supreme Court of Canada subsequently denied leave to appeal.
Meanwhile, Pastor Koopman and other churches and pastors have been prosecuted by the Crown in the BC Provincial Courts. On November 8, 2022, Pastor Koopman was found guilty of hosting an in-person worship service on December 6, 2020.
On April 14, 2023, Pastor Koopman submitted an Application to the Provincial Court of British Columbia, alleging that the discriminatory actions of the Provincial Health Officer had made the continuation of his prosecution offensive to societal notions of fair play and decency and had brought the administration of justice into disrepute. In response, on May 10, the Crown argued that the abuse of process application should not proceed to an evidentiary hearing, and that Dr. Henry and Deputy Provincial Health Officer Dr. Brian Emerson should not be subpoenaed as witnesses in the case.
From May 15–18, 2023, Judge Andrea Ormiston heard arguments on whether the abuse of process Application could proceed to an evidentiary hearing. On September 6, 2023, Judge Ormiston denied the Crown's Application to summarily dismiss Pastor Koopman's abuse of process Application because she found that there was "some evidence that the PHO preferred some faith groups over others." Judge Ormiston found that, under the circumstances, it was not "manifestly frivolous" to think that the continued prosecution of Pastor Koopman "risks undermining the integrity of the judicial process." Judge Ormiston did decline to allow Dr. Henry or Dr. Emerson to be subpoenaed in the matter.
The December 4–7 evidentiary hearing at the Provincial Court of British Columbia in Abbotsford will address whether the Attorney General of British Columbia and/or Dr. Bonnie Henry are required to:
Provide records of the accommodation requests Dr. Henry received and how she handled them;
Provide records of communications between Dr. Henry and the British Columbia Premier, Health Minister, and/or other elected officials and/or their staff in relation to restricting or prohibiting in-person worship gatherings.
Lawyer Marty Moore stated, "The actions of the Provincial Health Officer toward people of faith in British Columbia during Covid were frankly shameful. She categorically prohibited in-person gatherings for worship, indoor or outdoors, and even brought an injunction application seeking to have pastors and parishioners arrested for gathering for worship. At that same time, she was providing permission to select groups to meet for worship, both outdoors and, in some cases, indoors, while ignoring, from what we can tell, all other requests from other religious groups to meet. In this context, we believe that the prosecution of Pastors in BC for violating the PHO's Orders 'offend societal notions of fair play and decency and bring the administration of justice into disrepute,' and that, consequently, these prosecutions should be stayed. The Court, and the public, deserve to see the evidence Pastor Koopman is seeking from the PHO on whether accommodation requests were granted based on science or other factors, and the extent to which politics played a role."