Trudeau appoints a member of the Trudeau Foundation to investigate donations to the Trudeau Foundation – PPC leader Maxime Bernier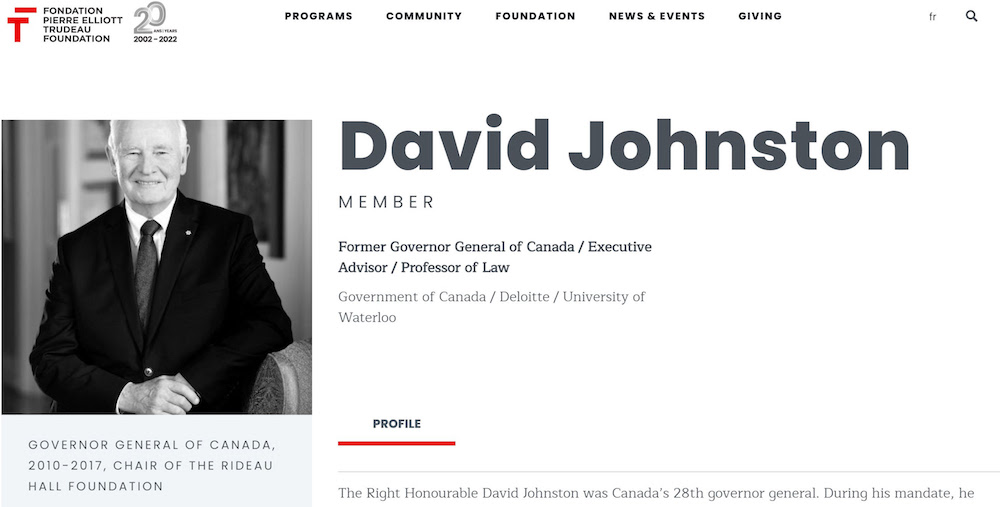 While opposition parties form positions on the Prime Minister's appointment of former Governor General David Johnston as his Special Rapporteur, PPC Leader Maxime Bernier is expressing extreme outrage.
In this newsletter Bernier is using to both spread the news, and to raise money, Bernier points out just how closely tied the Trudeau family is to the former Governor General.
---
Another day, another example of Liberal corruption in Trudeau's government.
To address increasing concerns around Chinese interference in our elections, Justin Trudeau said earlier this week that he would appoint a "special rapporteur"—whatever that means—to conduct an investigation.
Yesterday he announced he would be appointing former Governor General, David Johnston, to this position.
Trudeau is describing Johnston as a "Harper appointee" to try and make it seem like an impartial appointment when in reality it is anything but.
Johnston is a standing member of the Trudeau Foundation, the charity that accepted a $200,000 donation from the Chinese Communist Party laundered through a Chinese Canadian businessman.
Is this for real? Trudeau appoints a member of the Trudeau Foundation to investigate interference which involved donations to the Trudeau Foundation?!
It's a clear conflict of interest!
To make things even more suspect, on multiple occasions, Trudeau has lovingly described Johnston as a "family friend," having grown up alongside Johnston's children.
Don't believe me? Listen to Trudeau describe their relationship!
More recently, Johnston has been the Commissioner of the Leaders' Debates Commission since it was established in 2018.
An organization whose mandate is to interfere with our elections!
As Commissioner, Johnston was responsible for trying to exclude dissident media organizations, like Rebel Media and True North, from covering the debates and holding the party leaders to account.
He was responsible for the absurd debate formats designed to protect the establishment narrative.
He was also responsible for wrongly excluding me from the debate stage during the 2021 election!
This was at the height of the covid craziness, when having me on national television would have completely destroyed the mainstream narrative.
This is the man who's supposed to investigate interference in our election?
It's absurd, but I can't say I'm surprised. Canada under Trudeau has quickly become a corrupt banana republic.
We saw the exact same playbook with the Freedom Convoy Inquiry.
Trudeau appoints a compromised individual to oversee things.
They delay and push things back to allow public pressure to fall.
Trudeau's bought and paid for media runs cover for the establishment narrative.
The commissioner/special rapporteur finds nothing is wrong and the conflict is swept under the rug.
This is absolutely unacceptable behaviour on Trudeau's part! He continues to make a mockery of our democratic institutions.
The level of corruption and incompetence we've seen from this government is unprecedented.
Duane, we need to clean the house. We need to vote out every one of these corrupt, career politicians and fill the House of Commons with honest PPC MPs who will put the interests of Canadians first.
Help me accomplish this mission with a $10 donation today!
Thank you so much for your support,
-Max
P.S.: If you have trouble finding where you can donate, you can just click this link! https://www.peoplespartyofcanada.ca/donate
At least 10 injured after explosion destroys Calgary home: fire department
Firefighters attend the scene of a house explosion that injured several people, destroyed one home and damaged others in Calgary, Monday, March 27, 2023.THE CANADIAN PRESS/Jeff McIntosh
By Colette Derworiz in Calgary
CALGARY — At least 10 people were seriously injured Monday after an explosion destroyed a home and damaged surrounding properties.
The fire department said the force of the explosion in northeast Calgary created "a large debris field" and several fires. A tangle of what appeared to be charred beams, pink insulation and splintered wood could be seen where the house once stood. The side of a home next door was charred, a window looking onto the street shattered.
Many of the injured were believed to have been inside the single-family home when it blew up and were sent to various hospitals in the city, the department said.
"Fire crews have been unable to access the source home at this time to search for any more patients due to structural instability," it said in a news release.
Adam Loria, a spokesman for Calgary Emergency Medical Services, said the injured people sent to hospital are all adults.
He said six were in life-threatening condition and four received serious injuries.
"It was quite the group effort, not only with EMS, to ensure all patients were cared for and transported in a timely fashion, but as well with our first responder partners Calgary police and Calgary fire," Loria said.
Bobbie Puttick, who lives eight houses down from the explosion, said it happened after he left for work, but his children were home at the time.
"They felt the house rock and they came out and took a video right away," he said.
"It's nuts to see the house gone. And to see the roof on the other across the street in the neighbour's yard."
Lorna Lammers said she heard the explosion from three blocks away.
"I was sitting at my kitchen table and I heard 'kaboom' and I thought something like a vehicle or something had run into my house or my garage," she said.
Lammers said she and her neighbours headed outside to see what had happened and she saw black smoke billowing into the sky. She said there was a lot of debris, including a mattress on the roof of a house and wood in some trees.
Lammers said she had previously spoken to some men who lived in the home while walking her dog.
Power to the area was shut down and workers were trying to clamp the natural gas line. Fire and police were also on scene trying to determine the cause of the blast.
This report by The Canadian Press was first published on March 27, 2023.
— With files from Bill Graveland in Calgary and Emily Blake in Yellowknife
NewsAlert: Two-thirds of people with disabilities find barriers on planes, trains: AG
OTTAWA — The federal auditor general says two-thirds of people with disabilities encountered barriers on federally regulated planes and trains in 2019 and 2020, and is highlighting a lack of consultation and enforcement by agencies involved.
More coming.
The Canadian Press