Paralyzed pup is going to have a very merry Christmas after all
From The Central Alberta Humane Society
You may have seen these pictures of Angel when she came into Central Alberta Humane Society a few weeks ago. She came to us from the Town of Sylvan Lake Bylaw, found outside an apartment building. Angel was paralyzed on her hind end and was extremely emaciated and malnourished… just look at those sad eyes. We didn't know the outcome for this poor girl, and you, our amazing supporters & donors graciously flooded Angel with kind words and donations. We are so very thankful to everyone who took a special interest in this sweet girl's journey.
After consulting veterinarians & specialists, we learned Angel was born paralyzed & it wasn't a result of an injury, a bit of positive news. We were told a doggy wheelchair would be the best option for her. Angel stayed in our offices and received so much love and care from our staff & volunteers, while we continued to monitor her to make sure she was eating, drinking, and putting on weight. She was, and we were thrilled to see her demeanor change from sad & nervous to a happy, fun-loving, pup! Enter feel good adoption story…
We are so grateful that Lisa happened to come across our plea for Angel on social media. She herself has a paralyzed & deaf dog named Pooter, who happily lives his life in a wheel chair. Lisa told us that something about Angel connected to her, and we felt the same with her. After she told us more about herself, her husband Jeff & their fur-babies, we knew they would be the perfect family for Angel. Incredibly, Lisa gave up her job many years ago to care for Pooter full time. There was no way he could be left alone everyday, and selflessly they both have given up so much to care for their special needs animals, but they get so much love in return too.
Yesterday we were shown that Christmas miracles do happen and these incredible adopters have proven it. Jeff and Lisa drove almost 3 hours with their paralyzed dog Pooter to meet our sweet Angel for the first time. Pooter is as incredible as his people and boy did he show Angel how a set of wheels can work!
We were excited to send Angel off into her sunset with an amazing experienced family and a new life that will include a wheelchair and round the clock care. We have never met a family more committed to their animals, Angel is in great hands. Lisa & Jeff will be creating a special Facebook page just for Angel, so that you can follow her progress and share in her new journey if you wish. We will share it on our
Facebook page
once it is up.
Once again we want to thank you all for your donations, your kind words and your inspiring support for this beautiful little dog. Our staff had many happy tears saying bye to Angel. We will truly miss her playful nuzzles, her little barks and her loving snuggles. She stole many hearts during her short stay with us but we know that she will now have a chance to live her very best life. A Christmas miracle indeed!
Skills that maintain healthy relationships
Learn ways to improve your relationship skills using the acronym DEARMAN and GIVE, from the DBT therapy perspective, presented by a PCN Mental Health Counselor, Lana.
Interpersonal Effectiveness Skills
Learning to get along with others while also asserting your own needs is essential to healthy relationships. It can be difficult to balance your own needs and the needs of others. How can you get what you need without being aggressive or neglecting of the needs of others? There are three sets of skills you will learn to help achieve this goal: objective effectiveness, relationship effectiveness, and self-respect effectiveness.
Judy's story: I'm on the healthy road!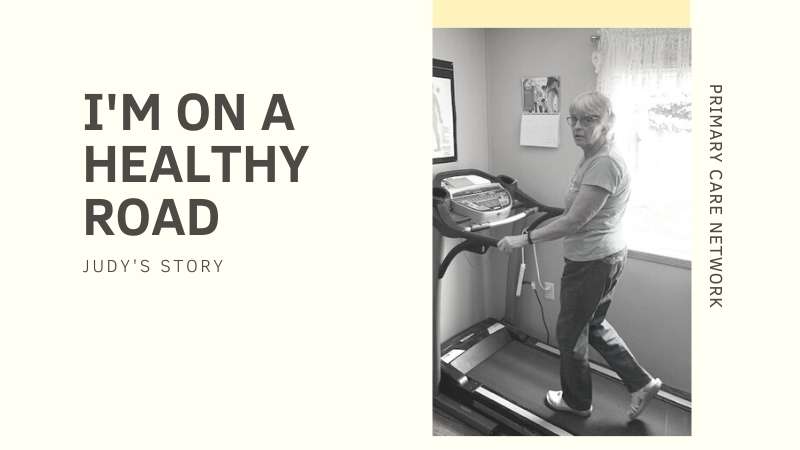 On the Healthy Road!
My journey to better health starting when my doctor told me my blood sugar was at pre-diabetes levels, my blood pressure continued to require medication and I had weight to lose. He sent me to see the RDPCN nurse. After some appointments there, the nurse referred me to the Health Basics program.
Exercise was my downfall. Working from home, I always found something else to do rather than exercise. Health Basics increased my awareness. I tracked what I was eating and became more aware of what I ate, when I ate and why I ate. I also realized things that would make me healthier that I wasn't doing. I realized being healthy is a process and I took one healthy step at a time. I also became aware of the wider variety of options for healthy lifestyle.
My husband and I visited friends over the summer and noted they had lost weight. This stimulated us to pay even more attention to our food intake. As a result of our overall efforts, I have lost about 32 pounds and my husband has lost 37. My blood sugar is now in the normal range. I have had significant decrease in my blood pressure medication. I have more energy. I enjoy exercising more as it is easier to move around and I have less arthritis pain. Health Basics is an excellent class- it started me on the healthy road. I also have much more confidence in my future health.
Click to learn more about the Red Deer Primary Care Network.
Read more success stories from the Primary Care Network.