These are the key people Jason Kenney will be leaning on to help him lead the province
From the United Conservative Party
Premier Designate names senior staff
Premier Designate Jason Kenney announced the senior staff that will serve in the Office of the Premier and lead his transition team."This group of talented, passionate individuals has the right mix of public and private-sector experience. Each will be a tremendous asset as we begin to action our ambitious, jobs-focused agenda," said Kenney. "I have no doubt that together, this team will help to deliver on our promise to get Alberta back to work."
Team members include:
Jamie Huckabay, Chief of Staff to the Premier: Born and raised in Lethbridge, Jamie was Chief of Staff to the Opposition Leader and UCP Caucus. Prior to this role, Jamie was a key member for Jason Kenney's PC Leadership Campaign leading convention operations. Jamie has considerable private and public sector experience. He was previously Director at mobile technology firm Taplytics and Vice President at Gerson Lehrman Group. He received his undergraduate degree from the University of Lethbridge, Masters in International Relations and Economics from Johns Hopkins University and an MBA from Oxford University. As the Chief administrator, Jamie will oversee political operations and implementation of the Premier's agenda and priorities.
Howard Anglin, Principal Secretary: Howard is a lawyer who served in the former federal Conservative government as Chief of Staff to the Premier Designate in his role as Minister of Citizenship and Immigration and as Deputy Chief of Staff to former Prime Minister Stephen Harper. He has degrees from McGill University and New York University, worked as a lawyer in private practice at international law firms in New York, London, and Washington, DC, and was most recently a constitutional lawyer running a national legal charity in Calgary. As the administration's most senior political advisor, Howard will provide expert advice and direction to the Premier and Executive Council.
Katy Merrifield, Executive Director of Communication and Planning: Katy is a long-time senior political aide from British Columbia. She served a variety of roles in the BC government including Chief of Staff to the Minister of Health and Jobs, Tourism and Economic Development, culminating as the Director of Communications to former B.C. Premier Christy Clark. She is also the first woman and youngest person to win a provincial leadership campaign in BC with the successful election of Andrew Wilkinson as current Leader of the Opposition. Katy will lead and execute the agenda for political communications and policy announcements.
Christine Myatt, Deputy Director of Communications and Press Secretary:Christine is a long-time political aide from Alberta, having served in multiple senior communications roles in previous Alberta governments and most recently as Director of Strategic Communications for the Official Opposition. As Deputy Communications Director, Christine will be the primary contact for media relations.
David Knight Legg, Head of Transition: David moved back to Alberta last year to advise the Premier Designate's team on trade and finance. He originally hails from Lethbridge, where he received his undergraduate degree. David also has a Masters in Public Administration from Queens University, a PhD from Yale and a law degree from Oxford University. His professional background includes McKinsey and Company, Managing Director for Europe and Asia for the Gerson Lehrman Group and Global Head of Strategy at Commonwealth Bank. As Head of Transition, David is overseeing an orderly and seamless transition into government for the incoming administration.
'I am sorry': Man convicted in stabbing of Calgary chef apologizes at sentencing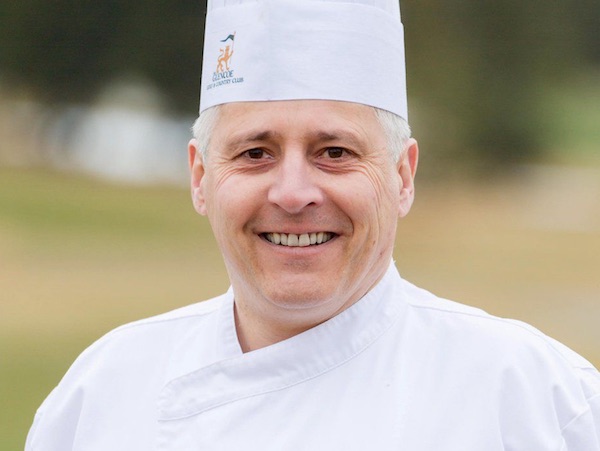 By Bill Graveland in Calgary
A man convicted of killing a chef apologized Monday and expressed dismay that no one with the victim's family was in court to to hear it.
Tommie Holloway was convicted of manslaughter while his accomplice, Anthony Dodgson, was found guilty of second-degree murder in the death of Christophe Herblin.
Herblin was stabbed to death in a parking lot outside his soon-to-be opened Calgary café following a break-in in 2020.
Holloway, 33, told his sentencing hearing that he hoped his words would get through to Herblin's wife, who wrote in a victim impact statement last December that the killing had left her broken and struggling "to make sense of this tragedy."
"It got to me. Got me emotional," said Holloway.
"I just wish they were here today so I could look at them eye-to-eye, apologize for my actions. I know no amount of words that I'm going to say is going to bring back their loved one, but I do want them to know that I am sorry."
The Crown has recommended Holloway serve 12 years in prison. Defence lawyer Kim Ross said his client had no previous criminal record, has made efforts to turn his life around and should serve three to five years.
"I'm not standing here saying that imprisonment is not appropriate here. The issue is how long," Ross told Court of King's Bench Justice Blair Nixon.
"Mr. Holloway has clearly learned his lesson … and I submit with some degree of confidence that this court will never see Mr. Holloway back here again."
Herblin was a longtime executive sous chef at the Glencoe Golf and Country Club, and his new restaurant was weeks away from opening.
Court heard Dodgson and Holloway broke into the restaurant with plans to get through a wall into an adjacent cannabis shop. They fled when a car drove by and returned later to continue their robbery attempt but became frustrated as Herblin had showed up.
Holloway smashed Herblin's car windows in order to lure him into the parking lot. Dodgson attacked him and stabbed him nine times.
Herblin staggered to a nearby gas station for help and died shortly after police officers came to his aid.
Ross said Holloway had no knowledge of what was going to happen and immediately ran off after smashing out the car's windows.
"Mr. Holloway at that point did not know what had happened. He did not know that Mr. Herblin was in the state that he was in and that he had gone to the Shell looking for help," Ross said.
"He was leaving the scene of a possible break and enter. Certainly at the time of his leaving he did not know."
Dodgson receives an automatic life sentence for the murder conviction. When the sentencing hearing began for both men in December, the Crown argued that Dodgson should not be eligible for parole for 15 to18 years. His lawyer asked for a range of 10 to 12 years.
The judge is scheduled to deliver his sentence for Holloway and Dodgson on Feb. 24.
This report by The Canadian Press was first published Feb. 6, 2023.
This is a corrected story. A previous version said lawyers were recommending the time Holloway should serve before he is eligible for parole.
Feds will increase annual health transfer and offer targeted funding with conditions
By Mia Rabson, Laura Osman and Mickey Djuric in Ottawa
Prime Minister Justin Trudeau will offer the provinces a "significant" increase to the Canada Health Transfer and additional money if they agree to one-on-one deals targeting specific problem areas in the health-care system.
A senior government official with knowledge of the plan said Trudeau will lay out a 10-year offer when he meets with the country's 13 premiers in Ottawa on Tuesday.
The Canadian Press agreed to grant the official anonymity because they were not authorized to speak publicly about the matter.
They said the offer will include a top-up to the annual Canada Health Transfer, which Ottawa sends to the provinces each year with very few strings attached. This year Ottawa transferred $45 billion, which amounts to 22 per cent of what the provinces budgeted for health care.
The premiers want Ottawa to fund 35 per cent, which this year would have required $26 billion more.
Trudeau will offer more money to provinces that make one-on-one deals in specific areas, and with accountability measures attached such as setting targets for improvement and data sharing.
Health Minister Jean-Yves Duclos has previously said the federal government's priority areas include improving access to family doctors, better mental health care, cutting surgical backlogs and a massive improvement to data collection and sharing.
The government's offer will be made public but not until after it's given to the premiers on Tuesday.
Manitoba Premier Heather Stefanson, who is currently the chair of the premiers' group known as the Council of the Federation, said the fact premiers haven't seen any details yet is frustrating.
"If we had it ahead of time we could have had a more fulsome discussion tomorrow," she said. "There's no question about that."
She wouldn't say if the premiers are flexible on the 35 per cent ask, or what concessions or strings they are open to.
"We want to see what the proposal will look like," she said. "We'll go in with an open mind and then we'll go from there."
Trudeau said his government doesn't expect to sign the same deal with every province.
"We recognize that different provinces have different needs and different priorities, and that flexibility is an important part of our responsibility," he said Monday.
After Tuesday's talks, Duclos and the provincial health ministers will meet to keep working out the details. There is no specific deadline but the hope is that a new deal will be in place before the next federal budget, which is generally tabled in the early spring.
The federal official said one of Ottawa's key asks is that the provinces agree to common indicators and the collection and sharing of data, both with other provinces and with Canadians. They said it's needed to better understand the extent of the problems and to be able to measure progress.
Former health minister Jane Philpott, who was in charge of the file in 2017 when the last federal-provincial health talks took place, said Monday that is a critical element of any successful plan.
In 2017, Ottawa signed bilateral deals with each province and territory to flow $11.5 billion over 10 years to improve mental health care and home care. The deals included an agreement that the provinces would annually report some common indicators. While that has happened, the data is often incomplete and assessing progress is difficult.
"As I look back on that, I would say that the agreements were not as specific as they could have been, and I think that's the lesson to be learned on this round," Philpott said.
"When the federal government puts more money on the table, there needs to be accountability for how that money is spent. I think this time I would advise being much more specific about those expectations and potentially even using legislative tools to be able to ensure that the outcomes will be what they need to be."
She said that could include clawing back money if provinces don't meet their obligations.
Philpott said the lack of information about how the health-care system is performing is a major issue, as is the lack of hard targets for progress.
An estimated six million Canadians don't have access to a family doctor or primary care team, and Philpott said a hard target should be to make sure every Canadian has access within five to seven years.
But to do that we'd need to know a lot more about the doctors we have, where they are, and how many hours they work.
"We don't actually know how many practising family doctors there are in the country, which is a shocking thing," she said.
Health workers' unions and associations began ringing alarms about the dwindling number of health-care professionals in the early days of the pandemic. Since then, worker burnout has turned a bad situation into a crisis. They say without a long-term plan to shore up their ranks there is little that can be done to improve the state of health care in Canada.
NDP Leader Jagmeet Singh said Monday "any agreement that does not include clear commitments to hire more front-line health care workers would be a failure."
The Conservatives have been hesitant to comment before seeing Trudeau's offer but are concerned about the cost.
"What we've seen over the last eight years is that Justin Trudeau has thrown money at all kinds of different challenges and, in general, things are getting worse," said Conservative MP Garnett Genuis Monday.
"When we see a proposal from the government we'll review it, we'll see whether the government's actually going to get us out of the failures they've caused."
This report by The Canadian Press was first published Feb. 6, 2023.