There's no free lunch.. But an O'Toole Conservative Government will pay for half of yours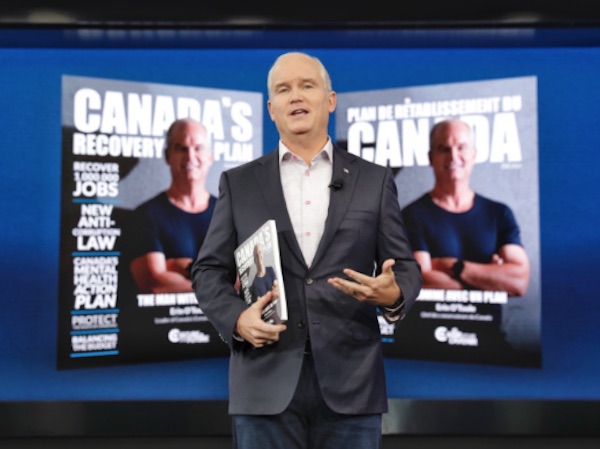 News Release from The Conservative Party of Canada
Hon. Erin O'Toole, Leader of Canada's Conservatives, released his plan to introduce a Dine and Discover program to support the tourism and hospitality sectors.
"The COVID-19 pandemic has had a disastrous effect on Canada's tourism and hospitality sectors," said O'Toole. "A Conservative government will act quickly to recover the one million jobs lost during the pandemic and help these businesses get back on their feet."
Through Canada's Recovery Plan, a Conservative government will introduce a Dine and Discover program to encourage Canadians to support these hard-hit sectors. This initiative will:
Provide a 50 per cent rebate for food and non-alcoholic drinks purchased for dine-in from Monday to Wednesday for one month, once it is safe to do so, pumping nearly $1 billion into these sectors.
Launch the Explore and Support Canada initiative with a 15 per cent tax credit for vacation expenses of up to $1,000 per person to encourage Canadians to vacation in Canada in 2022, helping the tourism sector get back on its feet.
Eliminate the Liberal escalator tax on alcohol.
"We will help Canadians deal with the rising cost of living, while supporting those who work in our hospitality sector," said O'Toole.
If you don't care about securing support for Canada's tourism and hospitality sectors, you have three parties to choose from in this election. If you do, then there is only one choice – Canada's Conservatives.
Backgrounder
To get Canadians back to work, the federal government needs to focus on helping the hardest-hit sectors, including the hospitality and tourism sectors. To support these sectors, Canada's Conservatives will introduce a new Dine and Discover program.
"Dine": Restaurant refund initiative
Once it is safe to do so, Canada's Conservatives will support the recovery of the restaurant sector by providing a 50 per cent rebate for food and non-alcoholic drinks purchased for dine-in service from Monday to Wednesday.
Modelled on a similar program in the United Kingdom, this initiative will encourage Canadians to get back into restaurants on days of the week when restaurants tend to have excess capacity.
The customer will immediately receive the rebate, which will appear directly on the bill. Businesses will receive their rebate from the Canada Revenue Agency (CRA) within days of submitting the claim through a CRA portal similar, to that used for emergency business supports.
There will be no limit on the number of times that an individual customer may use the program, but the program would cover a maximum meal cost of $35 per patron per visit. The program will apply to a wide range of establishments, including but not limited to restaurants, pubs, bars, coffee shops, and canteens.
This will support workers by injecting nearly $1 billion into the restaurant, hospitality, and tourism industries.
"Discover": Explore and Support Canada initiative
Canada's Conservatives will establish an Explore and Support Canada initiative to encourage Canadians to support the recovery of the Canadian tourism and hospitality sectors. Conservatives will create a refundable 15 per cent tax credit for vacation expenses of up to $1,000 per person for Canadians to vacation in Canada in 2022.
For a couple, this would mean savings of up to $300 on their next family trip if they vacation in Canada.
Eligible expenses would include:
Accommodations, including hotels, motels, and other short-term rentals;
Restaurant meals, including delivery fees and tips;
Entry fees to attractions, parks, cultural events, museums, festivals, sporting events, and other attractions; and
Travel, including car rentals, RV rentals, bus rides, taxi rides, airfare, tolls, and parking.
This program will benefit Canadian workers in hotels, restaurants, airlines, festivals, museums, and a wide range of businesses in the tourism and hospitality industries.
This will support workers by injecting over $1.5 billion into these sectors.
Quick Facts:
Restaurants employ 1.2 million Canadians and contribute $95 billion to GDP.
The Canadian tourism industry supports 1.8 million jobs and contributes $102 billion to GDP.
About 533,000 workers in the tourism industry lost their jobs in 2020.
Why Democrats Make Energy Expensive (And Dirty)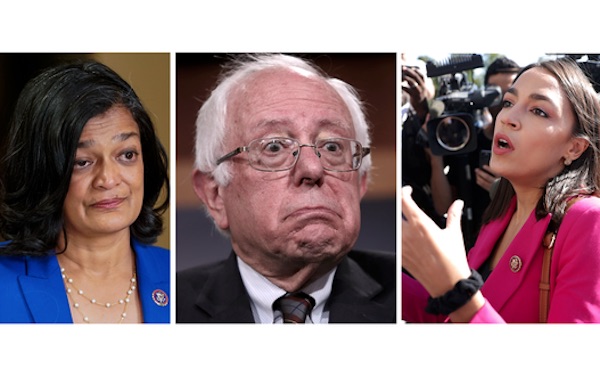 Progressives say they care more about working people and climate change than Republicans and moderate Democrats. Why, then, do they advocate policies that make energy expensive and dirty?
Progressive Democrats including Sen. Bernie Sanders and Rep. Pramila Jayapal, the head of the House progressive caucus, have sent a letter demanding the Federal Energy Regulatory Commission (FERC) investigate whether "market manipulation" is causing natural gas prices to rise 30 percent on average for consumers over last winter, an astonishing $746 per household.
But the main reason natural gas prices are rising is because progressives have been so successful in restricting natural gas production. Sanders, Jayapal, and Rep. Alexandria Ocasio-Cortez (AOC), as individuals and as part of the Congressional Progressive Caucus, have successful fought to restrict natural gas production through fracking and to block natural gas pipelines, including the Atlantic Coast pipeline.
In 2020, Sanders celebrated efforts by progressives to cancel the Atlantic Coast pipeline. Today, New England is facing rolling blackouts and importing natural gas from Russia. "Getting [natural] gas to [progressive Senators Ed] Markey and [Elizabeth] Warren's Massachusetts is so difficult," reports The Wall Street Journal, "that sometimes it comes into Boston Harbor on a tanker from Russia."
Democrats aren't the only reason the United States isn't producing enough natural gas to keep prices at the same low levels they've been at for the past decade. There is higher demand as the economy emerges from covid. There is greater demand for natural gas internationally due to a bad year for wind energy in Europe. And President Joe Biden, for his part, has resisted many progressive demands to restrict oil and gas production.
But the main reason there isn't enough natural gas production is because of successful progressive Democratic efforts to restrict natural gas production in the United States, Europe, and other parts of the world in the name of fighting climate change, as I was one of the first to report last fall. Sanders and Jayapal talk about "market manipulation" and "profiteering" but to the extent there is any of either it's because of inadequate supplies of natural gas and the pipelines to transport it.
Successful shareholder activism, known in the industry as "ESG" for environmental, social, and governance issues, resulted in less investment in oil and gas production, and more weather-dependent renewables, which result in higher prices everywhere they are deployed at scale. Even ESG champions including Financial Times, Goldman Sachs, and Bloomberg all now acknowledge that it was climate activist shareholder efforts that restricted oil and gas investment.
Such efforts also directly led to increasing carbon emissions. Last year saw a whopping 17 percent increase in coal-fired electricity, which resulted in a six percent increase in greenhouse gas emissions. It was the first annual increase in coal use since 2014. The reason for it was because of the scarcity and higher price of natural gas, coal's direct replacement, not just in the U.S. but globally, since the US exports a significant quantity of natural gas.
The other reason the U.S. used more coal in 2021 is because progressive Democrats are shutting down nuclear plants. "When a nuclear plant is closed, it's closed forever," noted Mark Nelson of Radiant Energy Fund, an energy analytics firm, "whereas coal plants can afford to operate at relatively low levels of capacity, like just 30 to 50 percent operation, and thus wait for natural gas prices, and thus demand for coal, to rise."
Progressives like Sanders, Jayapal, and AOC claim to care more about poor people, working people, and climate change than either Republicans or moderate Democrats, who they defeat in Democratic primary elections. Why, then, do they advocate policies that make energy expensive and dirty?
Strategic Ignorance
A big part of the reason progressives make energy expensive appears to be that they just don't know very much about energy. The fact that they are demanding that FERC investigate higher prices suggests they want to keep energy prices low. But it could also mean that their letter is just public relations cover so they are not blamed for raising energy prices.
Indeed, it would be naive to think that Sanders and other progressives didn't realize that blocking pipelines, opposing fracking, and subsidizing renewables would make energy expensive, given that making energy expensive has been the highest goal of their main climate advisor, Bill McKibben, who subscribes to the Malthusian view that there are too many humans and we must restrict energy and development.
If renewables were cheaper than the status quo then the policies they advocate — no permitting of pipelines, restrictions on fracking, and subsidies for renewables — would not be necessary. Besides, mainstream energy experts and journalists today admit that weather-dependent renewables make electricity expensive…
Subscribe to Michael Shellenberger to read the rest.
Become a paying subscriber of Michael Shellenberger to get access to this post and other subscriber-only content.
A subscription gets you:
| | |
| --- | --- |
| | Subscriber-only posts and full archive |
| | Post comments and join the community |
Exporting Publicly Funded Jobs is Bad for Alberta.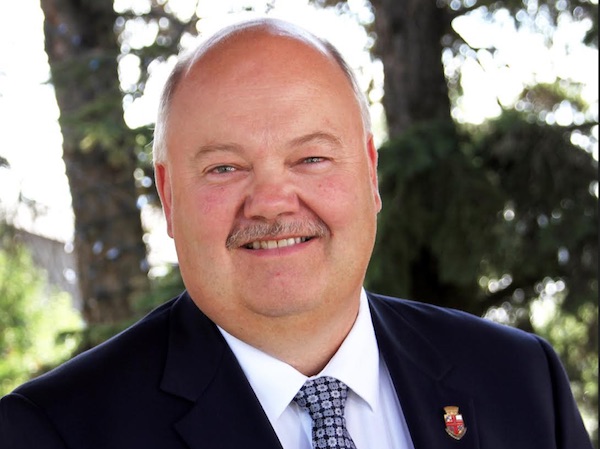 This article is submitted by The City of Lacombe
Mayor Grant Creasey
Recently, the Mayor of the Town of Athabasca, Colleen Powell, outlined what she described as a battle with implications for all Alberta. The problem she described was the decision by the Board of Governors of Athabasca University (AU) to adopt a "near-virtual" model. This model effectively takes well-paying rural Albertan jobs in her community and outsources them to communities like Victoria, Toronto – or anywhere else the institution approves. Over 10 years, this decision will reduce employment in that community by nearly 500 high quality jobs, according to Mayor Powell's opinion column submitted to the Edmonton Journal.
A similar battle is brewing in the City of Lacombe. Our largest employer, Alberta Financial Services Corporation (AFSC), has opted to pass a 'Work Away Policy,' essentially allowing staff to work remotely, anywhere in Canada.
Our Council has significant concerns with this decision, as it erodes employment opportunities both provincially and locally. Further, this policy change is not compliant with the formative legislation of AFSC.
It is important to remember that Athabasca University, and AFSC, were deliberately placed in our respective communities to promote rural development and viability. Premier Lougheed had a vision for Alberta that included locating publicly funded entities beyond the Edmonton and Calgary metropolitan regions – he recognized that strengthening rural Alberta strengthens all of Alberta.
As outlined in letters to our local MLA, as well as the Minister of Jobs, Economy and Innovation, the Minister of Agriculture and Forestry, and Premier Kenney, the City of Lacombe believes this Alberta Crown Corporation policy is bad for Lacombe and the province as a whole. While the letters outlining our concerns have gained limited traction, we believe Albertans should be aware of the implications when organizations outsource jobs away from rural communities like Lacombe and Athabasca.
AFSC's decision is against the Agriculture Financial Services Regulation; the governing document of the crown corporation. The regulation designates "Lacombe, Alberta as the location in Alberta at which the head office of the Corporation will be situated." Like AU, AFSC was intentionally placed in our community to support economic viability in smaller rural communities – and indeed it did, bringing highly-skilled and highly-paid employees to our community for years. Simply stated, AFSC's "Work Away Policy" disadvantages Lacombe and negatively impacts our local economy. It increases commercial vacancy and results in less overall commercial investment.
For this reason, I want to publicly thank Mayor Powell for speaking out on the damage caused when large publicly-funded institutions outsource Albertan jobs from the communities that rely on them, into other provinces.
These changes should concern us all, and we hope that Albertans will agree. Exporting publicly funded, high quality jobs from small Albertan communities to Toronto, Vancouver, or Montreal is ultimately harmful and will damage the economic viability of not only Athabasca and Lacombe, but all of Alberta.