"The theme of my speech is to remember the good moments, but also the hard moments too."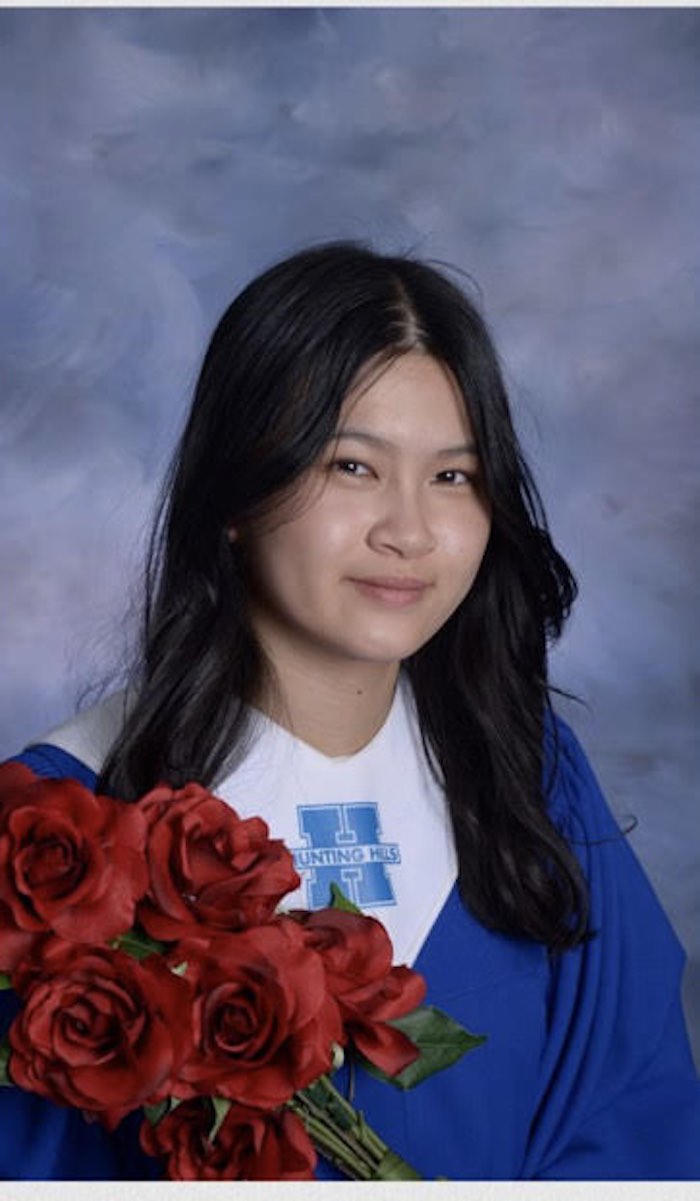 Relationships and connections are the most important to Hunting Hill's Valedictorian
Relationships and connections have played an integral role throughout Janie Tong's high school career. She has recently been named this year's Valedictorian for Hunting Hills High School.
"School itself is a lot with homework, assignments and exams, but the connections that you have with your friends and the relationships with your teachers it's something that is really uplifting and gives you the balance that you need," said Janie Tong, who has been named Valedictorian for Hunting Hill's Class of 2023.
"I was really shocked when I heard the news of being named Valedictorian," said Janie. "Throughout high school I have been working very hard, and it never really occurred to me that I could achieve it. Once it sunk in, I was really excited about it and proud because it was a recognition of all my hard work."
Janie, who has been part of Red Deer Public Schools since Kindergarten, reflects on a few highlights during her high school career.
"Our Bike-A-Thon and Wakefest were so much fun," she said. "It was fun to get to know my classmates, and have those experiences together and to make those connections."
In Grade 10, Janie took a course called Social Studies 10-20-30, which meant she took all three years of social studies in one year. This type of dedication set her on the path for success.
"It was where I Iearned my work ethic because I was taking a Grade 12 course in Grade 10," she said. "My teacher was great too, and made the class a lot of fun."
As for what's next, Janie will be heading to the University of Waterloo where she is enrolled in the Computer Science program.
"I'm really excited for a new adventure," she said.
As for her upcoming graduation ceremonies, Janie said she is looking forward to making memories with friends, family and teachers. "I want to really appreciate the whole experience," she said, adding she is also looking forward to addressing her fellow graduates.. The highs and lows of high school are what helped shape who we are today. High school was when we really found ourselves and started to answer the question we were asked when we were so young, which was 'what do you want to be when you grow up?'" said Janie. "It's been a great experience."
Darwin Roscoe, Principal at Hunting Hills High School, said Janie, who is known for her academic excellence and remarkable character, is deserving of this honour.
"Her numerous accolades in Advanced Placement and her relentless pursuit of knowledge have impacted her educational journey. Beyond her academic achievements, she has taken on leadership roles as a quiet leader, demonstrating exceptional organizational skills and the ability to unite others," he said. "Her contributions to Hunting Hills High School have been recognized with the Power of Home, Power of Honour, and Power of Heart awards, acknowledging her compassion, empathy, and kindness. Her completion of the intercultural certificate shows her commitment to fostering cross-cultural understanding. Her genuine warmth sets her apart. She uplifts and supports her peers, embodying the qualities of a true mentor and friend."
Graduation ceremonies for Hunting Hills will take place on May 26 at the Gary W. Harris Canada Games Centre.
One adult, 16 children injured in fall during school trip to Winnipeg historic site
WINNIPEG — Sixteen schoolchildren and one adult are in hospital after a fall at a popular tourist attraction in Winnipeg.
Winnipeg paramedics say three children are in unstable condition after falling 4 1/2 to six metres inside Fort Gibraltar.
Another 13 children and one adult are in hospital in stable condition.
Paramedics say the information they received in a 911 call shortly before 10 a.m. is that the children are 10 to 11 years old.
Fort Gibraltar is a venue in the St. Boniface neighbourhood that hosts functions as well as historical re-enactments, at about 10 a.m. after receiving reports of an accident involving children age 10 to 11.
Crews initially assessed 28 people before determining 17 needed to be transported to hospital. At that time, three children were in unstable condition. Another 13 children and one adult were transported to hospital in stable condition.
Michelle Bessas, platoon chief with Paramedic Operations, said six ambulances transported the most severely injured patients to hospital while some of the stable patients were transported by emergency bus.
"Thankfully, we don't have very many mass casualty incidents that we have to deal with, but we do train for it regularly. Everyone on the scene was well prepared and we triaged everybody in a timely fashion."
A resident in the area told reporters she saw at least two people taken away on stretchers.
"There were about five or six kids that walked out on their own with paramedics and got into a (response vehicle) to be assessed," said Chantelle Craig.
A notice was sent to parents from Jim Keefe, head of St. John's-Ravenscourt School.
The notice, which the private school provided to The Canadian Press, confirms the fall happened during a Grade 5 field trip.
"There was an incident that resulted in emergency services transporting 17 members of the St. John's-Ravenscourt community to hospital. We contacted their parents and families," Keefe said Wednesday.
"We are doing everything we can to support our Grade 5 students and teachers and their families."
The remaining students and accompanying adults returned to the school, where faculty, staff and counsellors are caring for them, Keefe said.
Manitoba Premier Heather Stefanson posted about the fall on Twitter.
"Our thoughts go out to all the students, teachers and families of St. John's Ravenscourt affected by today's terrible accident at Fort Gibraltar," she wrote. "Thank you to all first responders for their immediate action."
Festival du Voyageur, which owns the fort, said it is co-operating with all authorities as it assesses the situation.
"Our thoughts are with all those who are affected by this difficult, sad and extremely unfortunate situation. We would like to thank first responders and personnel that responded quickly to the incident to prioritize the well-being of all those involved," Chantal Vielfaure, director of marketing, communications and sales, wrote in a statement.
"This is a difficult time for many, and we want to ensure that respect and support for those involved is of the utmost importance."
The venue will be closed indefinitely.
This report by The Canadian Press was first published on May 31, 2023.
Gateway Christian students experience life changing trip to Dominican
Students from Gateway Christian School recently returned from a life changing trip to the Dominican Republic as part of their Intercultural Studies program.
Gateway's 2023 Co-Impact Team, which included 13 students, two staff and an additional chaperone, spent 10 days on the ground over Spring Break connecting with other students and families to help to build a basketball court and physical education area at the Pena de Horeb school via Edudeo Ministries. Pena de Horeb is primarily a Haitian school, serving the students and families amidst a very poor Haitian neighbourhood. In the months leading up to the trip, Gateway students raised funds to help assist with the build. Gateway also spent a significant amount of time building relationships with and learning from students and staff at their partner school, El Colegio Cristiano Reformado Los Guandules.
"Service is an important part of the culture at Gateway, and this experience was the culmination of that. The Co-Impact Team fundraised not only for their trip, but also for funds to go towards the school we worked on in the Dominican Republic," said Geannette Lehman, Principal at Gateway Christian School. "The trip was part of their Intercultural Students class, which they receive credit for. We met weekly at 7:15 a.m. to complete aspects of the Intercultural Studies course, bond as a team, and prepare craft lessons and activities to teach students at the school in the Dominican. It was not only a great experience in the Dominican, but in preparing for the trip as a team as well."Alexa Huska, Gabe Gillies, and Kate Stober were three students who were part of the Co-Impact Team.
"It was really neat to connect with my fellow Grade 12 students," said Alexa. "We've gone to school together since we were kids, so to have an experience like this together was really special. We were able to connect on a deeper level."
Gabe added it was humbling to see how grateful those in the Dominican Republic were, even for the smallest things. "They have little compared to us, and they are just so happy," he said. "They are grateful for the things they have and they don't stress about the small stuff."
Kate agreed. "They have so much joy, and nothing mattered other than just being with one another," she said.
Ultimately, it was a great experience for all involved.
"The kids were greatly impacted by seeing the world through another lens. Our lens is so different from those around the world," said Geannette, adding she is proud of her students. "They gave up their Spring Break, immersed themselves in another culture, and represented Gateway and Red Deer Public so well."
To read Gateway's Co-Impact Team's blog of their experiences, click here.