"The Incredible" Randi Boulton performs SATURDAY at Fionn MacCool's
One of Central Alberta's most-talented and enduring performers is Randi Boulton, or the Incredible Randi Boulton, as Canadian rock icon Tom Cochrane calls her.  Here's her bio so you can get to know her better.  She is a powerhouse singer, one whose voice seriously parallels those of her musical motivators: Norah Jones, Janis Joplin, Adele, Melissa Etheridge, Jewel, as well as fellow Canadians Jann Arden and Sarah McLachlan.
While she's not new to the music industry, Boulton is finally getting the recognition deserving of her 15 years in the business. June, 2014 saw Boulton release her fourth full-length independent album, 'Randi With An I' produced by the Juno-award winning Russell Broom (Jann Arden). To date that album has helped her sell out theatres and sell over 10,000 copies, a feat few independent artists ever achieve.
Fall, 2014 saw Randi's release her third music video for "Angel", featured in this story.  It's a song that details her brother's struggle with Multiple Sclerosis. The songwriter took words, originally written as a poem by her father, and composed and crafted a powerful ballad that is striking a chord with many affected by the disease. Another single "Karma", has been in steady rotation for over a year and half on several radio stations worldwide.
With a vast and eclectic taste in music, Randi prefers not to be boxed into one genre. Like so many creative spirits, she writes when inspiration hits. But one thing is for sure: Randi's vocals create whatever sound she desires, whether that be reggae or rock. Even social media is noticing her talent thanks to getting a nudge on Twitter from fellow Canadian, Jann Arden, who tweeted to her fans:  "Follow this kid…pretty great singer".
 "Music is woven into the fabric of my being," says Randi.  "While my musical journey has been a roller coaster of highs and lows, I can confidently tell you that music is something that I can't describe, nor shut off. It's a friend. It's my one constant in life. And it's the voice of my soul."
You need to check Randi out Saturday night at Fionn MacCool's. Randi Boulton's world-class, soulful voice is an experience music lovers won't soon forget.
Canadian firm Just Energy warns of huge losses due to extreme Texas winter weather
CALGARY — Shares in Canadian energy retailer Just Energy Group Inc. are falling after it warned it may not be able to continue operating due to hundreds of millions of dollars in losses because of extreme winter weather in Texas over the past week.
In a news release, the company says it is facing a loss of US$250 million (about C$315 million) due to high electricity prices during the unusually cold weather from Feb. 13 to 19.
It says its price of power in Texas was artificially set at US$9,000 per megawatt-hour for much of the week, resulting in a "substantial negative financial impact" unless there is corrective action by the government.
Just Energy shares were halted on Monday morning in Toronto. They quickly lost almost a third of their value after trading was opened again, falling as much as $2.42 to $4.86.
The company says it has delayed financial reports expected last week for the periods ending Dec. 31 until late this week, so it can better review and understand the impact of the Texas event.
Just Energy markets natural gas and electricity at a retail level under several brand names in jurisdictions in Canada and the United States, including Texas, Ontario and B.C.
"The financial impact of the weather event on the company, once known, could be materially adverse to the company's liquidity and its ability to continue as a going concern," Just Energy warned.
This report by The Canadian Press was first published Feb. 22, 2021.
Companies in this story: (TSX:JE)
The Canadian Press
Downtown Business Spotlight: Original Joe's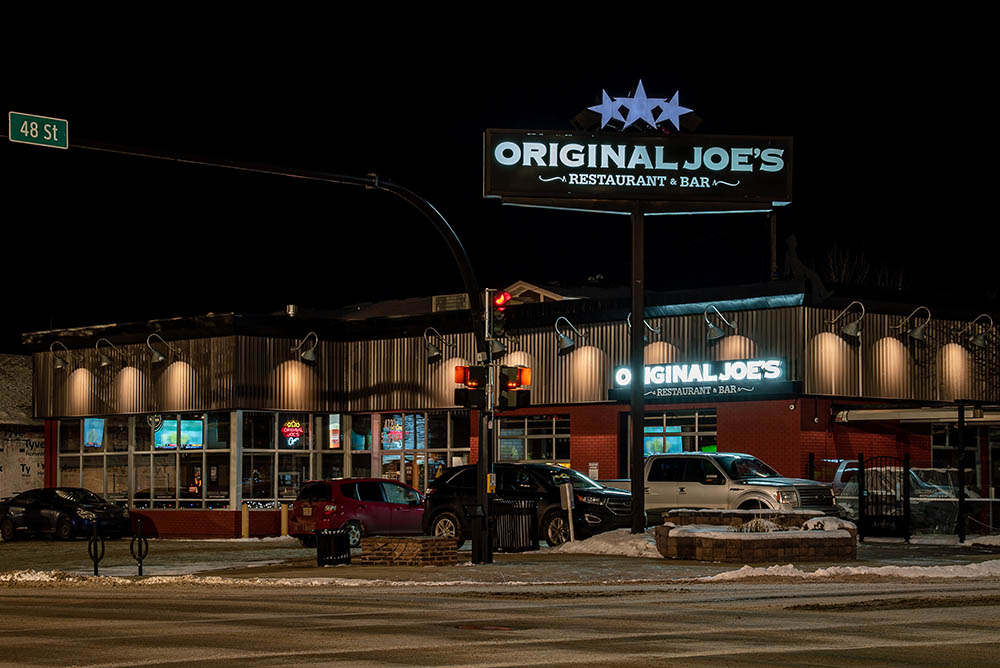 This week's Business Spotlight shines on Original Joe's Red Deer! This unique restaurant is located right at 4720 51 Ave.
What is your business?
We are a locally owned restaurant and pub; Down to Earth and Down the Street. On our menu you will find a variety of fresh takes on comfort food.  We've got something to satisfy beer lovers, wine aficionados, and cocktail enthusiasts alike. Our extensive drink menu includes solid classics, local and craft favorites, and enough new discoveries to keep things interesting. 
When did your business open?
November 1, 2005 
What makes your business unique?
We are all about good times, good friends and great food. A warm, down to earth place where old friends gather, new friends are made and everyone is welcome. 
What are some products/services that you offer?
We offer wholesome, delicious meals made with fresh ingredients prepped and prepared by hand – in house. We have everything from Nachos to Burgers & Wraps to Steak to Fish & Chips! 
What do you think makes Downtown vibrant?
This history and locally owned businesses!  Downtown is full of unique old buildings that are largely occupied by locally owned businesses. There is a feeling of community in Downtown Red Deer that is unusual for a City.  Downtown Red Deer is beautiful – City Hall Park, the Ross Street Patio, the lights, the cobblestone, and so much more.  
I love Downtown Red Deer because… it is the heart of our City!