The evolution of a Red Deer College student-athlete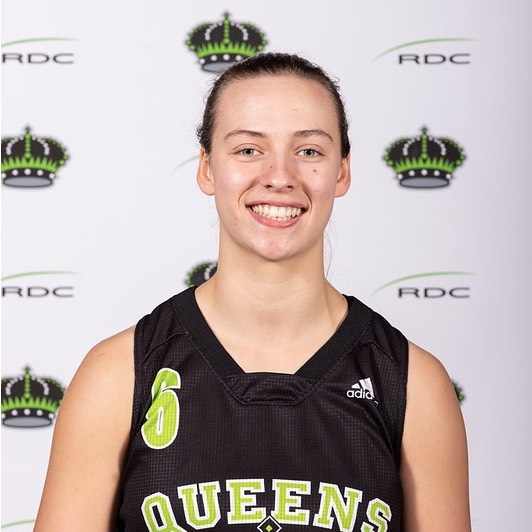 This article submitted by RDC Athletics
Three years have brought big changes for Amy Szymanek of Queens Basketball
Red Deer College Queens Basketball forward Amy Szymanek's progression as a player has been nothing short of remarkable, but perhaps her development as a student and leader have been even more impressive.
In her rookie season with the Queens in 2018/2019, the former David Thompson High School Voyageurs guard, averaged 2.8 points per game, and connected on 45.5 per cent of her free-throws, and 34.6 per cent from the field. That experience set the foundation for future development.
"With one year under my belt, I was more comfortable at the college level and believed in myself a lot more," said Szymanek. "I was very motivated to return and wanted to contribute in more ways."
In the summer of 2019, the Bachelor of Education student added another aspect of training to her routine as she prepared for her second year of competition in the Alberta Colleges Athletic Conference (ACAC).
"I trained physically and mentally," she said. "Visualization was a big aspect of improving my performance. I visualized the gyms we played in, the colours on the floor, my opponents' faces, and the crowd. Throughout the next season, it felt like I was reliving many of the situations I envisioned."
As the 2019/2020 season approached, Szymanek made a positive impression on new Queens Head Coach Mandy Botham.
"The first time we met, Amy offered to take on any role that would help the team," said Botham. "At our first scrimmage, it only took five minutes for me to see that Amy was a player I wanted to have on the Queens. She displayed huge potential as a player and a leader."
During Szymanek's second year, Botham challenged the student-athlete from Stauffer, Alberta, to reach new heights, and she responded. Szymanek more than tripled her offensive output from the previous season to 10.2 points per game. Only teammates Harneet Sidhu (12.1) and Britney Peters (10.5) averaged more points.
"Amy is so coachable and the more opportunity I gave her, the more she rose to the occasion," said Botham. "Amy is a good shooter, but one of her best aspects offensively is her ability to get to the rim and draw fouls."
Last season, Szymanek earned 64 free-throw opportunities, which was second most on the Queens, and only one behind teammate Sandra Garcia-Bernal. Szymanek's accuracy from the free-throw line climbed to 71.9 per cent and her efficiency from the field increased to 38.5 per cent, but her growth extended to other areas of the court.
"Rebounding was a big emphasis for us as a smaller team, and Amy's contributions at both ends of the floor kept getting better," explained Botham. "We were one of the top rebounding teams in the ACAC last season, which I am really proud of."
Szymanek exhibited impeccable timing and tenacity, more than doubling her total of 57 rebounds to 121 from one season to the next. The Queens ranked second in the 15 team league with 46.1 boards per game, slightly behind the Briercrest College Clippers (47.6).
While Szymanek's statistics increased, she also embraced a crucial defensive role.
"Amy is gritty and versatile, and she loves the challenge of defending our opponents' best players, who are often bigger," said Botham of the five-foot-nine forward. "So her footwork and technique have to be spot on to overcome that size disadvantage."
As impressive as Szymanek's progression has been on the hardwood, the development of her leadership skills has also become more prominent and impactful.
"As one of our team captains, Amy takes initiative, communicates with her teammates, and holds herself and others to a really high standard," said Botham. "She has the ability to properly read the situation, lighten the mood when it's appropriate and know when it's time to be serious. As a coach, I really appreciate that."
Szymanek credits past and current coaches, and family, especially her older brother Kevin, who was a member of Kings Basketball, for the development of her basketball and leadership skills.
"Kevin is an essential catalyst in my basketball growth. He had his sights on college basketball before I did, and he pushed me to limits I never thought I'd achieve. He still does," she said.
"As kids, we would play on this little court with a make-shift hoop that my dad made and we would play all night. I smile when I think about that memory. Playing against a larger and more skilled brother, it fuelled my competitive spirit."
Along with additional team depth and experience, Szymanek played an instrumental role in the Queens Basketball team (10-11) nearly capturing the final playoff spot in the South Division in 2019/2020, finishing only two points behind the Medicine Hat College Rattlers (11-10). At the end of the campaign, Szymanek and the Queens identified several valuable lessons to bring forward.
"It really hurt when we missed the playoffs, but our coaches encouraged us to use it as a learning opportunity," said Szymanek. "If we want to compete and win, we have to bring it each and every night, including in practice."
When the 2020/2021 ACAC season was cancelled due to COVID-19, the RDC Queens practiced together as a cohort, according to health and safety protocols. As restrictions tightened, the student- athletes pivoted their plans to work out more individually.
"Our strength and conditioning coach [Greg Howe] altered our workouts to be done at home," said Szymanek. "RDC Athletics has also been really supportive of us during the pandemic."
Szymanek, who plans to play all five years at RDC, also experienced growth academically.
"Amy was always a good student, but she raised her GPA to nearly 3.70 for Fall 2020 Term. I've seen a tremendous commitment from her," said Botham. "She excels in her courses, trains, has basketball responsibilities as a leader, and works on her parent's farm year round."
Botham appreciates Szymanek's willingness to participate in a variety of College and community events.
"Amy is always one of the first athletes to volunteer when I have a request or opportunity for community engagement," stated Botham. "She was part of the Student-Athletes Advisory Council last season and is involved again this year."
"As Co-Chair, along with Tyler Podgorenko from Kings Hockey, we organize and run the Student- Athletes Advisory Council meetings, and oversee the completion of initiatives," said Szymanek. "We are still doing a lot of community work this year – blood drives, sidewalk shoveling, and mental health awareness, with six projects in total."
As part of their Bleed Green campaign from February 22 to 26, the Council is encouraging a friendly competition of blood donations between RDC's 15 teams. The student-athletes hope that members of the College and surrounding communities will join their efforts to contribute to Canadian Blood Services.
"These initiatives are important because they emphasize community and as student-athletes we can use our voices to help," said Szymanek. "Children and people of a variety of ages look up to us. We have that reach and it is essential that we use it for positive things."
Trying to stay positive is essential during this time, as COVID-19 has created challenges for Queens Basketball, as well as teams and leagues across North America. Szymanek, Botham, and the Queens look forward to the return of basketball, which includes hosting the ACAC Championship when competition safely resumes.
"Playing in front of our own fans in the beautiful Gary W. Harris Canada Games Centre for a championship will be awesome. Winning and heading to nationals is the ultimate goal," said Szymanek. "I feel our team is on the rise and we can make it a reality. We have a long way to go and it won't come easy, but we work for that every day, even now."
While waiting for the next season to officially begin, Szymanek continues to impress her head coach and many others as she develops in all aspects of being an RDC student-athlete.
"Amy is a positive ambassador for not only Queens Basketball, but for RDC Athletics as a whole," said Botham. "The trajectory of Amy's improvement as a student-athlete and leader have almost been unbelievable and I've been fortunate to have a front row seat."
Access to Dawe Centre pool and community centre affected by expansion project – Details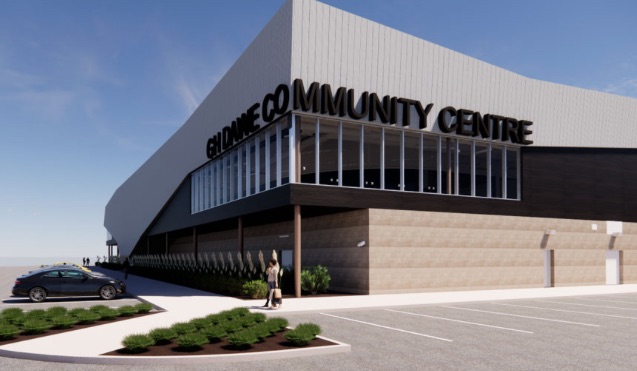 Limited access to G.H. Dawe Community Centre this summer due to construction
Due to construction, access to the G.H. Dawe Community Centre will be limited this summer, with a full closure planned for August.

As announced yesterday, City recreation centres are opening fully to the public as of July 1. With construction underway at the G.H. Dawe Community Centre, only limited services and areas will be available.

Here's what you need to know:
Starting July 2, fitness and gym areas will open from 10 a.m. – 8 p.m., daily. In July, summer day camps that normally operate from the Dawe will operate from other facilities.
The pool will remain closed until September.
To accommodate interior heating and ventilation construction, the facility will fully close from July 26 to August 31. Some registered preschool and summer camp programming may proceed, but no rental or general admission options will be available.
On September 1, we anticipate the pool will be open, but some other amenities, like the gym, may not be available. More information will be provided as construction progresses.
Playing surfaces in the arena will not be available until construction is complete, which is expected to be early 2023.
We are currently offering a discounted monthly Value Pass for $27 for adults ($24.50 for seniors; $21.90 for students; $19.30 for youth; $14.20 for children, and $60.50 for a family. It provides unlimited access to all facilities. As of August the Value Pass will only provide access to the Recreation Centre and Michener Aquatic Centre; however, access to the Dawe will be included in the Value pass until the pool, gym and fitness areas are open.
About the G.H. Dawe Community Centre Project
Work is underway now on the G.H. Dawe Community Centre Project and some exciting changes are in store. We expect to welcome visitors to the transformed space in early 2023. Here's just some of what you can expect:
Two NHL standard playing surfaces
Expanded fitness areas, including a running track
Outdoor spray park with washroom facilities
Improved accessibility
Additional north entrance + site access from 67 Street
Additional parking
During construction, there will be some changes and impacts to existing amenities and programs, and we'll do you best to share this information in advance. Thanks for your patience as we complete this work.
For more information about the project, please visit reddeer.ca/DaweProject.
Wandler temporarily replaces Walton as RDC Queens Volleyball Head Coach