The Dangers of a Central Bank Digital Currency (CBDC) – John Stossel with Florida Gov. Ron DeSantis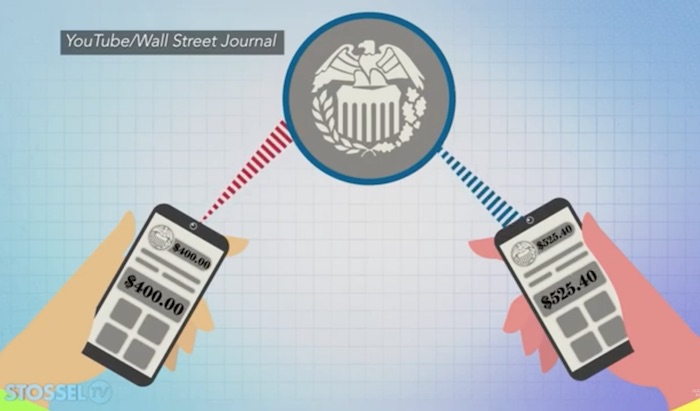 On the same day that this add about Digital Currency from the Bank of Canada popped up on my facebook feed..
I see that 19 time Emmy Award winning journalist John Stossel has posted a short discussion with Florida Gov. Ron DeSantis on the implementation of Central Bank Digital Currency in the United States.
Should you be concerned? Depends how much you like living under the thumb of whatever the government dictates.
The federal government and the media are excited about something new: a Central Bank Digital Currency (CBDC). "I think it would be a total disaster," Gov. Ron DeSantis tells me.
A CBDC would be a cryptocurrency, one controlled by the federal government. The Biden administration says a CBDC would "protect consumers, investors…and the environment."
DeSantis tells me, "Sometimes government does things that may appear to be benevolent but really are kind of like a wolf in sheep's clothing. This is a wolf coming as a wolf." DeSantis says the government will use digital money to spy on us and control our behavior. "'You're filling up too much [with gas]. Wait a minute–Climate change… You can't be doing that! …You bought another firearm? No, no, no.'"
He's is so upset about this new plan, he just persuaded Florida's legislature to ban the CBDC's use in Florida.
———— To get our new weekly video from Stossel TV, sign up here: https://www.johnstossel.com/#subscribe ————
After 40+ years of reporting, I now understand the importance of limited government and personal freedom.
——————————————
Libertarian journalist John Stossel created Stossel TV to explain liberty and free markets to young people.
Prior to Stossel TV he hosted a show on Fox Business and co-anchored ABC's primetime newsmagazine show, 20/20.
Stossel's economic programs have been adapted into teaching kits by a non-profit organization, "Stossel in the Classroom." High school teachers in American public schools now use the videos to help educate their students on economics and economic freedom. They are seen by more than 12 million students every year.
Stossel has received 19 Emmy Awards and has been honored five times for excellence in consumer reporting by the National Press Club. Other honors include the George Polk Award for Outstanding Local Reporting and the George Foster Peabody Award
Moneris confirms credit and debit card processing outage, but offers few details
Toronto
The Canadian payment processing firm Moneris confirmed Saturday that credit and debit card transactions were interrupted by a network outage earlier in the day.
The Toronto-based technology company issued a statement saying there was nothing to suggest the outage was related to a cyber attack.
Complaints about outages started rolling in to the Downdetector.ca website before noon eastern time, but Moneris did not say when the outage started.
About three hours later, Moneris posted a message on X — the social media site formerly known as Twitter — saying it had resolved the network problem.
It remains unclear how many businesses and transactions were affected, but data provided by Downdetector.ca indicated complaints had come in from across the country.
In a statement provided to The Canadian Press, the company said the outage lasted about 90 minutes.
"We have resolved the network outage and returned transaction processing to normal," the statement said. "We continue to investigate the root cause of the issue. There are no indications this appears to be cyber-attack related and all transaction systems are functioning normally again."
The company, a joint venture between Royal Bank and BMO Bank of Montreal, said transaction processing could be slow as its systems catch up with the backlog.
Moneris says it supports more than 325,000 merchant locations across Canada.
This report by The Canadian Press was first published Sept. 23, 2024.
Smith says despite difficulty with Ottawa, Alberta has allies in Trudeau cabinet
Alberta Premier Danielle Smith speaks to business leaders at the Global Business Forum in Banff, Alta., Friday, Sept. 22, 2023. Smith told the conference that despite her concerns with the federal Liberal government there was some cabinet ministers she can work with. THE CANADIAN PRESS/Jeff McIntosh
By Bill Graveland in Banff
Alberta Premier Danielle Smith told a business conference on Friday that despite her concerns with the federal Liberal government, there are some cabinet ministers she can work with.
Smith has been at odds with federal Environment Minister Steven Guilbeault and Natural Resources Minister Jonathan Wilkinson amid concerns over Ottawa's climate-change policies and transition plan for a net-zero emissions economy.
Guilbeault intends to publish draft regulations this fall to cap emissions from oil and gas, then force them downward overtime. Ottawa has also set a target to have the electricity grid be net-zero by 2035, but Alberta says it's unrealistic.
Smith says Alberta won't implement the emissions cap, nor will it follow the 2035 target.
The premier told delegates at the Global Business Forum in Banff, Alta., that Wilkinson needs to answer for comments he made earlier this week at the World Petroleum Congress in Calgary.
Wilkinson's call for the industry to work aggressively to get to net-zero was basically telling them to "pack it up, because the oil and gas industry is winding down," said Smith.
"You could just feel the energy leave the room and you could just feel the investment dollars leave the room."
Smith said energy producing provinces such as Alberta, Saskatchewan and Newfoundland and Labrador, can't trust the Trudeau government to look out for their interests at international conferences.
"After hearing how the natural resources minister talks about our industry, after hearing how the federal environment minister talks about our industry, we can't afford to let them carry our message," Smith said.
"We can't afford not to be there."
Smith said she has been in discussions with Saskatchewan Premier Scott Moe and intends to talk to Newfoundland and Labrador Premier Andrew Furey about joint presentations at conferences in the future.
Despite her disappointment with Wilkinson and Guilbeault, Smith said it's not all bad.
Finance Minister Chrystia Freeland among the top allies, she said.
"Let's give her credit for shepherding through all of the constant need to give more debt financing to Trans Mountain pipeline to get that to the finish line. That has not been easy," Smith said.
She also praised Innovation Minister Francois-Philippe Champagne, Public Safety Minister Dominic LeBlanc, Labour Minister Seamus O'Regan and Employment Minister Randy Boissonnault.
"I would say it's not uniformly negative in the Liberal caucus. But for some reason they're allowing Stephen Guilbeault to be a maverick and a renegade and quite offensive to those of who are trying to be reasonable and adult about this," Smith said.
Smith said it's time for the federal government to back away from setting "aggressive targets" in dealing with the provinces.
"Aggressive targets are not helpful. They're not helpful to us. They're not helpful to investors."
This report by The Canadian Press was first published Sept. 22, 2023.