The Canadian Northern Railway's legacy at Big Valley, Alberta.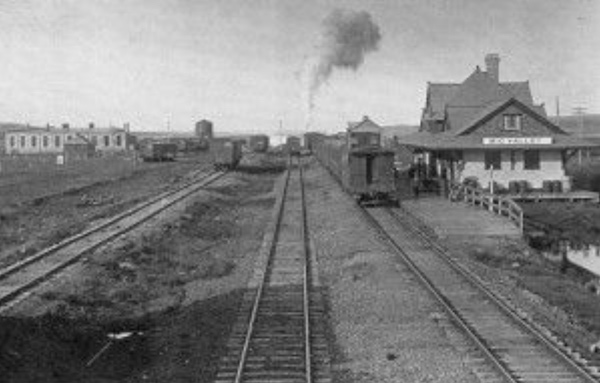 By Shawn I. Smith, Canadian Northern Society
It's a Saturday afternoon in June in the quiet Village of Big Valley. Visitors admire the splendid heritage railway depot and gardens at the end of main street. Two blocks south is a historic grain elevator – a classic Canadian symbol standing tall above the prairie landscape. To the east across the tracks are large stark concrete walls, visibly reminiscent of Stonehenge. "What are those curious walls?" is often asked. Then the sound of a locomotive whistle breaks the silence, creating a scene out of the 1950's when a vintage passenger train pulls into town, and the train crew scurries about on the platform unloading its cheerful patrons.
While not obvious to the guests who have enjoyed the 21-mile excursion train ride from Stettler aboard the Alberta Prairie Railway, the scene that unfolds on summer days in Big Valley is part of a legacy left by two dynamic railroaders who over a century earlier had an ambitious and grand vision for Western Canada. Today, both active and abandoned rail lines in central Alberta, related historic structures and sites, and indeed the communities that owe their existence to the Canadian Northern Railway (CNoR) share this common heritage.
Since the completion of the Canadian Pacific Railway in 1885, railways have been inextricably linked with the development of western Canada. After Confederation the new Dominion Government quickly recognized that without railways real settlement would not take place in the sparsely populated North West.
Energy, Enterprise, and Ability
The CNoR (Canadian Northern Railway) was a product of two Canadian-born railroaders with CPR roots. William Mackenzie and Donald Mann met during the 1880's while the senior road was under construction in the Selkirk Mountains. Their "Energy, Enterprise, and Ability" – which would become the railway's motto would lead to a partnership in contracting, steamship lines, and a 9,500-mile transcontinental railway empire that served seven provinces and included the Duluth Winnipeg and Pacific Railway in the U.S. The two were knighted for their achievements in 1911.
Branch lines were the key to the CNoR strategy.The Vegreville to Calgary branch – chartered in February 1909 by CNoR subsidiary Alberta Midland Railway – was the company's key north-south spine through Alberta. The portion between Vegreville and Drumheller was opened for service in 1911. While it had the appearance of a typical prairie branch line, its primary purpose was to carry steam and domestic heating coal from mines at Brazeau and Drumheller to growing prairie markets.
The fact that the line traversed a region of great agricultural potential for both grain and cattle farming was an added benefit. In typical fashion, grain elevators were located every five to ten miles – the distance being established around the practical ability for a livestock team to haul a load of grain and return in one day's time from the growing number of homesteads clustered around each delivery point.
The Battle River Subdivision along with further line completions in 1914 to Calgary and Strathcona respectively provided the CNoR with an effective intercity freight route, albeit longer than those of its competitors.
The Brazeau Branch, extending 176 miles west from the junction at Warden to the Nordegg Collieries was extremely important to the CNoR which depended largely on this supply of steam coal for terminals across the West. The subsequent extension of the Goose Lake line at Munson became an important link from Calgary to Saskatoon. All of these CNoR lines were financed using provincial bond guarantees.
By May of 1912 mixed trains crewed by Big Valley men were running north to Vegreville and south to Drumheller. Another run to Rocky Mountain House was added in June. A Second Class depot was erected that year and a five-stall roundhouse and turntable were complete by April of 1913.
By late 1913 a Railway Post Office Car service had been established on the line, and Big Valley was home to 14 locomotives and an equal amount of engine service and train crews. Assistant Superintendent Thomas Rourke oversaw terminal operations that included a train dispatching office.
By September 1917 fourteen mines were operating in the Drumheller Valley producing 250 carloads of coal every 24 hours. Drumheller was without question the "Powerhouse of the West." Big Valley's railroaders were kept busy 24 hours a day operating the trains that pulled the coal out of the valley.
After being selected as the CNoR terminal, Big Valley boomed. By 1919, its population had increased to over 1025, with some 325 souls working for the CNoR. At its peak, the company's payroll included 26 train and engine crews, a shop staff of 40, and a Bridge and Building crew averaging 45 employees, managed by Frank Dewar. There were 8 sectionmen, and at the station an Agent, operators round the clock, yard clerks, and the train dispatcher. Four to five carman conducted car repairs and inspections.
Coal from Brazeau was piled in a huge stockpile almost a block long on the east side of the yard. A gravel pit operation north of town at Caprona was established to provide aggregate for line ballasting on all of the CNoR area lines. Steam shovels kept this operation steady, mining volumes often equating to 100 carloads per day.
Big Valley's early railroaders were a colourful lot. Many came and went, and with the Big Valley collieries in production by 1914 shipping coal as far east as Ontario – night life in town could be wild. Assistant Superintendent Rourke, a former baseball player in the Detroit Tigers minor league system, was responsible for putting together the "Big Valley Bugs" – made up almost entirely of railroaders – who in 1918 put together a resounding victory over the high-flying Edmonton Red Sox.
The National
During the First World War, financial problems caught up with Mackenzie and Mann and their rapidly expanding enterprise. Despite profitable western lines such as the Vegreville and Brazeau branches, lack of traffic on the transcontinental lines, burdensome debt, and the negative impacts of the War would result in the company being "nationalized" by the Dominion Government in 1918. The rival Grand Trunk Pacific (GTP) Railway would fare even worse, having been placed into receivership in 1919. These events led to the creation of today's Canadian National (CN).
The new CN was confronted with the task of rationalizing the CNoR and GTP lines throughout western Canada. Consolidation was affected by the elimination of duplicate facilities and improving services by combining portions of the former competing lines. Construction of track connections joining the Brazeau branch with he former GTP Tofield to Calgary line at Alix were opened for service in 1922.
Connections were also made between the Battle River Subdivision and the former GTP mainline at Ryley. Geographically the GTP divisional point at Mirror was seen as central to the operations of the Brazeau branch vs. Big Valley. Coal that had originally moved over the Brazeau line to Warden then northward was now diverted over the new connection at Alix via Mirror which became the new home terminal for crews running west.
The new routing via Alix saved a distance of over 50 miles between Brazeau and Saskatoon. The former GTP south of Camrose also became the CN's north-south main line through Alberta.
This consolidation led to the significant decline of Big Valley as a railway town. While the company kept a small number of train crews assigned to both freight and passenger service, by 1925 the exodus to Mirror, Edmonton, Drumheller, and Hanna began. It was reported that over 100 railroaders' homes were moved out of the village, some of which continue to exist in Mirror today. In what was known as the "Battle of Big Valley" – the unions fought the company's decision hard but were left with little compensation for their relocation expenses after the issue went to arbitration in the late-1920's with the decision going with the company. By the onset of the depression, Big Valley's population had dropped by some 500 souls to 445.
It is without question that the old Canadian Northern Railway's reason for existence in central Alberta has changed dramatically since its arrival in 1910. Coal is no longer used to heat our homes – and in fact its use is considered sinful by some!
Packages ride on trucks, and people drive their own cars and trucks instead of riding mixed trains and Nos. 25 and 26 to get to Calgary or Edmonton.
While huge volumes of grain still move on trains – these are now loaded in modern high capacity elevators capable of loading 100 cars or more in 12 hours or less. The original steel rails that remain in service between Stettler and Big Valley are therefore of historic testament to Mackenzie and Mann and their great accomplishment. In fact, this section of track is the sole operating survivor of many similar "60-pound" branch lines that have now been re-laid or abandoned across the prairies. And almost incredibly one can still experience a passenger train ride over these vintage rails, pulling into Big Valley just as travellers did one hundred years ago.
U.S. senators call for trade crackdown on Canada over dairy quotas, digital policies
WASHINGTON — A pair of senior U.S. senators is urging the Biden administration to get tough with Canada for "flouting" obligations to its North American trade partners.
Democrat Sen. Ron Wyden of Oregon and Republican Sen. Mike Crapo lay out their concerns in a letter to U.S. Trade Representative Katherine Tai.
The letter says American dairy producers still aren't getting the access to the Canadian market they're entitled to under the U.S.-Mexico-Canada Agreement.
It also describes Canada's planned digital services tax as discriminatory and raises similar concerns about new legislation to regulate online streaming and news.
All three, the senators say, would give preferential treatment to Canadian content and deny U.S. tech companies fair access to the market north of the border.
The letter comes after meetings this week in San Diego between U.S., Canadian and Mexican trade emissaries, as well as the North American Leaders' Summit in Mexico City earlier this month.
The USMCA, referred to in Canada as CUSMA, has been at the centre of a number of bilateral and trilateral disputes since it went into effect in the summer of 2020.
"Three years later, it is disappointing that Canada and Mexico have failed to come into full compliance with the agreement — and, in some cases, have flouted their obligations," the senators write.
"USTR must take decisive action to ensure full compliance with the agreement and with dispute settlement panel findings. It is critical to ensure that every chapter of USMCA is fully and timely enforced."
Canada and Mexico have their own issues with how the U.S. is interpreting the deal, which was signed in 2018 after protracted trilateral efforts to replace NAFTA.
As the Mexico City summit wrapped up, a dispute panel ruled against the U.S. over how it interprets the rules that determine the origin of core automotive components.
It remains unclear whether the U.S. plans to comply with that decision.
This report by The Canadian Press was first published Jan. 27, 2023.
The Canadian Press
TotalEnergies EP Canada ups stake in Fort Hills oilsands project
Calgary – TotalEnergies EP Canada Ltd. says it is increasing its ownership in the Fort Hills oilsands project by acquiring part of Teck Resources Ltd.'s stake in the mine.
Teck announced last year that it would sell its 21.3 per cent stake in Fort Hills to Suncor Energy Inc., the third partner in the project, for about $1 billion.
However, TotalEnergies EP Canada says it has exercised its pre-emption right to acquire an additional 6.65 per cent in the project from Teck for $312 million.
The deal brings the company's stake in Fort Hills to 31.23 per cent. Suncor will own the rest.
French company TotalEnergies announced in September 2022 its plan to exit the Canadian oilsands by spinning off TotalEnergies EP Canada in 2023.
It says the acquisition of an additional interest in Fort Hills helps build TotalEnergies EP Canada for the future.
This report by The Canadian Press was first published Jan. 27, 2023.
Companies in this story: (TSX:TECK.B, TSX:SU)