The Canadian Northern Railway's legacy at Big Valley, Alberta.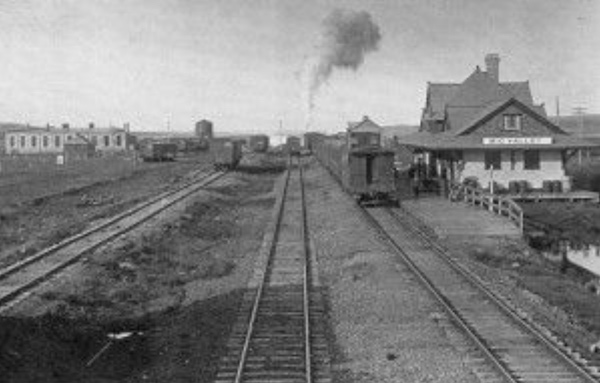 By Shawn I. Smith, Canadian Northern Society
It's a Saturday afternoon in June in the quiet Village of Big Valley. Visitors admire the splendid heritage railway depot and gardens at the end of main street. Two blocks south is a historic grain elevator – a classic Canadian symbol standing tall above the prairie landscape. To the east across the tracks are large stark concrete walls, visibly reminiscent of Stonehenge. "What are those curious walls?" is often asked. Then the sound of a locomotive whistle breaks the silence, creating a scene out of the 1950's when a vintage passenger train pulls into town, and the train crew scurries about on the platform unloading its cheerful patrons.
While not obvious to the guests who have enjoyed the 21-mile excursion train ride from Stettler aboard the Alberta Prairie Railway, the scene that unfolds on summer days in Big Valley is part of a legacy left by two dynamic railroaders who over a century earlier had an ambitious and grand vision for Western Canada. Today, both active and abandoned rail lines in central Alberta, related historic structures and sites, and indeed the communities that owe their existence to the Canadian Northern Railway (CNoR) share this common heritage.
Since the completion of the Canadian Pacific Railway in 1885, railways have been inextricably linked with the development of western Canada. After Confederation the new Dominion Government quickly recognized that without railways real settlement would not take place in the sparsely populated North West.
Energy, Enterprise, and Ability
The CNoR (Canadian Northern Railway) was a product of two Canadian-born railroaders with CPR roots. William Mackenzie and Donald Mann met during the 1880's while the senior road was under construction in the Selkirk Mountains. Their "Energy, Enterprise, and Ability" – which would become the railway's motto would lead to a partnership in contracting, steamship lines, and a 9,500-mile transcontinental railway empire that served seven provinces and included the Duluth Winnipeg and Pacific Railway in the U.S. The two were knighted for their achievements in 1911.
Branch lines were the key to the CNoR strategy.The Vegreville to Calgary branch – chartered in February 1909 by CNoR subsidiary Alberta Midland Railway – was the company's key north-south spine through Alberta. The portion between Vegreville and Drumheller was opened for service in 1911. While it had the appearance of a typical prairie branch line, its primary purpose was to carry steam and domestic heating coal from mines at Brazeau and Drumheller to growing prairie markets.
The fact that the line traversed a region of great agricultural potential for both grain and cattle farming was an added benefit. In typical fashion, grain elevators were located every five to ten miles – the distance being established around the practical ability for a livestock team to haul a load of grain and return in one day's time from the growing number of homesteads clustered around each delivery point.
The Battle River Subdivision along with further line completions in 1914 to Calgary and Strathcona respectively provided the CNoR with an effective intercity freight route, albeit longer than those of its competitors.
The Brazeau Branch, extending 176 miles west from the junction at Warden to the Nordegg Collieries was extremely important to the CNoR which depended largely on this supply of steam coal for terminals across the West. The subsequent extension of the Goose Lake line at Munson became an important link from Calgary to Saskatoon. All of these CNoR lines were financed using provincial bond guarantees.
By May of 1912 mixed trains crewed by Big Valley men were running north to Vegreville and south to Drumheller. Another run to Rocky Mountain House was added in June. A Second Class depot was erected that year and a five-stall roundhouse and turntable were complete by April of 1913.
By late 1913 a Railway Post Office Car service had been established on the line, and Big Valley was home to 14 locomotives and an equal amount of engine service and train crews. Assistant Superintendent Thomas Rourke oversaw terminal operations that included a train dispatching office.
By September 1917 fourteen mines were operating in the Drumheller Valley producing 250 carloads of coal every 24 hours. Drumheller was without question the "Powerhouse of the West." Big Valley's railroaders were kept busy 24 hours a day operating the trains that pulled the coal out of the valley.
After being selected as the CNoR terminal, Big Valley boomed. By 1919, its population had increased to over 1025, with some 325 souls working for the CNoR. At its peak, the company's payroll included 26 train and engine crews, a shop staff of 40, and a Bridge and Building crew averaging 45 employees, managed by Frank Dewar. There were 8 sectionmen, and at the station an Agent, operators round the clock, yard clerks, and the train dispatcher. Four to five carman conducted car repairs and inspections.
Coal from Brazeau was piled in a huge stockpile almost a block long on the east side of the yard. A gravel pit operation north of town at Caprona was established to provide aggregate for line ballasting on all of the CNoR area lines. Steam shovels kept this operation steady, mining volumes often equating to 100 carloads per day.
Big Valley's early railroaders were a colourful lot. Many came and went, and with the Big Valley collieries in production by 1914 shipping coal as far east as Ontario – night life in town could be wild. Assistant Superintendent Rourke, a former baseball player in the Detroit Tigers minor league system, was responsible for putting together the "Big Valley Bugs" – made up almost entirely of railroaders – who in 1918 put together a resounding victory over the high-flying Edmonton Red Sox.
The National
During the First World War, financial problems caught up with Mackenzie and Mann and their rapidly expanding enterprise. Despite profitable western lines such as the Vegreville and Brazeau branches, lack of traffic on the transcontinental lines, burdensome debt, and the negative impacts of the War would result in the company being "nationalized" by the Dominion Government in 1918. The rival Grand Trunk Pacific (GTP) Railway would fare even worse, having been placed into receivership in 1919. These events led to the creation of today's Canadian National (CN).
The new CN was confronted with the task of rationalizing the CNoR and GTP lines throughout western Canada. Consolidation was affected by the elimination of duplicate facilities and improving services by combining portions of the former competing lines. Construction of track connections joining the Brazeau branch with he former GTP Tofield to Calgary line at Alix were opened for service in 1922.
Connections were also made between the Battle River Subdivision and the former GTP mainline at Ryley. Geographically the GTP divisional point at Mirror was seen as central to the operations of the Brazeau branch vs. Big Valley. Coal that had originally moved over the Brazeau line to Warden then northward was now diverted over the new connection at Alix via Mirror which became the new home terminal for crews running west.
The new routing via Alix saved a distance of over 50 miles between Brazeau and Saskatoon. The former GTP south of Camrose also became the CN's north-south main line through Alberta.
This consolidation led to the significant decline of Big Valley as a railway town. While the company kept a small number of train crews assigned to both freight and passenger service, by 1925 the exodus to Mirror, Edmonton, Drumheller, and Hanna began. It was reported that over 100 railroaders' homes were moved out of the village, some of which continue to exist in Mirror today. In what was known as the "Battle of Big Valley" – the unions fought the company's decision hard but were left with little compensation for their relocation expenses after the issue went to arbitration in the late-1920's with the decision going with the company. By the onset of the depression, Big Valley's population had dropped by some 500 souls to 445.
It is without question that the old Canadian Northern Railway's reason for existence in central Alberta has changed dramatically since its arrival in 1910. Coal is no longer used to heat our homes – and in fact its use is considered sinful by some!
Packages ride on trucks, and people drive their own cars and trucks instead of riding mixed trains and Nos. 25 and 26 to get to Calgary or Edmonton.
While huge volumes of grain still move on trains – these are now loaded in modern high capacity elevators capable of loading 100 cars or more in 12 hours or less. The original steel rails that remain in service between Stettler and Big Valley are therefore of historic testament to Mackenzie and Mann and their great accomplishment. In fact, this section of track is the sole operating survivor of many similar "60-pound" branch lines that have now been re-laid or abandoned across the prairies. And almost incredibly one can still experience a passenger train ride over these vintage rails, pulling into Big Valley just as travellers did one hundred years ago.
Sergei Bobrovsky has 40-save shutout as Florida Panthers rout Edmonton Oilers 6-0
EDMONTON — Sergei Bobrovsky made 40 saves for his first shutout of the season as the Florida Panthers defeated the ice-cold Edmonton Oilers 6-0 on Thursday.
Aleksander Barkov scored two goals and added an assist for the Panthers (27-8-5), who improved to 9-1-1 in their last 11 games.
Carter Verhaeghe, Anthony Duclair, Sam Bennett and Owen Tippett also scored for Florida.
Mikko Koskinen stopped 22 shots as the Oilers (18-16-2) lost their seventh straight.
Edmonton has a 2-11-2 record in its last 15 games.
There was no scoring in the first period despite Edmonton peppering Bobrovsky with 17 shots.
Koskinen made seven saves in the Edmonton net in the opening frame.
Florida got on the board first, scoring a power-play goal about five-and-a-half minutes into the second period. Sam Reinhart chipped a puck over splayed Oilers defender Darnell Nurse to Barkov, who fired home his 16th of the season. The Oilers have now allowed the first goal of the game in 23 of their last 27 games.
Verhaeghe was left alone in front of the net and unleashed a bullet to the top corner for his 14th goal of the season near the midway point of the game to give the Panthers a 2-0 lead.
Edmonton outshot Florida 29-13 through 40 minutes.
Barkov added to Florida's lead seven minutes into the third when his long shot found its way through a screen.
The Panthers made it 4-0 with a power-play goal with four minutes left in the final period as Duclair swatted a loose puck into a wide open net for his 17th of the campaign.
Just over a minute later the Panthers got another power-play goal as Bennett sent a backhand shot off the post and in for his 17th as well.
Edmonton's end-of-game collapse saw the Panthers score their third goal in 2:36 as Tippett notched his fifth.
Florida plays the third game of a five-stop road trip in Vancouver on Friday, while the Oilers remain home to welcome the Calgary Flames on Saturday.
Notes: Florida is now 20-0 when leading after the second period… The Oilers have scored two goals or less in 10 of their last 15 games… Missing from the Florida lineup were Patric Hornqvist (upper body) and Gustav Forsling (COVID)… Out for the Oilers were Mike Smith (thumb) and Ryan Nugent-Hopkins (lower body), as well as Zach Hyman, Kyle Turris and Stuart Skinner (COVID)… With two goalies out for Edmonton, Ilya Konovalov was brought up from the taxi squad to serve as backup to Koskinen.
This report by The Canadian Press was first published Jan. 20, 2022.
Shane Jones, The Canadian Press
Kenney says he was unaware until this week of justice minister's call to police chief
EDMONTON — Alberta Premier Jason Kenney says he didn't know until this week that his justice minister had called Edmonton's police chief 10 months earlier about a traffic ticket.
"I do recall at some point last year hearing that minister (Kaycee) Madu had gotten a ticket (and) had paid for it," Kenney told a news conference Thursday.
"I got fully briefed on all of this, including about the call and the details, on Monday afternoon following media inquiries.
"Shortly thereafter, I called minister Madu to ask what happened from his perspective and why he made this call. I expressed my serious disappointment that he would have done this."
These were Kenney's first public comments on the matter since tweeting out late Monday that Madu was being relieved of his justice responsibilities pending an investigation.
Kenney said he plans to hire a third party to determine if there was interference in the administration of justice.
He said the government is drafting terms of reference for the review and has contacted former judges to oversee it.
Critics, including the Opposition NDP, have said the investigation is unnecessary given that all the principals involved, including Madu, agree he made the call to Chief Dale McFee last March.
They said that even though Madu did not try to have McFee cancel the ticket, making such a call violates parliamentary tradition that cabinet ministers don't intervene directly in the judicial system in matters in which they have a personal stake.
NDP justice critic Irfan Sabir said Kenney has no choice but to fire Madu from his justice post.
Madu has not spoken publicly on the issue, but put out a series of statements this week on social media.
In them, he stressed he did not call the chief to cancel the ticket — a point McFee corroborates — but said he wanted, and received, assurances from McFee that he wasn't being targeted for the ticket because he is Black or because he was in a high-profile government job.
Kenney, asked by reporters why he hasn't fired Madu, said the issue is not clear cut. He noted that Madu did not ask for his ticket to be rescinded but did raise concerns about issues such as racial profiling.
"I was not on this call," said Kenney.
"I think given the issues that have been raised, it is appropriate to allow for a little bit of time for an investigation from somebody with legal training who is impartial to provide me with advice on whether this constituted an effort to interfere with the independent administration of justice."
Madu, the United Conservatives' only legislature member in Edmonton, had been justice minister since August 2020. He is serving his first term in the legislature.
On the morning of March 10, he was ticketed for distracted driving for being on a cellphone while behind the wheel in a school zone. He paid the $300 ticket soon after but not before reaching out to McFee.
This issue did not become public until media reports Monday.
Madu, in his statements, has also disagreed with the ticket. He said his phone was in his pocket at the time.
That prompted an angry response Wednesday from Staff Sgt. Mike Elliott, head of the Edmonton Police Association, which represents rank and file officers.
Elliott, on Twitter, questioned Madu's fitness for the justice job.
"I personally know the member who issued the ticket, and to make an erroneous assumption he was surveilling you is shameful and preposterous," wrote Elliott.
He said that even if Madu believed he was being unfairly treated, there is a complaint process that should be followed that doesn't include a direct line to the chief of police.
"The audacity and arrogance is very clear and you are not deserving to be the minister of justice, who is supposed to represent all citizens in a fair and impartial manner."
Madu's case is the latest in a string of changes to Kenney's cabinet in just over a year.
In November, Devin Dreeshen quit as agriculture minister amid concerns over his conduct and drinking.
In September, Tyler Shandro left the health portfolio. Kenney said Shandro asked for the change, citing the gruelling fight against COVID-19 as a factor.
Leela Aheer, the minister for culture, multiculturalism and the status of women, was turfed in July from cabinet after she publicly criticized Kenney for breaking COVID-19 health rules by having a patio dinner outside his temporary penthouse office.
Aheer's portfolio was carved up and distributed to others. Kenney denied the decision was political payback.
And just over a year ago, in January 2021, Tracy Allard resigned as municipal affairs minister after public outrage over a Christmas holiday trip she took to Hawaii. The trip happened at the same time the government was urging Albertans to stay home and isolate to prevent further spread of COVID-19.
This report by The Canadian Press was first published Jan. 20, 2022.
Dean Bennett, The Canadian Press