Take a look inside the dream home you can win for just $25.. Red Deer Hospital Lottery
If you haven't had a chance to tour the 2019 Dream Home yet – don't worry, we've made it even easier for you to peek inside! This impressive home can be yours – but you can't win if you don't have a ticket!
Grand Prize Dream Home valued at $880,724 including $40,724 in home furnishings from the Brick!
68 Larratt Close, Red Deer
DREAMHOME HOURS
March 15 to March 31 – Daily from 1-5pm.
Starting April 1: Friday to Sunday 1-5 Daily.
Closed Good Friday, open Easter Sunday.
DIRECTIONS
Driving south on 30th Avenue, turn left (east) onto 22nd Street. Follow 22nd Street to Lindman Ave. Left on Lindman Ave., first left on the Larratt close, drive straight and #68 is on the right.
IN HONOUR OF THE RED DEER REGIONAL HEALTH FOUNDATION'S 25TH ANNIVERSARY, SINGLE TICKETS ARE ONLY
$25 EACH | 5 for $ 100 | 15 for $250
2019 PROCEEDS WILL BE USED TO PURCHASE
The Pyxis Medstations are automated medication dispensing units with numerous electronic features to ensure safety for patients at the Red Deer hospital, and accuracy and efficiency for hospital staff.
1 for $10 · 10 for $25 · 25 for $50
Win half of an increasing jackpot of up to $500,000with a minimum guaranteed payout of $100,000 cash.
CALL RED DEER & AREA OR TOLL FREE
403.340.1878 1.877.808.9005
Skills that maintain healthy relationships
Learn ways to improve your relationship skills using the acronym DEARMAN and GIVE, from the DBT therapy perspective, presented by a PCN Mental Health Counselor, Lana.
Interpersonal Effectiveness Skills
Learning to get along with others while also asserting your own needs is essential to healthy relationships. It can be difficult to balance your own needs and the needs of others. How can you get what you need without being aggressive or neglecting of the needs of others? There are three sets of skills you will learn to help achieve this goal: objective effectiveness, relationship effectiveness, and self-respect effectiveness.
Judy's story: I'm on the healthy road!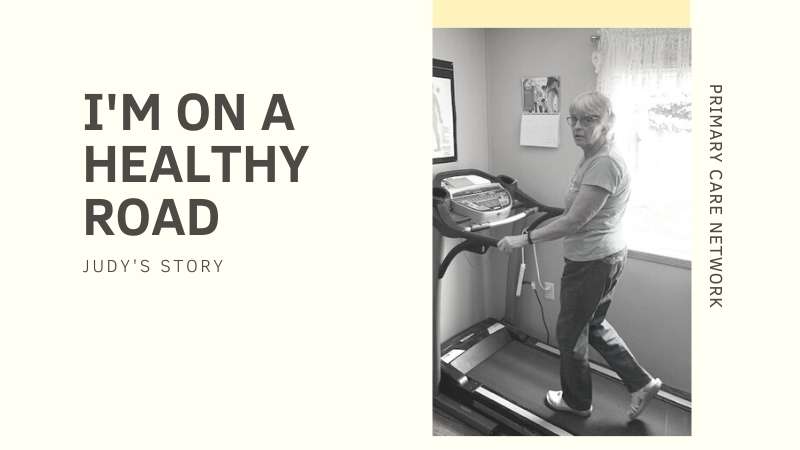 On the Healthy Road!
My journey to better health starting when my doctor told me my blood sugar was at pre-diabetes levels, my blood pressure continued to require medication and I had weight to lose. He sent me to see the RDPCN nurse. After some appointments there, the nurse referred me to the Health Basics program.
Exercise was my downfall. Working from home, I always found something else to do rather than exercise. Health Basics increased my awareness. I tracked what I was eating and became more aware of what I ate, when I ate and why I ate. I also realized things that would make me healthier that I wasn't doing. I realized being healthy is a process and I took one healthy step at a time. I also became aware of the wider variety of options for healthy lifestyle.
My husband and I visited friends over the summer and noted they had lost weight. This stimulated us to pay even more attention to our food intake. As a result of our overall efforts, I have lost about 32 pounds and my husband has lost 37. My blood sugar is now in the normal range. I have had significant decrease in my blood pressure medication. I have more energy. I enjoy exercising more as it is easier to move around and I have less arthritis pain. Health Basics is an excellent class- it started me on the healthy road. I also have much more confidence in my future health.
Click to learn more about the Red Deer Primary Care Network.
Read more success stories from the Primary Care Network.