Leadership Team sets these top 6 Community Safety Priorities
From The City of Red Deer
Collaborative team announces community safety priorities
The Systems Leadership Team (SLT), a group of community leaders working collaboratively on a coordinated approach to broad community safety issues, announced their "Top 6 in 6" – the priorities they will be focusing on in the next six months.
These priorities were developed following a Safety Summit that took place in June. Over 100 people participated in the Summit, providing feedback to inform the direction for SLT. Using this information, along with data from past community consultations, SLT developed Community Safety Action Areas, and priorities within each action area. The "Top 6 in 6" are the immediate priorities SLT will focus on in the next six months.
System Innovation: A central coordination model that enhances collaboration and facilitates knowledge sharing to identify gaps and prevent unnecessary duplication of services.

1) Top 6 in 6 priority: Create a central coordination, governance and integration model that enhances collaboration and knowledge sharing.

People-Centred Approaches: Strengthen and streamline population-based strategies, which include trauma and culturally-informed practices, to better focus on client needs.

2) Top 6 in 6 priority: Ensure intake processes are streamlined.
3) Top 6 in 6 priority: Develop a trauma-informed workforce to enhance outcomes for clients.
Community Mobilization: Enhanced communication between agencies, systems, and greater community to create common understandings and facilitate/create opportunities for community change.

4) Top 6 in 6 priority: Enhancing communication between systems, agencies, and community.
Coordinate New and Existing Resources: Create innovative funding opportunities and data integration strategies to support long-term sustainability and more efficient use of allocated resources.

5) Top 6 in 6 priority: Drive data and information sharing, retention and access.
6) Top 6 in 6 priority: Ensure long-term funding stability/innovation.
SLT is focused on community safety, identifying system gaps, potential solutions and opportunities for strategies that enable a more collaborative approach to the community safety challenges Red Deerians are currently facing. It is made up of representatives from The City of Red Deer, Red Deer RCMP, Red Deer Catholic Regional Schools, Red Deer Public Schools, Urban Aboriginal Voices Society, Alberta Health Services – Central Zone, Children's Services – Central Region.
In the coming months, a Community Integration Team, an operational team of the SLT, will be working to implement these action items.
SLT leader quotes:
"Community safety is The City's number one priority, and our work with SLT is critical to ensuring that efforts across the community are coordinated and we are working collaboratively to achieve the same goals and outcomes. These SLT priorities will transform how our systems integrate and function to serve our citizens in the long-term. Combined with the solutions and actions we have heard from the community through our recent crime and community safety engagement initiatives, I am confident that we can make strides toward improving safety for everyone in Red Deer." – Allan Seabrooke, City Manager, The City of Red Deer 
"The RCMP strongly values the SLT partnership and recognizes the importance of working collaboratively in the community. With this collaborative approach at the core of the SLT mandate, we are now ready to implement our immediate priorities, which will have broad reaching impact across the community. There are many agencies involved in community safety who will play a role in delivering these priorities, and our role as system leaders will be to ensure these agencies have the necessary resources and support in place. It's only when we're working together that we will start to see progress on our community safety goals. " – Gerald Grobmeier, Superintendent, Red Deer RCMP      
"Being a member of the System Leadership Team (SLT) has demonstrated Red Deer Catholic Regional School Division's continued willingness to work with other local agencies and organizations for the betterment of our community.  The SLT is a dedicated group of people who strive to develop innovative and necessary solutions to create a safe place for everyone in our community.  Our ability to work collaboratively together to share knowledge and expertise exemplifies our commitment to improving our community." – Paul Mason, Superintendent, Red Deer Catholic Regional Schools
"Red Deer Public School District sees great value in coordinating our community's work around community safety. By working proactively and collaboratively today, we can build a stronger community for tomorrow. So many agencies in our community are working so hard on key issues, and by working in a more coordinated way, we can be more effective!" – Stu Henry, Superintendent and Chad Erickson, Student Services – Associate Superintendent, Red Deer Public School District  
"Urban Aboriginal Voices Society (UAVS) is excited to be coming together with system leaders to enhance community safety. Our hope is that through increased collaboration and implementation of priority actions, we will be able to speak and act with a united voice on issues and concerns affecting our community." – Maggie Loney, Co-Chair Leadership Circle, UAVS
"Alberta Health Services (AHS) is pleased to be a member of the Systems Leadership Team in Red Deer and we look forward to continuing to work with our partners on these priority areas over the coming months. The issue of community safety is multi-faceted, and enhancing it is a big job. No single approach nor one organization working alone will have all the answers. But by working together towards common goals, we can build on each other's strengths and resources, and enhance the way we all work as one. Together we can create opportunities for positive, meaningful change within our community." – Janice Stewart – Chief Zone Officer, AHS, Central Zone
"The turnout and input from community agencies and organizations showed passion to work collaboratively to build a healthier and safer community. It is exciting to see contributions from the summit come together to create an action plan. I want to thank participants for laying the groundwork to serve our community better. " – Peggy Olstad, Associate Director, Childrens Services – Central Region
Red Deer Playgrounds opening with these guidelines
From the City of Red Deer
Phased reopening of playgrounds starts today
The City of Red Deer has begun a to reopen playgrounds with a phased approach between now and May 29, 2020."We know the closure of playgrounds has been difficult for some families with young children. We are re-opening playgrounds and fitness parks while continuing to align with recommendations from the Chief Medical Officer of Health, but caution the public that these structures are high touch and high contact surfaces," said Karen Mann, Emergency Operations Centre Director.A phased approach is necessary to ensure maintenance and inspections are completed in advance of reopening any playground or outdoor fitness structures. New signage and removal of caution tape will signal citizens as to when respective playgrounds are officially open. Crews will work in the north and south simultaneously to open playgrounds as quickly as possible across the entire city.Citizens are asked to refrain from using playground or outdoor fitness structures until crews remove the closed signs and caution tape.

Although playground reopenings are happening in alignment with all public health orders and restrictions, citizens are still encouraged to exercise caution and do what is necessary to continue to help prevent spread of COVID-19.

Equipment will be inspected prior to opening. The City is not washing or sanitizing structures and families are encouraged to bring their own hand sanitizer to the park with them, limit contact with others, and visit playgrounds within their own neighbourhoods.

Users are reminded of and must follow public health guidelines including:
Maintaining 2 metre physical distance;
Gathering in groups of 50 or fewer;
Only sharing common equipment with members of the same family or cohort;
Staying home if you feel sick;
Washing and sanitizing your hands before and after using these areas.
"Due to the diligence and commitment of our residents throughout this pandemic to complying with all orders and recommendations from health officials, we are now in a position to begin re-opening a number of our amenities in a phased manner," says Mann, "While we are as pleased as you are to see playgrounds and fitness parks starting to re-open, we know it will take the continued support of all residents to keep each other safe and healthy through this relaunch."
Residents can call the City's call centre at 403-342-8111 if they have questions regarding the playground reopening or any City services. More information on the City's response to COVID-19 can be found at www.reddeer.ca/COVID.
Alberta opens more shops in Calgary, Brooks amid COVID-19 recovery relaunch
#RedDeerStrong – Former refugee expressing gratefulness to Canada through donation to front line health care workers

From We Are Red Deer at RedDeer.ca
Esmat Bayat knows his way around a sewing machine.

"I have lots of experience," he chuckles. "Maybe 26, 28 years. A long time."
Bayat grew up in Afghanistan, working as a tailor and shoemaker since the age of 12. He opened his own business in Kabul making custom suits and dresses. In the years following 9/11, Bayat's homeland became war-torn and dangerous, so he packed up his family and fled to Iran.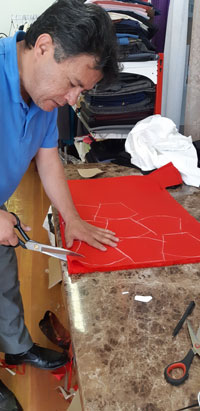 "We were refugees in Iran. The government of Iran is not good with refugees and immigrants. And Afghanistan was war. We had to move."
After brief stops in Pakistan and Turkey, Bayat's dream finally came true three years ago. On April 26, 2017, his family was granted refugee status in Canada. Bayat, his wife, and their four kids headed for a little city on the prairies they knew nothing about, named Red Deer.
Today, the Bayat family has settled into their new Canadian life and Esmat runs a tailor shop downtown. All was well… until COVID-19 hit.
"Right now I don't have any customers," he says. "Our community needs medical masks and protective suits. I am able to make them."
Instead of closing up shop and waiting for the pandemic to pass, Bayat is using his skills to help the country that welcomed his family warmly. He ordered special waterproof fabric and is sewing five-hundred medical masks and one-hundred protective suits. He plans to donate them to Red Deer's front-line health care workers.
"I like to help Canada because Canada helped me. The Canada(ian) government helped bring me to Canada and now I and my family are safe," he says. "I wanted to help the government, help the Canadians. This is how I can do that."
When COVID has passed, Bayat plans to start sewing clothes again and maybe one day open a small garment factory in Red Deer. In the meantime, he's focused on giving a helping hand to those who are working hard to keep Canadians safe and healthy.
"Everything is not money, not dollars. Sometimes people just need to help each other.