Sylvan Lake will develop huge sports and recreation park
From the Town of Sylvan Lake
Conceptual Design for a Future Sports and Recreation Park Approved
Town Council has approved a Conceptual Design for a future recreation and sports field – Pogadl Park. The Concept Design provides a general overview of how the site could be designed, and was developed after extensive public engagement activities and events with local user groups and the community as a whole.
The Town of Sylvan Lake will take a phased approach to construction, and is committed to community collaboration and fiscal responsibility.
"One thing that is important to keep in mind is – this is a long-term plan with incremental, phased development. Once adopted, actual construction will take years, and will rely on community support, partnerships, and possible grant opportunities. The Design Concept for Pogadl Park may change over time, as the Town identifies opportunities and challenges, partnerships, as well as collects public feedback." – Mayor Sean McIntyre
The next step is to provide Town Council project plan for "Phase One" of construction, which is funded through the 2019 Capital Budget. The Town of Sylvan Lake is also seeking grant funding and sponsorship opportunities to help offset the costs.
Identification of a location for new baseball diamonds, was a Council Strategic Priority 2013 – 2017, and the 2018 – 2021 Council Strategic Plan identifies "the complete design, and construction of Pogadl Park, Phase 1, including campgrounds, ball diamonds, soccer fields, washrooms, and parking lot," as a priority. The current baseball diamonds, located at Four Seasons Park, were constructed in the mid 1980s; the park is unable to expand due to location restrictions, and given the proximity to an arterial road is a safety concern.
For more information, the public is invited to visit our Pogadl Park project page at www.sylvanlake.ca/sportspark
Pogadl Park Backgrounder
In 2016, members of the Pogadl family generously donated 20 acres of land to the Town of Sylvan Lake. In conjunction with the donation, the Town purchased an additional 54 acres of land and received 6 acres as a Municipal Reserve contribution, for the development of a future, 80 acre, sport and recreation park to replace the aging sporting amenities within the existing Four Seasons Park.
A 2016 land appraisal identifies the market value for the lands at $20,000 per acre, which is the price the Town paid for the 54 acres.

Based on population thresholds identified in the Town of Sylvan Lake's Recreation, Parks, and Open Spaces Master Plan, the following outdoor amenities are at a population deficit, as of 2018:

o Baseball diamonds; o Soccerpitches;
o TennisCourts; o Playgrounds.

*Note: newer or emerging sports, such as Pickleball, were not included in the 2010 Master Plan, but have been identified as a required amenity as per the 2018 user group and public engagement sessions for Pogadl Park.
• Following a discussion with the executive of the Sylvan Lake Spray Park Committee, and based on the merits of featuring a spray park at a location considered a "hub" for outdoor activities, the approved Conceptual Design also recommends a relocation to Pogadl Park.
Scott Moe says he feels disenfranchised by Ottawa but Saskatchewan 'not backing down'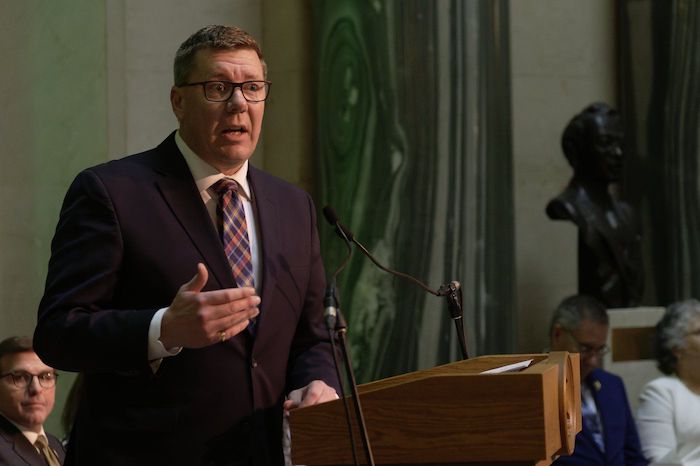 By Kelly Geraldine Malone in Saskatoon
Scott Moe's target was the federal government Thursday as he gathered with supporters for the first in-person Saskatoon Premier's Dinner in three years.
The premier's speech promoted the province's booming resource sector, which has seen surging investment and increased market prices since the last dinner gathering.
Moe said growth has always been and will continue to be the Saskatchewan Party government's "North Star."
He told the crowd he has felt disenfranchised, disillusioned, disturbed and even dumbfounded at times with Ottawa's decision-making.
"But we are not discouraged, and we are not backing down," Moe said during the fundraiser dinner at Prairieland Park.
The premier pointed to a policy paper highlighting his government's plan to flex its autonomy, as well as a bill introduced this fall to address federalism.
Moe has long pushed against Prime Minister Justin Trudeau and the Liberal government's environmental policies in the name of Saskatchewan's resource sector. He cautioned that Canada could be moving too quickly into renewable energy without a proper backup plan.
"You can ignore reality, but you can't ignore the consequences of reality," he said to applause.
Moe pointed to Saskatchewan's role in responding to global food and energy shortages caused by Russia's war in Ukraine. The resulting worldwide demand has brought increased production in Saskatchewan's potash, uranium and agriculture industries.
Moe said there's also investment in rare earth elements and critical minerals.
The boon has had a positive effect on the provincial finances, Moe said, and his government expects to balance the budget ahead of schedule and retire $1 billion in debt.
Moe also acknowledged the next provincial election is under two years away. The Saskatchewan Party won its fourth majority government in 2020 and holds 48 of the province's 61 seats.
He said his government is best positioned to defend and build on the province's economic prosperity.
The Opposition New Democrats have criticized Moe for bragging about how well the provincial coffers are doing without responding to inflation or challenges in the health-care system.
Moe also took time in his speech to acknowledge the leadership of Chief Wally Burns of James Smith Cree Nation, who was in attendance.
He said the community and province faced an unimaginable tragedy in September after a mass stabbing left 11 dead and 18 others injured on the First Nation and in the nearby village of Weldon.
"Chief Wally Burns has had to dig deep and provided excellent leadership, not only for his community but all of us in the province."
This report by The Canadian Press was first published Dec. 1, 2022.
Inquiry into Emergencies Act urged to recommend greater oversight of police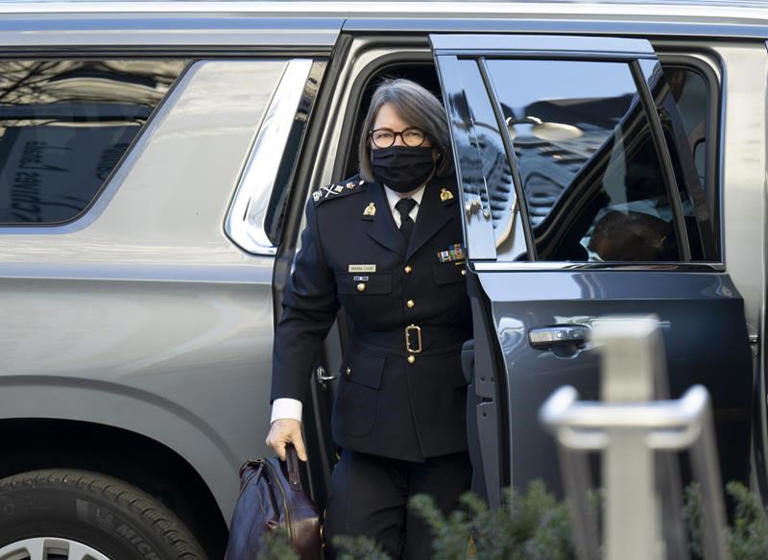 OTTAWA — Lawmakers should define how to maintain government oversight of law enforcement while ensuring police independence more clearly, experts told a public inquiry Thursday, arguing that the understanding of where to draw the line has long been too vague.
The concepts of police oversight and independence came up time and again over six weeks of fact-finding testimony at the Public Order Emergency Commission, which is investigating the federal Liberal government's use of the Emergencies Act last winter.
Throughout the inquiry hearings, police and politicians described a separation between police operations and policy, and said politicians and police boards should never direct operations.
The line was often described as a separation between church and state.
"For me, it's pretty clear. Anything operational, we're advising what's happening, but we're not taking direction on how to do things," RCMP Commissioner Brenda Lucki testified on Nov. 15. She suggested the federal government should use legislation to more clearly define the line that politicians should not cross.
While an expert panel of witnesses agreed Thursday that the line should be more clearly defined, Guelph University political science professor Kate Puddister said such a stark distinction is unhelpful.
"My perspective is that this distinction, in an attempt to draw a clear line between the two, does a disservice," she said. "This formulation allows governments to shirk responsibilities with respect to policing, perhaps as a method of political strategy."
The commission is looking at the events that led up to the government's emergency declaration in response to the weeks-long "Freedom Convoy" protest in Ottawa and similar protests at border crossings across Canada.
Beyond assessing whether the move was appropriate, the inquiry also has a mandate to make recommendations about how to modernize the law and suggest areas where further study could be warranted.
After hours of testimony from Prime Minister Justin Trudeau concluded the first phase of the inquiry last Friday, the commission has turned to a second phase of expert testimony on a range of issues related to the protests.
The police governance experts who testified Thursday reaffirmed the importance of police services being independent of political interference. Otherwise, they risk being seen as "a tool of the government of the day," as Ryan Teschner, the executive director of the Toronto Police Services Board, said in his testimony.
But all agreed that police need more oversight over some elements of their operations.
"We have for too long had a rather vague and sometimes often overblown conception of police independence from government," Teschner said.
Michael Kempa, a criminologist with the University of Ottawa, suggested legislators "simply jettison the term 'operations' altogether," and define police independence "in terms of the exercise of their powers of investigation, arrest and the laying of charges."
The experts also said that all police services in Canada should have some kind of civilian oversight body, such as a police commission or board.
Most urban police services in Canada are watched by such entities, but provincial police and RCMP are not. The RCMP commissioner reports directly to the federal minister of public safety.
Creating a board would mean that any political direction to police would be public and documented, and it would ensure that "ministerial direction is appropriate and given when necessary," Puddister said.
Commissioner Paul Rouleau said some of the panel's recommendations may make their way into his final report, though he wouldn't say which.
During a second afternoon session, experts discussed the ways that different levels of government, including First Nations governments, work together in an emergency.
Judith Sayers, president of the Nuu-chah-nulth Tribal Council, recommended that the Emergencies Act be ammended to require consultation with First Nations in addition to provincial and municipal governments.
"Neither the Emergencies Act or the Emergency Management Act mentions First Nations as governments. Everyone else gets notice," Sayers said.
"Yet when emergencies happen, it is First Nations lives at stake, their lands, resources and their ability to carry out their section 35 protected rights."
The specifics about which First Nations should be consulted could vary depending on the emergency at hand, she said.
Cal Corley, CEO of the Community Safety Knowledge Alliance, said more consultation between levels of government could prevent the need to invoke an emergency in the first place.
He said if there are "intentional proactive measures" between federal, provincial, territorial, First Nations and municipal governments to address large-scale protests and emergencies, "it should, in most cases and circumstances, establish conditions that negate the need for governments to even consider invoking the federal Emergencies Act."
Rouleau and his team must deliver their findings by Feb. 6, with the commission's final report to be made public by Feb. 20.
This report by The Canadian Press was first published Dec. 1, 2022.
Laura Osman, The Canadian Press