St. Pats Students Take Part In Arbor Day Tree Planting!
By Sheldon Spackman
Grade One students in Red Deer and all across Alberta received tree seedlings on Wednesday to mark Arbor Day on May 10th. It's an event celebrated in several countries to encourage the planting and care of trees. A White Spruce tree was planted on the west side of Red Deer's St. Patrick's Community School on Wednesday morning to mark the occasion.
City officials say over 1,500 Grade Ones received a seedling, which they are encouraged to plant at home or in a natural area in Red Deer. Each Arbor Day, a local school is picked as the location in which a tree is planted.
Arbor Day is hosted by The City of Red Deer in partnership with Alberta Environment and Sustainable Resource Development, Appollo Landscaping Services, Red Deer Public Schools, Red Deer Catholic Schools and all private schools.
New ice surface, spray park and other amenities for North Red Deer as G.H. Dawe expansion about to begin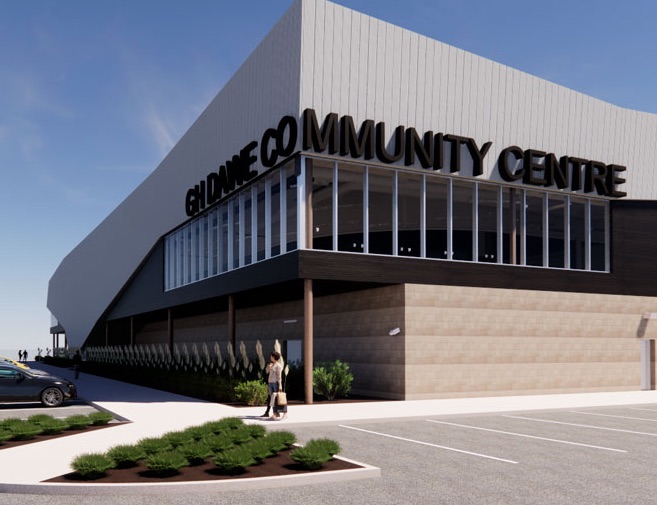 G.H. Dawe Community Centre project kicks off this spring
During budget deliberations earlier this year, Council approved the 2021 Capital Budget for the G.H. Dawe Community Centre project. The enhancements will improve access, increase opportunity to modernize fitness and programming, provide additional outdoor amenities including a spray park and washroom facilities, and modernize the current ice surface and add a second surface.

The modernization/improvement of the G.H. Dawe Community Centre focuses on the following areas/aspects of the facility, which were not upgraded as part of the G.H. Dawe Community Centre Revitalization Project in 2008.
To meet ice user needs with the decommissioning of the Kinex Arena:

modernization of the existing ice surface to NHL standard size
twinning of existing arena
relocate underground services to facilitate the twin

To meet parking, site servicing and egress requirements:

Introduce right in and right out site access off of 67 Street for improved traffic flow and parking
create facility access on the north side of the facility
To align with Phase 2 of the 2007 G.H. Dawe Master Plan:

review fitness/programming and barrier-free access opportunities
outdoor spray park and outdoor washroom facility
"Proceeding with the G.H. Dawe Community Centre project right now enables us to benefit from cost advantages, while stimulating our local economy at a time when our community needs it most," said Sarah Tittemore, Community Services General Manager. "The project will work to provide as many opportunities as possible to engage qualified local contractors at a time when it is needed the most."
Starting later this week, contractors will begin to mobilize on the site, with office trailers moved into place, and safety fencing set-up. Full site preparation will begin near the end of May.
Pending approvals, the contractor will begin underground service work that will extend between June and July. At the same time as this work is taking place on the site, inside the facility demolition will begin in preparation for the project tie-ins. Any disruptions to programs and activities on the site will be communicated, and it is anticipated that programing like summer camps and fitness activities to be transitioned to another facility for the duration of interruptions.
The G.H. Dawe Community Centre is a community hub for citizens living in north Red Deer and across the city. The facility is shared by the G.H. Dawe Community School, the G.H. Dawe Branch of the Red Deer Public Library, and St. Patrick's Community School.
For more information about the G.H. Dawe Community Centre project, visit www.reddeer.ca/daweproject.
Mayor Tara Veer explains Council's response to Westerner Park crisis
"I hope you are all doing well and are keeping safe during this challenging time. Since requesting administration to bring forward more information for the Westerner Park recommendations on April 22, we have heard many questions and concerns surrounding Council's rationale to table the matter for up to four weeks. The decision to table the issue was to request additional information to, given the magnitude of the financial request, ensure Council is making an informed decision that considers and benefits our community as a whole.
Council believes in Westerner Park and we are committed to protecting the 130 years of history Westerner Park has brought to our community. Given the significance of the recommendations before us, Council's purpose is financial due diligence on behalf of our citizens prior to making a generational decision. We recognize the decision will have broad community impact through our capital investments; resulting in the need to delay or cancel projects in The City's capital plan, which we have a responsibility to fully consider.
Council is acutely aware of the economic, social and cultural importance of Westerner Park to our city and region, and the recommendations will come back to Council within the next few weeks. Our priority is to ensure we consider all information possible, while taking the necessary time for a generational decision of this financial magnitude. It is clear in principal that our Council will provide financial support to protect the future of Westerner Park, however, what is left to be decided is how this will be structured to protect the financial future of our community as a whole.
(Friday, I met) with members of the Westerner Park Board, Westerner Foundation Committee and Westerner Park Past Presidents to share information, as well as address questions and concerns about the decision making process. As legacy builders and community builders, they have invested time, energy and financial commitments in Westerner Park, so it is imperative that they be involved in and aware of the next steps in what has been a multi-phased process, as we know this issue is a personal one for many in our community. We are committed to helping Westerner Park, because it is the right thing to do, but how that is structured will be the decision on the table in the coming weeks."