St. Joseph Grad Service Project week for Family Services of Central Alberta
From Red Deer Catholic Regional Schools
It's Grad Service project week for Grade 12 students at St. Joseph High School. This year, students have chosen to support Family Services of Central Alberta through their Grad Service project, because of what the organization stands for, specifically with youth anxiety and seniors with dementia.
"We are so excited to be raising awareness and support for Family Services of Central Alberta as their organization coincided with not only the issues-of-interest our students identified and also aligned with our school's faith journey. Helping those most vulnerable in our community (the young and elderly) is something our students are very passionate about," said Grad Service Project Coordinator, Ashley Visscher at St. Joseph High School.
During this week, students are participating in activities that raise awareness and support for Family Services of Central Alberta, which includes:
Monday, April 29 – Grad Fundraising Kick-Off Barbeque, where students can purchase a hot dog and pop for lunch.
Tuesday, April 30 – Restaurant Takeover at State and Main with local celebrity servers and a silent auction.
Wednesday, May 1 – Dessert Day, where students can purchase ice cream sundaes.
Thursday, May 2 – Movie Day, where all students can pay to watch Spiderman in the gymnasium.
Friday, May 3 – Paint Day, where Father Henri Voisin School students partner with high school students to learn about regulating emotions through artwork.
St. Joseph High School serves over 690 Grade 10 to 12 students in Red Deer. As a learning institution, the St. Joseph High School is committed to serving students with a complete offering of learning opportunities delivered within the context of Catholic teachings.
Skills that maintain healthy relationships
Learn ways to improve your relationship skills using the acronym DEARMAN and GIVE, from the DBT therapy perspective, presented by a PCN Mental Health Counselor, Lana.
Interpersonal Effectiveness Skills
Learning to get along with others while also asserting your own needs is essential to healthy relationships. It can be difficult to balance your own needs and the needs of others. How can you get what you need without being aggressive or neglecting of the needs of others? There are three sets of skills you will learn to help achieve this goal: objective effectiveness, relationship effectiveness, and self-respect effectiveness.
Judy's story: I'm on the healthy road!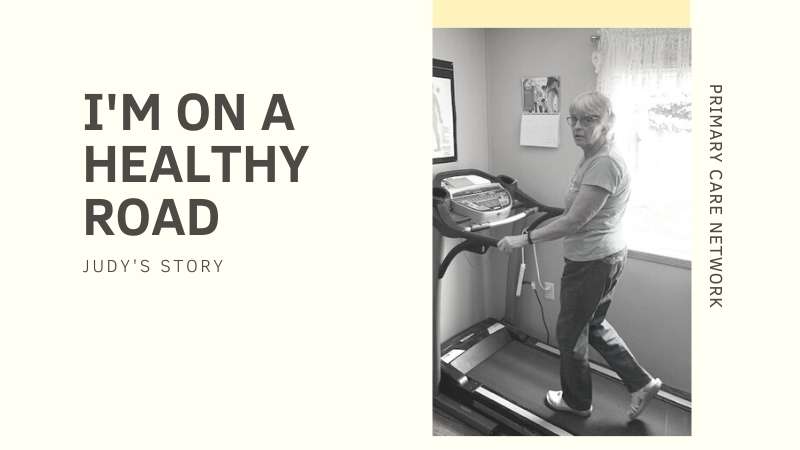 On the Healthy Road!
My journey to better health starting when my doctor told me my blood sugar was at pre-diabetes levels, my blood pressure continued to require medication and I had weight to lose. He sent me to see the RDPCN nurse. After some appointments there, the nurse referred me to the Health Basics program.
Exercise was my downfall. Working from home, I always found something else to do rather than exercise. Health Basics increased my awareness. I tracked what I was eating and became more aware of what I ate, when I ate and why I ate. I also realized things that would make me healthier that I wasn't doing. I realized being healthy is a process and I took one healthy step at a time. I also became aware of the wider variety of options for healthy lifestyle.
My husband and I visited friends over the summer and noted they had lost weight. This stimulated us to pay even more attention to our food intake. As a result of our overall efforts, I have lost about 32 pounds and my husband has lost 37. My blood sugar is now in the normal range. I have had significant decrease in my blood pressure medication. I have more energy. I enjoy exercising more as it is easier to move around and I have less arthritis pain. Health Basics is an excellent class- it started me on the healthy road. I also have much more confidence in my future health.
Click to learn more about the Red Deer Primary Care Network.
Read more success stories from the Primary Care Network.