Safey City Wheels in Some Great Summer Programs
Looking for some fun activities to put into your summer calendar?  Have you considered Safety City?  It's a fantastic facility that offers a multitude of programs to entertain and educate your children.
Red Deer Safety City opened its doors to classes on April 24, 2001. The main focus is to teach children and their families how to be safe in varying situations.
At Safety City, they what to do when faced with a tough decision or emergency. Knowledge is power and can save a child's life. Feed them the power to know how to be safe in numerous situations.
Safety City is an organization dedicated to ensuring safety for everyone in and around our community. We have programs that we deliver both to the schools and for the public. Safety is the key message in all of our programs. What would your children do in a fire? How would they behave if they came face to face with a momma cow? Do they know the proper steps for crossing the street safely? Do you? Come see us at Red Deer Safety City to help keep you and your children safe.
Field Trips
Safety City offers fun, interactive field trips available to schools in Red Deer and Central Alberta. Children learn in a classroom setting and then get to apply their knowledge in a hands-on setting.
Pedestrian Traffic Safety, offered in May and June
Fire and Home Safety, offered in September, October, and April
Acreage and Farm Safety, offered in September, October, and April
Programs:
Safety City is open to the public for a variety of safety-oriented programs. Children learn in a classroom and apply what they have learned to real-life settings. Join us in escaping a fire (simulated), riding on quads as the driver's on the road, trying to climb out of a dug out, and using your bikes properly. Or do it all and some, with our exciting week-long summer camps.
Pedestrian Traffic Safety
Bicycle Safety
Fire and Home Safety
Acreage and Farm Safety
Summer Camps
Birthday Parties
Acreage and Farm
This interactive 2 hour program teaches children to recognize potential dangers and avoid injury on the acreage or farm. During a classroom story lesson, children learn to safely navigate a number of realistic, potentially hazardous situations. In the Safety Centre for the final 90 minutes of activity, children practice new safety skills at displays including animal, ATV, grain handling, dugout and chemical safety.
Cost: $15/child. Parent attends with child – Dates available: July and August
Pedestrian Safety:
During this 90 minute program, street safety lessons are presented in the classroom using an interactive story board depicting a neighbourhood. Children learn to safely cross the street, the meaning of various road signs, and how to read a set of traffic lights. Outdoors on the streetscape for the final hour, children practice their new skills as drivers and pedestrians. Bicycle helmet required – Cost: $15/per child. Parent attends with child – Dates available: July and August
Fire and Home:
Do you have a home escape plan? Do your children know how to call 911? This 2 hour program combines a safety lesson with hands-on-activities, to teach about how fires start, ways to eliminate fire hazards from the home, and how to create a home escape plan. Children also practice calling 911. In the Fire Safe House, children conduct a kitchen inspection and put their home escape plan into action.
Cost: $15/per child. Parent attends with child – Dates available: July and August
Bicycle Safety:
With a focus on proper road safety procedures, this 5 hour program combines classroom instruction with on-site training to build on existing skills of the young cyclist. Participants must be able to ride without training wheels, and are required to bring their own bicycles and bicycle helmets.
Cost: $40/per child – Supervised program – Parent not required  to attend – Dates available: May, June, July and August
Summer Camps:
A week of fun, unique experiences and activity! Children explore a new safety topic each day and learn how to avoid injury. Through stories, games, and crafts children learn about pedestrian traffic safety, animal bite prevention, acreage and farm safety, fire and home safety and bicycle safety (training wheels permitted).
Morning Camp: 9am – 12noon, $100/per child – Full Day Camp: 8am-5pm, $180/per child.
Supervised program. Parent not required to attend – Dates available: July and August
Birthday Parties:
Celebrate your child's special day in a fun and unique way! At this 2 hour party, children learn about road safety, ride battery-powered quads, and enjoy family time in the party room.
Maximum of 15 children (including birthday child) – Ages 4-12 – Cost: $150 per party. Includes safety lesson, quad riding + indoor classroom. Parents provide rest of party items – Dates available: May, June, July and August
Facility rentals:
We have space available for your next corporate party, board meeting, family reunion or birthday party. We can accommodate smaller and larger groups for various purposes. Contact our office for more information or check our event calendar for availability.
There is a wonderful outdoor space, which can accommodate very large groups during the beautiful weather of spring, summer and fall. We also have a smaller, indoor room better suited for meetings and more formal group gatherings. Separate from those, we also have a party room that is perfect for birthday parties, family reunions or the special gathering of your choice.
For more information on Safety City, CLICK HERE.
Make sure you support these terrific local companies and organizations that through their sponsorship make Safety City possible.
$10 ticket for a shot at up to $10,000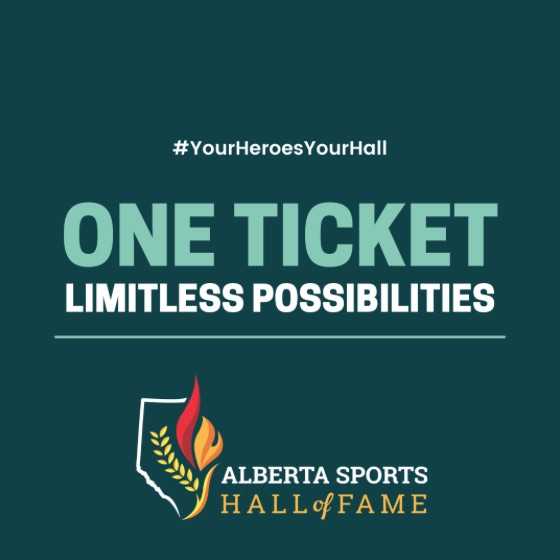 Your Hall. Needs Heroes.
We're enhancing the Alberta Sports Hall of Fame experience, one ticket at a time.
It's time for us to replace our "vintage" ski machine with something a little more modern. But changing an interactive doesn't come cheap.
Be Our Hero – get your tickets today for a potential shot at $10,000.
AGLC Raffle #573630
Out with the old …
Pixels might be cool again, but our ski machine has seen better days. We've kept it going, but it's past its prime.
In with the new.
The super-sized version of our old classic, Super Alpine Racer is as close as you can get to the real thing.
Support Smiles Thru Lindsey when you order out this month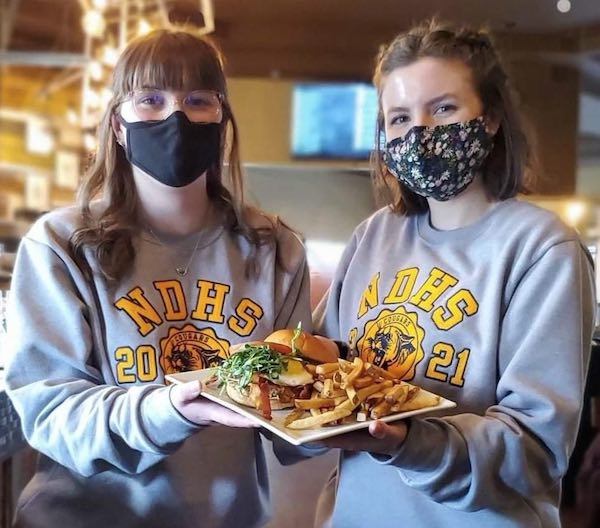 Article submitted by Red Deer Catholic Regional Schools
Throughout the month of May, purchase a "Big Smile" burger from Cilantro and Chive and $2 will be donated to the Smiles Thru Lindsey Foundation as part of École Secondaire Notre Dame High School's grad service project. This year's goal is to raise $40,000.
Lily Forsyth and Allyne Simonot, Grade 12 students at École Secondaire Notre Dame High School, worked in collaboration with the chef at Cilantro and Chive to design the "Big Smile" burger. The burger was designed featuring some of Lindsey's favourite ingredients and is a great way to raise money for an amazing cause. The "Big Smile" features marinated chicken breast, bacon, a sunny fried egg, arugula, tomato, balsamic glaze and a lime avocado aioli on a brioche bun and is served with hand-cut fries.
"The Class of 2021 agreed that in light of COVID-19 mental health should be a priority now more than ever. Lindsey More was, like us, a Notre Dame graduate. After she tragically took her life in 2015, her family began Smiles Thru Lindsey. She was a regular happy girl, nothing seemingly wrong. She was involved in the school community through sports and the grad service project of 2011. We knew that our school community would connect to her and her story as easily as it has," said Allyne Simonot, student at École Secondaire Notre Dame High School.
"This cause is actually very personal for me, it is another way for me to support my friends who are struggling, a way to communicate to every person who is willing to listen that they are not alone. That everyone is feeling or has felt a toll on their mental health and that there are resources and people out there to help," said Lily Forsyth, student at École Secondaire Notre Dame High School.
"In a year of such uncertainty, I am so proud of how our students have found such unique ways to fundraise and create awareness for mental health. Through their dedication and creativity, they have been able to partner with some amazing local businesses allowing the entire community the opportunity to be part of our quest to end the stigma surrounding mental health," said Principal, Rose McQuay at École Secondaire Notre Dame High School.
"We get to meet the wonderful people who work tirelessly behind the scenes in deserving organizations while enjoying delicious burgers created and inspired by amazing people in our community. In just over four years we have been able to give back over $80,000 to local charities and organizations in our own backyard. Thank you to École Secondaire Notre Dame High School for being a part of our Burger of the Month and having some fun with us, while raising awareness for Smiles Thru Lindsey," said Rieley Kay, owner of Cilantro and Chive restaurant.
Red Deer Catholic Regional Schools serves over 10,360 students in 20 schools in Red Deer, Blackfalds, Sylvan Lake, Rocky Mountain House, Innisfail, and Olds, as well as an at-home learning program. It also supports the learning of over 1095 students in a Traditional Home Education Program. The Division is committed to serving children and parents with a complete offering of learning opportunities delivered within the context of Catholic teachings and within the means of the Division.