Safey City Wheels in Some Great Summer Programs
Looking for some fun activities to put into your summer calendar? Have you considered Safety City? It's a fantastic facility that offers a multitude of programs to entertain and educate your children.
Red Deer Safety City opened its doors to classes on April 24, 2001. The main focus is to teach children and their families how to be safe in varying situations.
At Safety City, they what to do when faced with a tough decision or emergency. Knowledge is power and can save a child's life. Feed them the power to know how to be safe in numerous situations.
Safety City is an organization dedicated to ensuring safety for everyone in and around our community. We have programs that we deliver both to the schools and for the public. Safety is the key message in all of our programs. What would your children do in a fire? How would they behave if they came face to face with a momma cow? Do they know the proper steps for crossing the street safely? Do you? Come see us at Red Deer Safety City to help keep you and your children safe.
Field Trips
Safety City offers fun, interactive field trips available to schools in Red Deer and Central Alberta. Children learn in a classroom setting and then get to apply their knowledge in a hands-on setting.
Pedestrian Traffic Safety, offered in May and June
Fire and Home Safety, offered in September, October, and April
Acreage and Farm Safety, offered in September, October, and April
Programs:
Safety City is open to the public for a variety of safety-oriented programs. Children learn in a classroom and apply what they have learned to real-life settings. Join us in escaping a fire (simulated), riding on quads as the driver's on the road, trying to climb out of a dug out, and using your bikes properly. Or do it all and some, with our exciting week-long summer camps.
Pedestrian Traffic Safety
Bicycle Safety
Fire and Home Safety
Acreage and Farm Safety
Summer Camps
Birthday Parties
Acreage and Farm
This interactive 2 hour program teaches children to recognize potential dangers and avoid injury on the acreage or farm. During a classroom story lesson, children learn to safely navigate a number of realistic, potentially hazardous situations. In the Safety Centre for the final 90 minutes of activity, children practice new safety skills at displays including animal, ATV, grain handling, dugout and chemical safety.
Cost: $15/child. Parent attends with child – Dates available: July and August
Pedestrian Safety:
During this 90 minute program, street safety lessons are presented in the classroom using an interactive story board depicting a neighbourhood. Children learn to safely cross the street, the meaning of various road signs, and how to read a set of traffic lights. Outdoors on the streetscape for the final hour, children practice their new skills as drivers and pedestrians. Bicycle helmet required – Cost: $15/per child. Parent attends with child – Dates available: July and August
Fire and Home:
Do you have a home escape plan? Do your children know how to call 911? This 2 hour program combines a safety lesson with hands-on-activities, to teach about how fires start, ways to eliminate fire hazards from the home, and how to create a home escape plan. Children also practice calling 911. In the Fire Safe House, children conduct a kitchen inspection and put their home escape plan into action.
Cost: $15/per child. Parent attends with child – Dates available: July and August
Bicycle Safety:
With a focus on proper road safety procedures, this 5 hour program combines classroom instruction with on-site training to build on existing skills of the young cyclist. Participants must be able to ride without training wheels, and are required to bring their own bicycles and bicycle helmets.
Cost: $40/per child – Supervised program – Parent not required to attend – Dates available: May, June, July and August
Summer Camps:
A week of fun, unique experiences and activity! Children explore a new safety topic each day and learn how to avoid injury. Through stories, games, and crafts children learn about pedestrian traffic safety, animal bite prevention, acreage and farm safety, fire and home safety and bicycle safety (training wheels permitted).
Morning Camp: 9am – 12noon, $100/per child – Full Day Camp: 8am-5pm, $180/per child.
Supervised program. Parent not required to attend – Dates available: July and August
Birthday Parties:
Celebrate your child's special day in a fun and unique way! At this 2 hour party, children learn about road safety, ride battery-powered quads, and enjoy family time in the party room.
Maximum of 15 children (including birthday child) – Ages 4-12 – Cost: $150 per party. Includes safety lesson, quad riding + indoor classroom. Parents provide rest of party items – Dates available: May, June, July and August
Facility rentals:
We have space available for your next corporate party, board meeting, family reunion or birthday party. We can accommodate smaller and larger groups for various purposes. Contact our office for more information or check our event calendar for availability.
There is a wonderful outdoor space, which can accommodate very large groups during the beautiful weather of spring, summer and fall. We also have a smaller, indoor room better suited for meetings and more formal group gatherings. Separate from those, we also have a party room that is perfect for birthday parties, family reunions or the special gathering of your choice.
For more information on Safety City, CLICK HERE.
Make sure you support these terrific local companies and organizations that through their sponsorship make Safety City possible.
Tim Hortons Smile Cookie campaign continues to Sunday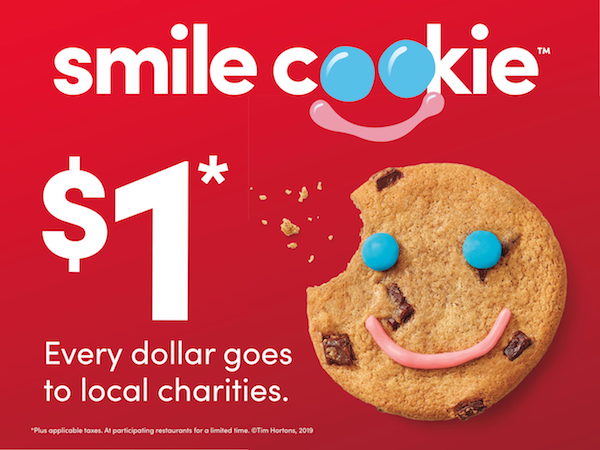 Inspiring kids to read, write and succeed through Smile Cookies!
Who doesn't love a delicious chocolate chip cookie? They taste even sweeter when you are making a difference in a child's life!
Helping struggling students become readers of potential is exactly what local Tim Hortons stores want as proceeds for this week's Smile Cookie campaign will be directed to Reading College, a project of the Foundation for Red Deer Public Schools.
"We set up this amazing and fun summer program for kids in Grade 2 where they learn to love reading, and gain the skills to continue their growth as learners. Reading is the foundation for success in school and life. If we can help further develop their skills and instil a love for reading, it creates a lifetime of difference for that child. It will make a difference for them, make a difference for their families and make a difference in their life experiences. That's the beauty of
Reading College," said Superintendent of Schools, Chad Erickson. "This year, we had 64 graduates of the Reading College program who were incredibly engaged and able to excel and improve their reading abilities over the month of July, setting them up for further success."
"The Smile Cookie Campaign is a great opportunity to raise awareness on the importance of literacy, it really does create life chances for students. Reading College is made possible through great support from our community and Tim Hortons – we could not operate it without this support," said Kristine Plastow, Foundation Board Chair. "I encourage the community to get out there and buy their cookies next week!"
From September 19-25, Tim Hortons restaurant owners in Red Deer will generously donate all proceeds from sales of a special smiling chocolate chunk cookie to support the Reading College program through The Foundation for Red Deer Public Schools. The $1 treat helps community programs across Canada in the cities where they are sold.
"On behalf of all Tim Hortons' restaurant owners and team members in Red Deer, I would like to thank our fantastic guests for their loyalty, generosity and support of the Smile Cookie campaign," said Tanya Doucette, Tim Hortons Restaurant Owner in Red Deer. "We are thrilled to support The Foundation for Red Deer Public Schools and their Reading College program. With funds raised we are helping students learn to read, which will ultimately help set them up for a lifetime of success. During Smile Cookie Week, we welcome all Red Deerians to buy a delicious freshly-baked Smile Cookie in support of a great cause, which helps benefit children in our community."
Help us promote the campaign by 'liking' Red Deer Public Schools on Facebook and 'following' us on Twitter, both under @rdpschools. You can also find us on Instagram @reddeerpublicschools.
Red Deer Polytechnic alum expresses creativity through downtown mural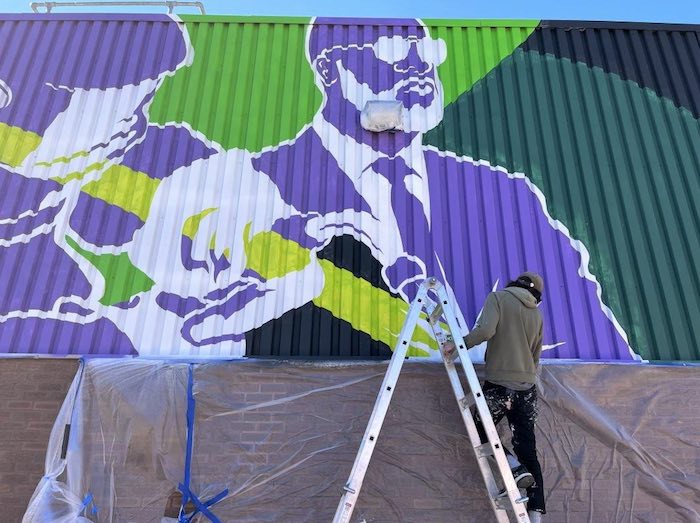 Art on Welikoklad Event Centre's exterior wall celebrates institution's brand and history
An exterior wall of Red Deer Polytechnic's Welikoklad Event Centre is undergoing a creative refresh with a mural painted by talented alum Kat Simmers.
"The blank canvas of the long, exposed wall of the Welikoklad Event Centre is a fantastic medium for communicating what Red Deer Polytechnic is all about," says Dr. Jonathon Penny, Dean of Arts and Culture. "Dr. Alison Jeppesen and others, who imagined this use and garnered support for it, determined to hire an alum in order to capture the spirit of RDP, and we are fortunate to have Kat work on the project. Their vision represents RDP's history and its spectrum of program offerings beautifully."
Simmers, a former Red Deer Polytechnic Visual Art student, began painting the mural in early September, highlighting a variety of programs and learners at the Polytechnic.
"With Flying Colours depicts a diverse body of students engaged in their respective crafts. It was an interesting challenge to create a work representing the experiences of so many people – students past, present and future," says Simmers. "I wanted to pay respect to the value of athletics as well as the diverse mix of creative arts learning and trades programming that students experience at the Polytechnic."
The mural features students, a health care professional, several skilled trades workers, a member of the Indigenous community, and athletes playing hockey and volleyball.
"I thought of the welder as an artist crafting a sculpture as much as a tradesperson earning a wage. I made my way through six years of art school by working various labour jobs," adds Simmers. "It was the creativity and passion for learning I developed at RDP that led to success in those environments as well. I wanted to capture the spark of innovation and joyful work environment that I experienced at the Polytechnic."
The education and training Simmers received at Red Deer Polytechnic helped with the creation of the mural and set the groundwork for future artistic endeavors.
"At the Polytechnic, I spent a lot of time working with colour and figurative painting. As my education continued into design, that sense of light and life stayed a core part of the worlds I like to create. RDP's Visual Art program is incredibly inspiring and supportive," says Simmers. "Having 24-hour access to gorgeous studios created a wonderful sense of community and fostered some amazing friendships I still cherish to this day. The years I spent at the institution also laid the foundation for future learning."
As Simmers plans to complete the mural in late September, their brother Derek, who is also an alum of Red Deer Polytechnic, will assist with the finishing touches during the final week.
"Red Deer Polytechnic's alumni are incredibly talented and are leaders in their communities and professions, as demonstrated by Kat and Derek," says Richard Longtin, Vice President, External Relations. "With over 80,000 alumni, we are extremely proud of their impact and contributions to the intellectual, economic, cultural and social development of the region, province, and beyond."
As the mural creatively represents the Red Deer Polytechnic brand, including the many benefits of a polytechnic model, it will also connect the institution to the community.
"The artwork complements the city of Red Deer's commitment to revitalize the downtown core with murals, creating welcoming spaces and signaling Red Deer Polytechnic's connection to the community in vibrant and creative ways," says Stuart Cullum, President of Red Deer Polytechnic. "I am extremely proud of the Polytechnic's presence in the heart of Red Deer, which increases the ability to collaborate with community members and business partners in the area."
Simmers hopes the mural will provide inspiration.
"This work is to remind people to take joy in their craft, to care for their community and to share the fruits of their labour," says Simmers. "I'm grateful for the opportunity to build on my experience at RDP and it's exciting to be able to return those gifts in some way."
More information about Red Deer Polytechnic's Creative Arts programming is available online.