Safey City Wheels in Some Great Summer Programs
Looking for some fun activities to put into your summer calendar?  Have you considered Safety City?  It's a fantastic facility that offers a multitude of programs to entertain and educate your children.
Red Deer Safety City opened its doors to classes on April 24, 2001. The main focus is to teach children and their families how to be safe in varying situations.
At Safety City, they what to do when faced with a tough decision or emergency. Knowledge is power and can save a child's life. Feed them the power to know how to be safe in numerous situations.
Safety City is an organization dedicated to ensuring safety for everyone in and around our community. We have programs that we deliver both to the schools and for the public. Safety is the key message in all of our programs. What would your children do in a fire? How would they behave if they came face to face with a momma cow? Do they know the proper steps for crossing the street safely? Do you? Come see us at Red Deer Safety City to help keep you and your children safe.
Field Trips
Safety City offers fun, interactive field trips available to schools in Red Deer and Central Alberta. Children learn in a classroom setting and then get to apply their knowledge in a hands-on setting.
Pedestrian Traffic Safety, offered in May and June
Fire and Home Safety, offered in September, October, and April
Acreage and Farm Safety, offered in September, October, and April
Programs:
Safety City is open to the public for a variety of safety-oriented programs. Children learn in a classroom and apply what they have learned to real-life settings. Join us in escaping a fire (simulated), riding on quads as the driver's on the road, trying to climb out of a dug out, and using your bikes properly. Or do it all and some, with our exciting week-long summer camps.
Pedestrian Traffic Safety
Bicycle Safety
Fire and Home Safety
Acreage and Farm Safety
Summer Camps
Birthday Parties
Acreage and Farm
This interactive 2 hour program teaches children to recognize potential dangers and avoid injury on the acreage or farm. During a classroom story lesson, children learn to safely navigate a number of realistic, potentially hazardous situations. In the Safety Centre for the final 90 minutes of activity, children practice new safety skills at displays including animal, ATV, grain handling, dugout and chemical safety.
Cost: $15/child. Parent attends with child – Dates available: July and August
Pedestrian Safety:
During this 90 minute program, street safety lessons are presented in the classroom using an interactive story board depicting a neighbourhood. Children learn to safely cross the street, the meaning of various road signs, and how to read a set of traffic lights. Outdoors on the streetscape for the final hour, children practice their new skills as drivers and pedestrians. Bicycle helmet required – Cost: $15/per child. Parent attends with child – Dates available: July and August
Fire and Home:
Do you have a home escape plan? Do your children know how to call 911? This 2 hour program combines a safety lesson with hands-on-activities, to teach about how fires start, ways to eliminate fire hazards from the home, and how to create a home escape plan. Children also practice calling 911. In the Fire Safe House, children conduct a kitchen inspection and put their home escape plan into action.
Cost: $15/per child. Parent attends with child – Dates available: July and August
Bicycle Safety:
With a focus on proper road safety procedures, this 5 hour program combines classroom instruction with on-site training to build on existing skills of the young cyclist. Participants must be able to ride without training wheels, and are required to bring their own bicycles and bicycle helmets.
Cost: $40/per child – Supervised program – Parent not required  to attend – Dates available: May, June, July and August
Summer Camps:
A week of fun, unique experiences and activity! Children explore a new safety topic each day and learn how to avoid injury. Through stories, games, and crafts children learn about pedestrian traffic safety, animal bite prevention, acreage and farm safety, fire and home safety and bicycle safety (training wheels permitted).
Morning Camp: 9am – 12noon, $100/per child – Full Day Camp: 8am-5pm, $180/per child.
Supervised program. Parent not required to attend – Dates available: July and August
Birthday Parties:
Celebrate your child's special day in a fun and unique way! At this 2 hour party, children learn about road safety, ride battery-powered quads, and enjoy family time in the party room.
Maximum of 15 children (including birthday child) – Ages 4-12 – Cost: $150 per party. Includes safety lesson, quad riding + indoor classroom. Parents provide rest of party items – Dates available: May, June, July and August
Facility rentals:
We have space available for your next corporate party, board meeting, family reunion or birthday party. We can accommodate smaller and larger groups for various purposes. Contact our office for more information or check our event calendar for availability.
There is a wonderful outdoor space, which can accommodate very large groups during the beautiful weather of spring, summer and fall. We also have a smaller, indoor room better suited for meetings and more formal group gatherings. Separate from those, we also have a party room that is perfect for birthday parties, family reunions or the special gathering of your choice.
For more information on Safety City, CLICK HERE.
Make sure you support these terrific local companies and organizations that through their sponsorship make Safety City possible.
Laura's story: I Feel So Much Better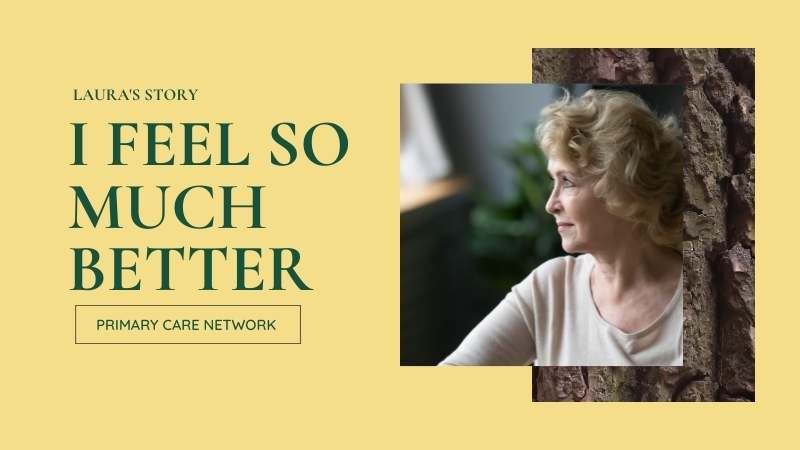 Health issues surfaced in the summer of 2020 for Laura. She had chest pain often and ended up in emergency a few times. She did have a small cardiac event in July. Her blood sugars were very high and all over the map during this time. Her blood pressure was also way too high.  She knew her weight was an issue to her health.  She had been diagnosed with Type 2 Diabetes a few years before this but had not tested her sugars for most of that time. All in all, this was a scary time for her.
Her doctor sent a referral to the Family Nurse in the clinic. He helped her to change her medication to less but more focused to her present condition. She found the nurse very positive, encouraging and available to meet her needs. Talking to the nurse regularly kept her accountable. She now enjoys smaller portions or healthier foods. Although it took some extra encouragement from the nurse, she now exercises on her treadmill regularly and is actually enjoying it. She no longer feels winded when she walks. She has lost 34 pounds; her blood pressure and blood sugars are both the normal range.  Laura says she used to feel like she could just drop but now actually feels energetic and less irritable. The other positive benefit of living healthier is that her self-esteem is way up! Laura still has weight to lose but feeling so much better is great motivation to continue this healthy journey.
To learn more about the RDPCN programs, visit www.reddeerpcn.com
Grant's story: Amazing Improvement with Hard Work & Support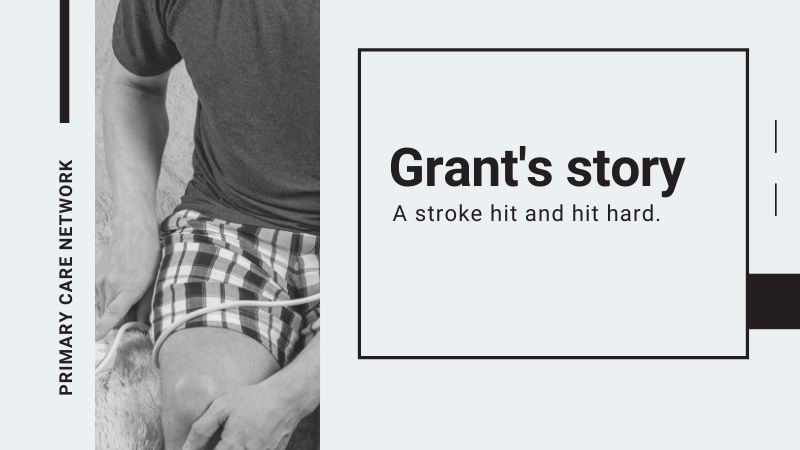 Grant was in his mid-fifties – maybe a bit overweight but with no other cardiovascular risk factors. However, a stroke hit and hit hard. His right side was very compromised, he had little use of his hands, he was unable to walk or lift his right arm. He was hospitalized in Red Deer for 4 months and then went to the Centennial Centre in Ponoka for rehab for 6 months. His doctor had told him that he would be bound to a wheelchair for the rest of his life and would never walk again or be able to recover from this stroke. This made Grant angry as he didn't want this prognosis.
Since that time, he has put a lot of work and effort into getting better. The physios and rehab team helped him make progress, but he kept asking them how he could get more training. They were able to refer him to Recreation Therapy at RDPCN. His therapist arranged to work with him at the Gary W Harris Canada Games Centre three times per week. He is doing a lot better now. He can walk with a cane and he can lift 30 pounds on the machines at the gym. He can now clap hands. He has gained strength and control, his gait has improved along with his endurance, and he has an increased range of motion and strength in his upper extremities. He can now do many more tasks of daily living such as carry groceries, cook and barbeque.
Grant states that his doctor can't believe his progress. Other people he knows have said very similar things. Working with the Rec Therapist has been very encouraging and supportive. The Rec Therapist has really helped me to stay motivated. Having a plan for myself also helps the attendants at the Gary Harris Centre to work with me to move forward. I have highly recommended this program to others I know who have had a stroke.
My work is not done but I am proud of the progress I have made and thankful for everything I can do for myself.
To learn more about the RDPCN programs, visit www.reddeerpcn.com