Safey City Wheels in Some Great Summer Programs
Looking for some fun activities to put into your summer calendar?  Have you considered Safety City?  It's a fantastic facility that offers a multitude of programs to entertain and educate your children.
Red Deer Safety City opened its doors to classes on April 24, 2001. The main focus is to teach children and their families how to be safe in varying situations.
At Safety City, they what to do when faced with a tough decision or emergency. Knowledge is power and can save a child's life. Feed them the power to know how to be safe in numerous situations.
Safety City is an organization dedicated to ensuring safety for everyone in and around our community. We have programs that we deliver both to the schools and for the public. Safety is the key message in all of our programs. What would your children do in a fire? How would they behave if they came face to face with a momma cow? Do they know the proper steps for crossing the street safely? Do you? Come see us at Red Deer Safety City to help keep you and your children safe.
Field Trips
Safety City offers fun, interactive field trips available to schools in Red Deer and Central Alberta. Children learn in a classroom setting and then get to apply their knowledge in a hands-on setting.
Pedestrian Traffic Safety, offered in May and June
Fire and Home Safety, offered in September, October, and April
Acreage and Farm Safety, offered in September, October, and April
Programs:
Safety City is open to the public for a variety of safety-oriented programs. Children learn in a classroom and apply what they have learned to real-life settings. Join us in escaping a fire (simulated), riding on quads as the driver's on the road, trying to climb out of a dug out, and using your bikes properly. Or do it all and some, with our exciting week-long summer camps.
Pedestrian Traffic Safety
Bicycle Safety
Fire and Home Safety
Acreage and Farm Safety
Summer Camps
Birthday Parties
Acreage and Farm
This interactive 2 hour program teaches children to recognize potential dangers and avoid injury on the acreage or farm. During a classroom story lesson, children learn to safely navigate a number of realistic, potentially hazardous situations. In the Safety Centre for the final 90 minutes of activity, children practice new safety skills at displays including animal, ATV, grain handling, dugout and chemical safety.
Cost: $15/child. Parent attends with child – Dates available: July and August
Pedestrian Safety:
During this 90 minute program, street safety lessons are presented in the classroom using an interactive story board depicting a neighbourhood. Children learn to safely cross the street, the meaning of various road signs, and how to read a set of traffic lights. Outdoors on the streetscape for the final hour, children practice their new skills as drivers and pedestrians. Bicycle helmet required – Cost: $15/per child. Parent attends with child – Dates available: July and August
Fire and Home:
Do you have a home escape plan? Do your children know how to call 911? This 2 hour program combines a safety lesson with hands-on-activities, to teach about how fires start, ways to eliminate fire hazards from the home, and how to create a home escape plan. Children also practice calling 911. In the Fire Safe House, children conduct a kitchen inspection and put their home escape plan into action.
Cost: $15/per child. Parent attends with child – Dates available: July and August
Bicycle Safety:
With a focus on proper road safety procedures, this 5 hour program combines classroom instruction with on-site training to build on existing skills of the young cyclist. Participants must be able to ride without training wheels, and are required to bring their own bicycles and bicycle helmets.
Cost: $40/per child – Supervised program – Parent not required  to attend – Dates available: May, June, July and August
Summer Camps:
A week of fun, unique experiences and activity! Children explore a new safety topic each day and learn how to avoid injury. Through stories, games, and crafts children learn about pedestrian traffic safety, animal bite prevention, acreage and farm safety, fire and home safety and bicycle safety (training wheels permitted).
Morning Camp: 9am – 12noon, $100/per child – Full Day Camp: 8am-5pm, $180/per child.
Supervised program. Parent not required to attend – Dates available: July and August
Birthday Parties:
Celebrate your child's special day in a fun and unique way! At this 2 hour party, children learn about road safety, ride battery-powered quads, and enjoy family time in the party room.
Maximum of 15 children (including birthday child) – Ages 4-12 – Cost: $150 per party. Includes safety lesson, quad riding + indoor classroom. Parents provide rest of party items – Dates available: May, June, July and August
Facility rentals:
We have space available for your next corporate party, board meeting, family reunion or birthday party. We can accommodate smaller and larger groups for various purposes. Contact our office for more information or check our event calendar for availability.
There is a wonderful outdoor space, which can accommodate very large groups during the beautiful weather of spring, summer and fall. We also have a smaller, indoor room better suited for meetings and more formal group gatherings. Separate from those, we also have a party room that is perfect for birthday parties, family reunions or the special gathering of your choice.
For more information on Safety City, CLICK HERE.
Make sure you support these terrific local companies and organizations that through their sponsorship make Safety City possible.
History of Red Deer's Second Courthouse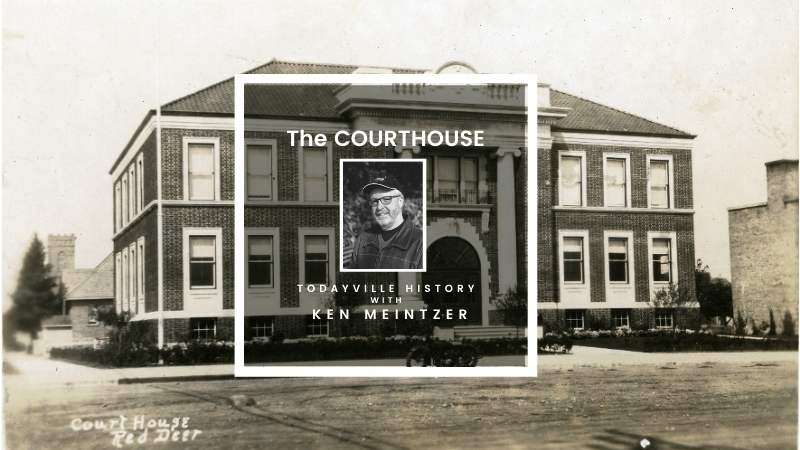 It has been witness to a great many events and stories in the 90 years it has stood on the corner of Ross Street and 49th Avenue in Red Deer.
As the solidly constructed anchor for both provincial and the Court of Queens Bench for 52 years, this sturdy structure has also been a sanctuary for artists, the setting for movie productions and most recently home to numerous professional offices. It also was the backdrop for the last murder trial in Alberta which saw the defendant sentenced and hanged under capital punishment in the province.
This readily recognizable icon celebrated the anniversary of its official opening earlier this month and is showing no signs of retiring any time soon.
This was the second courthouse for the steadily expanding central Alberta city. The earlier one had opened in 1916 after having been converted from a coverall factory. Talk about being adaptive and creative!
Construction of the "new" courthouse was significant for many reasons. The Great Depression was in full swing so this project provided a much-needed injection of both money and jobs into the community along with a sense of pride that such a fine building would bring to the region.
This would be the last courthouse built in the province until the 1950s, the final version  of a series of Alberta courthouses built in the classical revival style. Both Wetaskiwin and Medicine Hat received similar structures during this era.
Testament to the quality of the design and materials used in construction of the building is the fact that it remains steadfast after more than 8 decades of use.
Constructed using hot riveted steel beams, brick and mortar, then graced with pillars shaped from the legendary Lyndall Limestone from Manitoba, this grand historical resource will stand for a great many more years to come.
In the spirit of the type of practicality and resourcefulness often seen during the depression, heating for the building would be provided by a boiler built in 1912 and  repurposed from a ship!
It was converted from coal burning to natural gas in 1949 and has since been replaced by modern, efficient boilers yet it still remains in the building as evidence of a different era.
Every building of a certain vintage usually carries a story or two about otherworldly spirits or energies. Why not the old Courthouse? It was thought that the ghost of Robert Raymond Cook inhabited the building.
On one particular evening, the caretaker for the courthouse was heading into the boiler room to grab some tools. When he flicked on the lights, they popped briefly and went dark. Despite this, the caretaker walked alongside the boiler in the direction of his tools when suddenly he was slapped in the face by an unexpected soft force! Was it the apparition of the hanged murderer?
When he had regained his composure a time later, the caretaker investigated the boiler room once more to discover the source of the slap in the dark. A frightened pigeon had flown up in his face when startled in the boiler room!
This magnificent building was the home of the judicial branch of the province for the Red Deer region from 1931 to 1983 when its replacement was constructed just down Ross Street to the east.
The courthouse was the venue for a great many legal tales over the years but probably none more famous than the 1959 murder trial for 21 year old Robert Raymond Cook of Stettler, AB who was accused of murdering all 7 members of his family in a most violent manner.
His trial began on November 30th, 1959 and Cook was found guilty and sentenced to hang for his crimes. His defense appealed the conviction and a second trial was held in Edmonton but his conviction was upheld on June 20th, 1960.
On November 14, 1960, Robert Raymond Cook was hanged. His death sentence was the last ever carried out in the province of Alberta.
Numerous books were written about this trial as the murders captivated and horrified the population who followed the course of the investigation and trials.
Even a dramatic play was created, called "The End of the Rope", reenacting this historic trial which was developed and was even staged in the actual courtroom where the all too real drama actually took place all those years ago.
In 1983, the  building was sold to the city of Red Deer for a dollar and turned into the Old Courthouse Community Arts Centre. The grand structure housed painters and potters among numerous artistic pursuits for 18 years
The old courthouse has seen real life dramas and reenactments of legal dramas including being the location for filming  scenes from the TV Movie, "While Justice Sleeps" starring Cybil Shepherd in 1994.
Even a dramatic one-man play was created by Aaron Coates called "The End of the Rope" in 2003, re-enacting this historic trial. It was developed and staged in the actual courtroom where the all too real drama actually took place all those years ago. Cook's lawyer, David MacNaughton even answered questions from the crowd after the performance.
The old courthouse made its most recent transformation in 2001 when it was purchased by Jim Dixon and Dick McDonell.
The new owners invested close to a quarter of a million dollars in upgrading the building including installation of new boilers, restored doors, energy efficient windows and new flooring  throughout. 1930s era lighting was sourced to replace fluorescent fixtures, giving the rejuvenated structure a proper historical feel.
Today this 90-year-old icon of downtown Red Deer proudly carries on as the home to numerous professional organizations from lawyers to architects and with its new owners and numerous upgrades, this beautiful structure should be proudly welcoming people to downtown for a great many more years to come.
Red Deer's old courthouse sits as the centrepiece of Red Deer's historic downtown and is celebrating its 90th birthday. Come spend some time downtown. Visit the city's unique Ghost Collection, many of which are within a few blocks of the Old Courthouse.  For more information on leasing opportunities in this beautiful building, please email Davin Kemshead or phone 403-318-6479.  
Evaluation Assistant – Part-time Casual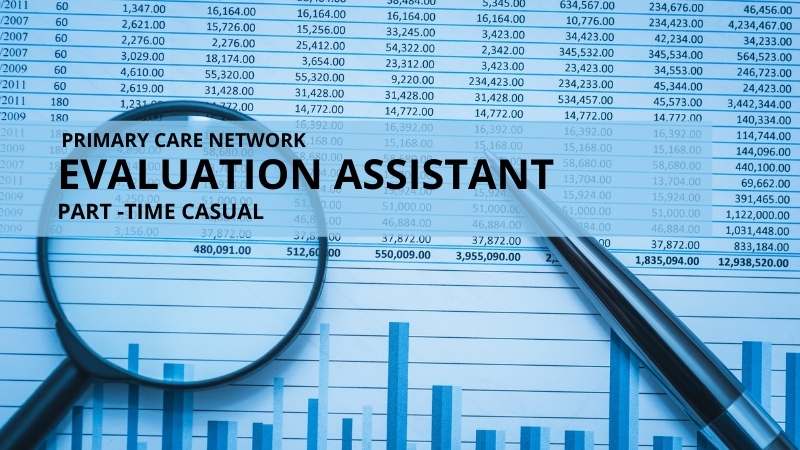 Evaluation Assistant – Part-time Casual
The Evaluation Assistant will be part of the Evaluation Team at the Red Deer Primary Care Network (RDPCN) working under the direct supervision of the Evaluator. The main responsibilities include data collection, data entry, as well as supporting both analysis and reporting for a broad spectrum of RDPCN programs and services. The successful candidate should be competent at working both independently and in a team environment; accurately managing data, and contributing to high quality reports and other deliverables.
Key Strengths of Candidates;
Bachelor degree in social sciences or health-related area
Experience in applied research or evaluation, quantitative and/or qualitative (minimum 2
years preferred)
Excellent command of Microsoft Excel, Word, Power Point and Outlook
Strong written and verbal communication skills
Detail orientated and organized
Able to work flexible hours with some evenings
and/or weekends.
This position is part-time casual, with varying hours
Act now. APPLY
Submit your curriculum vitae to [email protected] (with "Evaluation Assistant" in the subject line), or by fax to 403.342.9502. A full job description can be found at https://rdpcn.pcnpmo.ca/Careers.
Closing date: April 19, 2021 or until a successful candidate is found. Only candidates selected for an interview will be contacted.