Safey City Wheels in Some Great Summer Programs
Looking for some fun activities to put into your summer calendar? Have you considered Safety City? It's a fantastic facility that offers a multitude of programs to entertain and educate your children.
Red Deer Safety City opened its doors to classes on April 24, 2001. The main focus is to teach children and their families how to be safe in varying situations.
At Safety City, they what to do when faced with a tough decision or emergency. Knowledge is power and can save a child's life. Feed them the power to know how to be safe in numerous situations.
Safety City is an organization dedicated to ensuring safety for everyone in and around our community. We have programs that we deliver both to the schools and for the public. Safety is the key message in all of our programs. What would your children do in a fire? How would they behave if they came face to face with a momma cow? Do they know the proper steps for crossing the street safely? Do you? Come see us at Red Deer Safety City to help keep you and your children safe.
Field Trips
Safety City offers fun, interactive field trips available to schools in Red Deer and Central Alberta. Children learn in a classroom setting and then get to apply their knowledge in a hands-on setting.
Pedestrian Traffic Safety, offered in May and June
Fire and Home Safety, offered in September, October, and April
Acreage and Farm Safety, offered in September, October, and April
Programs:
Safety City is open to the public for a variety of safety-oriented programs. Children learn in a classroom and apply what they have learned to real-life settings. Join us in escaping a fire (simulated), riding on quads as the driver's on the road, trying to climb out of a dug out, and using your bikes properly. Or do it all and some, with our exciting week-long summer camps.
Pedestrian Traffic Safety
Bicycle Safety
Fire and Home Safety
Acreage and Farm Safety
Summer Camps
Birthday Parties
Acreage and Farm
This interactive 2 hour program teaches children to recognize potential dangers and avoid injury on the acreage or farm. During a classroom story lesson, children learn to safely navigate a number of realistic, potentially hazardous situations. In the Safety Centre for the final 90 minutes of activity, children practice new safety skills at displays including animal, ATV, grain handling, dugout and chemical safety.
Cost: $15/child. Parent attends with child – Dates available: July and August
Pedestrian Safety:
During this 90 minute program, street safety lessons are presented in the classroom using an interactive story board depicting a neighbourhood. Children learn to safely cross the street, the meaning of various road signs, and how to read a set of traffic lights. Outdoors on the streetscape for the final hour, children practice their new skills as drivers and pedestrians. Bicycle helmet required – Cost: $15/per child. Parent attends with child – Dates available: July and August
Fire and Home:
Do you have a home escape plan? Do your children know how to call 911? This 2 hour program combines a safety lesson with hands-on-activities, to teach about how fires start, ways to eliminate fire hazards from the home, and how to create a home escape plan. Children also practice calling 911. In the Fire Safe House, children conduct a kitchen inspection and put their home escape plan into action.
Cost: $15/per child. Parent attends with child – Dates available: July and August
Bicycle Safety:
With a focus on proper road safety procedures, this 5 hour program combines classroom instruction with on-site training to build on existing skills of the young cyclist. Participants must be able to ride without training wheels, and are required to bring their own bicycles and bicycle helmets.
Cost: $40/per child – Supervised program – Parent not required to attend – Dates available: May, June, July and August
Summer Camps:
A week of fun, unique experiences and activity! Children explore a new safety topic each day and learn how to avoid injury. Through stories, games, and crafts children learn about pedestrian traffic safety, animal bite prevention, acreage and farm safety, fire and home safety and bicycle safety (training wheels permitted).
Morning Camp: 9am – 12noon, $100/per child – Full Day Camp: 8am-5pm, $180/per child.
Supervised program. Parent not required to attend – Dates available: July and August
Birthday Parties:
Celebrate your child's special day in a fun and unique way! At this 2 hour party, children learn about road safety, ride battery-powered quads, and enjoy family time in the party room.
Maximum of 15 children (including birthday child) – Ages 4-12 – Cost: $150 per party. Includes safety lesson, quad riding + indoor classroom. Parents provide rest of party items – Dates available: May, June, July and August
Facility rentals:
We have space available for your next corporate party, board meeting, family reunion or birthday party. We can accommodate smaller and larger groups for various purposes. Contact our office for more information or check our event calendar for availability.
There is a wonderful outdoor space, which can accommodate very large groups during the beautiful weather of spring, summer and fall. We also have a smaller, indoor room better suited for meetings and more formal group gatherings. Separate from those, we also have a party room that is perfect for birthday parties, family reunions or the special gathering of your choice.
For more information on Safety City, CLICK HERE.
Make sure you support these terrific local companies and organizations that through their sponsorship make Safety City possible.
THE JACKPOT IS OVER $14000 AND THE WINNER WILL TAKE HALF!!!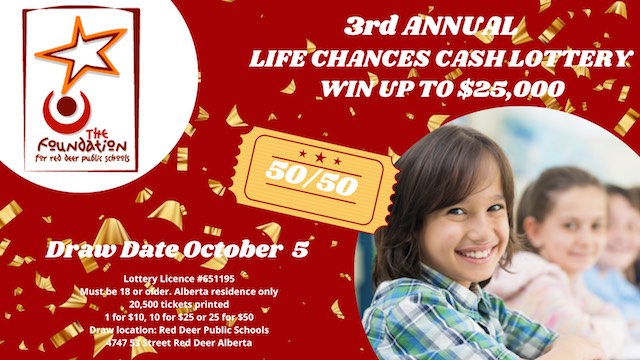 GET YOUR 50/50 TICKETSTODAY!!!! Winner could take home up to $25,000!!!
The Foundation for Red Deer Public Schools supports programs that have a significant impact on the LIFE CHANCES of students across the Division. By purchasing a ticket to support our 50/50 cash lottery you are giving students opportunities to have better life chances.
From giving kids a Bright Start to school to reconnecting with students so they graduate and cross the Finish Line, the Foundation helps students who face challenges in school and makes things better. We motivate struggling students and inspire them to read and write through Reading College. For students who come to school without basic needs, we give them that needed Step Up.
With the support from the Foundations 50/50 Life Chances Raffle, you are providing a student with opportunities that will improve their life. They can't always control the situations they're in but with your help students will continue to have these chances.
Don't miss your chance, CLICK HERE to buy your tickets today – Draw will be held on October 5! Good luck!
NOTE: This raffle is open to all community members in Alberta and over the age of 18.
Shelly Flint Appointed as New CEO of Westerner Park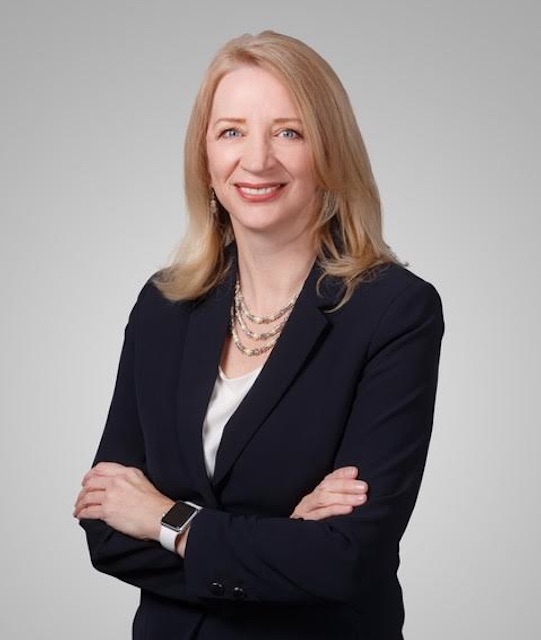 Westerner Park, a distinguished agricultural society and premier exhibition venue in the heart of Central Alberta, is pleased to announce Shelly Flint as its new Chief Executive Officer (CEO). This decision culminates a thorough and extensive search process, with the Board of Directors expressing their enthusiasm for the promising journey ahead under Shelly's leadership.
Tyler Nightingale, President of the Board of Directors, shared his excitement about the appointment, stating, "After a comprehensive search, we are thrilled to welcome Shelly. Her extensive experience, skill set, and knowledge align seamlessly with the strategic direction of Westerner Park, ensuring a positive and enduring impact on both the organization and the community at large."
Tara Lodewyk, Red Deer City Manager, added, "Shelly immediately connected with the mission of Westerner Park and the value it brings to the culture of our city and region. We are looking forward to working together and are confident in her leadership of Westerner Park."
For the past two decades, Shelly has served as a senior executive, spearheading diverse teams within Alberta's dynamic entertainment and finance sectors. Her tenure as the former CFO at the Calgary Stampede equips her with a distinctive insight into the intricacies of Westerner Park, enabling her to adeptly navigate its challenges and leverage its opportunities. Coupled with her roots in Central Alberta, Shelly is poised to steer the Park towards growth and long-term sustainability.
Shelly expressed her eagerness to join Westerner Park, saying, "I was thrilled at the opportunity to return to Central Alberta, where I grew up! Leading this purpose-driven organization will allow me to contribute to my community and affect meaningful change."
Shelly Flint's robust leadership, commitment to community, and extensive experience makes her an exceptional choice to lead Westerner Park into the future. The entire Westerner Park team eagerly anticipates the positive impact she will bring to this renowned institution.
About Westerner Park
Westerner Park is Central Alberta's largest tradeshow, agricultural, sports, entertainment, and convention facility. A not-for-profit organization and agricultural society, Westerner Park typically generates $150 million annually in economic activity, hosting over 1,500 events and 1.5 million visitors each year.