Rustlers follow 6 game win streak with 3 game losing streak
From the Red Deer Rustlers
RED DEER SENIOR RUSTLERS FALL TO 6-3 IN INAUGURAL NCHL SEASON
The Red Deer Senior Rustlers drop second and third straight games in Eckville and Morinville
After a six-game winning streak to open their inaugural North Central Hockey League season, the Red Deer Senior Rustlers have procured a three-game losing streak after a pair of losses over the weekend to two of the league's top teams in the Eckville Eagles and the Morinville Kings.
In their first game in two weeks following their first bye weekend of the season, the Rustlers dropped a 3-0 decision to the Eckville Eagles on Friday night, the second straight game they were held scoreless.
With a shortened roster on Saturday night, the Rustlers rebounded with a spirited effort in Morinville, but, after leading 2-1 for much of the game, were handed a 4-3 loss after a late game-winner by the Kings.
"Obviously we were hoping for a better result this weekend, but as a new team, our focus is still process over outcome," said Assistant Captain Kyle Pess. "You can't win a championship in November. We let some important points slip away this weekend, but we're determined to learn from our mistakes and grow as a team."
After a bit of a flat effort on Friday night, Pess said other than the final score, there was a lot to like about the Rustlers' game on Saturday.
"We came out with a lot of energy and played well with a shortened bench against a very good team in Morinville," he said. "I think if we can harness that effort and bring it every night, we'll get back on track in no time."
The Senior Rustlers are off again this coming weekend, but will have their shot at redemption against the Kings on December 8 in Penhold, the team's first home game since November 3.
They'll close out the 2018 portion of the season with another home game against the Eagles on December 15, and a road game in Sylvan Lake December 21 against the Pirates.
For more information on the Red Deer Senior Rustlers, contact [email protected], or follow the team on Instagram, Twitter and Facebook.
Someone is going to win more than a quarter million dollars – One day challenge to support Child Advocacy Centre!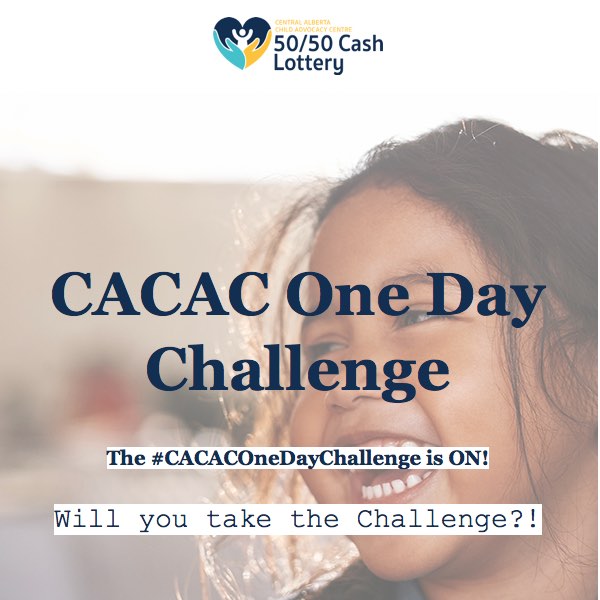 CACAC One Day Challenge
The #CACACOneDayChallenge is ON!
Will you take the Challenge?!
We need your help! The CACAC One Day Challenge is about recognizing the courageous children + youth who have walked through our doors, shared their stories, and received support.

Goal: 1301 50/50 Ticket Packages in recognition of the 1301 children supported.

Please consider purchasing a 50/50 ticket TODAY to show your support.

Thank you to those who have already purchased a ticket – we are so grateful for your support!

Already purchased but want to take part? Challenge/encourage others to buy today and get social to share your participation!

Follow us on Facebook, Instagram and Twitter to watch throughout the day & see if we make our goal!

Thanks for your help!
The CACAC Crew
Hurry before it's too late! Deadline: January 31st @11PM
Call our Centre to order over the phone!
Phonelines Open: Monday – Friday: 9AM – 5PM.
Please leave a voicemail if calling afterhours. If you are having troubles with purchasing online, please call and leave a message and we will get back to you as soon as possible, or message us on Facebook for assistance!
Kiwanis Club and Red Deer Twilight Homes Foundation give crucial boost to Safety City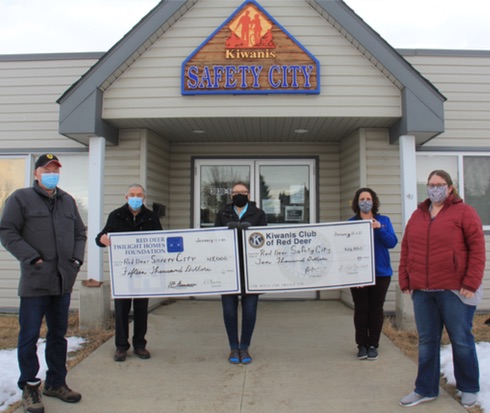 From Amy Gardner, Executive Director of the Red Deer Safety City Society
Safety City Receives Major Donations
When the Coronavirus hit Alberta, its negative impact on local businesses was considerable.  Many have not been able to reopen their doors.  Countless others have been struggling and trying their best to survive through the hardest times they have ever witnessed.  One of the hardest hit groups is Not-for-Profits.  Red Deer Safety City Society, a local non-profit, has been serving Red Deer and all of Central Alberta for the last 20 years.  Each year their programs touch the lives of around 3,800 children.  Staff, parent volunteers and teachers from numerous school divisions each spring and fall help run fun, safety-oriented courses.  In addition, Safety City operates summer camps in July and August.
Safety City relies heavily on donations as well as revenue generated through the running of their safety programs.  As a result of the pandemic considerable revenue was lost from field trips being cancelled during spring and fall.  The new safety guidelines, restricting the number of children and families that could participate in summer camps, caused the organization to take another financial hit.  Those losses caused considerable concern.  Could Safety City make it through another year?  The Executive Director, Amy Gardner, reached out to two long time supporters: The Kiwanis Club of Red Deer and Red Deer Twilight Homes Foundation.  The Red Deer Kiwanis Club was a founding member of the Red Deer Safety City Society.  Knowing the importance of the work done at Safety City, the Kiwanis Club of Red Deer and the Red Deer Twilight Homes Foundation got together to make two large donations to the Society in order to preserve the organization.
On January 15, 2021, key members from Red Deer Twilight Homes Foundation and the Kiwanis Club of Red Deer presented the Executive Director, Amy Gardner, and the Board President, Kristina Sveinson of the Red Deer Safety City Society, with donations totalling $25,000.  This money will enable Red Deer Safety City Society to continue offering their summer camps, field trips and birthday parties, when government rules permit.  These generous donations have allowed the Red Deer Safety City Society to remain a constant in our great city.