Revitalizing downtown Calgary: Province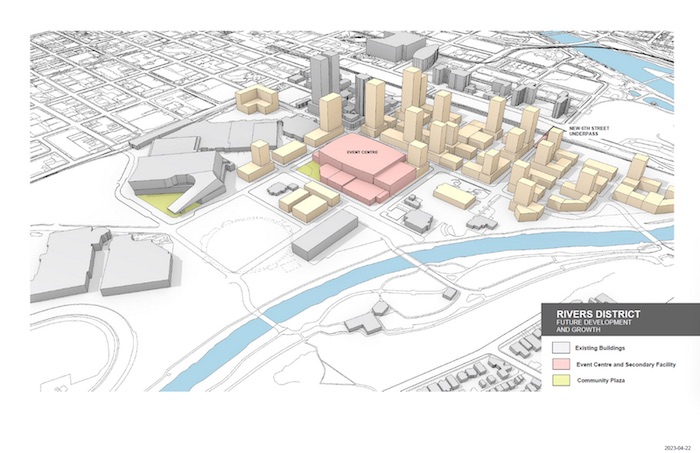 Alberta's government is investing up to $330 million over five years to support the Calgary Rivers District and Event Centre and revitalize downtown Calgary.
In April 2023, Alberta's government signed a memorandum of understanding with the City of Calgary and Calgary Exhibition and Stampede Ltd. to invest in infrastructure to support the new event centre while revitalizing Calgary's Rivers District, the Stampede grounds and downtown. The provincial funding has now been approved by cabinet and Treasury Board.
"Calgary is a city of big dreams, big projects and big expectations. Our investment in the Rivers District is one that helps build Calgary and continues the momentum of revitalization in the downtown core. It's one more shot of energy for Calgary's culture, entertainment and business scenes, and the city and province will reap the economic benefits for decades to come."
The funding will support land acquisition, site utilities and transportation infrastructure for the Calgary arena and entertainment district project. The investment will also cover 50 per cent of the construction costs of a new 1,000-seat community arena that will serve youth and amateur hockey. Once complete, the Rivers is expected to create 1,500 permanent jobs and welcome an estimated 8,000 new residents and three million annual visitors to the Culture and Entertainment District.
"Alberta is proud to be a key funding partner for this project to help ensure Calgary has the infrastructure it needs to support a vibrant events district, enhance the downtown core and promote economic development, now and in the future. This contribution is an investment in the long-term economic sustainability of Calgary's downtown."
"This community rink will add to Calgary's already vibrant downtown. It will provide a hub for athletes and their families to gather, share in a love for sport and make lifelong connections. And the increase in visitors to the area will help spur the local economy."
"The Calgary Rivers District and Event Centre project will provide a tremendous boost to the local economy and create thousands of planning, design and construction-related jobs. Infrastructure will support our partner ministries in any we can to ensure the project is completed in an efficient and timely manner, and that Calgarians get the top-notch arena and entertainment district they've been waiting for."
"Our province has a strong history of hosting major national and international events. I see great synergy and potential to grow Calgary's reputation as a global destination for festivals and sporting events through our government's continued investment."
The province's investment in the project includes new transportation infrastructure and improvements to existing transportation infrastructure, indoor and outdoor gathering spaces, a community rink and demolition of the existing Saddledome. Once complete, the Rivers District project will add an estimated four million square feet of mixed-use development (homes, retail, hotels) in Calgary's Culture and Entertainment District.
Agreements among all parties, including the City of Calgary, Calgary Sports and Entertainment Corporation and Calgary Stampede, have been signed and executed, paving the way for work to begin immediately.
"The completion of this project will bring benefits for all Calgarians, and we're one step closer to its realization. We are fortunate to have partners, including the Government of Alberta, who realize the enormous potential that this district has for Calgary as a year-round hub of sports, arts and entertainment. It will attract commercial investment to our downtown core and contribute to our city's vibrancy and economic growth."
"At this critical moment when we are seeing explosive population growth and increasing private sector interest in our city, the confirmation that our Culture and Entertainment District is proceeding to design and construction phases will generate strong investor confidence. This project will create better public gathering spaces, improved transportation networks, a downtown community rink and an arena to drive events that spur hosting and tourism opportunities, along with creation of jobs in the construction, retail and entertainment sectors."
Quick facts
The total project cost is estimated at $1.22 billion:

The City of Calgary will contribute $537.3 million (44 per cent).
The remaining $686 million (56 per cent) of the project costs will be covered by the Alberta government ($330 million, 27 per cent) and the Calgary Sports and Entertainment Corp. ($356 million, 29 per cent).
Premier Smith reacts to Liberal Government's announcement on new methane reduction targets at COP 28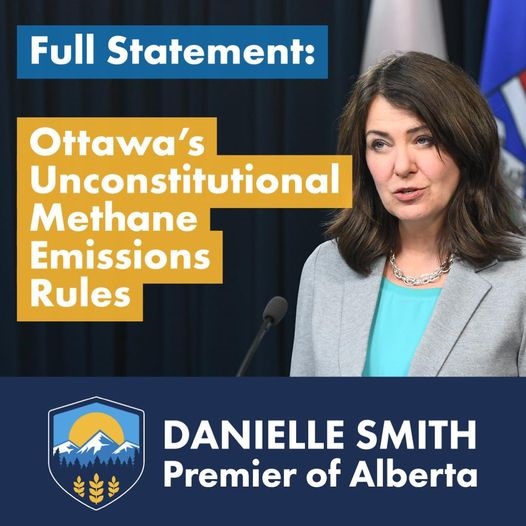 Federal methane emissions targets: Joint statement
"Once again, the federal government is setting unrealistic targets and timelines. Infrastructure can only be updated as quickly as technology allows. For example, Alberta will not accept nor impose a total ban on flaring at this time, as it is a critical health and safety practice during production. Any regulation that completely prohibits this is putting lives at risk"
Premier Danielle Smith and Minister of Environment and Protected Areas Rebecca Schulz issued the following statement on the federal government's proposed methane emissions regulations:
"The federal government has unilaterally established new methane emissions rules and targets to help win international headlines. Instead of building on Alberta's award-winning approach, Ottawa wants to replace it with costly, dangerous and unconstitutional new federal regulations that won't benefit anyone beyond Environment and Climate Change Minister Steven Guilbeault's post-office career.
"Managing emissions from Alberta's oil and gas industry is our constitutional right and responsibility, not Ottawa's, and we are getting the job done. Using a province-led approach, Alberta has already reduced methane emissions from the oil and gas sector by 45 per cent – hitting our target three years early – and we're just getting started.
"Meanwhile, not only is it illegal for Ottawa to attempt to regulate our industries in this manner, Ottawa also hasn't even hit one of its past arbitrary and unscientific emissions targets largely because it has little to no credible expertise regulating the natural resource, agricultural and other industry sectors in this space.
"Ottawa could have helped us keep reducing emissions with joint incentive programs in line with Alberta's Emissions Reduction and Energy Development Plan. It could have listened to the Supreme Court's declaration that the Impact Assessment Act was unconstitutional and abandoned this kind of arrogant and ineffective scheme. Instead, these new regulations threaten our successful province-led approach and impede good work that's already underway.
"Once again, the federal government is setting unrealistic targets and timelines. Infrastructure can only be updated as quickly as technology allows. For example, Alberta will not accept nor impose a total ban on flaring at this time, as it is a critical health and safety practice during production. Any regulation that completely prohibits this is putting lives at risk. A total ban would also be costly, resulting in shut-ins and loss of production.
"This approach will also cost tens of billions in infrastructure upgrades, yet Ottawa has provided virtually no financial support to do so. Thousands of Albertans could be put out of work in the coming years due to these costly regulations. A federal government willing to invest $37.7 billion into just three battery plants in Ontario and Quebec cannot credibly refuse to provide tax credits and financial incentives for producers in Alberta and Saskatchewan to assist with achieving a carbon-neutral economy by 2050.
"For years, Alberta, not Ottawa, has done the hard work and achieved results. We strongly support reducing methane emissions and have invested tens of millions into developing these technologies. Minister Guilbeault must work with us, and not against us, to keep cutting methane emissions and charting a course for carbon neutrality by 2050.
"Given the unconstitutional nature of this latest federal intrusion into our provincial jurisdiction, our government will use every tool at our disposal to ensure these absurd federal regulations are never implemented in our province."
Alberta's Methane Target Reached Early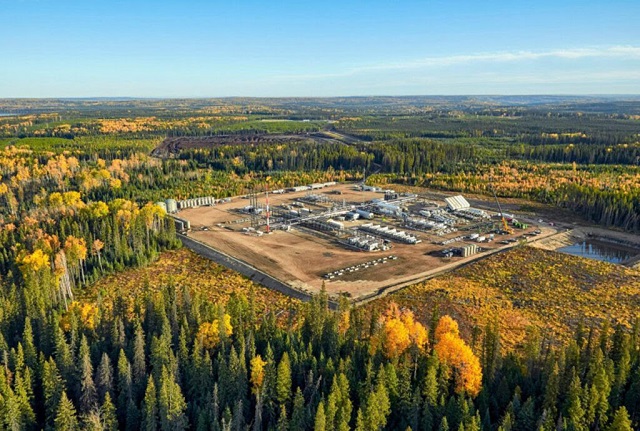 Gas processing plant in northwest Alberta, courtesy of EnergyNow
Courtesy of ENERGYminute
See more articles and infographics from ENERGYminute HERE
---
In a pat-yourself-on-the-back moment, Alberta's oil and gas industry successfully achieved a 45 percent reduction in methane emissions, surpassing the province's mandated target ahead of schedule.
Background: Alberta was the first province in Canada to commit to a 45 percent reduction in methane emissions from the oil and gas sector by 2025, based on 2014 levels. Spoiler alert: Alberta achieved its methane mission three years early.
Their targeted approach to reducing methane emissions from flaring, venting and fugitives has become an example globally, earning national and international awards for its effectiveness and cost-efficiency.
Alberta strong: The government credited the early success to close collaboration with the industry, implementing early action programs such as carbon offsets, tough regulations for all facilities, and enhanced leak detection and repair methods.
Minister of Environment Rebecca Schulz highlighted that this made-in-Alberta approach not only achieved the goal three years ahead of schedule but also resulted in roughly $600 million in savings for the industry compared to the proposed federal program.
Getting the job done: Alberta allocated $57 million from the Technology Innovation and Emissions Reduction fund for methane emissions programs, including:
$25 million in rebates to companies adopting emissions reduction equipment.
$17 million supporting alternatives to detecting and quantifying emissions.
$15 million to help small- and medium-sized operators assess methane reduction opportunities.
Overall, the initiatives eliminated 16.6 million tonnes of carbon dioxide equivalent from the atmosphere.
Looking ahead: Alberta is committed to building on this momentum and collaborating with industry experts to determine the next steps in their emissions reduction journey, aligning with the goal of carbon neutrality by 2050.