Remembering the children….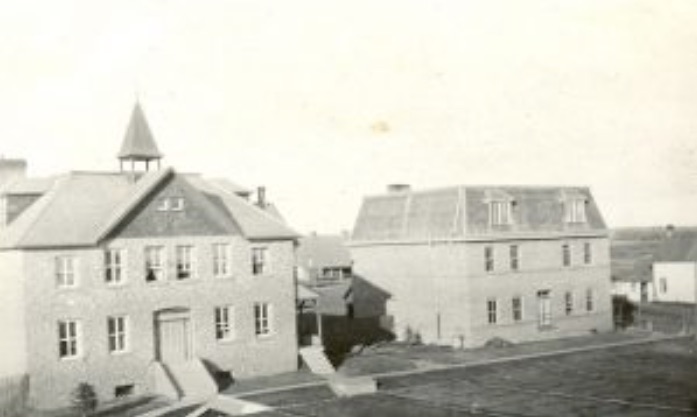 Red Deer Public commemorates the National Day for Truth and Reconciliation with Division-wide video
Red Deer Public Schools will remember the lost children, survivors and families impacted by residential schools on the National Day for Truth and Reconciliation. The day will give time and space to reflect and learn more about the history and ongoing legacy of residential schools.
On the morning of Thursday, September 30, 11,000 students and 1,500 staff in Red Deer Public Schools will commemorate the National Day for Truth and Reconciliation by watching a Division-wide video and participating in activities, lessons and projects related to truth and reconciliation.
Following the federal government's declaration of September 30 as the National Day for Truth and Reconciliation, and after consultation with representatives in the Indigenous community, including our partner the Red Deer Native Friendship Society, Red Deer Public Schools made the decision to remain open for an instructional day, with a focus on commemorating residential school survivors, their families and communities and honouring those who did not survive.
"In partnership with the Red Deer Native Friendship Society and local elders, it was agreed through consensus that September 30 remain as an instructional day in Red Deer Public Schools," said Chad Erickson, Superintendent. "Our schools have a longstanding commitment to commemorating Orange Shirt Day, with many students and staff throughout the Division recognizing the day by wearing orange, as well as honouring children who attended residential schools, and remembering the children who did not survive. With students and staff in class on September 30, it will enhance the teaching, learning and understanding of residential schools and truth and reconciliation."
As mentioned, students and staff will watch a Division-wide video, which was produced in two versions, one for elementary students and one for middle and high school students. The video includes various elements such as:
Land recognition recited by a Red Deer Public student

Messages from the Red Deer Native Friendship Society

Details of the residential school that was located near Red Deer

Information of the residential school children's memorials at the Red Deer Cemetery

Indigenous poem recited by Red Deer Public students

Traditional music performed by local Indigenous drummers

Moment of silence to remember the children who did not survive
Following the video, students will participate in grade appropriate activities, lessons and projects, which have also garnered interest of other school divisions, including those from out of province as they look to Red Deer Public for leadership in this area.
What's Happening Downtown: Holiday Edition!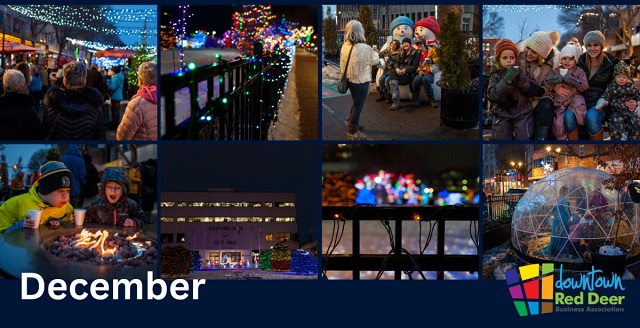 Hey Red Deer!

Embrace the festive spirit downtown this holiday season! Immerse yourself in the dazzling brilliance of the city hall lights, delight in family-friendly events, and complete your holiday shopping at the heart of the city this December. Explore a myriad of activities and events designed to make your holidays truly magical. Read on for detailed information about the incredible lineup of festive events awaiting you this season!
Frost Street Patio Party
December 8th @ 4:00 pm – 7:00 pm
Join the DBA and Spandy Andy on the Ross Street Patio for some frosty fun! Check out the children's entertainer's activity booths and sip hot chocolate under the festive downtown lights. Bring the whole family together for an unforgettable outdoor celebration. Whether you're grooving to the DJ or simply basking in the warm glow of the fire tables, the Ross Street Patio is the place to be for an evening of free family fun. Visit https://downtownreddeer.com/north-pole-stroll/ for more information.
Santa Bus

Dec 8, 9, 15, 16 @ 5pm – 8pm

Santa is back on the bus! Merrily cruising down the streets of Red Deer, you can follow Santa Claus on the My Bus App for his arrival time in your neighbourhood.
Christmas Pickle
November 15 – December 15th
A pickle used as a Christmas decoration may seem odd at first, but it's an old tradition. When decorating the tree, the pickle is hung last, hidden among the branches. The first person to find the Christmas Pickle on Christmas morning receives a special blessing for the year and an extra gift! As part of North Pole Stroll, many Downtown Red Deer businesses place pickles in their stores. Customers lucky enough to spot them are eligible to win a prize from that business, such as a discount or raffle entries. Please click here for more information.
Mary Liv at the Velvet Olive Lounge

Dec. 20th | Doors 5pm | Show 7:30pm

Check out the talented multi-instrumentalist and songwriter Olivia Morelli, an emerging artist from Saskatoon, Sk.

Ticket price is $10 + 2.50 SC

The Velvet Olive Lounge hosts LIVE music 4 days a week. Check out the full December line up here.
Afro-Caribbean Cultural Cafes

& Storytelling

December 13th, 2023 @ 6PM

Discover a celebration of diverse cultures with tantalizing ethnic cuisine and captivating storytelling at the Flex (4919 49 ST). Join us alongside your family, friends, and colleagues for an enriching experience.

Free and open to the public!

Contact: 403-550-4067

Click here for more information or register at www.accoca.ca.

Supported by the African Caribbean Centre of Central Alberta and the City of Red Deer.
Window Scavenger Hunt
November 16th- December 16th
Many downtown Red Deer businesses decorate their windows for the holiday season. The Downtown Business Association has created a self-guided tour in the form of a scavenger hunt so you can see them all! Get a copy of the scavenger hunt at downtownreddeer.com for your chance to win a 300$ prize package. Email your completed copy to [email protected] with your name and contact info. The winner will be announced on December 16th.
Twinkle Tour & Late Night Shopping
December 15th @ 4:00 pm – 7:00 pm
For one night many Downtown businesses remain open late to help Red Deerians with their holiday shopping and to encourage the support of local businesses. From 4-7PM, downtown visitors are invited to grab a free hot chocolate and a copy of the holiday scavenger hunt on the Ross Street Patio. Check out the beautiful window displays and City Hall lights and pick up some Reindeer Food & Snowman Soup on your way to your favourite shops.
Visit https://downtownreddeer.com/north-pole-stroll/ for more information.
| | |
| --- | --- |
| | Red Deer Arts Council and the City of Red Deer have partnered on a writing contest to keep our imaginations warm this winter. We invite Red Deer youth, teens and adults to create a short poem or story (fiction or creative non-fiction) with a maximum length of 500 words about winter and/or the holiday season in Red Deer. All submissions can be sent to the Red Deer Arts Council at submissions@reddeerartscouncil.ca for a chance to win exciting prizes. |
Amanda Gould

Executive Director

Follow Us on Social Media
Annexation allows City of Red Deer to build new "Gasoline Alley" commercial district along QE2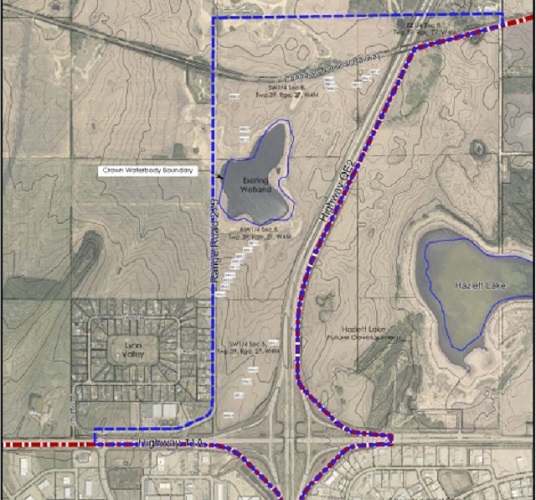 Annexation with Red Deer County approved
This week, The City received approval from Cabinet that the annexation for land north of the Queen's Industrial Business Park and west of Highway QEII from Red Deer County was approved."Our City Council is thrilled with the Government of Alberta's green light on this annexation. This pivotal move sets the stage for Red Deer's next 30 years, transforming our northwestern gateway. Leveraging Highway QEII for commercial expansion will redefine Red Deer's economic landscape. We extend our heartfelt appreciation to Red Deer County for their collaboration and to the local landowners for their invaluable contributions to these fruitful discussions," said Mayor Johnston.On June 22, 2021, Council gave direction to administration to prepare a Notice of Intent to Annex for this area of land. This annexation, encompassing approximately 216 hectares, addressed The City's deficiency in highway fronting commercial land. On February 14, 2022, Red Deer City Council passed a resolution endorsing a Notice of Intent to Annex, therefore supporting for the proposed annexation and directing administration to begin the formal annexation process.

Following that, the application was prepared for the annexation of approximately 216 hectares of land from Red Deer County. Based on landowner consultation, the proposed annexation area was altered from the Notice of Intent to Annex Land to include the entirety of one of the landowners' parcels.

Then in April of this year, the annexation was moved to the next step, when both Red Deer City Council and Red Deer County Council passed a resolution endorsing The City to submit an Annexation Application and Negotiations Report to the Land and Property Rights Tribunal. A Land and Property Rights Tribunal hearing was held on June 20, which allows the Tribunal to receive information and evidence from interested parties. After considering the submissions from all parties, the Tribunal made an annexation recommendation to the Minister of Municipal Affairs for the decision to be made.

Now that the annexation was successfully approved by the province, area structure plans will be prepared and adopted by bylaw, by Red Deer City Council. These annexed lands are intended to be developed as a regional commercial development along Highway 2, providing The City with a significant economic development opportunity.

"Securing this annexation approval has been a great success, thanks to all the collaborative partnerships involved. As we move forward, we're enthusiastic about the potential economic boost this annexation will bring, especially in addressing our shortage of commercial land along the highways," said David Girardin, Major Projects Planner.

Annexation is used by municipalities to realign jurisdictional boundaries to ensure a sufficient land supply for long-term development. The Intermunicipal Development Plan (IDP) between The City and Red Deer County provides guidance for all annexations.

To learn more information about this annexation are encouraged to visit www.reddeer.ca/annexation.