Remarkable RDC Student Receives National Honour
From RDC Communications
RDC Student Receives National Leadership Award
Red Deer College student, Robin Chiles, was recognized on a national level at the College and Institutes Canada (CICan) Conference in Niagara Falls recently.
The award for Leadership Excellence in the Student category is given to a student who has made a remarkable contribution within their institution, as well as in their community.
Robin Chiles is a dedicated wife, mother of two, community volunteer, full-time nursing student, and recognized student leader at Red Deer College and leader in the central Alberta community.
Robin is in her final year of the Bachelor of Science Nursing program and is a student leader on the RDC Board of Governors, the Students' Association, and a member on the Nursing Society on campus. She has achieved both the Dean's Honour Roll and the President's Honour Role for academic excellence while showing passion and commitment for her community.
While excelling on campus, Robin finds time to support her local community through supporting young women in her congregation, participating in the Red Deer River Clean-up and Red Deer's Point in Time Homeless Count. As a two-time cancer survivor, she is very active in supporting programs that help those affected by cancer such as the fundraiser Relay for Life.
"I am so very honored and to be nominated and receive the CICan Student Leadership award. When I first began my educational journey at Red Deer College being a student leader was not something, I set out to achieve. However, I soon recognized my passion for helping others succeed. My success would not have been possible without the support of many at Red Deer College, my husband and family. The opportunity to develop my leadership skills and be supported to do such has been one of the many highlights during my time at RDC," says Robin Chiles, Student Member on RDC's Board of Governors and CICan Award Recipient.
Robin is set to graduate from the Bachelor of Science Nursing program in December 2019. This award is an excellent nod to her leadership at Red Deer College and the involvement that she will carry forward in the community.
RD Polytechnic President Dr. Peter Nunoda steps down
Board of Governors announces retirement of Red Deer Polytechnic President
The Red Deer Polytechnic Board of Governors would like to announce the retirement of Dr. Peter Nunoda, effective immediately.
Dr. Nunoda joined Red Deer Polytechnic as President in September 2019. His accomplishments have included the creation of an internationalization strategy, the achievement of polytechnic status, and the launch of three baccalaureate degrees and additional programs.
The Board would like to thank Peter for his leadership at a pivotal time in the institution's history, but also during an unprecedented pandemic that he navigated effectively.
The Board has appointed Mr. Jim Brinkhurst as Interim President. He currently serves as Vice-President Finance and Administration & CFO. Mr. Brinkhurst has served at Red Deer Polytechnic for 10 years, with more than 30 years experience in the post-secondary sector across Canada.
A search process for the institution's next President will begin later this fall
Until Sunday stop by Tim Hortons for Smile Cookies in support of young readers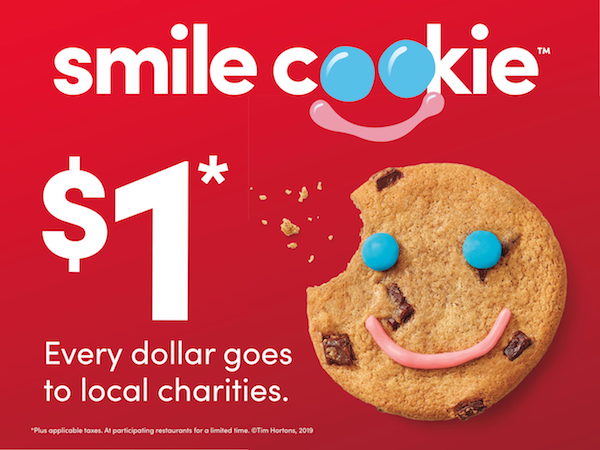 Who doesn't love cookies? They taste even sweeter when you are making a difference in a child's life!
Helping struggling students become readers of potential is exactly what local Tim Hortons stores want as proceeds for this week's Smile Cookie campaign will be directed to Reading College, a project of the Foundation for Red Deer Public Schools.
"We set up this amazing and fun summer program for kids in Grade 2 where they learn to love reading, and gain the skills to continue their growth as learners. Reading is the foundation for success in school and life. If we can help further develop their skills and instill a love for reading, it creates a lifetime of difference for that child. It will make a difference for them, make a difference for their families and make a difference in their life experiences. That's the beauty of Reading College," said Superintendent of Schools, Chad Erickson. "This year, we had 64 graduates of the Reading College program who were incredibly engaged and able to excel and improve their reading abilities over the month of July, setting them up for further success."
"The Smile Cookie Campaign is a great opportunity to raise awareness on the importance of literacy, it really does create life chances for students. Reading College is made possible through great support from our community and Tim Hortons – we could not operate it without this support," said Kristine Plastow, Foundation Board Chair. "I encourage the community to get out there and buy their cookies!"
From September 13 – 19, Tim Hortons restaurant owners in Red Deer will generously donate all proceeds from sales of a special smiling chocolate chunk cookie to support the Reading College program through The Foundation for Red Deer Public Schools. The $1 treat helps community programs across Canada in the cities where they are sold.
"On behalf of all restaurant owners and team members in Red Deer, I would like to thank our loyal guests for their generosity and support of the Smile Cookie campaign," said Tanya Doucette, Tim Hortons Restaurant Owner in Red Deer. "Tim Hortons is thrilled to support The Foundation for Red Deer Public Schools and Reading College with the funds raised and bring smiles to so many people's faces. We welcome everyone to come in to buy a delicious freshly-baked Smile Cookie in support of a great cause."
Help us promote the campaign by 'liking' Red Deer Public Schools on Facebook and 'following' us on Twitter, both under @rdpschools. You can also find us on Instagram @reddeerpublicschools.