Red Deer South MLA Jason Stephan strongly urges Central Albertans to participate in the upcoming Leadership Review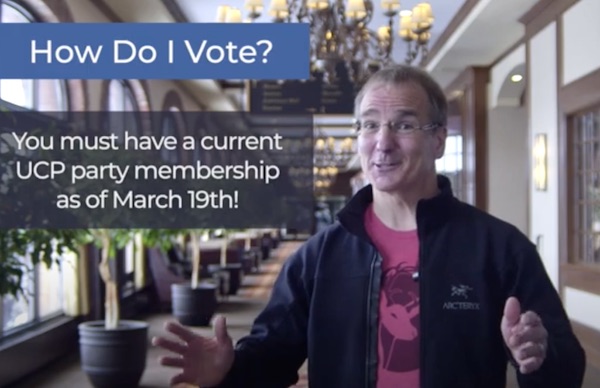 Leadership Review of Jason Kenney in Red Deer
On Saturday, April 9, Alberta conservatives, of which there are many in Central Alberta, will have the opportunity to decide whether it is time to change the leader of the United Conservative Party. The vote will occur at the Cambridge Hotel in Red Deer.
What is the purpose of the leadership review?
Jason Kenney has been leader of the party for over 4 years, and to date, members have not yet had an opportunity to review his performance.
Several months ago, 22 local UCP constituency associations, passed resolutions requiring a review of the leader. Members have been waiting for a leadership review; it aligns with conservative principles of governance and accountability.
The United Conservative Party belongs to all Alberta conservatives, and it is the grassroots members who determine whether it is time to change our leader.
We have seen too much contention. It is not right to label men or women as "mainstream" or "extreme" depending on whether or not they want a change in leader. Our party has seen too much dividing, too much labelling, sometimes change is required to heal, to unite and move forward.
We will have a provincial election in the spring of 2023. Alberta is a conservative province, yet our party is not doing as well as it should in the polls.
We should always seek to put our best foot forward. This review will provide members of the party with the option to change the leader before the upcoming 2023 provincial election.
This is Your Time. You decide, not the leader, not the party.
Have you sometimes felt voiceless over the past two years? I understand that feeling. I have sometimes felt it myself. But this is your time. You can have a voice and it will be important. This is an opportunity for you to decide, not the leader, not the party.
Alberta conservatives will agree with many of policies of a conservative government. That is no surprise, conservative policies are very different from NDP policies. Conservative policies, regardless of the leader, increase economic prosperity and it is exciting to see this occurring.
But a leadership review is not about a comparison to the NDP. That will be the purpose of the election. Leadership reviews are about conservatives putting our best foot forward with the right leader for the right time.
All of us have strengths and weaknesses – some leaders are better suited for some times but not others. Sometimes a change in leader is simply a positive recognition of this truth.
How do I vote?
This is what you must do to vote. There are three steps.
First, if you need to, buy or renew your party membership by March 19. The cost of a membership is $10 for one year. If you have any doubts whether your membership is current, you may want to pay $10 to make sure.
If you need to, but do not buy or renew your party membership by March 19 you do not get to vote!
Party memberships can be purchased online at – www.unitedconservative.ca/take-action/membership
Second, register on-line to vote. If you do this prior to March 19, the cost is $99 if you are over 25. If you less than 26, the cost is $49 – so let's involve our families and many young conservatives, giving them a unique opportunity to have a voice!
After March 19, unless the party extends early bird prices, on-line registration costs increase to $149.
Online registration is at – www.unitedconservative.ca/sgm-2022
Last step, come to our Cambridge Hotel on April 9, between noon and 6 PM and vote!
What happens if Alberta conservatives want to change in their leader?
If Alberta conservatives say it is time to change the leader, there will be a leadership race for a new leader.
To assume that any one person is the only person who would be a good leader for our party is a false assumption, disregarding the many wonderful men and women in our province.
Politics should not be a career. It is a special opportunity to serve and having contributed one's unique experiences and talents for the public good, stepping aside and allowing others to do the same.
Great leaders lead in love and inspire the best in those they serve.
There are many honest and principled men and women with their own unique strengths and experiences to offer for this time, who could be great leaders of our party.
A massive vote that is a true representation of Alberta grassroots conservatives is the right outcome.
Your voice matters! This is an important opportunity, let your friends and family know, invite them to come and join you, to have fun together, to take action together, to have your say, and to be heard! Let's do it! See you there!
Police looking for these 3 suspects after Super 8 Motel in Innisfail robbed early Monday morning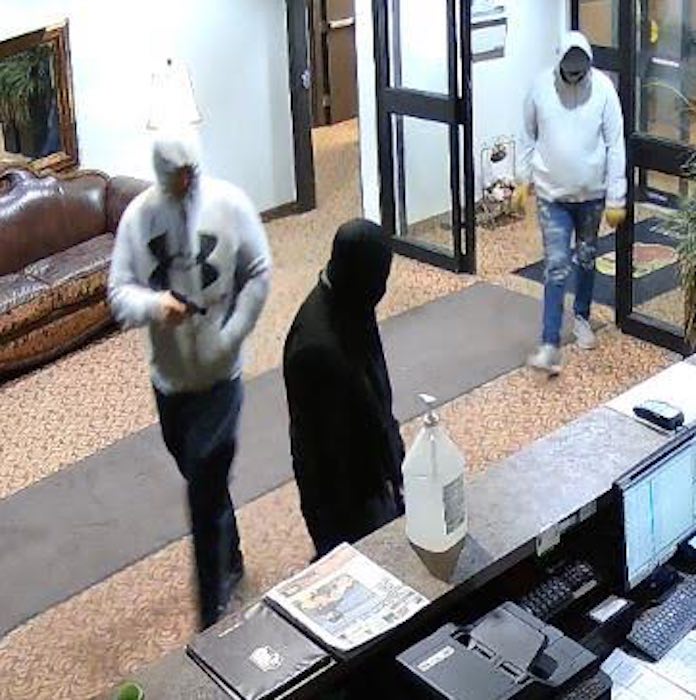 Innisfail RCMP investigate robbery
Innisfail Ala. – On May 29, 2023, at approximately 4:10 a.m., the Super 8 motel in Innisfail was the victim of an armed robbery. Three male suspects entered the hotel, two of which had firearms. Money was demanded from the manager. All three left the motel in a vehicle which is described as:
Chevrolet Dura Max truck
Sliver
Lifted
The suspects are described as:
Suspect #1: Caucasian male, tall and muscular. Wearing jeans and a grey Under Armour hoody. He was carrying a pistol.
Suspect #2: Caucasian male, short. Wearing all black. He was carrying a sawed off shotgun
Suspect #3: Caucasian male tall with a chubby belly. He was wearing a grey hoody, jeans and a black ball hat.
If you have information about this incident, please call the Innisfail RCMP at 403-227-3341 or call your local police. If you want to remain anonymous, you can contact Crime Stoppers by phone at 1-800-222-8477 (TIPS), by internet atwww.tipsubmit.com, or by SMS (check your local Crime Stoppers www.crimestoppers.ab.ca for instructions).
'Tragic accident' blamed for recent death of giraffe at Calgary Zoo
The Wilder Institute/Calgary Zoo says a "tragic accident" led to the recent death of an adult Masai giraffe. A statement from the zoo says the female giraffe named Emara died May 19 after tangling one of her horns on a cable surrounding her enclosure. THE CANADIAN PRESS/HO-Wilder Institute/Calgary Zoo-Sergei Belskey
Calgary
The Calgary Zoo says a "tragic accident" led to the recent death of one of its adult Masai giraffes.
A statement from the zoo says a female giraffe named Emara died May 19 after tangling one of her horns in a cable surrounding her enclosure.
The statement says a necropsy revealed Emara fell against the enclosure fence and died almost instantly of a broken neck.
Emara, who had just turned 12, came to Calgary from the San Diego Zoo in 2016.
The statement says she was a treasured member at the zoo and was known for her cautious yet curious personality and gentle nature.
The zoo says it is checking fencing within its African Savannah Yard enclosure to see if changes are needed to better protect the other giraffes and animals that share the space.
Doug Whiteside, interim associate director of animal care and welfare at the zoo, said Emara was in her prime and was in excellent health when she died.
"Major life changes such as this not only affect our people but can affect our animal residents as well," Whiteside said in the statement Monday.
He said the zoo's remaining giraffes, Nabo and Moshi, are doing well.
Grief counsellors are being made available to Emara's caregivers and other zoo staff.
This report by The Canadian Press was first published May 29, 2023.