Red Deer Senior AA Rustlers open inaugural season on the road
From the Red Deer Rustlers
RED DEER SENIOR AA RUSTLERS OPEN INAUGURAL SEASON IN DEVON
Photos courtesy of Dennis Berg.
The Red Deer Senior Rustlers set to kick off inaugural North Central Hockey League season against the Devon Oil Barons
After months of preparation and training, the Red Deer Senior Rustlers are primed to make their North Central Hockey League debut Saturday night against the Oil Barons in Devon. Following a 6-2 pre-season win against the Eckville Eagles on Sunday, the Rustlers are set to embark on their inaugural regular season just five months after being accepted into the NCHL.
"It's hard to believe our season opener is already here," said Vice President and Assistant Captain Kyle Pess. "It seems like just yesterday we were sitting around just throwing out the idea of starting a Senior AA team, and now we're days away from kicking our season off in Devon."
The Rustlers' first home game will go the following Saturday in Penhold, and Pess said there's already plenty of buzz surrounding the team's home opener.
"The support we've seen from the community has been incredible," he said. "There's been no shortage of support from both sponsors and fans, and we can't wait to hit the ice in Penhold on October 13 in front of our home crowd."
A familiar face in the Red Deer hockey community will be behind the bench for the Rustlers on Saturday night, as Scott Odegard has signed on to coach, ending the team's search for a bench boss.
Following Saturday's road game in Devon, the Rustlers will play four straight home games on October 13, 20, 27 and November 3.
For more information on the Red Deer Senior Rustlers, contact [email protected], or follow the team on Instagram, Twitter and Facebook.
Skills that maintain healthy relationships
Learn ways to improve your relationship skills using the acronym DEARMAN and GIVE, from the DBT therapy perspective, presented by a PCN Mental Health Counselor, Lana.
Interpersonal Effectiveness Skills
Learning to get along with others while also asserting your own needs is essential to healthy relationships. It can be difficult to balance your own needs and the needs of others. How can you get what you need without being aggressive or neglecting of the needs of others? There are three sets of skills you will learn to help achieve this goal: objective effectiveness, relationship effectiveness, and self-respect effectiveness.
Judy's story: I'm on the healthy road!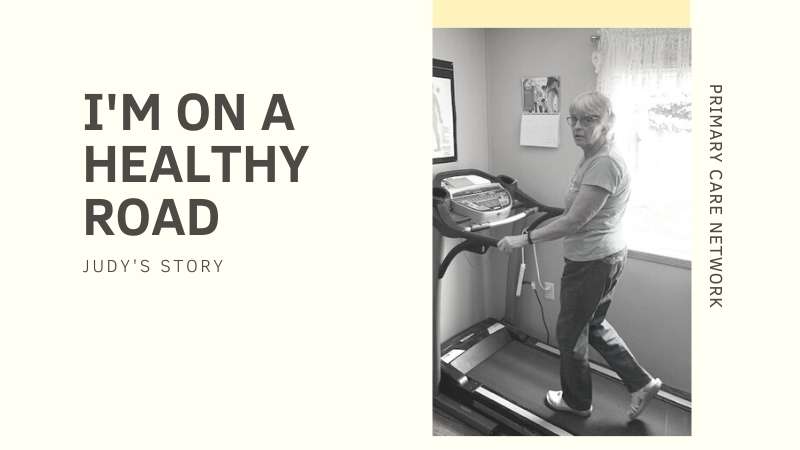 On the Healthy Road!
My journey to better health starting when my doctor told me my blood sugar was at pre-diabetes levels, my blood pressure continued to require medication and I had weight to lose. He sent me to see the RDPCN nurse. After some appointments there, the nurse referred me to the Health Basics program.
Exercise was my downfall. Working from home, I always found something else to do rather than exercise. Health Basics increased my awareness. I tracked what I was eating and became more aware of what I ate, when I ate and why I ate. I also realized things that would make me healthier that I wasn't doing. I realized being healthy is a process and I took one healthy step at a time. I also became aware of the wider variety of options for healthy lifestyle.
My husband and I visited friends over the summer and noted they had lost weight. This stimulated us to pay even more attention to our food intake. As a result of our overall efforts, I have lost about 32 pounds and my husband has lost 37. My blood sugar is now in the normal range. I have had significant decrease in my blood pressure medication. I have more energy. I enjoy exercising more as it is easier to move around and I have less arthritis pain. Health Basics is an excellent class- it started me on the healthy road. I also have much more confidence in my future health.
Click to learn more about the Red Deer Primary Care Network.
Read more success stories from the Primary Care Network.