Red Deer Rustlers stacking up the wins

From the Red Deer Senior AA Rustlers
RED DEER SENIOR RUSTLERS STAY UNDEFEATED WITH PAIR OF WINS
The Red Deer Senior Rustlers move to a 6-0 record after back-to-back wins Saturday and Sunday.

The Red Deer Senior Rustlers sit atop the North Central Hockey League with a perfect 6-0 record after a pair of 7-2 wins over the Whitecourt Wild and Bonnyville Senior Pontiacs on Saturday night and Sunday afternoon, respectively.
The Rustlers kicked off the first of back-to-back games Saturday night at home with a 7-2 win over Whitecourt, the team's last game at the Penhold Regional Multiplex until December 8.
The squad hit the road early the next morning to face the Senior Pontiacs in Bonnyville, and, after a delayed start time due to a broken-down bus on the way to the game, skated to an identical 7-2 victory.
Assistant Captain Jonny Li lead the way offensively over the weekend, with two goals and an assist in each game.

"This is the first time we've had to play on back-to-back days this season, so coming away with four points feels pretty good," Li said after Sunday's win. "Today was definitely a bit of a test for us, as we came in cold with little to no warm-up, but nobody used that as an excuse and everyone came out hard right out of the gate."
Aaron Dyck put up back-to-back wins for the Rustlers, with 18-save and 28-save performances on Saturday and Sunday, respectively. He and Brett Bothwell both hold identical 3-0 records so far this season.
Up next for the Rustlers is a pair of road games on Friday, November 9 against the Wild in Mayerthorpe, and Saturday, November 10 in Camrose against the Daysland Northstars. Puck drop is 8:15 p.m. for both games.
Photos courtesy Dennis Berg 
For more information on the Red Deer Senior Rustlers, contact [email protected], or follow the team on Instagram, Twitter and Facebook.
Service Dog program looking for volunteer "Puppy Raisers" and boarding homes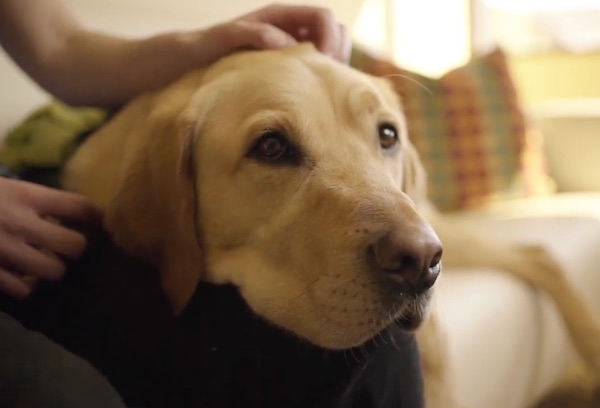 Red Deer Puppy Raising Program Announcement                                                                      
Dogs with Wings (DWW) is launching a new volunteer puppy raising program in Red Deer, AB this Spring! The Red Deer puppy raising program is a satellite puppy raising program where volunteers raise, train, and foster puppies from 8 weeks old to 14 – 16 months old and prepare them to become Service Dogs when they grow up. The Red Deer program will need full time puppy raisers and boarding homes, to puppy sit when puppy raisers are away. This program will join our three other locations in Edmonton, Calgary, and Grande Prairie and it's an exciting time for us!
We have partnered with the Central Alberta Child Advocacy Centre (CACAC) in Red Deer for this special announcement. In October 2020, we placed our Facility Dog DWW Quinn at the CACAC to assist them in the important work that they do in their community.
"Having Quinn as a part of our Child & Family Advocacy program provides a huge amount of comfort not only to the children and youth coming through our doors, but to their families and our entire staff as well. We're excited for Central Alberta to have the opportunity to be a part of a program that has such a great impact in our community – these puppies are going to make a huge difference in many lives, starting with their foster families'." Mark Jones, CEO, CACAC
Quinn is our 5th Assistance Dog to live in Red Deer, alongside Facility Dog DWW Harley at the Red Deer City Victim Services, two Companion Dogs, and one Autism Service Dog.
Dogs with Wings relies heavily on the assistance of our volunteer puppy raisers to be able to have our dogs earn their wings and graduate with a client! Our dogs help individuals with a wide range of tasks, ranging from assisting individuals who use wheelchairs, to providing safety and support to children with Autism, to assisting children and adults with disabilities at home and in their communities, and working with organizations to assist them in their community work. We need your help to become a puppy raiser! We are looking for 5 volunteer Puppy Raisers and 3 volunteer Boarding Homes to welcome puppies into their home this spring.
"Puppy Raisers are the cornerstone of our training program at Dogs with Wings.  At the heart of every successful assistance dog team is a puppy raiser who embraced the opportunity to raise a special puppy, teach them to feel safe in the world, and help them learn the skills necessary to have a solid foundation for their working career. We look forward to expanding this program to the Red Deer community." – Doreen Slessor, Executive Director, Dogs with Wings.

As a Puppy Raiser, you become part of our team that works toward fulfilling our mission, which is to enrich the lives of people with disabilities by providing them with highly skilled Assistance Dogs that increase their mobility, foster independence, and further their contributions to the community. The position of Puppy Raiser is the most demanding and rewarding. By accepting the care and education of a DWW puppy, you become one of our most valuable team players. A Puppy Raiser is a 24-hour, 7 days per week volunteer position.
The role of the Puppy Raiser is to socialize a puppy to as many environments and situations as possible. The puppy must be exposed to various situations, on a regular basis, such as: offices, malls, restaurants, downtown areas, elevators, and public transportation. The ultimate goal of a Puppy Raiser is to help the puppy develop sufficient social skills to behave in such a manner that its presence will be acceptable in all circumstances. DWW provides care for your dog when you are on vacation and covers the cost of all dog food, gear and equipment, training equipment, food bowls, service dog in training jacket, and covers the cost of all veterinary expenses. All you need to do is provide a name tag, toys, a bed, and treats! To become a Puppy Raiser, all that we ask is that one adult must be home during the day (or able to bring the puppy to work with you) and that you attend weekly training classes. For more information on our criteria and expectations, please contact us!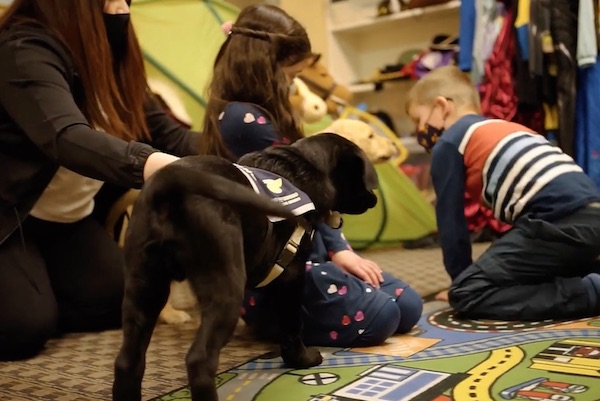 "Dogs with Wings is excited to open a new puppy raising program in Red Deer and expand our puppy raising program. This will allow us the opportunity to raise and train more dogs to help our clients. It has been an absolute privileged to work with the clients in the Red Deer and Central Alberta community and to see our dogs make such an incredible difference in their lives." – Veronica Fraser, Dogs with Wings Instructor & Training Manager.
If you are interested in being a Puppy Raiser, please complete and send this application form: http://dogswithwings.ca/volunteer-application/. If you have any questions or concerns, feel free to contact our office at (780) 944-8011 or via e-mail at [email protected].
More information about our organization and the programs we offer can also be found on our website (https://dogswithwings.ca/helping-us/volunteering-edmonton-calgary/_ at www.dogswithwings.ca. Thank you for your interest in being a Puppy Raiser that will help a dog earn its wings and give the gift of independence to someone in your community!
About DWW: Dogs with Wings Assistance Dog Society's (DWW) mission is to foster integration and independence for individuals with disabilities by providing them with highly trained Assistance Dogs and aftercare. They are a registered Non-Profit Society with a volunteer Board of Directors. Dogs with Wings Assistance Dog Society is an internationally accredited organization through Assistance Dogs International (ADI). Dogs with Wings specializes in the following areas: Service Dogs, Autism Service Dogs, Facility Dogs, and Companion Dogs. Service Dogs assist people with physical disabilities who use wheelchairs to enhance their quality of life and achieve greater independence. Autism Service Dogs provide greater safety and independence for children with Autism. Facility Dogs are part of a specially trained team that provides goal directed interventions, which promote improvement in physical, social, emotional, or cognitive abilities. Companion Dogs assist those who would benefit from having a well-trained service dog, but do not require public access. For more information, visit www.dogswithwings.ca
Central Alberta Child Advocacy Centre (CACAC): The Central Alberta Child Advocacy Centre is a not-for-profit organization rooted in the protection and recovery of today's most innocent and vulnerable – our children. The Centre is comprised of a collective that is driven by the courage to support children, youth, and their families affected by abuse, enabling them to build enduring strength and overcome adversity.
We work in a collaborative partnership with the Central Region Children's Services, Alberta Health Services, Alberta Justice, Alberta Education, the Central Alberta Sexual Assault Support Centre and the RCMP. Together we harness our collective courage to provide children with supported recovery. For more information on CACAC, please visit: centralalbertacac.ca
WATCH: Arthritis – Use it or Lose it!

Click above to join Dr. Nav Rattan, a Family Physician, Sport Medicine and MSK Physician, and Jeff Kopp, Kinesiologist and Recreation Therapist in this video stream recorded from the Red Deer Public Library.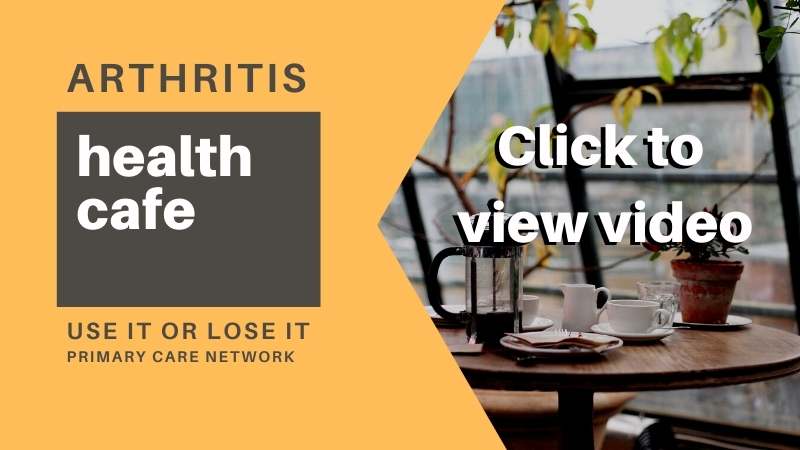 Click here to learn more about the Red Deer Primary Care Network.